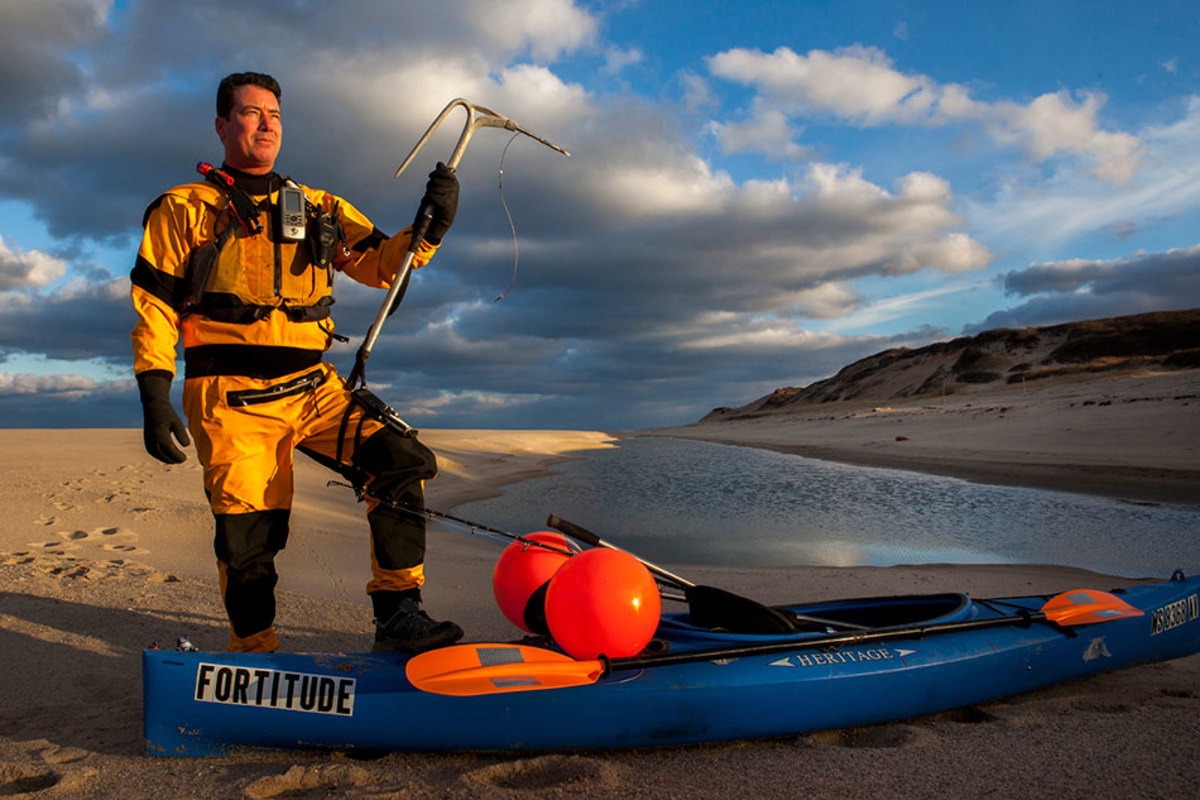 By Jeff Herman
Dave Lamourex weighs the question dispassionately before answering. "I feel I could land a 400-pounder," he says, "but I will suffer for a long time."
Next question: Why?
"Maybe it's a stubborn streak? I'm all about managed risk," Lamourex says, detailing the dangers of the open sea, the boundaries of his own stamina, and the limitations of his kayak fishing equipment when faced with enormous bluefin tuna.
Lamourex is a metal commodities trader, a high-stakes profession in which success depends on carefully weighed gambles. It's little wonder he considers hunting freight trains as downtime. He targets big bluefin tuna in cold Cape Cod waters fraught with ripping currents, big tides and a healthy shark population. He fishes solo and unassisted.
In November 2009 the man of high finance cashed in a 157-pound bluefin, at the time the heaviest paddle-out kayak tuna—a feat that has yet to be equaled in Atlantic waters. His ongoing hunts for a world record often end in disappointing breakoffs after hours of grueling battle. Big bluefins require a unique combination of skills—planning, strength, endurance and a bag full of smarts (and yeah, a dash of crazy sprinkled on top).
Lamourex's approach is unique. Unlike most kayak anglers, he chases monsters from a sit-inside recreational boat. Plenty of people have questioned his choice of craft, but it proved seaworthy enough to stack up 156 pounds of prime sushi in 2009.
The Feds heavily regulate the Atlantic bluefin fishery. Lamourex needed three meetings with NOAA in Gloucester, Mass., to wade through the legalese before he started his kayak quest. Before every sortie, he spends days watching the currents, weather and tides. Only when everything is right does he prep his specialized gear and launch over the beach.
He's then faced with a gauntlet of local commercial guys who think he's a nuisance or a nutter; at best some grudgingly approve of his DIY sensibility. After all this, if he can paddle through the currents to the fishing grounds, he can cast out a ribbonfish and start to troll. His reward will be hooking up a leviathan with power that 99.9 percent of us can't comprehend.
"I forgot to set the drag once," Dave notes, "and I lost a Stella, a custom rod, and it took the rod holder and part of the deck off my kayak. When they hit, you immediately stop. You start moving backwards and the stern gets pulled under. It's hard and can be horrible. It's a race."
It's hopscotch in a minefield.
Trophy tuna fishing requires strength and endurance. It also requires rock solid, durable equipment. Dissatisfied with the tackle on the market, Lamourex founded Fortitude Fishing to build his own titanium reels, gaffs, harpoons and pliers. The metals man says he can offer craftsman-grade titanium gear for less money than his competitors.
"They are heirloom quality. They will last your lifetime and your child's lifetime," he says.
Unless a 400-pound freight train rips them off the deck.
The article was originally published on Kayak Fish
For access to exclusive gear videos, celebrity interviews, and more, subscribe on YouTube!