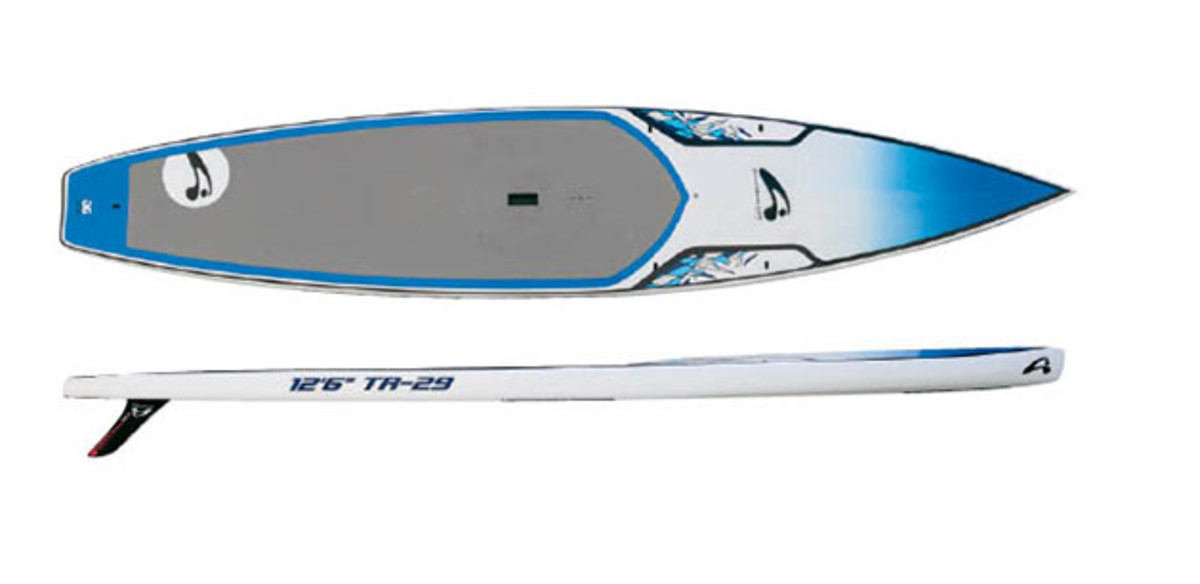 12'6" X 29' X 6 ¼" (239 LITERS)
$1,500
AMUNDSONSUP.COM
Board Review: Amundson TR-29
Shaper John Amundson: For 2015 we have succeeded in making an already great board even better. I am most proud of our collaboration and development of our new nose design. While still utilizing the split displacement nose, the new 12'6'' TR has a fuller rail and flatter bottom in the front third of the board. This flatter bottom shape gets the rider up on a plane much faster, allows the rider to maintain speed much easier and adds a touch more stability to the design. The split displacement tip pierces through incoming chop or swell. The 12'6'' TR also features a raised V forward deck (which sheds water very effectively) into a concave cockpit in the mid-to-tail (which gives the rider a lower center of gravity, comfort and allows water to drain off the tail). I am sure you will love our new TR designs as much as I do.
Our Take: Versatility is a good word to describe the Amundson TR. Hawaii—where this board was designed by craftsman John Amundson, who's been shaping there since 1988—and its surrounding waters demand boards that are less about striving in one discipline and more about working well in the ever-changing conditions that come with paddling in the middle of the Pacific. The TR certainly fits the bill. It rides bumps well thanks to its mostly-flat bottom, but gets a little squirrely if you don't step way back, a characteristic that comes with wider boards in downwind conditions. The displacement nose cuts through chop when paddling upwind and in flat water, keeping you moving quickly when things get tough. While we're seeing a lot of heavily-recessed decks these days, the TR has a nice, conservative cockpit that sheds water nicely and, along with the flat bottom and generous width, make for a ridiculously stable ride even in rough conditions. And it surfs well in small waves too. You don't often find speed, agility and stability in a displacement hull package. You do on the Amundson TR. —WT

This board review originally ran in our Fall 2014 issue.

For more information, visit: AmundsonSUP.com
The article was originally published on Standup Paddling
For access to exclusive gear videos, celebrity interviews, and more, subscribe on YouTube!