CHARGER
$399 in rotomolded polyethylene
L: 9'3"; W: 31 "; 39 lbs.
This boat is a blast in all conditions, and loves to play in the surf. For use in ponds, lakes, streams, back bays, or saltwater – young or old, try the Charger – pound for pound the best value / performance kayak on the market period!
TEMPTATION
$579 in rotomolded polyethylene
L: 10'3"; W: 30"; 44 lbs.
An exceptional recreational kayak in a small user friendly package. The Temptation is focused on comfort and tracks true quite easily. It has the chops to take on the foulest weather and waves and still serve up a gracious ride even for beginners. Without a doubt the friendliest hull on a kayak of this size.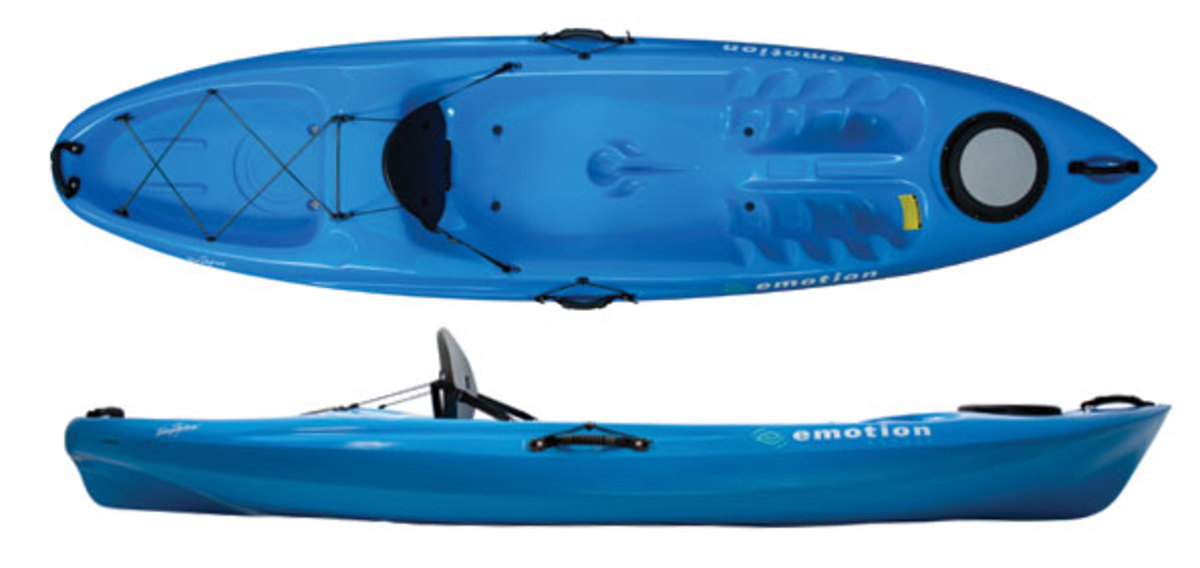 EXHILARATOR
$499 in rotomolded polyethylene
L: 11'3"; W: 30"; 43 lbs.
Looking for speed in a small package this is your kayak. Without a doubt the tri-hull design of this kayak makes it feel like a much longer kayak. The Exhilarator provides superior tracking which makes this the true all purpose kayak for exploring your local waterways.
CO-MOTION
$599 in rotomolded polyethylene
L: 12'; W: 32"; 59 lbs.
The Co-Motion is light, fast, stable, and maneuverable. This tandem kayak was designed for performance and slices through the water better than most of the larger tankers on the water. This go anywhere double is sure to make paddling a pleasure for both paddlers. The couple that yaks together stays together!
MOJO
$699 in rotomolded polyethylene
L: 12'4"; W: 32"; 52 lbs.
The Mojo has subtle, sleek and smooth styling with all the features and performance an expert would look for with the ease of use and comfort every beginner wants and needs. This kayak was designed to take our old Mojo and make it even better and the result is nothing short of spectacular.
TANDEMONIUM
$769 in rotomolded polyethylene
L: 13'7"; W: 36"; 69 lbs.
The Tandemonium is the most stable multi-person kayak we ever tested. You could add another passenger or paddle this kayak solo from the middle "jump-seat". The upswept bow and added width help keep you dry even while playing in the waves. This is your do it all gear hauler.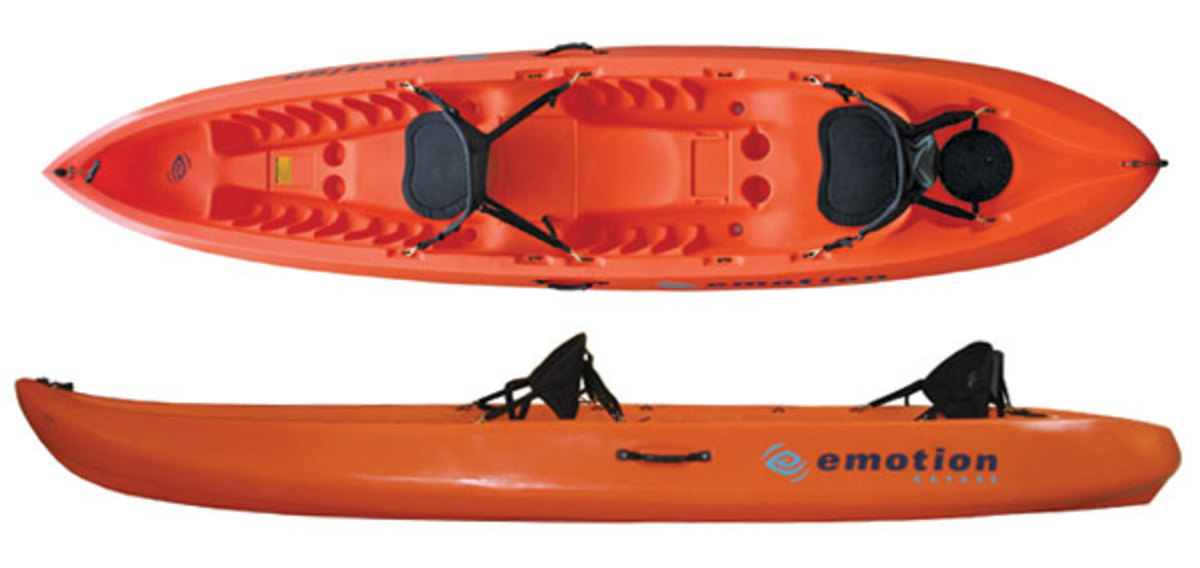 GRAND SLAM
$829 in rotomolded polyethylene
L: 14'5"; W 30"; 69 lbs.
The advanced hull design of the Grand Slam makes this the perfect kayak for longer trips or open water crossings where tracking and stability are key. With features like a large tankwell and ample bow hatch this kayak will fit all your gear for any trip.
GLIDE
$449 in rotomolded polyethylene
L: 9'7"; W: 28"; 37 lbs.
The Glide is the perfect blend of comfort, stability and performance. The ultra lightweight design and construction makes it a joy to handle both on and off the water. Unlike some recreational kayaks that you out grow the third day on the water; this boat is designed to grow with the paddler.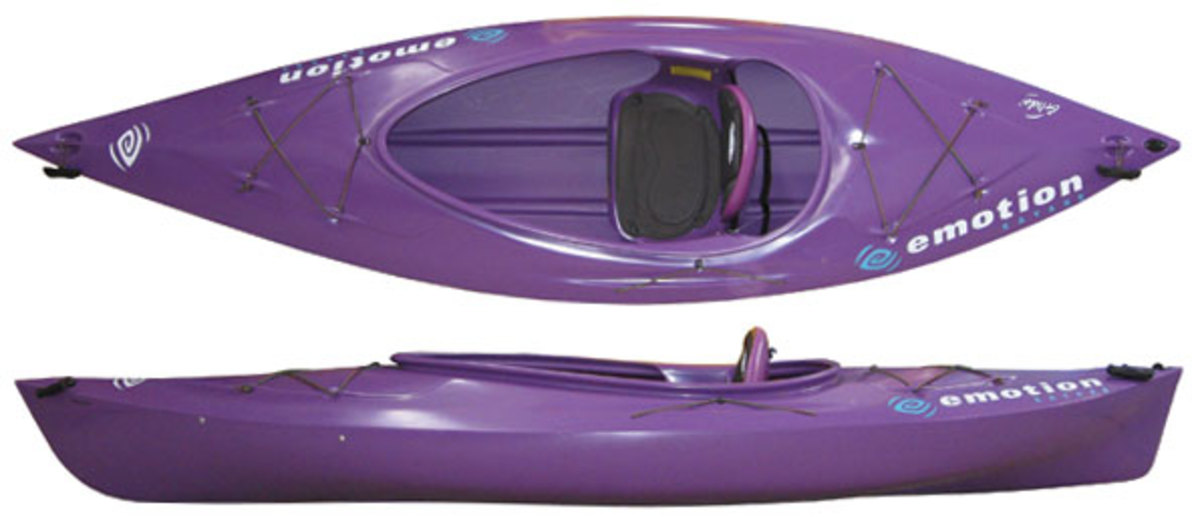 EDGE
$449 in rotomolded polyethylene
L: 9'8"; W: 28"; 37 lbs.
The Edge has amazing speed for a short kayak and makes you feel like you are paddling a sports car! The total hull package is exceedingly user-friendly, giving beginners more control and accelerating their learning curve. This boat holds paddlers of all shapes and sizes including loads of gear in a light compact package.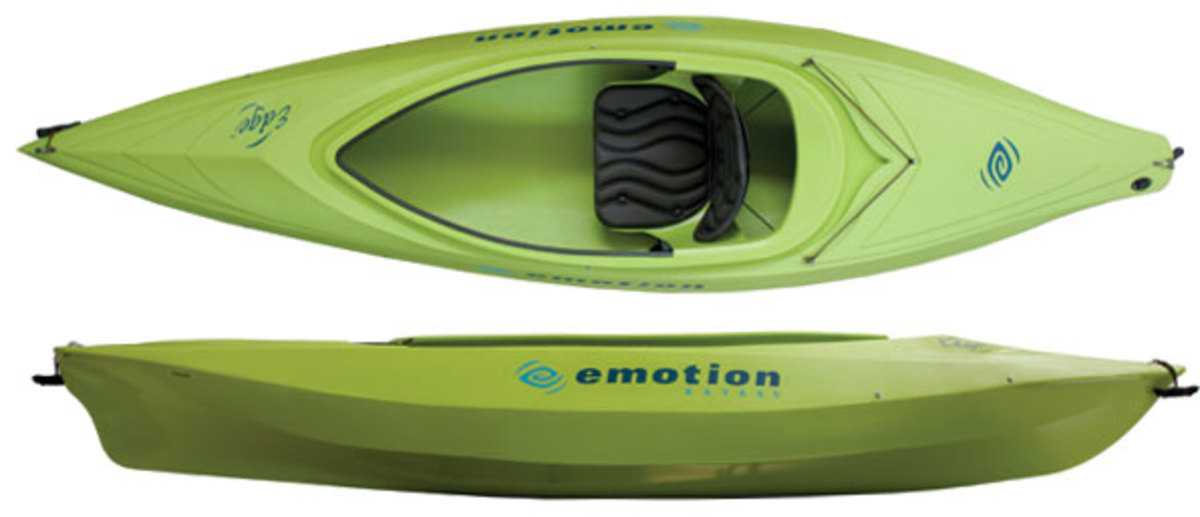 BLISS
$499 in rotomolded polyethylene
L: 10'10"; W: 25 "; 37 lbs.
The Bliss is specifically designed for smaller paddlers, it is easy to carry, car top and even easier to paddle. Sleek, nimble, and light-footed – this silky smooth hull packs surprising speed for its short length. The Bliss is about being perfectly adapted to your favorite part of the world; it's about your quiet escape.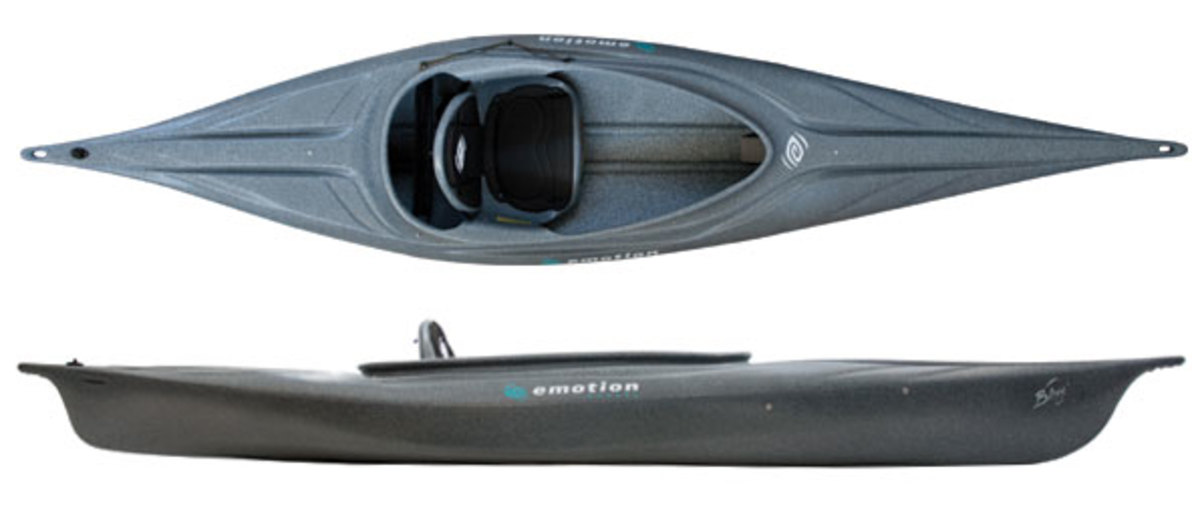 ADVANT-EDGE
$599 in roto-molded polyethylene
L: 12'7"; W: 28"; 45 lbs.
The Advant-Edge boasts an advanced hybrid hull which provides an exceptional blend of speed, stability, and performance. This boat has superior handling and sea-worthiness, so it is well suited for large lake crossings and long trips, in addition to your daily fitness workouts or day trips.

GLIDE ANGLER
$489 in roto-molded polyethylene
L: 9'7"; W: 28"; 37 lbs.
The Glide Angler has all the same great performance features of the Glide with additional rod holders and more subdued colors. This is the perfect kayak to access your favorite local rivers and streams and you won't think twice about getting it to and from the water because of its size and weight.
STEALTH ANGLER
$629 in roto-molded polyethylene
L: 10'3"; W: 30"; 44 lbs.
The Stealth Angler is a great "pocket fishing kayak" it has the perfect blend of speed and stability for a short sit on top. It is ideal for kayak fishermen who just want to throw a "yak" in the back of the truck and go!
MOJO ANGLER
$799 in roto-molded polyethylene
L: 12'4"; W: 32"; 52 lbs.
With the Mojo Anglers speed, stability, and excellent tracking it has everything a kayak fishermen could want. The hull design of the kayak make getting to your favorite fishing hole a breeze. Then one you arrive the unique adjustable console will have your rod at the ready to fight the big one.
GRAND SLAM ANGLER
$899 in roto-molded polyethylene
L: 14'5"; W 30"; 69 lbs.
The Grand Slam Angler will prove to be a home run with any kayak angler. This boat will get you where the fish are and quick. The sharp entry lines of the kayak eliminate hull slap so the fish won't even know you're there. Fish the kayak that all fishing 'yaks will soon be compared to.
SPITFIRE
$249 in blow molded polyethylene
L: 8'; W: 30"; 38 lbs.
The Spitfire features a surprising amount of speed, stability and tracking for an 8 – foot kayak thanks to its semi-flat shallow "V" hull. The Spitfire offers you a unique combination of size, weight and performance making it easy to transport and store. The Spitfire is without a doubt the best "Value" sit on top out there.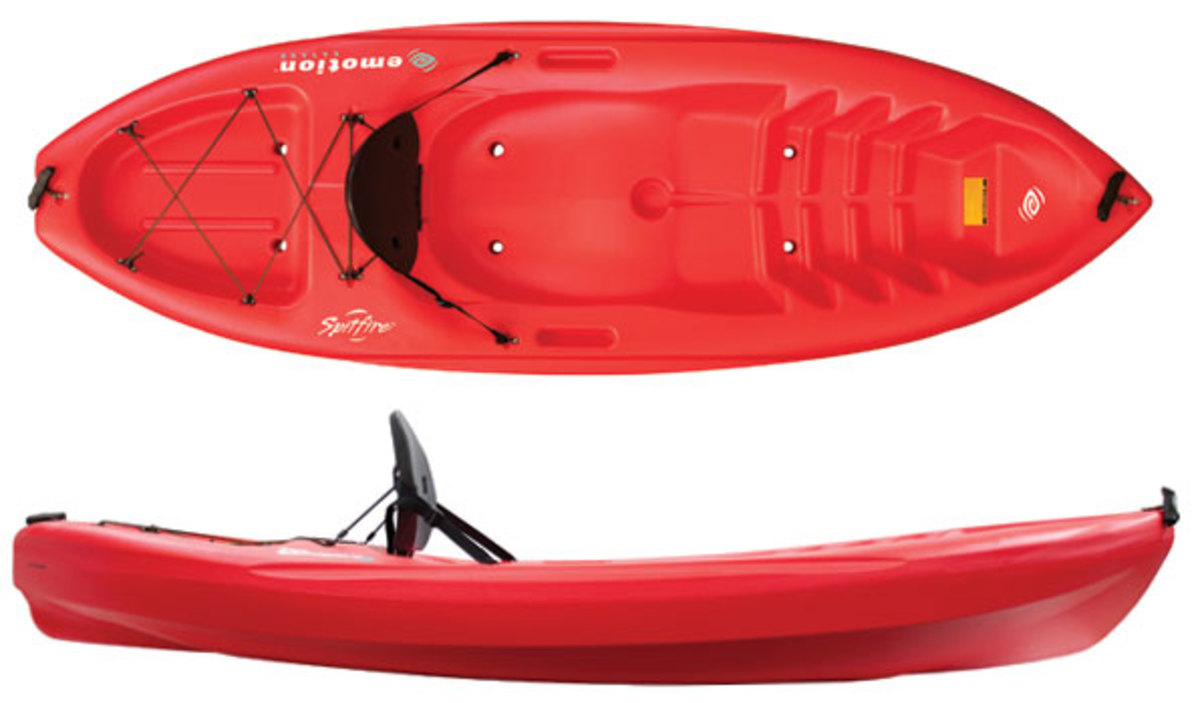 COMET
$279 in blow molded polyethylene
L: 8'3"; W: 28"; 38 lbs.
The Comet packs a surprising amount of volume into a small package. With all the features you'd expect on a more expensive kayak the Comet will not disappoint. For those of you looking to jump into the great sport of kayaking this boat can't be beat no matter what size you are.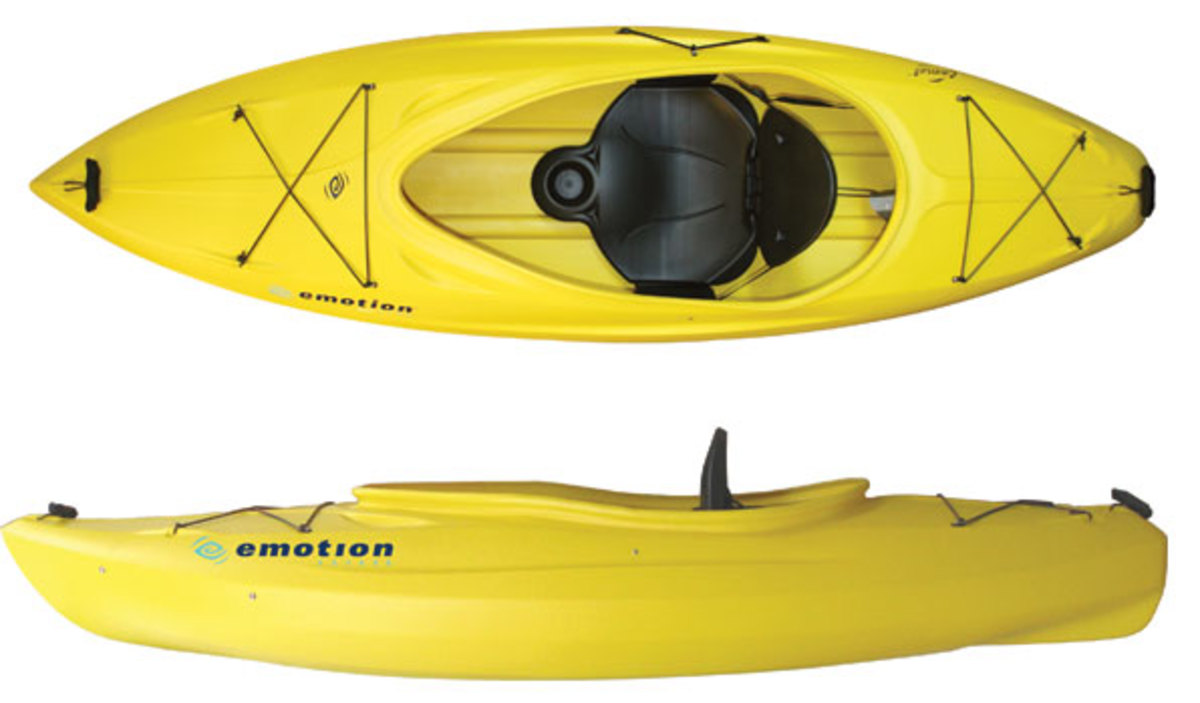 ANGLER 80
www.shakespearekayaks.com
$340 in blow molded polyethylene
L: 8'; W: 30"; 38 lbs.
The Shakespeare Angler 80 is the ideal Ultra-Lite fishing kayak. The compact 8' length, comes equipped with Max-Comfort, fold down seat, for easy transportation, and convenient storage. At just 38 lbs. it's a snap to launch and cover lots of water in search of the big one.
ANGLER 85
www.shakespearekayaks.com
$379 in blow molded polyethylene
L: 8'3"; W: 28"; 38 lbs.
The Angler 85 gives you an ideal Ultra-Lite sit inside fishing kayak to keep you dry even in colder water. The compact size of this kayak allows you to get out and fish without worrying about how you are going to transport your boat.
ANGLER 120
www.shakespearekayaks.com
$899 in roto-molded polyethylene
L: 12'4"; W: 31"; 52 lbs.
For anglers wanting to step up in performance and gain the ability to journey further from the launch, the Angler 120 is the perfect choice. With both internal and external storage options, carrying all your gear has never been easier.
The article was originally published on Canoe & Kayak
For access to exclusive gear videos, celebrity interviews, and more, subscribe on YouTube!