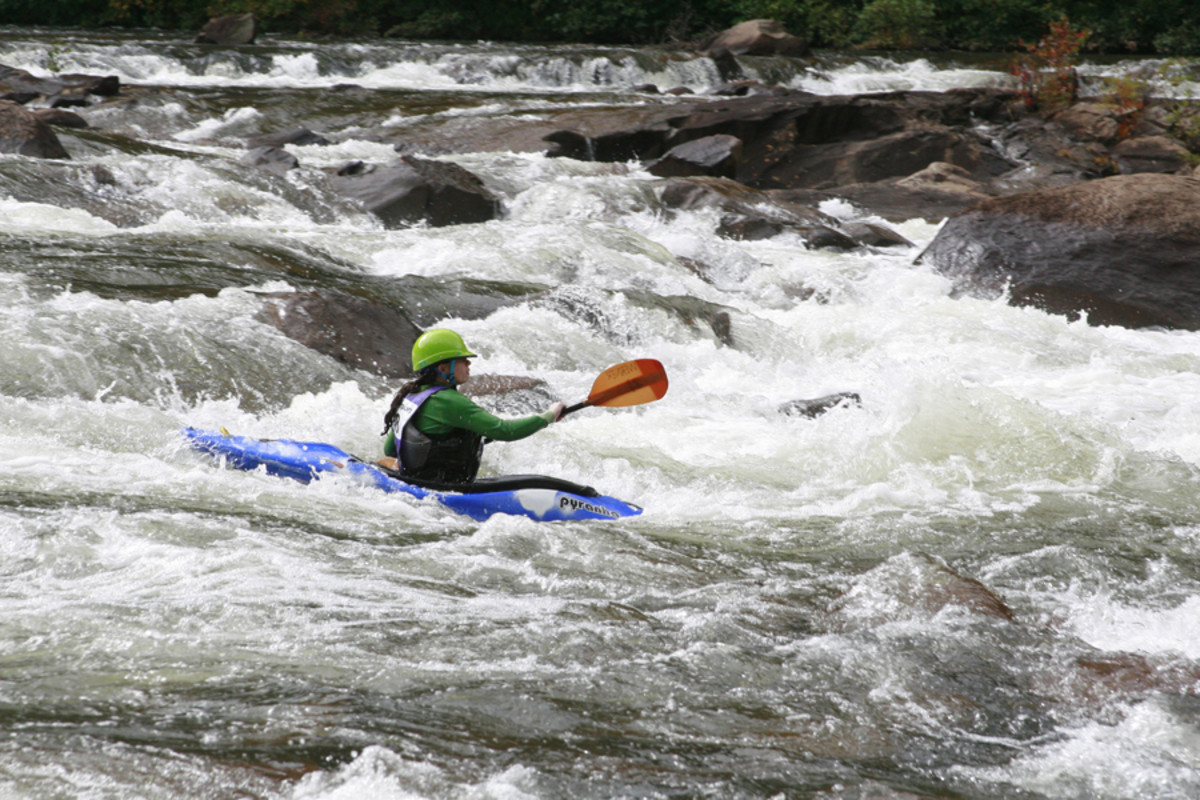 By Emily Smoot
I began whitewater kayaking in 2006, and it quickly paddling became a passion. I spent every chance I could on the river learning, practicing and getting better. I progressed in the sport, enjoying long days on the river in the company of my paddling friends and adding personal first descents to my growing list of rivers. I took a swiftwater rescue course and completed my ACA Level 4 Instructor certification. Then last fall, I found out I was pregnant. Through the following months, I learned the limits and surprises that came with being pregnant during the winter boating season.
Mid-September 2012 I found out that I was expecting my first (and last) baby boater. I scheduled the blood test with my OB, and my pregnancy was confirmed with an expected due date of May 20th. Several of my kayaking friends, at the advice of their doctors, had chosen to remain on the banks during their pregnancies. Lucky for me, my OB is a former kayaker. She called me up shortly after my first ultrasound and asked if I planned on continuing to paddle during my pregnancy. I told her that I was as long I felt comfortable doing so and could still fit into my boat. A cheerful "ok," was all she had to say about that. Several of my paddling friends have since asked for a referral.
Paddling quickly became difficult as I experienced a lot of first-trimester symptoms including morning sickness that lasted all day, every day, for three months. Not to mention the fatigue that comes along with pregnancy. Making a person is hard work! Most days I could barely get through the workday before I crashed on the couch until bedtime. I did manage to get in a few trips down the Ocoee before the reliable dam release flows ended for the summer. I even competed in the TVCC Ocoee River Race in mid-October, placing third in the women's short boat category and third in the tandem category because, technically, I counted as two people in one boat! Our little overachiever received her first award before she was even out of the womb.
As my paddling abilities and confidence increased, so had my list of rivers I wanted to paddle to include several class III and IV rivers in the area. Despite the warm and rainy weather, the upcoming winter free flow season turned out not be the time to tackle my paddling wish list.
There were several things I took into consideration when getting my boat out over those winter months. The biggest challenge was the length of the run. Most winter paddling excursions are all day affairs, and I just did not have the energy level for a long day on the river. My second trimester symptoms were only a slight improvement over the first. Some days, just driving to the put-in was a challenge.
Also, most of the paddling available were wilderness runs. The thought of something happening while being miles away from help, something which had never bothered me before, began to creep up in the back of my mind. Who I paddled with mattered more now than it had previously. The few times I did get out on the river over the winter months, I made sure I was in the company of a group of experienced paddlers with swiftwater rescue training backgrounds. Just in case. Chasing beers, bodies, boats and gear didn't seem like the smartest idea. I wouldn't be able to drink the beers anyways.
Temperature became another factor that changed when I decided to winter paddle. Previously I would have been all in at forty degrees or above. Now that I was paddling for two, forty degrees seemed awfully cold, drysuit or not. It suddenly exceeded my reward to risk ratio and kept me on dry land while my friends were all out enjoying the paddling treats brought on by winter rains. I bumped my temperature threshold up into the fifties range, preferably with sunny skies.
Before long, spring came, and I had my drysuit laid out ready for the start of the Ocoee season. At six and a half months pregnant, I was still able to fit in some of my regular clothes, but all of a sudden two weeks before the Ocoee's opening day, I suddenly popped out. My drysuit zipper no longer zipped up over my belly. I tried on my drytop, and it felt more like a straightjacket than paddling gear. I sat dejectedly in my boat in my garage, pondering who I could call to borrow a size larger skirt. Then the cramped position of sitting in my kayak caused my third trimester heartburn to flair up and reluctantly, I surrendered my paddled until after my due date.
The time I will be able to get back in my boat, it will be full-on, sun's-out-guns out Ocoee summer time. I am anxiously waiting a day on the river with good river friends who I have missed seeing all winter. Fortunately my in-laws live just down the road from the Nolichucky and the French Broad. So this coming winter I'll be able to tackle a few of the rivers on my wish list with the amenity of free babysitting service. But the thing I'm looking forward to most in my paddling career is being able to one day take my daughter out and show her the pure joy and wonder that is a whitewater river. And I won't even complain if she wants a pink kayak. Well, maybe just a little.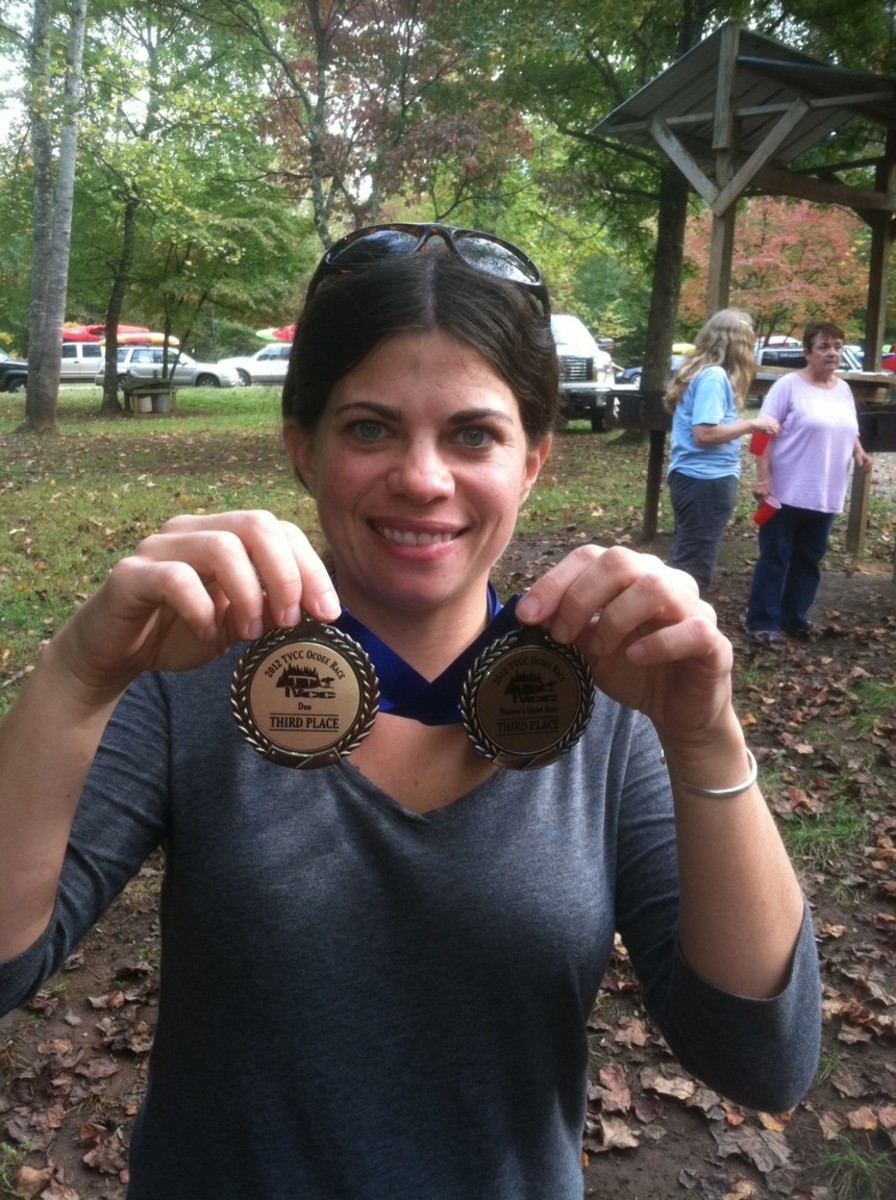 The article was originally published on Canoe & Kayak
For access to exclusive gear videos, celebrity interviews, and more, subscribe on YouTube!