For safety and comfort, good water shoes are a kayaking essential. They protect and cushion your feet in and out of your boat. They keep you on your toes by gripping tight on slippery rocks, sandy beaches, or whatever surface you're on. Water shoes should suit your style. Long-distance paddlers may want a shoe with a poke-proof sole suited for walking and supportive for carrying gear. Whitewater boaters need extra slip protection, and a shoe that will feel good even in a cramped cockpit and won't fall off if you swim.
Hydropower, Helly Hansen
www.hellyhansen.com
Possibly the most stylish technical shoe we've ever seen, the bowler-styled Hydropower has got it going on. The substantial midsole is removable and machine washable, though the odor-absorbing sock-liner cover should keep your nose from wrinkling when you put these on. The water drains from everywhere in these shoes, including straight through the sure-gripping, non-marking sole. A wicking Lifa mesh upper promotes drying from the top. This shoe is so stylish we wore it both kayaking and clubbing. It's too soft for street-wear but supercomfortable in your craft. In the Hydropower, you'll be the best-dressed paddler at the portage. $85
In-Boat Comfort: 3.5 Drainage: 4 Grip: 4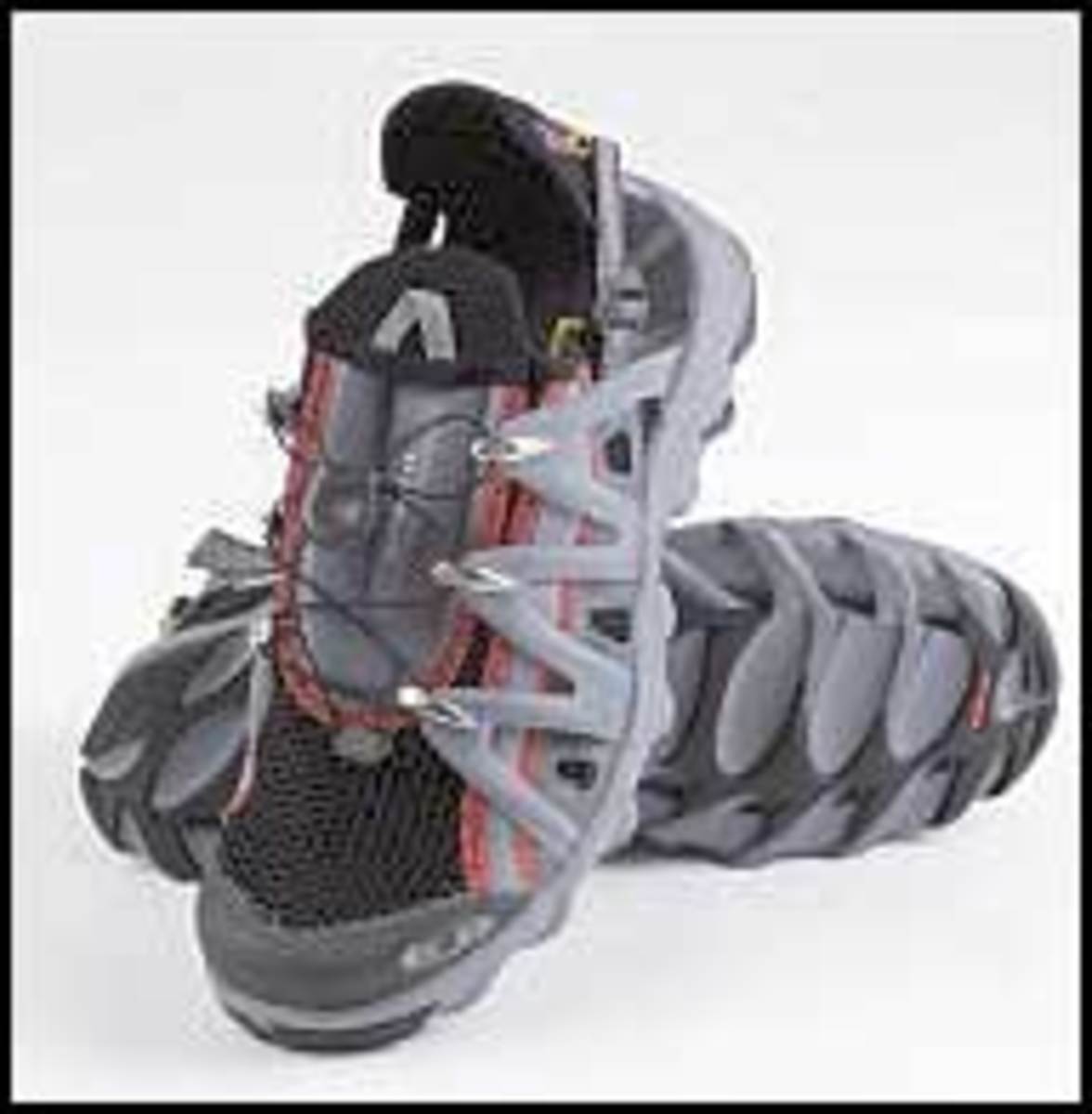 Karma, Salomon
www.salomonsports.com
The Karma continues the Salomon tradition of always improving on near perfection. It's a full-mesh sneaker-style shoe with Salomon's tried-and-true Contagrip sole. Its pliable exoskeleton cinches tight with speed laces and further snugs with the adjustable heel strap for exceptional support. Mesh side panels and sole holes instantly drain these shoes. The heel flips down to convert the Karma to a slide, and an antimicrobial treatment ensures your good karma. Mesh lets the air flow and keeps out the sticks and stones, but it lets in the sand. Salomon calls this a sport cover sandal. We call it a multisport shoe that will help you walk your talk. $90

In-Boat Comfort: 3.5 Drainage: 3 Grip: 4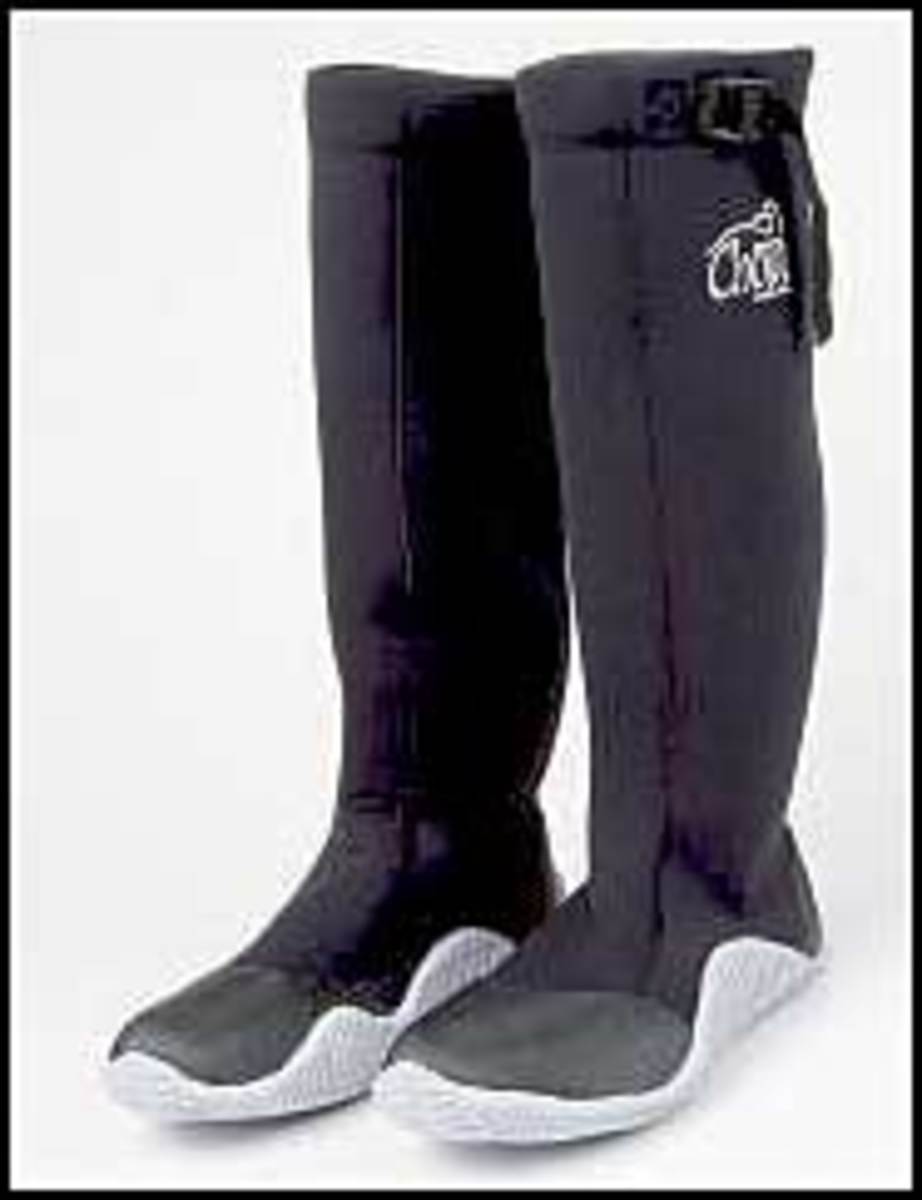 Mukluk Light, Chota
www.chotaoutdoorgear.com
Chota's Mukluk Light is the footwear of choice for cold-water paddlers. A 3mm closed-cell neoprene knee-high boot, the Mukluk Light provides ultimate protection against the elements with comfort that can't be beat. Triple-glued blind-stitched seams are watertight. The sole holds on all surfaces and it's highly poke resistant. The Mukluk Light isn't designed for a whitewater cockpit or long distances on your feet, though it did quite well when one tester scoured Tadoussac, Quebec, for eight hours looking for her car, which had been misplaced by Parks Canada. If you're in deep, you can cinch the top. If you hit a heat wave, roll 'em down for ventilation. $56

In-Boat Comfort: 4 Drainage: n/a Grip: 4
NeoBootie Socks, Wave Sport
www.wavesport.com
The simple solution to protecting your feet, Wave Sport's NeoBootie socks are a minimalist paddler's dream come true. These easy-on neoprene booties have no extra clips, snaps, or straps to get broken, snagged, or in the way. Soles are soft, grippy, and durable ArmorTex with a reinforced edge. They're low profile, and all a whitewater paddler really needs. Sea kayakers who don't have to portage like these for their simplicity. Paddlers missing their wave have been reported wearing these at home as bedroom slippers because they are so soft and socklike. $40
In-Boat Comfort: 4 Drainage: 4 Grip: 4
P2, Teva
www.teva.com
You've seen cloven-hoofed mountain goats stick to hillsides as if gravity didn't exist. You'll experience the aqueous version with Teva's P2. A split toe gives extra digital dexterity. Multiple drainage ports help your feet dry fast. It's a bootie with sole. You wouldn't want to hike in them, but they're perfect for a mellow portage or scouting a rapid. A buckle on the inner ankle cinches the shoe and won't press when you're paddling. A zinc-based antimicrobial treatment keeps your booties from smelling like a locker room. $80

In-Boat Comfort: 3.5 Drainage: 3.5 Grip: 4
The article was originally published on Canoe & Kayak
For access to exclusive gear videos, celebrity interviews, and more, subscribe on YouTube!