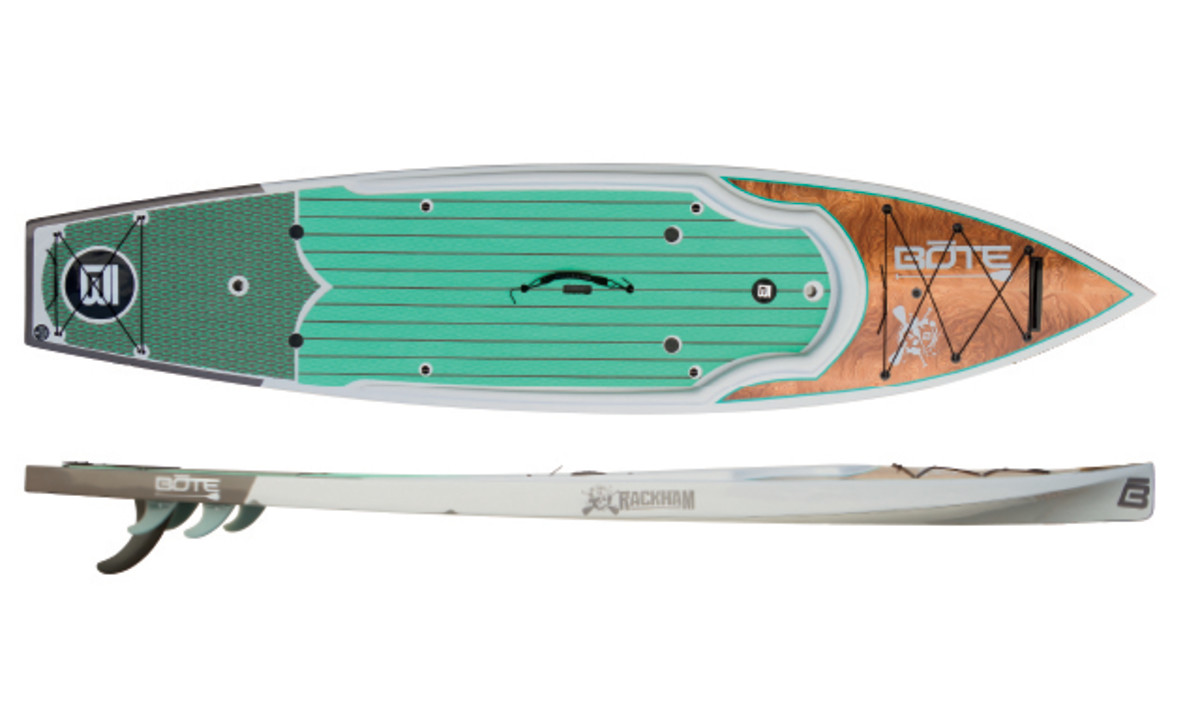 BOTE Rackham
12' X 32" X 7" • $2,200
BOTEBOARD.COM
Their Take:
The BOTE Rackham combines our best-selling 12′ BOTE HD with the advanced features of our 14′ BOTE Ahab. The 12′ Rackham was designed to be the most versatile paddleboard we have ever offered. It features displacement hull technology, step channels to allow the board to aerate while paddling, and a five-fin setup—the Rackham paddles effortlessly. The recessed standing platform and thick bow keeps you and up to 400 pounds of gear high and dry. The Paddle Sheath®, one of our latest innovations, allows you to stow your paddle while taking a selfie or reeling in that big catch. Your fishing rods and tackle can be stored on the Tackle Rac®. Two thru-holes are integrated in the board, which you can stake out–one of which is Power Pole® Micro compatible. The BOTE Rackham is the ultimate lifestyle board and is pretty much bad-ass, all around
Our Take:
The BOTE Rackham is a board built for fishing, expedition paddling or everyday touring.
But first and foremost it's a fishing board. With BOTE's additional powder coated-aluminum "Tackle Rac" outfit, which slides into deck slots in a second, the Rackham becomes battle ready. It holds multiple rods from fly to power and has multiple cooler tie-down configurations. With a 32-inch width and seven-inch thickness, you'll be plenty stable as you fight fish. And you don't have to worry about your paddle while you do, as you can stash it by slotting your blade into the "Paddle Sheath" in the nose of the board. A great feature.
The attributes that make the Rackham a great fishing board would make it great for longer touring expeditions. The 400-pound carrying capacity means you can throw all your gear on there while the deep displacement hull means you'll still be able to cover long distances. The recessed standing area felt great, even with a lot of weight. That said, there are limits to the rough water that the Rackham can handle with a full load, heavy wind and surf among them. This board's a great option for those of you looking to paddle with lots of gear or even a small passenger like a dog or child.—WT
The article was originally published on Standup Paddling
For access to exclusive gear videos, celebrity interviews, and more, subscribe on YouTube!