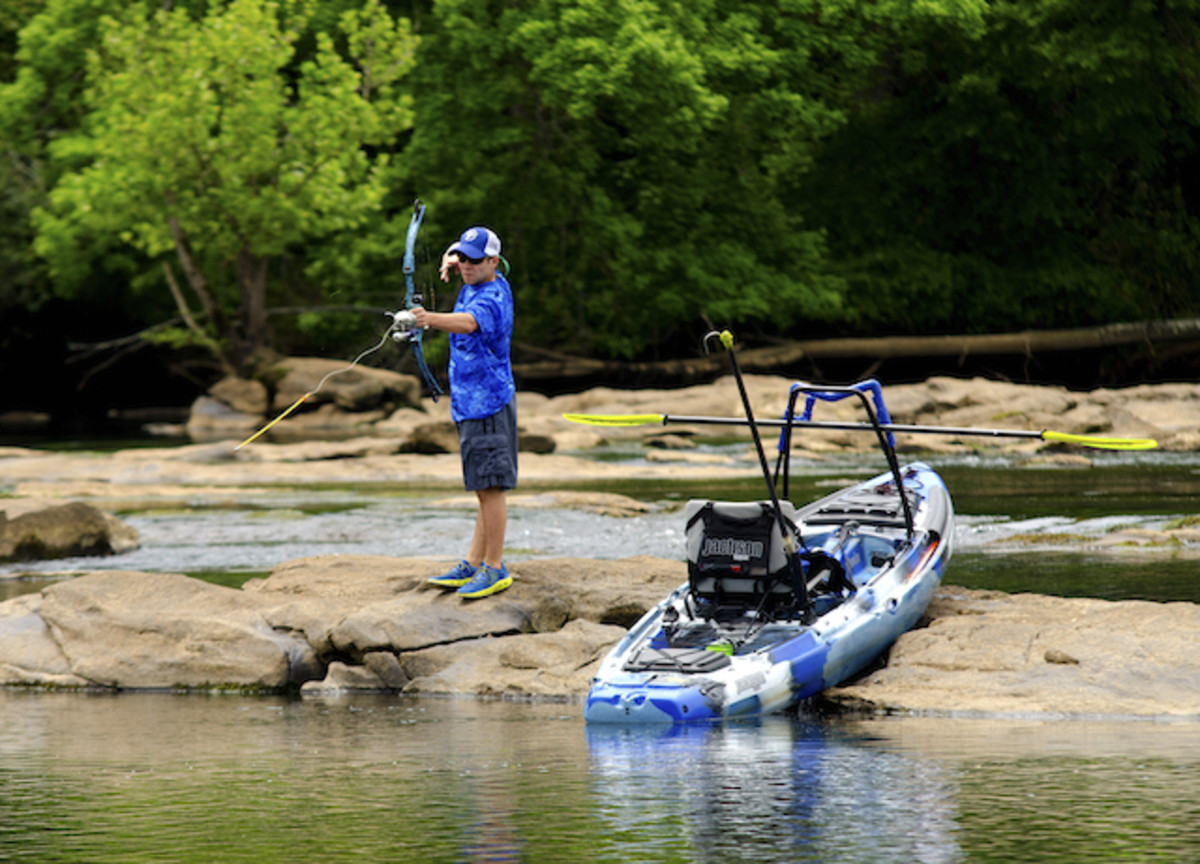 By Chris Funk
There was love in the air in the Chattahoochee valley with the rough fish on a wild spawning spree. The three of us met in the gray light, Rob Kyle, my 17-year old son Ethan and I. This was no ordinary kayak fishing trip. Instead of rods, reels and lures we held compound bows with specialized Muzzy spincast reels spooled with cut-resistant 200-pound test attached to fiberglass fish arrows.
We paddled our large stand-up kayaks up to a shallow stretch of rocks. At first, the fish spooked as we fumbled from paddle to bow. The bowfishing went went better when we drifted, arrow at the ready. The quiet approach allowed us to float over the amorous fish. Several curious gar followed me as I floated through. That was a bad decision. I drew back and targeted fish after fish.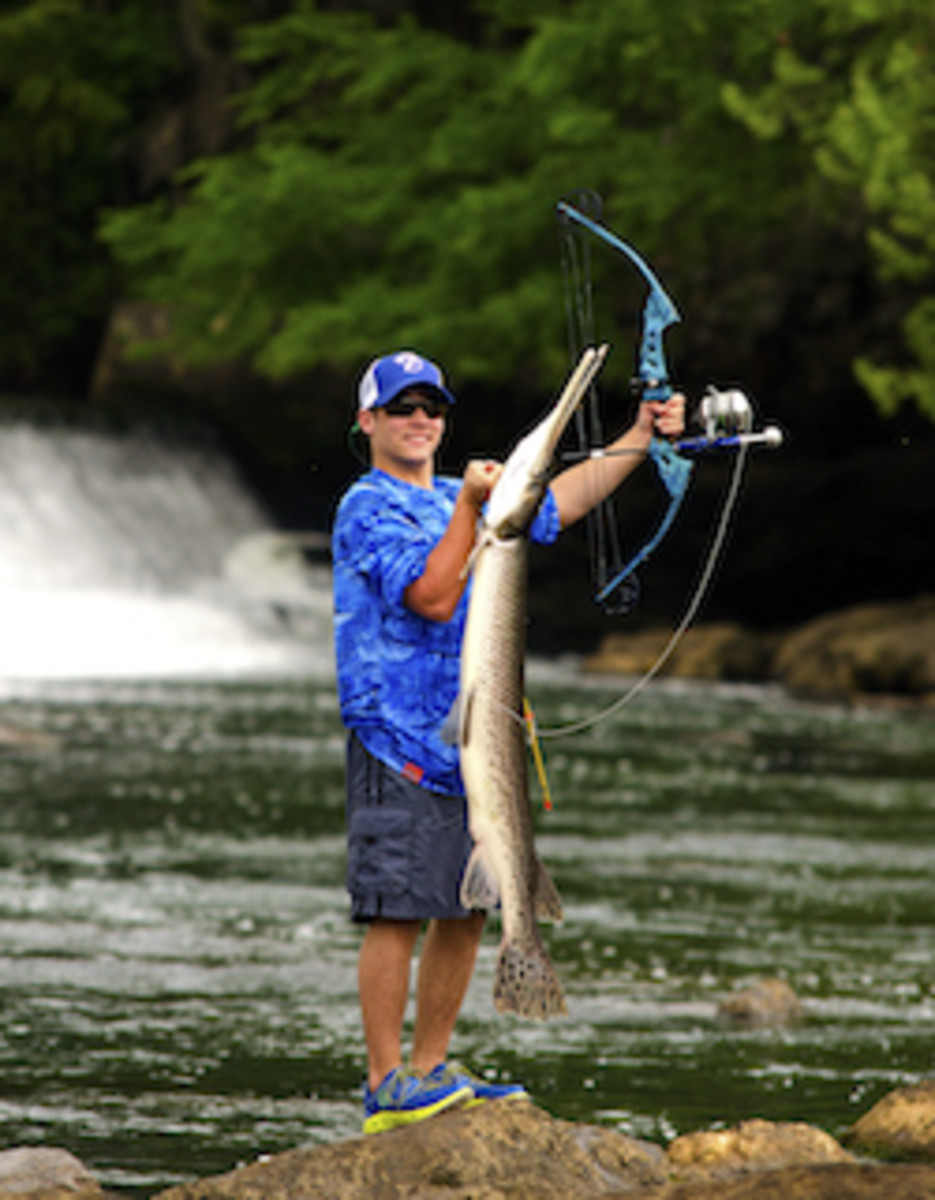 Rob paddled across an open stretch. A gar swirled to his left. The arrow flew from the bow and I could tell by his look of disgust it was a miss. He quickly reeled in his arrow and drew on a new target. The cartwheel and ring of spray showed he'd center-punched the gar—a spectacular redemption.
We had been shooting the shoals downriver from a spillover dam. We dragged our gear-laden kayaks over one last set of rocks, a sure barrier to any larger craft approaching from downstream. Our efforts were rewarded. "Look at all those fish!" Rob shouted. It took me a minute. Soon I could see a writhing mass of spawning carp from one side of the river to the other. Rob, Ethan and I set a record pace paddling up to the pile of fish.
Beaching the 'yaks, we hopped off to wade. As we stood in the knee-deep flow heedless carp jostled against our legs. When our nerves settled enough to aim, arrows and carp were flipping on the end of our lines. The chain of moving targets was endless.
We moved to another section of the dam using our kayaks to brace against as we traversed the slippery rocks. As soon as Rob and Ethan made it to the pool both drew their bows. Rob stuck a nice carp and I saw Ethan release on a fish just past a big rock. I could see the splashing as Ethan turned and hollered, "I shot a giant gar!" He fought the fish against the current and up onto the rocks.
I helped him pacify the sharp-toothed monster and put a tape measure on it. At 56 inches long it beat his personal best by six inches. Seeing him proudly lift that beast was proof to me that the effort to get there that day was worth it.
A bad storm was approaching from the west. Our time was up. The smell of our success was evident and I knew I would be doing my own laundry when we got home. As we paddled back down river I thought about dinner. Gar is excellent; we eat them fried, grilled or steamed. The meat has a texture more like lobster than fish.
Carp have multiple uses but for us food isn't one of them. We use them to fertilize our deer feed plots, indirectly turning them into venison. Carp are the most successful invasive species that I am aware of. I love helping to reduce their numbers.
RELATED:
Chris funks tips for catching spring shad (aka skipjack if you're from Alabama).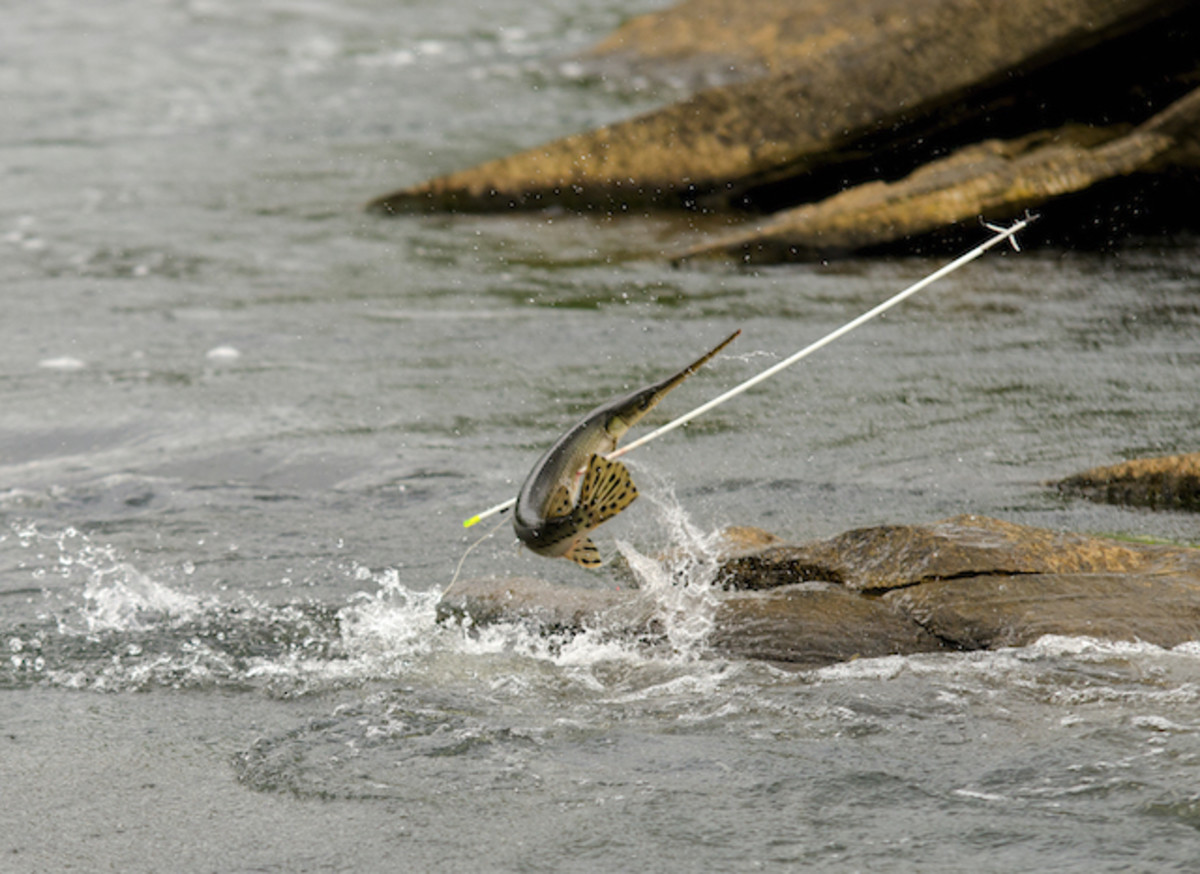 The article was originally published on Kayak Fish
For access to exclusive gear videos, celebrity interviews, and more, subscribe on YouTube!