Breaking Down Cloudbreak
Ian Walsh, Shane Dorian, and Dave Wassel share insider tips on Cloudbreak; home to the 2012 Volcom Fiji Pro
In anticipation of the Volcom Fiji Pro, we had a few questions: what boards to bring, what patch of reef to avoid, what to do when it's small, where to sit in the vast lineup, and who was going to win the contest. Our panel consisted of three dudes; Shane Dorian, Dave Wassel, and Ian Walsh, who've spent many hours in the Cloudbreak lineup and have vast knowledge to share…—JC
TransWorld SURF: Do you have a certain landmark you line up with at Cloudbreak?
Dave Wassel: All I'll say about landmarks is that you don't want to get suckered up the point too far.
Shane Dorian: Yes [He's not telling where it is though].
Ian Walsh: The tower helps a ton—you use it to line up with a certain part of the mountain on the main island [not Tavarua]. It's such a big lineup it's hard to be in the place you want to be all the time.
[youtube]JfRjhOZQwxE[/youtube]
What size board would you ride out there on a four-foot day? An eight-foot day?
DW: 6′ 3" to 6′ 5". You don't need a lot of board because you're not chasing down waves—they come to you.
SD: I'd ride a normal shorty 5'10" at four-foot and a 6′ 6″ on an eight-foot day.
IW: On a four-foot day I'd ride my best shortboard. Maybe even a 5'6" Mayhem Rocket—I went to Namibia with one of those and it went so good in backside barrels. On an eight-foot day I'd probably going toward a 6' 6" to 6' 8" kind of vibe.
What's the bottom like out there?
DW: The bottom gets worse the further you ride the wave—they don't call the end bowl "Shish Kebabs" for nothing.
SD: For most of the break it's just normal flat, tropical reef. The end of the wave is very dangerous because the reef on the very inside is uneven with abrupt pinnacle coral heads.
IW: The bottom is radical and really sharp. It's a living reef, colorful, and hurts when you hit it.
Are there any certain parts of the reef to be avoided at all costs?
DW: Avoid it all costs. Chicks don't really dig scars.
SD: See above.
IW:The more you get pounded and washed in, the shallower and shallower it gets. Eventually, on a low tide, you've got to walk out of there because the boats can't get in to get you.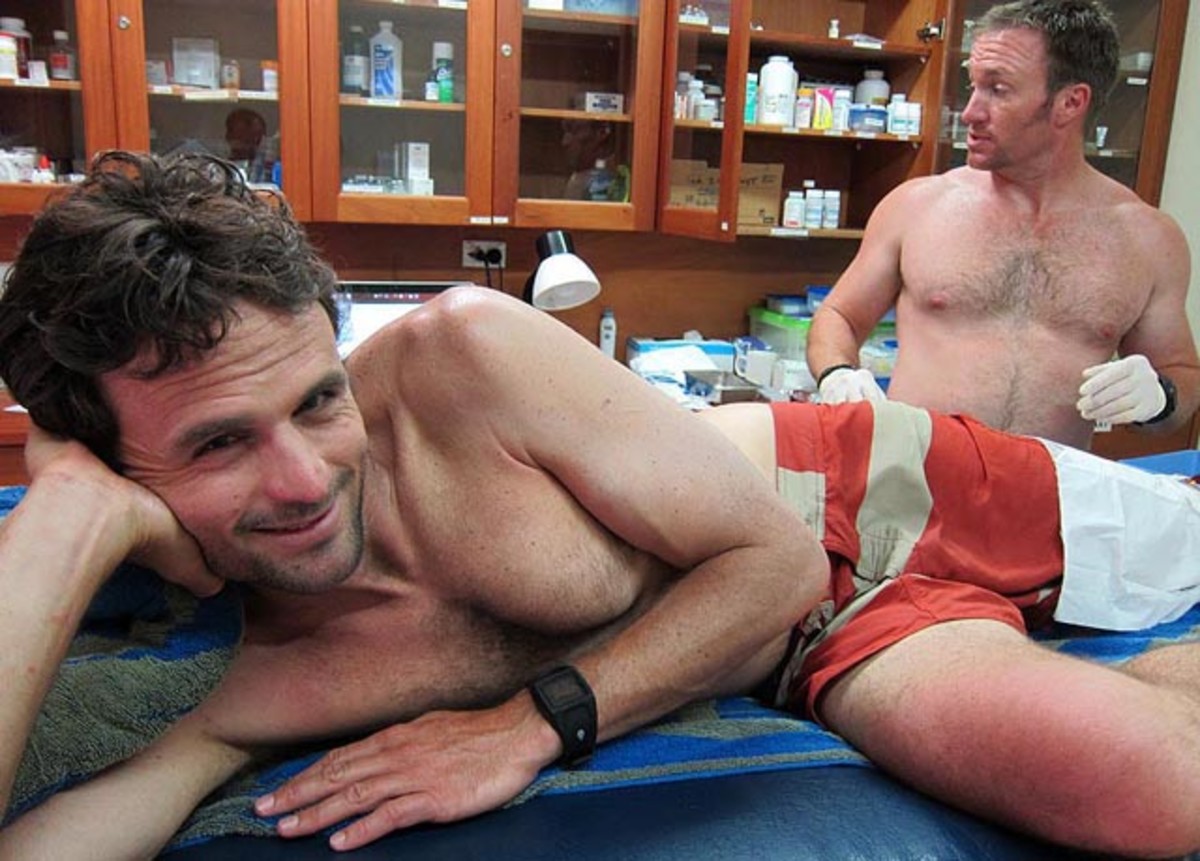 What waves do you want to look for? The biggest sets, the in between ones?
DW: The wide ones.
SD: When it's perfect I look for the ones that look like a closeout. They're filthy.
IW: I'm not looking for not a huge steamroller. I'm looking for one that looks like a closeout. If it hits the reef right—which it does a lot—then it turns into a growing huge barrel.
Can you get away with a short board on big days?
DW: Yes.
SD: Sometimes when the swell is organized, but when it's long period and fast you'll miss waves on a shortboard. Unless you're Kelly Slater or John John, foam is your friend at Cloudbreak.
IW: I thought you could but on that crazy swell last year I started on a 7' 3", fell and broke that, then rode a 7' 0" and broke that, then a 6' 10" and broke that, then a 6' 8" and broke that. If that kind of swell ever happens again, I'll go there with a thick 8' 0", 8' 4", 8' 6", and a 9' 0". There's so much power and momentum in that wave that I feel like it's one of the few places in the world where you're definitely not going to get a wave with a tiny board. You're not going to get Kohl's wave riding a 6' 3".
Can you ride a bigger board on smaller days?
DW: Yes.
SD: If you like funboards, yes.
IW: Yeah, if you're more of a novice surfer you can ride a bigger board. That might help you get around the line up a little bit.
Do you want boards that are like needles or more girthy?
DW:Boards are like chicks—everyone's got their own preference.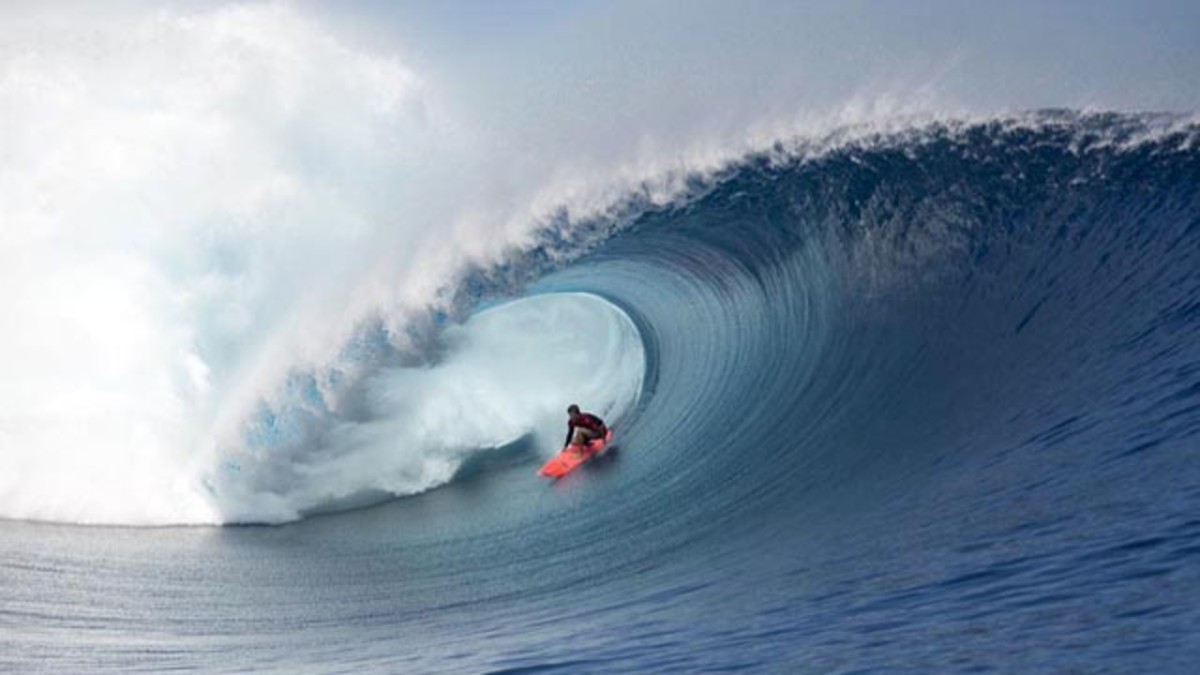 If you could only bring one board to surf Cloudbreak what would the dimensions be?
DW: 6'5" round pin x 19″ wide x 2 ½".
SD: 6'3" round pin.
IW: I'd probably look at the surf forecast before I jumped on the plane; if it looked about four-to-eight feet with maybe be some 10-footers, I'd bring a 6' 3". A good 6' 3" round pin so you could still whip that thing around at Restaurants.
Share with us one secret piece of advice when it comes to surfing Cloudbreak?
DW: My advice is beg, borrow, or steal. Do whatever it takes to get to Tavarua!
SD: When it's really firing look for the 'Dirty West Cloudbreak Close Out.' It'll be the best wave you've ever caught.
IW: My secret piece of advice is pull in when you think your not going to make it. It might cause a few stitches but if you make the wave, it will be the best wave of your life.
What do you do there when there's no surf?
DW: Dive.
SD: Spearfish or attempt to exercise.
IW: Tennis on Tavarua all day long. A couple good cocktails, a little pool, some yoga, there's all kinds of stuff to do there. Tavarua is the best place in the world even if it's flat.
Is Tavarua really the best place on Earth like everyone says?
DW: Yes!
SD: Yep, it's my favorite island on Earth.
IW: If you're a good surfer and happen to be there when there's swell, it's one of the best places in world.
Who's your pick to win the Volcom Fiji Pro?
DW: Owen Wright.
SD: I'd say the safest money is on Slater because he's had so much water time out there, but if the surf is good, John John will be very hard to beat. I can't wait to watch the event—I'm praying for surf for the boys!
IW: It's hard to bet against the Hobgood's because they're so good on those waves, but I'm going to go with little Johnson. He's hot coming out of Brazil and he's got one of the best backside barrel riding techniques in the world.
What: Volcom Fiji Pro
Where: Restaurants and Cloudbreak just offshore of Tavarua
When: June 3-15, 2012
Watch it live at Volcom.com!
For access to exclusive gear videos, celebrity interviews, and more, subscribe on YouTube!