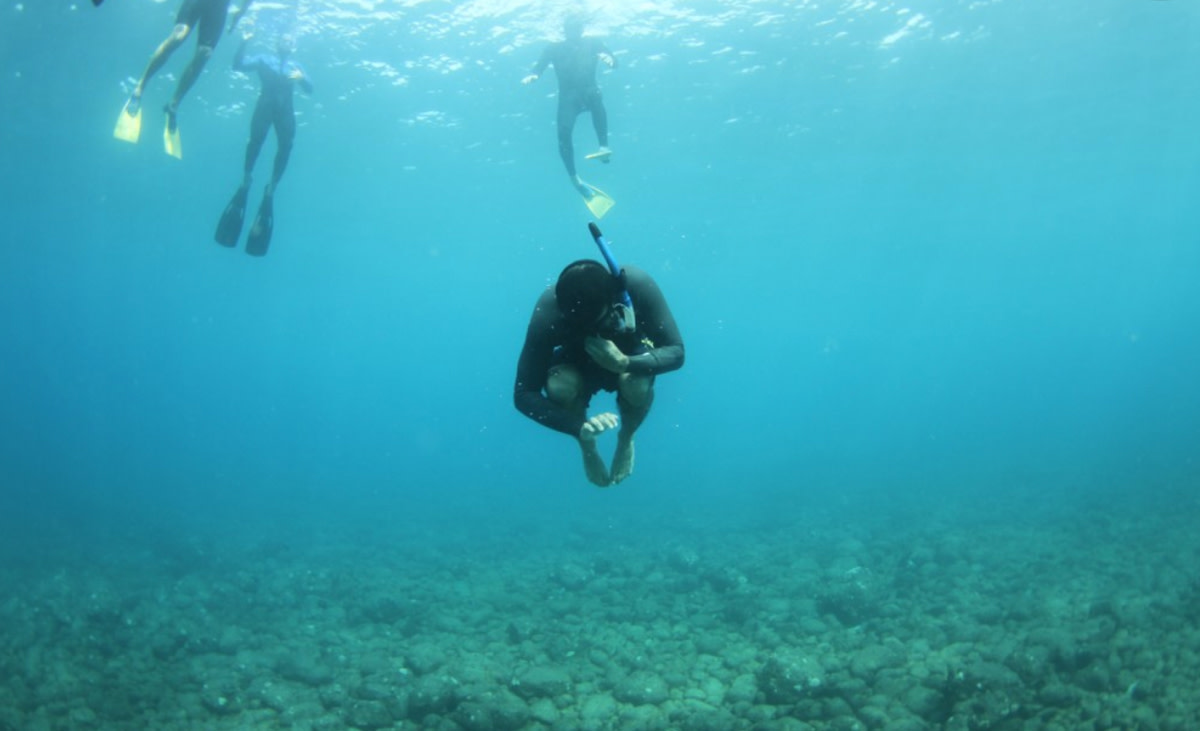 Quite a few years ago, while I was learning the ropes to surfing bigger waves out at solid Sunset Beach, one of those set waves that the old-timers always talk about marched in from the west and caught everyone with their pants down. (As in: It had us scratching for the horizon, even though we were already a half-mile offshore, and then subsequently had us bailing our boards and diving down to let the first – of about five waves – steamroll over us.)
Trying to remain as calm as I could when over 20 feet of water is dumping in front of you, I counted to 10 about 15 feet underwater and felt the wave finally roll over above me. My leash – connected to my trusty 8'2″ gun – yanked at my leg with the turbulence, then let up abruptly. I stroked to the surface, pulled at the leash to grab my board before the next wave came, but nothing was at the other end. My leash had snapped and I was very far out in very large surf.
I looked at my friend who looked back at me wide-eyed and shrugged, as if to say, "You're on your own" as he paddled as fast as he could to make it over the next set wave.
It was about that time when I started to panic. I knew I couldn't swim to the channel, as Sunset's channel notoriously sweeps you out to sea toward the island of Kauai. There was only one way in: straight to shore and through the powerful inside impact zone.
I was thinking about this very incident (me, 10 years prior, treading water in no-man's land, wondering how many dunks I had in me before the shore) while listening to Ricardo Taveira, owner of Hawaii Eco Divers, renowned big wave surfer and PADI Master Scuba Diver, explain what "apnea" actually was on the first day of his popular "APNEA and Surf Survival Training Course" in Honolulu, Hawaii.
Apnea, by the way, is a term for the suspension of external breathing (aka holding your breath). I'd come to take this course to do just that – specifically, so I could be more comfortable in larger surf.
Ricardo's class, however, isn't just for surfers with dreams of being Mr. Big Wave Dave. The space in the back of South Shore Surf Shop, was filled with a variety of ocean-goers – men, women, surfers, divers, mother and daughter, etc. – who I'm sure were interested in their own version of the objective.
"This course is designed with only one goal in mind: to increase your breath hold ability in tense situations underwater, while remaining calm and in total control of your mind," said Ricardo. "In this training, you will learn different techniques of apnea and breathing exercises to strengthen and increase capacity of the lungs. The class is also designed to help you spend more time underwater through lectures, intense breath hold training and multiple breathing and swimming exercises in order to aid you in dealing with extreme situations where the mind control and calmness are the main factors for your survival.
"In addition to apnea theory and breathing techniques to maximize breath hold, we will be emphasizing High Surf Risk Management in order to recognize, minimize or avoid unnecessary risks found in the surf zone. We will also cover the importance of providing CPR and Rescue Breath skills to victims of drowning."
Day 1 was more theory and science than snorkel and mask, but learning about what exactly goes on while breathing (or lack thereof) was alright by me, especially coming from a guy like Ricardo who is animated, meticulous and gives you the feeling is a little zany to boot.
After a couple hours of slides, we went into actual exercises utilizing our entire lungs for breaths and even started timing static (uninterrupted) breath holding.
He'd promised two hours earlier that all of us would hit three minutes by end of this day. (I was skeptical, but damned if we didn't all hit that mark.)
Day 2, a full-day in the water at Ala Moana Beach Park, was where the real action got started. Perhaps it was 45-seconds into a simulated wipeout, getting thrashed around by my breath-buddy, or maybe halfway through one of the grueling, CO2 table lung-expander buoy laps, but I thought back to that time out at Sunset …
Stroking toward the hazy shore, boardless and afraid, I began dunking under the larger sets that rolled through. The few couple weren't bad, but by the fourth or fifth, I was getting winded (and when you're winded, you do think as straight). I began to drift into the dangerous inside impact zone, half-trying to bodysurf the whitewater, halfway helpless and on the verge of throwing up my hands to the lifeguards. I eventually made it into the shoreline, but definitely by the skin of my teeth, and from what I was learning at the course presently: totally wiped because I was breathing the wrong way.
Which was precisely what most of Day 2 was all about. Paired up with my buddy, Ricardo put each and every one of our lungs and physical stamina to the test – while giving useful tidbits and anecdotes about his methods he continually uses out at big waves like Waimea Bay and Jaws. We literally went hours inflating our diaphragms, building up lung capacity, working the O2 and CO2 table exercises, swam underwater a distance farther than I ever had before, and talked through situations where things could go terribly wrong in bigger surf. At the start of the day we even simulated rescues, CPR and proper handling of an unconscious victim.
And by the end of Day 2? Well, besides feeling pretty pooped, I can honestly say all of us felt more prepared. And yet, even with all the new techniques Ricardo taught us, I asked him: What could I do next time that leash breaks?
"Don't fight the water's turbulence – it's a waste of your oxygen supply," Ricardo said. "Save your energy and air to swim to the surface when the water finally lets you go. I know it's easy to say don't panic, but the main idea behind staying calm and relaxed underwater is to conserve your energy and oxygen. The more you panic, struggle, and fight underwater, the faster you will deplete both. Also, maybe check your leash next time, too, before going out?"
Also, sound advice.
To catch Ricardo's next comprehensive APNEA and Surf Survival Training Course, there's a full two-Day course June 2 and 3 on the North Shore.
For access to exclusive gear videos, celebrity interviews, and more, subscribe on YouTube!