The Cooke Custom Sewing Lean lets in a nice breeze but keeps the insects out. There is even room for the dog to escape the bugs.
---
STORY BY AMY FREEMAN / PHOTOS BY DAVE FREEMAN
---
It seems like the end of A Year in the Wilderness is in sight — TWO MORE MONTHS! But at least for now, summer is still in full swing in northern Minnesota. The days are gloriously long and most of them are sunny and warm. All the trees are fully leafed out and canoeists are out in force in the Boundary Waters Canoe Area Wilderness. Those with a keen eye can find succulent, ripe blueberries, raspberries, serviceberries, and even wild strawberries on the portage trails. Perhaps the only negative aspect of a canoe-camping trip in this region during this time of year is the bugs. Mosquitos, black flies, horseflies, deer flies, no-see-ums, wood ticks and (on rare occasion) deer ticks are our primary pests in this part of the country. Hordes of blood-thirsty mosquitos emerging at dusk are part of every canoe-camping childhood memory I have (paired with the positive memories of stunning scenery and sheer enjoyment of being in a totally wild place). The bugs are honestly why I took up winter camping. But over the course of A Year in the Wilderness, Dave and I have made our peace with the bugs. In other words, we've learned how to cope with them. Here are our main tricks for dealing with those pesky biting insects:
---
Timing your trip
My dad has been so perturbed by bugs on past trips that he now only goes on BWCAW trips in the early spring and late fall — times when you're less likely to encounter bugs. In general, over the course of the canoeing season, the black flies emerge first, shortly followed by mosquitos and ticks, then the bigger flies, like horseflies and deer flies, make their appearance later. All these creatures seem to come in waves and a multitude of factors (like rainfall, temperature and the severity of the past winter) dictate whether it will be a bad bug season or not. I'd rate this year as "not too bad." Last summer the no-see-ums were voracious near Ely, Minn. The summer before was perhaps the worst for black-fly season that I had ever seen.
The example of my father only paddling in early spring and late fall is a bit extreme, but certainly is one tactic that people take. The trick here is you have to be prepared for cold water temps and cold weather. You could hedge your bet a bit by planning your trip in later summer. I'd venture a guess that this is what most BWCAW visitors are thinking when they reserve their permit in the window from the second half of July through late August. While you may diminish the number of mosquito bites you get by booking your trip during this time, you will increase your odds of seeing other people.
What to wear
While spending a whole year out here, Dave and I didn't have a choice about the timing of our trip. One of the key ways we prevent bug bites is based on what we wear. Loose-fitting, quick-dry clothing make up our daily canoeing attire. Even if it is warm, I prefer to keep my legs and arms covered, so I haven't even bothered to pack shorts. I've seen more and more women and girls choosing leggings as their sole pair of pants on a canoe-camping trip. Those tight-fitting yoga pants might be really comfortable, but they become much less appealing when you realize that the bugs can bite right through them. The pants I swear by are Wintergreen Northern Wear's Boundary Waters Pants. Not only are these pants loose-fitting and quick-drying, but mosquitoes can't bite through the material even when it is pulled tight against your skin.
A head-net or bug shirt are also good to have in your arsenal of personal attire. Dave and I began wearing The Original Bug Shirt in the Amazon [see the full Rio Roosevelt story HERE] and have since found them invaluable in the BWCAW. If someone in your group has failed to heed any of this advice, keep in mind that the bugs can't bite through rain gear.
Take shelter
While guiding canoe trips in the early part of the canoe season (late May into June) Dave and I prefer to carry a screen/tarp shelter that an entire group can fit in. We have used the NEMO BugOut in the past. For A Year in the Wilderness we have been really enjoying using a Cooke Custom Sewing Lean 2. This is a tarp shelter that is easy to string up between trees. The front panel is bug mesh. Dave and I use this space to relax on our camp chairs and even cook in a particularly buggy campsite. There is plenty of space so the dog generally joins us in there too.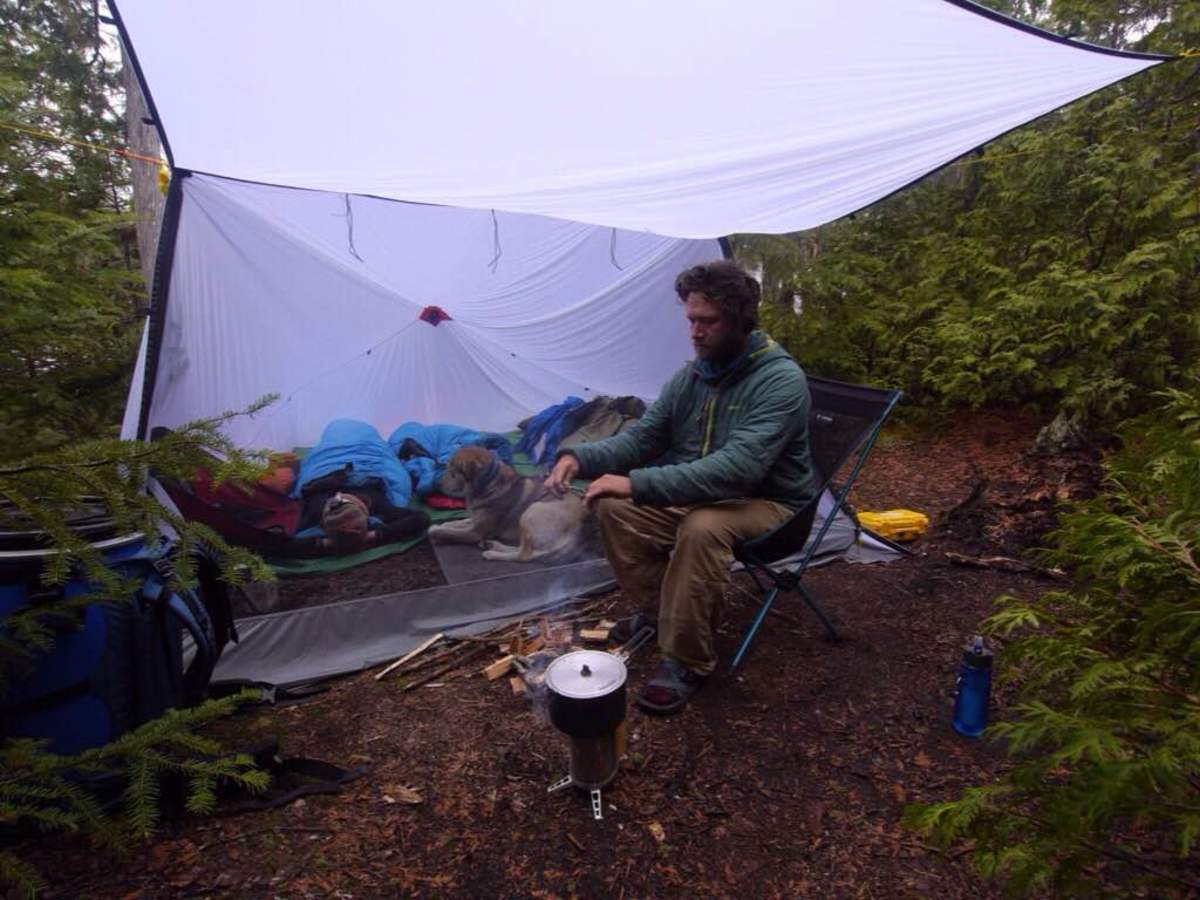 Choosing a campsite
Pick a campsite with plenty of wind exposure. A breeze off the lake does a great job at keeping the flying pests away. While studying out a new lake on a map, Dave and I will head for a campsite located out on a point instead of one tucked away in a bay. Topography and forest type also affect the bugginess of a campsite. Generally higher is better and an open white pine, red pine or jack pine forest is preferable to a low-lying, boggy spruce or tamarack zone. Brushy/grassy spots might harbor ticks. If you see puddles or pools of stagnant standing water anywhere near a campsite, its a sure bet that it will be buggy since that is optimal breeding ground for mosquitos.
Avoid dusk and dawn
I'll never forget how our friend and Brazilian canoe builder, Tony Osse, revolutionized our approach to camping while we were paddling the Amazon River with him. We had many days when we were paddling during all the daylight hours. This meant landing shortly before sundown. He suggested that we wait out dusk in our tents and then reemerge to cook dinner and do other necessary camp chores after the wave of mosquitos had subsided. Why hadn't we thought of that before?! This tactic works super well in places near the equator, where the sun rises and sets quickly.
Dave and I adapted this approach slightly to take into account the long-lasting dusk that occurs during the summer in northern latitudes — we go to bed before the mosquitos come out. We generally land in time to set up camp and eat dinner before dusk. As the sun dips low in the sky, we contentedly zip ourselves into our tent just as the hum of mosquitos begins.
Bug spray
I'm not looking to get into much detail about what type of bug spray to use. Citronella, DEET, lemon eucalyptus oil, Picadrin … there are a lot of options out there. We carry some bug spray with us and use it sparingly. We tend to prefer covering our skin with clothing over slathering it in bug spray. When I do use bug spray, I prefer to spray my clothing (but not rain gear) near vulnerable areas, like the cuff of my pants or shirt, my collar and the brim of my hat. We're lucky to be in a geographic area where most of the bugs don't carry harmful diseases (yet).
Whether you are planning a canoe trip in the BWCAW or a paddling adventure in a more tropical destination, I hope these tips will help you beat the bugs. I'm sure you have some good bug tips too — please share them in the comments! Any paddling/camping trip is better if you're not scratching itchy, swollen bumps on your skin.
---
— Dave and Amy Freeman have been sending in a series of Dispatches from their #WildernessYear in the Boundary Waters. (Read more about their adventures, including: an action alert for intrepid Boundary Waters paddlers, Canoeing with Dogs, Tips and Tricks for adhering to key rules in the BWCAW, canoeing through the recent spring Ice-out, Finding Reasons to Rejoice, Holidays in the Boundary Waters, Ice Canoeing, The Freeze Begins, The Slow Way and Canoeing with the Next Generation.)
— Learn more about the mining threat at SavetheBoundaryWaters.org, and check out the Freemans' educational info at WildernessClassroom.com, or follow updates at #SavetheBWCA and #WildernessYear.
The article was originally published on Canoe & Kayak
For access to exclusive gear videos, celebrity interviews, and more, subscribe on YouTube!