On Tuesday the Tour de France hit the cobbled farm roads of Northern France, and two American hopefuls sat tucked into the peloton, protected by their teammates. Tejay van Garderen and Andrew Talansky, both 26, represent the best hopes for an American Tour victory in years. Though Talansky's Tour hasn't gone perfectly so far, van Garderen sits third overall, just seconds behind 2013 Tour champion Chris Froome.
Talansky was the top-placed American in 2013 when he finished tenth, while van Garderen rode to fifth place in 2014. But the last time an American scored a higher finish came in 2008, when Christian Vande Velde captured fourth. Before that, well, things get complicated. Between 1999 and 2005, Lance Armstrong dominated the race and won seven consecutive Tour titles, but that history was wiped away when a U.S. Anti-Doping Agency investigation found Armstrong guilty of cheating to win his titles. In 1998, Bobby Julich claimed third in a race that saw multiple teams withdraw over doping and only half the entrants finish. Greg Lemond remains the only American to have officially won the Tour, with his third and final title in 1990.
But now van Garderen is sitting pretty after he climbed to third overall on the painfully steep slopes of the Mur de Huy on Stage 3. Thanks to strong support from his BMC team, van Garderen also survived Tuesday's tricky cobbled stage and spent many of the rough sections near the front of the peloton.
As a young rider, van Garderen spent several years racing in the Netherlands, where narrow roads and bad weather are simply part of training for aspiring cyclists. His talent for stage racing showed early, and van Garderen won the best young rider's jersey at the Tour in 2012. "He's probably the biggest motor of all the American riders out there," says fellow BMC racer Peter Stetina, who raced with van Garderen since they were juniors. This year van Garderen comes to the Tour after a successful spring that saw him finish second at the Critérium du Dauphiné, a traditional warm-up race for the Tour. When compared to last year, van Garderen looks noticeably stronger to Stetina. 
"His results in the World Tour races have been higher," says Stetina. "Before, he's been waiting when the favorites really took off, now he's matching their accelerations and even hitting them back."
For riders like van Garderen hoping for a high overall finish, the goal for the first week of the Tour is to stay out of trouble until the race reaches the mountains. An experienced team can make all the difference. Van Garderen has a talented crew in Manuel Quinziato, Daniel Oss, and Michael Schar, who are practiced veterans at finding gaps in the field and steering van Garderen to safety.
"He's got a lot of faith in his teammates, and he will follow them through any mess in the peloton, even if it's sketchy and rainy," Stetina says. "They create this impenetrable wall of bodyguards."
America's other young Tour hopeful, Talansky, comes to this year's Tour hoping to erase last year's heartbreaker. After a promising spring that saw him win the Critérium du Dauphiné, Talansky crashed badly and was forced to abandon the Tour in tears on the road to Chamrousse. "He had some bad luck at last year's Tour, so he's approaching this year's with a lot of motivation and a score to settle," says Jonathan Vaughters, the manager of Talansky's Garmin-Cannondale team.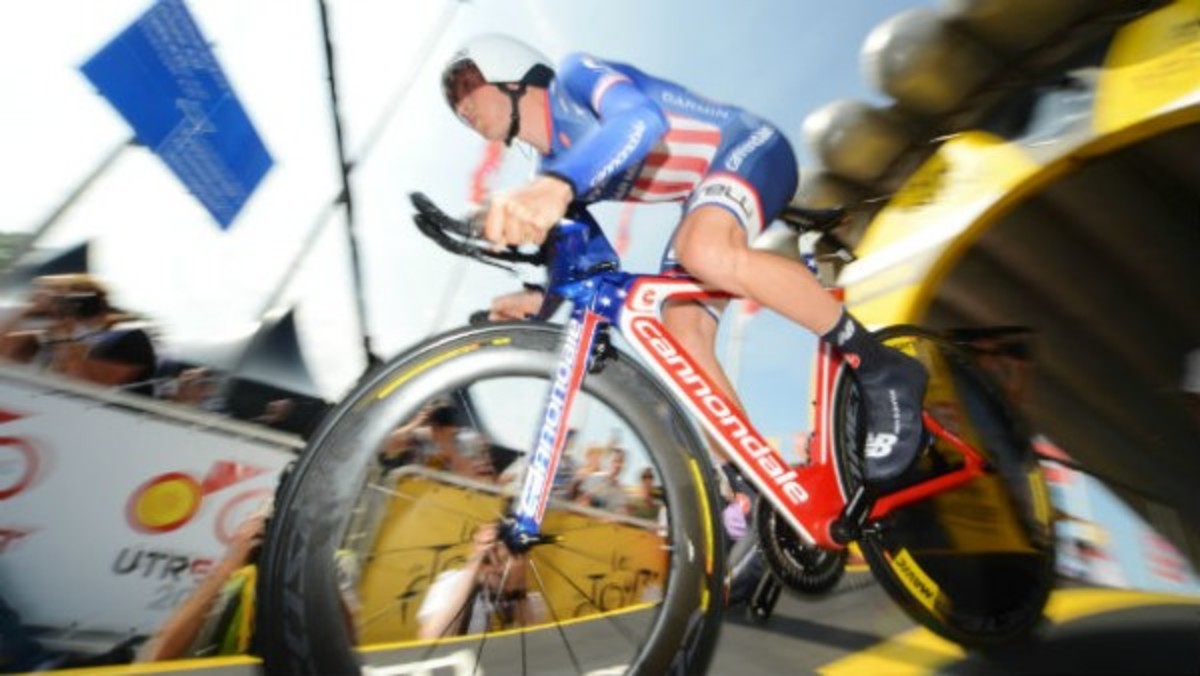 Talansky started Stage 1's short time trial in the kit of the American TT champion, but finished a disappointing 90th.
This year's race is off to a difficult start for Talansky, who got caught behind a split in the peloton during Sunday's wind-driven stage in Holland. Currently 20th overall, Talansky is more than two minutes behind the other race favorites. With the mountains to come, that's not a huge time gap (last year's race was won by more than seven minutes), but none of the top riders are going to give an inch.
Nicknamed "The Pitbull," Talansky is not a rider to count out until the finish line. His tenacity was on full display when he made the front group on Tuesday's high-speed romp across the cobbles. "One thing's for sure, he'll make the race interesting," says Vaughters.
Van Garderen and Talansky still face formidable opposition from Chris Froome, Alberto Contador, and Vincenzo Nibali — all of whom have already won the Tour de France at least once. In Contador, Stetina sees the biggest challenge of the bunch.
"Contador is a true racer, and he takes advantage of every moment he can," Stetina says. "In the Tour, you're always so switched on and you're ready for everything, but Contador and his team are the ones who really exploit a situation." 
At 26, both van Garderen and Talansky have time on their side with some of their best years as riders ahead of them. And though cycling rewards experience over youthful exuberance, both riders have shown they can ride with the best and intend to prove it again this July.
For access to exclusive gear videos, celebrity interviews, and more, subscribe on YouTube!