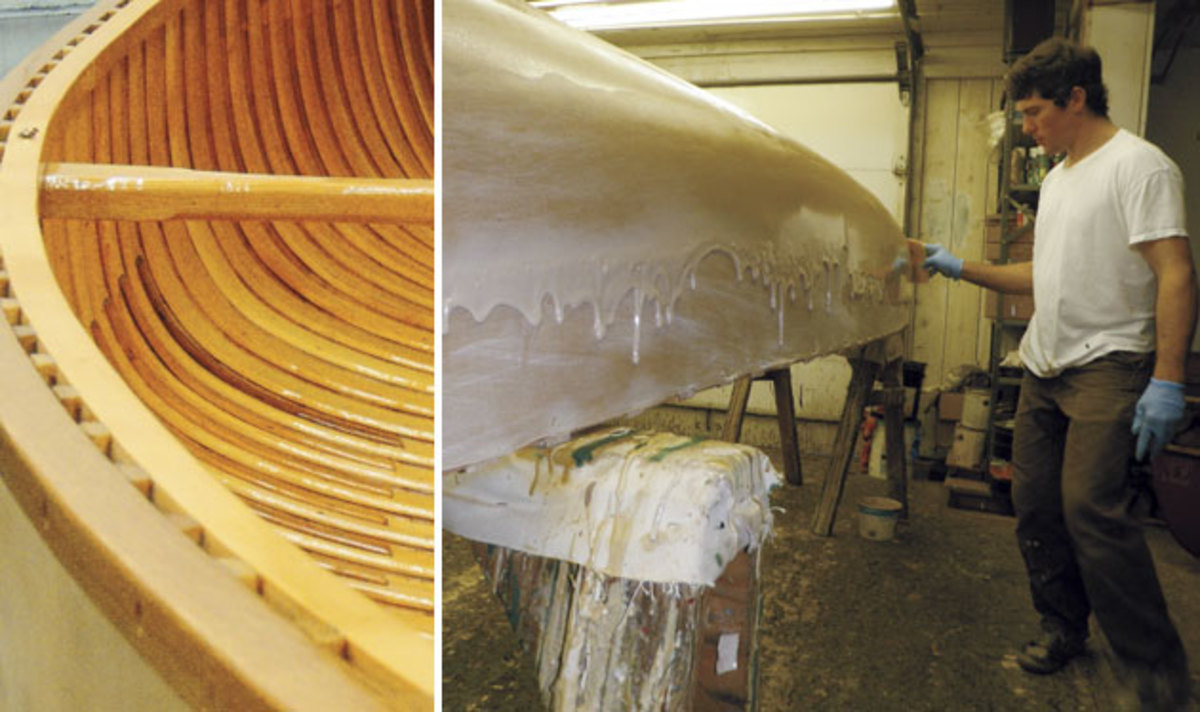 Though wood-canvas canoes look great and paddle even better, few people have bothered to build them since the early 20th century. They're not all that easy to build, and lighter, stronger materials have only become more readily available. Even fewer people take them on long expeditions. Ten bullheaded counselors from Vermont's Keewaydin Dunmore camp are looking to buck both those trends, though. They've already built five 17-foot, wood-canvas canoes, and, as soon as the ice melts this spring, they plan to paddle and portage them 1,200 miles from the century-old camp on Lake Dunmore in central Vermont to Ontario's Hudson Bay. The trip will raise money to help underprivileged kids attend the historic camp steeped in canoe-tripping tradition. Three months of hard portages should also give the adventurers plenty of time to reflect on their choice of craft. For now, Tom Bloch and his crew of fellow counselors are ready to revel in hundreds of hours of trial and error, learning this nearly forgotten art of canoe building.
—Dave Costello
1. Creating the mold: Before you build the canoe, you need a form to bend the ribs around and shape the hull. The Keewaydin crew made its own metal-clad wooden armature, or mold. Then, the start of the canoe itself: bending the white cedar keel and gunwales onto the frame.
2. Ribs: Next, the crew sawed a large pile of white cedar lumber into 2 1/4-inch strips. Each of these, after being cut to length, tapered, planed, and routed, became a canoe rib. One boat requires 54 ribs; a fleet of five uses 270 of them. In order to make the ribs pliable enough to bend over the mold, the counselors soaked and steamed them. Properly bending the hot ribs and nailing them to the inner gunwale took at least two people and a careful touch, Bloch says.
3. Planking: With the ribs in place, they transformed the next stack of cedar, cutting, re-cutting, tapering and planing—into planking that runs the length of the canoe, nailed to the outside of the ribs. "Experience comes in handy here, since that's the only thing that will really let you know exactly how much you can bend a 5/32-inch-thick plank of cedar before it cracks," says Bloch's expedition partner Rich Morgan.
4. Canvassing: For the best possible fit, the crew members let the canoe settle into its canvas shell overnight. They set the heavy cloth into a jig like a giant, overbuilt hammock then set the canoe inside, weighted with a few hundred pounds of river rocks. The next day, they stapled the canvas to the planking and inner gunwales.
5. Epoxy and paint: The time-consuming part. Each boat needed at least four coats of epoxy for strength; each coat needed 12 to 24 hours to dry. All that left was a fresh coat of the camp's trademark green paint—and 1,200 miles of wilderness.
This story originally appeared in the March 2012 issue of Canoe & Kayak.
—Follow the crew's expedition or donate at expedition2012.com.
The article was originally published on Canoe & Kayak
For access to exclusive gear videos, celebrity interviews, and more, subscribe on YouTube!