Looking for a perfect family canoe trip with desert landscapes rivaling the Grand Canyon, ancient Indian ruins to explore, and no crowds? Then pack up the kids, strap on your canoe, and head to Canyonlands National Park for a float on the Green River. Just don't forget to calculate the "Sky Factor."
What is the Sky Factor, you ask? Some historical background is required to explain this phenomenon.
I spent the better part of my 20s living out of the back of my rusty blue Toyota truck, migrating between Alaska and Baja, guiding monthlong kayaking, mountaineering, and hiking trips in some of the most remote wilderness imaginable. Life was simple: I had no mortgage or bills to pay, everything I owned fit in a backpack, and my only worry was finding the best deal on PowerBars, my diet of choice. I prided myself on my wilderness savvy, technical skills, and efficiency in leading novices in challenging situations. I figured that eventually I would wind up alone in a remote Alaskan cabin, spending my days in blissful solitude with bears and wolves as my only companions. My main fear in those years was getting married or, even worse, having kids. Visions of living in suburbia, owning a minivan, mowing the lawn, knowing my mailman's name, and going to McDonald's Playland put me in a cold sweat. That life would be unbearable. My fellow guides would never come visit.
Then I met my match—a spunky female kayaking guide from California—and visions of a remote and lonely cabin in Alaska quickly faded. Before I knew it, we had a house, a lawn mower, and a mailman named Steve. And then we had Skyler, our son. Things became much more interesting with a curious, energetic infant: hence the origin of the term Sky Factor. Basically, anything broken, missing, or unexplainable in our household, we soon realized, was most likely a result of the Sky Factor.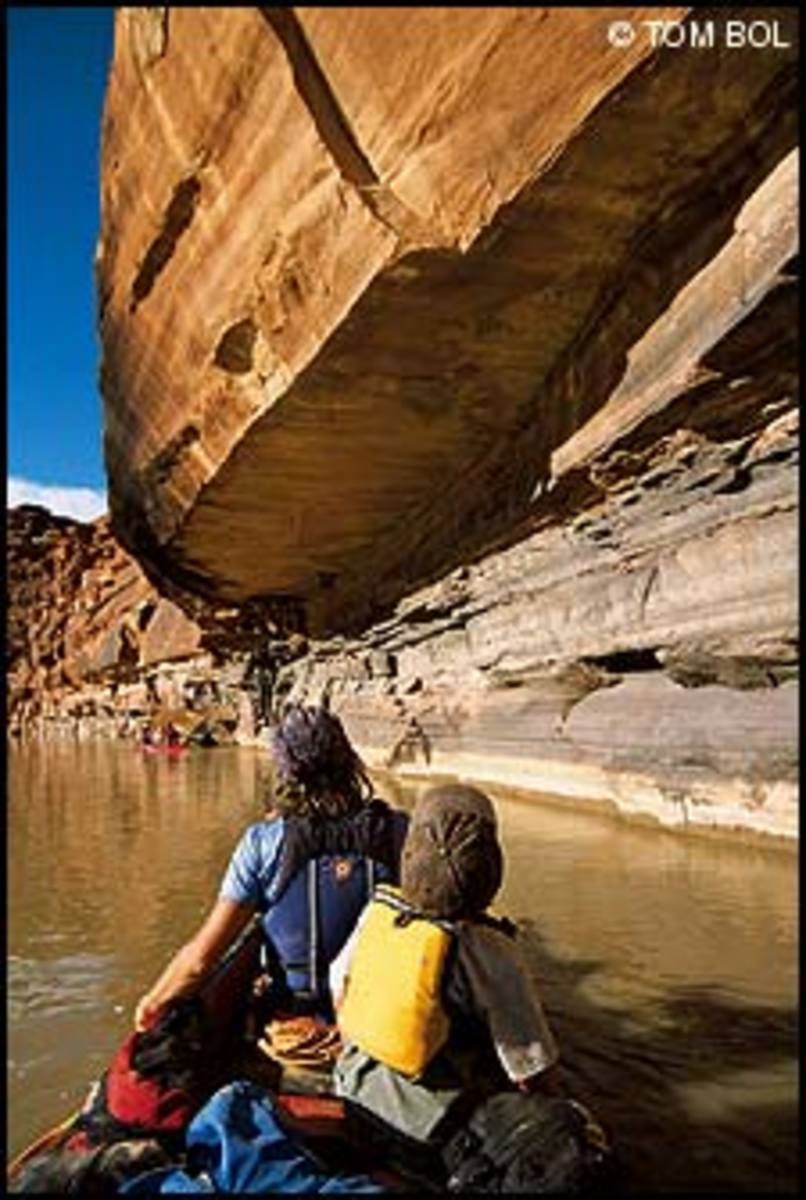 Ever since starting our family, my wife, Cree, and I had looked for a great wilderness canoe trip on which we could take Skyler. We had done a few overnight trips together, but we were ready for a weeklong adventure for the whole family. We could hardly wait to introduce our son to something that had always been an important part of our lives. Secretly, I envisioned grooming him for later expeditions.
"There are no rapids to worry about, just a couple of spots of swift water. You will have no problems at all," Bob Jones, co-owner of Tag-A-Long Expeditions, assured me over the phone. "We shuttle families with young children a lot, and they really enjoy the trip. And right now, the weather looks good—nice and sunny."
Tag-A-Long Expeditions would shuttle us to Mineral Bottom, where we would start our trip, and then meet us five days later near the confluence of the Green and Colorado Rivers for a jet-boat ride back to Moab, Utah. Ordinarily, I wouldn't give much thought to any water Class III or below, but I found myself preparing for the worst rapids imaginable. This was the trip's first manifestation of the Sky Factor. To keep our son safe, I spent hours shopping on the Internet for rescue pulleys and floats, as if we were running Tsangpo Gorge instead of going on a flatwater float.
The article was originally published on Canoe & Kayak
For access to exclusive gear videos, celebrity interviews, and more, subscribe on YouTube!