By Tim Farmer
This article first appeared in The Beginner's Guide to Canoeing and Kayaking, 2006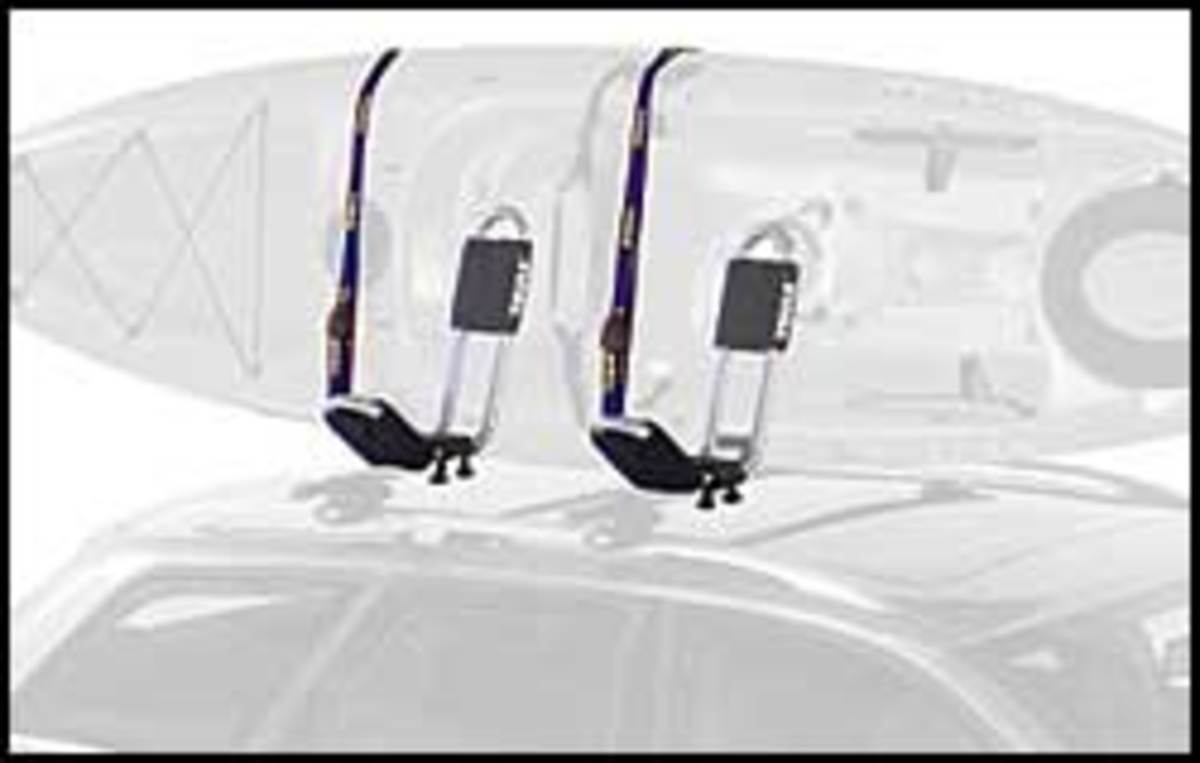 So, you have your new boat, paddle, and PFD. Everything to get on the water, right? Well, unless you own waterfront property, you'll also have to decide how to haul your boat to the put-in. It's a decision that will affect how much pain or pleasure you'll derive from your new hobby, since you'll be loading and unloading your boat regularly (you hope).
Determining what type of rack system you need is as individual as what you paddle. If you're a social butterfly who ends up paddling with friends and hauling multiple boats, you'll have different needs from the lone wolf who paddles solo most of the time. If you want to haul bikes or skis in addition to boats, you'll probably want to explore systems with interchangeable components.
The good news is that with so many choices, even the family sedan can be outfitted to haul boats. Major manufacturers such as Thule and Yakima offer fit guides on their Web sites, and that's a great place to start. Retailers such as Rack Warehouse (www.rackwarehouse.com) or Rack N Road (www.racknroad.com) can offer personal assistance at one of their stores or over the phone, but be sure to provide complete information about the year, make, and model of your vehicle to get the proper fit. Certain rack manufacturers offer a better fit for specific vehicles, and that's where their advice can be invaluable.
What you paddle will also influence your choice of racks because it will determine how you carry your boat. Fiberglass or other composite boats can suffer stress fractures if carried tightly against a naked metal bar, so some kind of cradling system or padded carrier is essential. Plastic boats are super-tough by comparison, but whether plastic or composite, it's ideal to carry any kayak on its side because the edge offers a structurally thicker and stiffer surface for the boat's weight against the load bar. A composite boat should never be carried upside down against a metal bar because the deck is thinner (to save weight) and therefore more vulnerable to stress. Carrying boats on edge also maximizes the number you can haul; with a pair of 58-inch load bars and a center stacker bar, I can easily carry four plastic kayaks on my cartop rack. Just be sure to stay within the manufacturer's recommended weight limit for your rack.
Canoes, on the other hand, are best carried upside down, keeping the weight on the gunwales. Padded foam blocks or padded bars will protect the gunwales and help keep the boat from shifting.
Sometimes the hardest part of hauling any boat is finding a place on your vehicle to tie off the bow and stern, which is especially important for canoes because they tend to slide when carried on the gunwales. On vehicles with no convenient tie points, a good tactic is to attach a loop of rope or nylon webbing around the point where the radiator anchors to the vehicle frame. The loop can be left in place as a permanent tie-down point, so you don't have to get down on the ground to tie off your canoe.
Whatever you drive and paddle, safety is the first consideration, and the proper fit is crucial to safely hauling your boat. So don't hesitate to consult an expert. Think about what you drive, what you paddle, and how you play; then rack 'em up and let the good times roll.
Foam blocks and straps
One of the cheapest and easiest ways to haul a canoe or kayak is to use foam blocks or cradles. For a canoe, four foam blocks and four straps should keep your boat safe and secure. For kayaks, V-shaped foam cradles provide a hull-hugging fit. Check out Riverside Cartop Carriers ( www.riversidecartop.com) or Ozark Mountain Country Outdoor Products (www.paddling.net/ozark) for a complete supply of foam blocks, cradles, straps, bumper hooks, and more.
Rack systems
Thule (www.thuleracks.com) and Yakima (www.yakima.com) dominate the cartop rack market and offer extensive fit kits to adapt a rack to fit just about any vehicle. They also offer a wide selection of accessories to haul bikes or skis as well as many for carrying boats. Their Web sites provide interactive fit guides so you can see exactly what options are available. Component rack systems offer great versatility, but expect to shell out $300 or more for a complete set of four towers (custom designed to fit your car), two horizontal load bars, and some type of stacker, saddle, or other carrying accessory.
Depending on what you drive and what you paddle, a simple cartop rack kit may be all you need. These assemble-it-yourself racks offer an affordable option for budget-minded paddlers, but may fit some vehicles better than others. Spring Creek (www.canoegear.com) offers a wide selection of rack kits with suction-cup or rain-gutter attachment options.
SportRack Automotive (www.sportrack.com) manufactures roof rack systems that come standard on many SUVs. In 2000, SportRack purchased Barrecrafters (www.barrecrafters.com), adding this 50-year-old company to their product line. Check out both Web sites for online fit guides that will display the options for your vehicle in just a few mouse clicks.
Load-assist devices
Face it, none of us are getting any younger, and sooner or later gravity wins most of the battles we wage against it. Manufacturers are responding with innovative ways to win the battle of loading your boat. After all, paddling your boat should be your workout, not loading it. Even if you're not an aging baby boomer, loading your boat by yourself can be especially tough if you drive a tall SUV or haven't yet developed the upper-body strength that paddling will provide. Loading your boat with no help should be every paddler's goal; that way you're never dependent on a partner to paddle.
Load-assist devices come in a variety of styles for the many boats and vehicles on the market. Thule offers a mechanical load-assist system, but it's not inexpensive. The Hullavator XT ($449) reduces by at least three feet the height needed to lift your boat onto the rack. A gas strut then assists you as you raise or lower your boat to the rack, cutting in half the effort needed to lift up to 80 pounds to the top of your vehicle. An attached padded saddle and strap provide a secure tie-down system.
Another option from Thule is the Outrigger, a retractable extension bar that attaches to Thule's load bars so you can prop one end of your boat on the Outrigger without leaning your boat against your vehicle. Then you lift the boat onto the rack, secure it into position, retract the Outrigger bar, and hit the road. It doesn't eliminate the need to lift your boat, but it makes the task much easier for one person. And at $59, it won't break the bank.
Yakima offers the Boatloader, an extendable arm that works like an extra set of hands to hold the weight of one end of your boat while you lift the other. It still requires some effort, but its $60 price tag makes it an affordable alternative.
For $149, the Amagansett Beach Company sells the Roller Loader, a set of wheels that attaches to the front or rear of your vehicle with suction cups and straps. The Roller Loader keeps your boat from scraping against your vehicle as you load or unload your boat, and a similar, custom-made Canoe Loader sells for $169. You'll still need a rack to carry your boat; the Loader is not designed to transport boats, but it makes the job of loading your boat yourself much easier. Check out www.rollerloader.com.
If you already have a rack by Thule, Yakima, or Barrecrafters, take a look at the Maine Roll On from Maine Outdoor Products. This padded roller attaches to your existing rack and protects both boat and vehicle from scratches as you load or unload your boat. Different widths are available to accommodate anything from a canoe or kayak up to a small dinghy, and prices range from $80 to $120. For details, visit www.maineoutdoorproducts.com.
The ultimate load-assist device may be an electric-winch-driven system from Dovetail Loading Systems that allows one person to load a boat or other heavy objects onto a car or truck. A model designed for recreational vehicles seems particularly sensible for loading boats onto an especially tall vehicle, but otherwise, it's overkill for most paddlers. Depending on the system, models start at $895 and can lift up to 300 pounds. Check out www.loadmyboat.com for complete information and a video of the loader in action.
The article was originally published on Canoe & Kayak
For access to exclusive gear videos, celebrity interviews, and more, subscribe on YouTube!