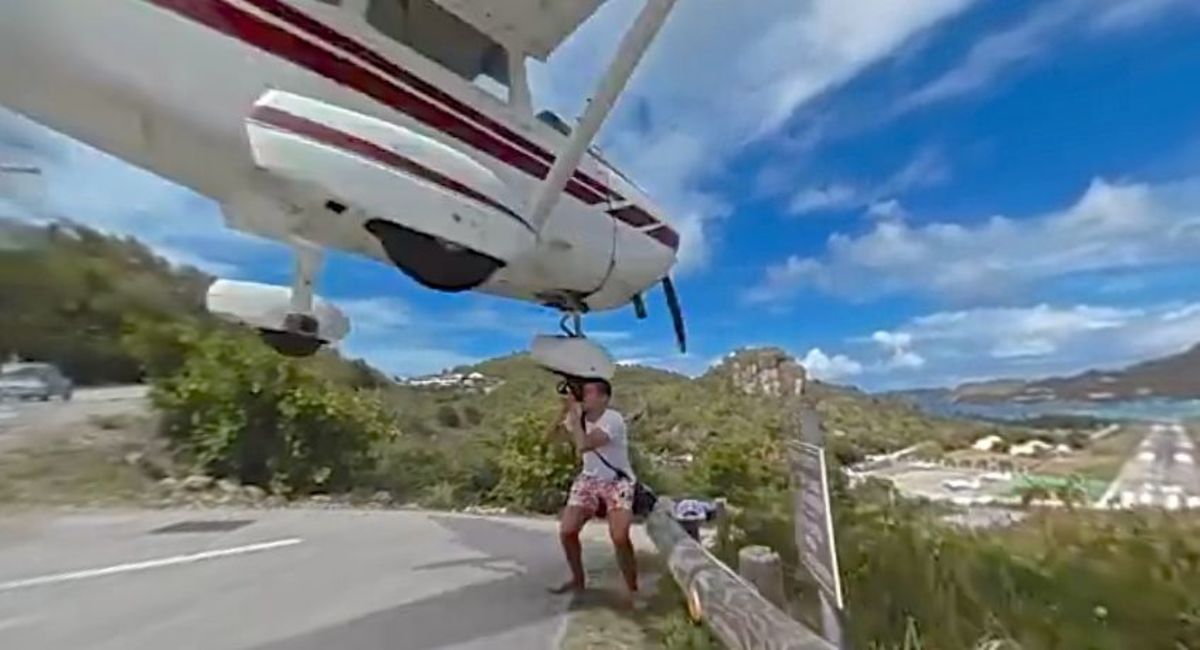 The Gustaff III Airport on the Caribbean island of St. Barts was ranked as the third-most dangerous airport in the world by the "Most Extreme Airports" program on the History Channel. It has a steep descent arrival over a hilltop traffic circle and a departure that skims over the heads of sunbathers.
Video shot by Sebastien Politano of Saint Martin, Guadeloupe, confirms the dangerous nature of the approach as it appears to show a small plane grazing a tourist trying to take photographs as it approached.
Politano, 46, was testing out his 360-degree camera at the traffic circle when this happened:
At the end of the video, the man with the white T-shirt and flowery shorts can be heard saying something that sounds like, "It hit me."
The man told Politano he felt the wheel of the airplane touching his right hand, according to the Daily Mail.
Politano told Caters News that the man kept saying "it hit my hand, it hit my hand."
"The guy showed me the traces of the tire on his hand afterwards," Politano told Caters. "But I didn't believe him. It was only when I saw the footage afterwards and saw how close it came that I believed him.
"I don't think he knows how lucky he was it didn't hit him harder."
Another angle of the 360-video shows a motorcyclist duck his head as the plane shoots by.
The Gustaff III Airport is located in the village of St. Jean. It serves small regional commercial aircraft and charters with most planes carrying no more than 20 passengers, all of whom probably close their eyes during landings and takeoffs.
More from GrindTV
Surf photographer John Salanoa paralyzed from rare disease
Finding your route at the rock climbing gym
SKATEmoji is exactly what it sounds like
For access to exclusive gear videos, celebrity interviews, and more, subscribe on YouTube!