Hidden down a sidestreet in Midtown Manhattan, behind a black door marked only by the large gentleman who stands there to protect its secret, is a basketball mecca, Terminal 23. Inside, the hoops are framed by Greek columns and the floor is designed to resemble the concrete most of us grew up playing on. This is where the best of the NBA come to escape the public during the summer, challenge each other on the court, relax, have fun, and rediscover why they love the game. "It's a home for basketball," explains Knicks All-Star Carmelo Anthony. "And no disrespect, but no media is invited." 
Not typically, anyway. Today Anthony, now 30 years old, out of uniform in his black leather jacket, fedora, and concrete high-tops with bright pink laces, has invited us into these hallowed halls to tell us his story through his latest signature shoe, the M11. From the Sunsets of Red Hook in Brooklyn, where he was born, to Baltimore, Syracuse, Denver, and now the "Concrete Island" of Manhattan, each colorway in Carmelo's new line – a collaboration with designer Tinker Hatfield – explains a step in his rise to the top of the league. After a guided tour and before we laced-up and took to the court, Carmelo chatted with us about building his brand, how he's following Jordan's lead, and why he could never think about basketball 24/7.
Why was this the time to start telling your story? Does it have anything to do with turning 30 earlier this year and facing that milestone?
Well so much happens between 20 and 30. There's just so much to tell. You're still trying to figure out who you are. You're still adding the pieces and the chapters to that story. I always was the guy that was just pacing myself — just never ready to tell the tale until now.
What have you seen in yourself looking back over a decade in the NBA?
I just see it as an evolution of me as a person, from when I was at Syracuse to getting drafted to now. Everything was happening so fast that I didn't have a chance to reflect back on that journey. But now you get a chance to just take everything in and breathe and look back and understand what happened and why. You really start thinking and being mindful of a lot different situations and you start being more knowledgeable. Wiser. "Why did this happen?" Things become clearer. It took until now for me to see that.
Can you look back with some perspective now that you're older and wiser?
Yeah, I mean, when I was 23, 24, 25, the things that I was thinking about and that I was into now make ask, "Why would you be into that? Why would you even do that? Why would you go there?" Now a lot of those things have definitely changed.
You were recently criticized for focusing on your brand and work off the court. How do you respond to people who say you should just stick to basketball?
In our society, whatever job you're doing, you're only supposed to focus on that job. It's foreign to people when you think outside of that. For me, of course my day job is basketball. I live, sleep, breathe basketball. But when this is done, I don't want to have to start over. I don't want to have to start fresh. These same people that might be criticizing or whatever they're saying, these are these are the same people that, when you sit down with them and have a real conversation with them, they say, "Don't wait until you finish basketball to figure out what you want to do or who you want to be." All of that stuff. So I don't pay attention anymore.
Has Jordan been your example for how to handle your business off the court?
It's funny because Jordan started this stuff later in his career. When he was playing, he wasn't figuring out how to do what we're doing. Imagine if he started when he was first playing and what he would be doing now. And that says a lot, because he's doing a lot now, but if he did it while he was playing, laying that foundation, ain't no telling with MJ. He'd be a billionaire, know what I mean? I look at those situations and I learn from the guys who came before me. Magic Johnson waited till he was 36 and out the league before he started creating his brand. It took him five years to figure out exactly what he wanted to do after he was done.
So now you lay that foundation. 
I have to lay a foundation. I have to. I have to. I would drive myself crazy just thinking about basketball all day long, all day, everyday. This is what I do. This is what got me here. I'm going to continue doing it… but to sit in the house and think about basketball and watching film 24/7 would drive me crazy.
But that's what people expect. Jordan seems to be your example off the court, but we have these anecdotes about his unstoppable work ethic and drive.
Well it was a different time. It's different worlds. When Jordan was playing there wasn't social media. Some people never saw him play, or maybe only once. That's why they were so intrigued. They had one channel and the game was on like NBC and that was the only time you saw Michael Jordan. After you watched the game, you weren't running to social media. You weren't Tweeting or Instagramming during the game. It was totally different. When MJ came up nobody knew exactly what he was doing. Everybody thought his way was the only way to do it. He came out saying, "Basketball, basketball, basketball, basketball. I train. I live this. I breathe this. This is what it's about." Everybody expects all athletes to do that now.
But even focused on the business side of things, how much actual say do you have in the design of your new shoe?
I'm there from the actual first day. We started with the footbed, then we add the pieces, then we go through textures and materials. I'm in the design room, or they meet me out on the road, so it's not like they just bring me the shoe and say, "Here. Tell me what you like about it and what you don't like about it." I've done that before and it don't work. I feel like I don't have a connection with the actual shoe and the actual symbol when it's done that way.
How much of it is about look, and how much is about ergonomics; actually being able to play in them?
That's the big part of it. If I don't feel comfortable wearing it and being able to play the way I play and being comfortable with it, then the way it looks doesn't mean anything.
How did you end up snagging designer Tinker Hatfield for your line?
It started a couple years back with my tenth shoe. It was my tenth anniversary with the brand. MJ is MJ and what he's done with shoes and the brand and the company… so it was like, what better way than for MJ to pass the torch than letting me get Tinker to design this memorable tenth anniversary shoe. MJ was like, "Man take him. That's perfect. If he wants to do one, that's perfect." So I emailed him and talked to him. We were going back and forth and after the first meeting he was like, "I would love for you to do it. I just feel a connection. I feel the vibe. I feel the energy that we can create something." He can't say that about a lot of people.
How has your definition of success evolved as you've made it into your 30s?
For me when, I think of success, I think of all the things that you put in to lead up to that point. If you go to work everyday, if you do your job everyday, if you put forth the effort and energy and thought process and focus into that journey, then that's success right there. Whereas somebody else might say success is winning the championships. Of course that's a success, but winning is out of our control sometimes, and if I know I'm going to work everyday and doing work and doing what I have to do, then at the end of the day when I do… for instance when I win the championship, that just validates all the hard work that I put in it. The success part — I've already accomplished that earlier. I see success as a validation of the process and of the journey.
What's the most important thing you've learned in your first ten years?
Simple: Just be patient. A couple people told me that. [Laughs.] I won't say no names, but a couple people we look up to — I look up to, you look up to. The one thing that stands out of all the conversations I've ever had was whatever you do, just be patient. I apply that to my everyday life.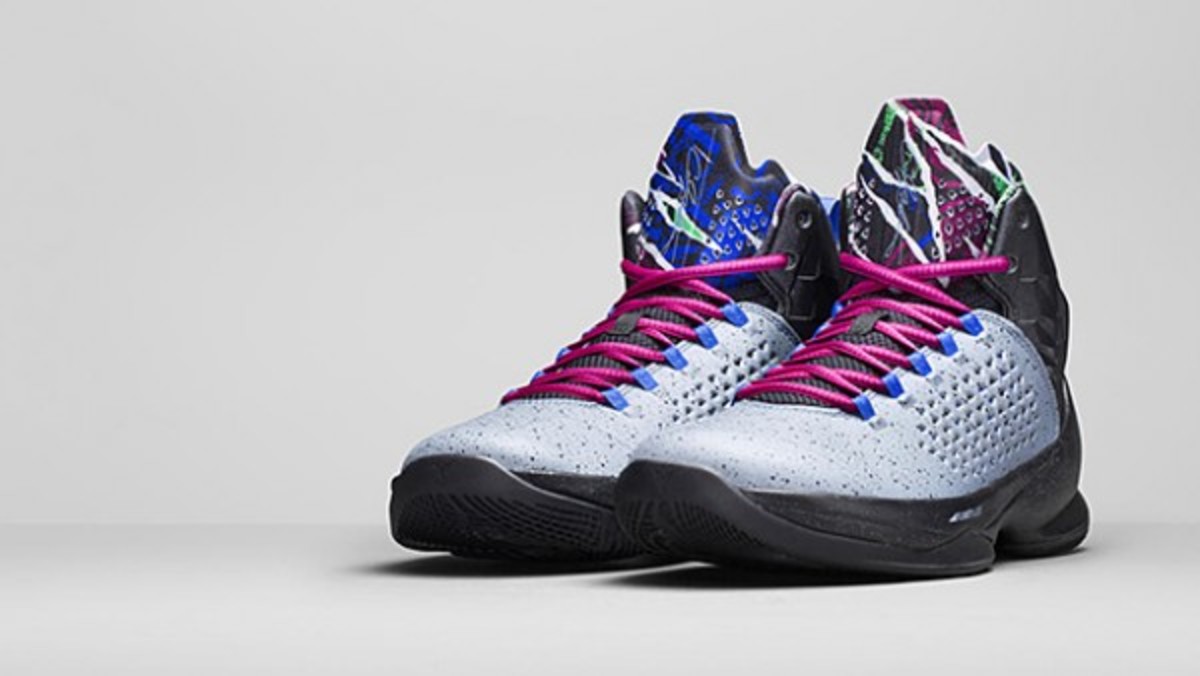 For access to exclusive gear videos, celebrity interviews, and more, subscribe on YouTube!