They call him John John.
His mom gave him the nickname when he was younger, and it stuck. Growing up, John John Florence surfed Hawaii's North Shore. And by the time you're reading this, the 23-year-old will be riding the waves that raised him in the Vans Triple Crown, a competition he's previously won — twice — and first entered at 13. Later in December, he'll continue the Triple Crown at Pipeline. But today, he's thousands of miles from the water that made him one of today's top athletes, visiting New York City to promote his new surfing film View From a Blue Moon, on iTunes December 1, after a recent early loss in the Moche Rip Curl Pro Portugal.
RELATED: The 65 Best Surf Spots in the World
"Learning how to lose is probably the biggest thing to accomplish," says Florence. "You learn how to take a loss, and you're not going to be scared to lose in the next event. You're not going to be an asshole after you lose. It changes everything. But it's also the hardest thing to do. It's really hard to just come in from a loss and go, 'OK, what did I learn in that heat?' Rather than just smashing your board." When it comes to contests, Florence has become more focused on what it takes to win. "Usually, I go out there and go as fast as I can and go for the biggest thing I can," he says. "It's really not the contest way to do things. So I'm trying to work on more of a strategy when I surf. Still learning, but…"
With 4K footage, expensive RED cameras the average person probably would never know how to operate, and helicopters following Florence's lead — one could argue how Florence and his team made the film is just as impressive as the locations Florence visited, from Africa to the islands of Angra. Though Florence is focused on competing, he's already thinking about the next movie, and even about sailing around the world. "That's, like, my biggest dream next to winning a world title," he says of sailing. "Everything I want to do is toward that. I would love to do the contest thing and eventually just do that for three years and check everywhere out. Go wherever I want to go." In the meantime, he's here "actually enjoying the city," and spoke with us about his daily routine, shark attacks, and the winter surf session he'll never forget.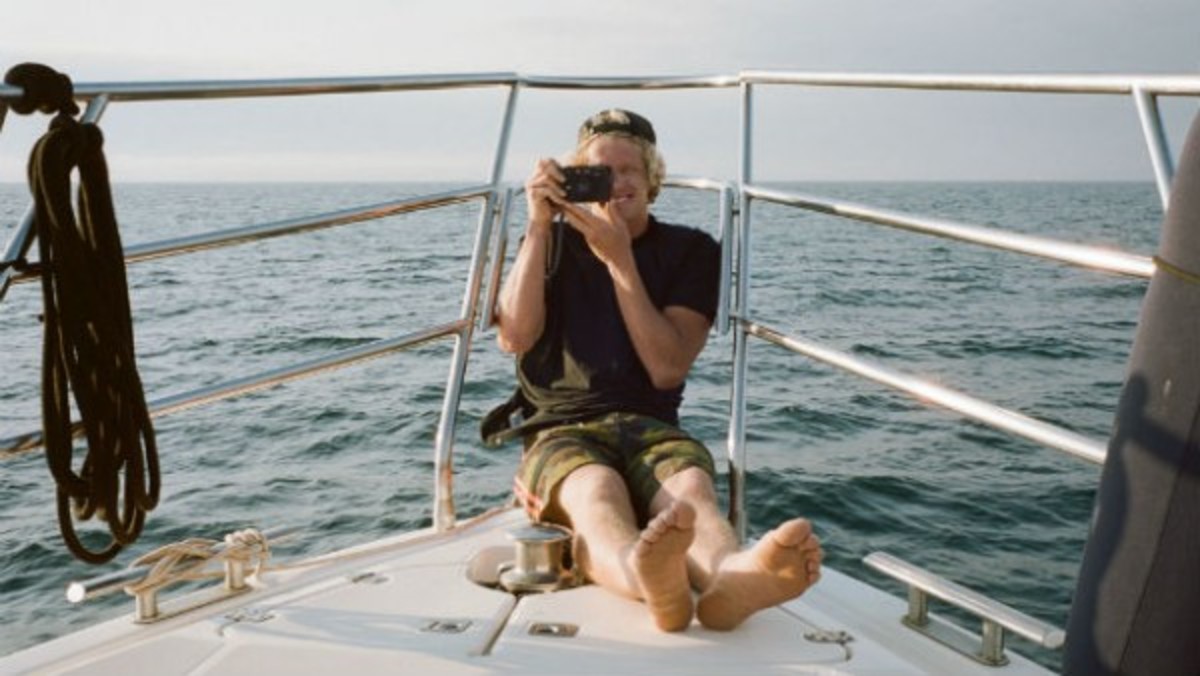 In the trailer we hear, "What would it be like to be born on this island?" So what is it like?
The whole movie is kind of like what we've been doing since I was a little kid, and we're still doing the same thing today. It's pretty much surfing and having fun. That's our life on the beach. Everything there, and everything to do with the ocean.  
RELATED: Exclusive Trailer: Surfer John John Florence's View From a Blue Moon
How big of a role does tech play in surfing for you right now? This is going way beyond having a GoPro strapped to your board.
Yeah, it's been a bit stressful at times. A lot of people working on the project. But we've learned so much throughout the whole project, streamlining our crew and knowing what we want from each place. I think that's the biggest thing: working with all this big camera gear. It's kind of knowing what you want to shoot with beforehand, rather than going out there and being like, "We have all this camera gear, what do we do with it?"

RELATED: Surfing Tahiti's Surreal Break
When you saw View From a Blue Moon as a whole for the first time, what was going through your mind?
It's hard to say because I've seen it as a whole for a couple of months now. But, you know, little changes, cutting things, and slowly bringing things together; it feels like I've seen the movie like 30 times over. But it's pretty interesting. It's still a surf movie, and that's what we kind of wanted to do: keep it… it's not a feature film. It's kind of just my life now and what we do. We travel around the world and get to go to these amazing places. And it really shows that, and it shows the beauty of these places, too, which is what we really wanted to capture.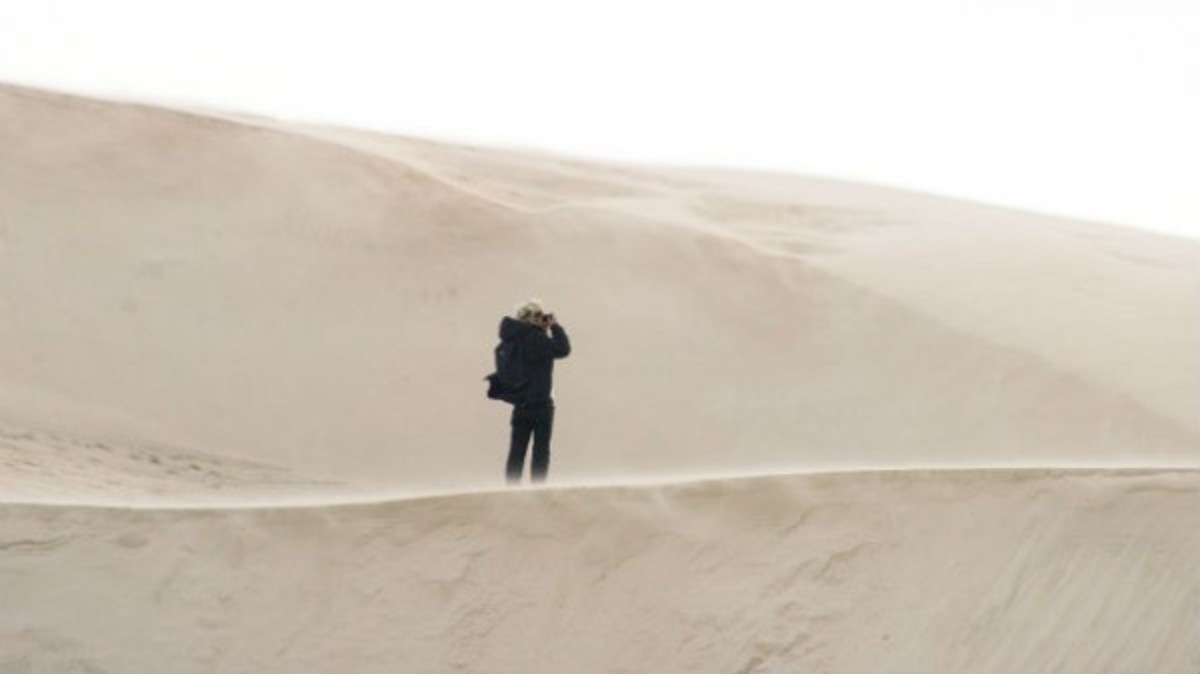 Speaking to that, I read that Brazil was your favorite part of what will be in the film. What stands out about that place? What was so special about that?
The stuff we shot in Rio came out incredible. It's such a different view of the place and culture and gives a good idea of what it is. Then we go down south to these islands called Angra, and the contrast between the city of Rio and where we were, there's just no one. Nobody in sight. Just to see the two differences between the two was pretty amazing.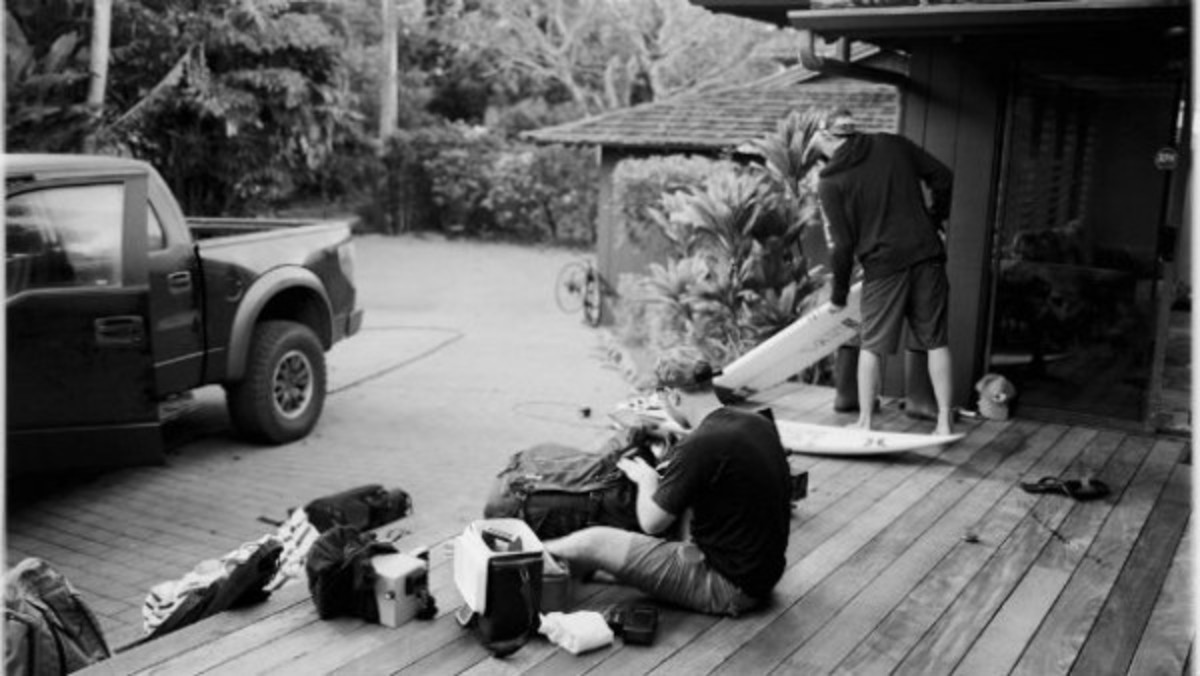 You're interested in film and photography, so this is really something you're a part of. It's not just, "Hey, let's hire a team to follow this amazing surfer." You are really playing a big part in this.
Everybody asked me: "Oh, are you happy with how the movie came out? Are you happy with the finished product?" Yeah, I'm happy with it. My goal in the end wasn't to have the finished product, I accomplished that already; my goal was getting to go on these trips and go to these places with my good friends and surf with no one around, with the best camera gear in the world. I'm so into the cameras and how everything works, and shooting good shots and coming out with good shots. Getting to work with that stuff one-and-one right there was an amazing opportunity. I learned so much.
RELATED: How to Surf for the First Time
Another big part of the film is the music. Do you usually wake up and listen to some music and then go surfing?
Music is a huge part of our life. We listen to music to get inspired to film, and we listen to music to get inspired to surf. It's every part of our lives. I've learned to like so many different types of music. I grew up listening to a lot more Pink Floyd and Zeppelin. Rolling Stones. The Beatles. Bands like that because that's what my mom was in to. Motörhead. Talking Heads. Everything along those lines. 
RELATED: 5 Must-Have Items for Surfing
You mentioned your mom. A lot of families have their thing. Your family's thing is surfing together.
It's pretty crazy, especially when I was younger and my mom was going out on bigger days than I wanted to go out on. You know, sitting there just like, "Wait, you're going out there? That means I have to go out there." It was pretty cool, though. She's taught me and my brothers everything. I don't know, being able to surf with your family is one of the most amazing things in the world. It's just you guys out there.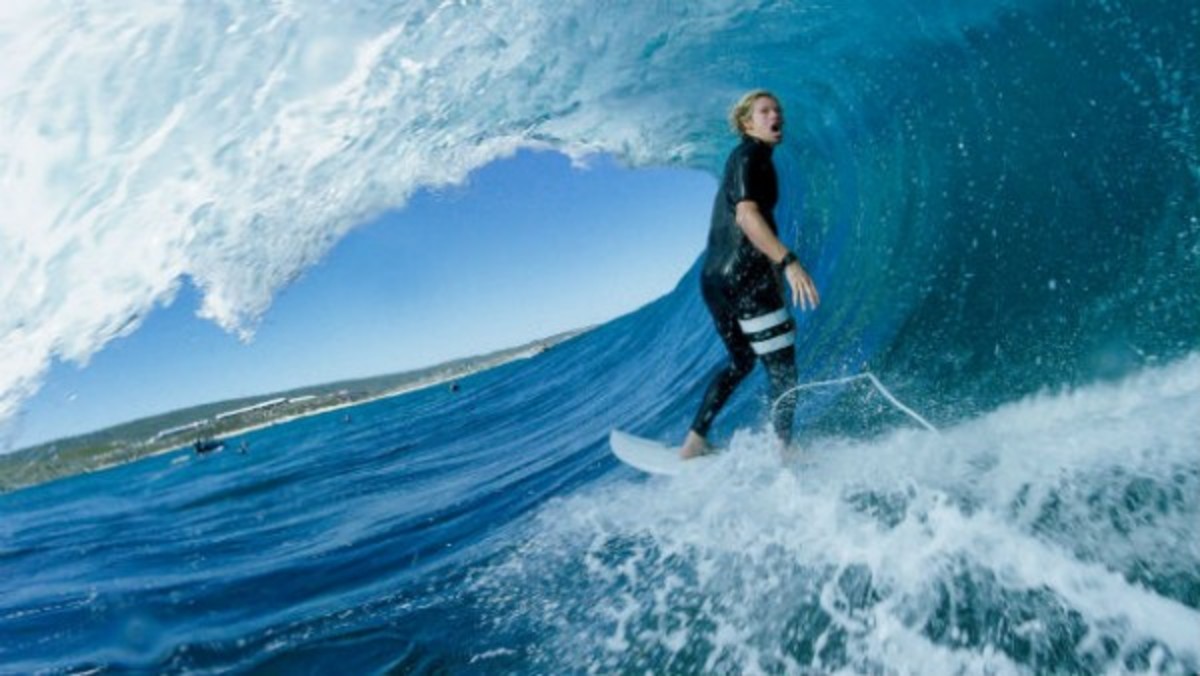 You've accomplished so much already. Do you ever feel any pressure to live up to the things you've already accomplished?
No, I've always just kind of gone along the lines of doing what I want to do. There's pressure for contests, for winning events and whatever world titles. I would love to win a world title some day. But the past couple years, I've just been like, "I'm going to make a movie." So I've been able to make a movie and do contests at the same time. Now that I've made the movie, it's like, "I want to focus directly on contests." It's pretty cool to be able to do that: be open-ended. Whatever I want to do at that point in time, put my focus into that.
RELATED: A Surfing Safari in Nicaragua

What does A View From A Blue Moon mean?    
I wanted to have a long name for the movie, so we started coming up with names. A View From a Blue Moon came up, and it kind of just worked into how we work with our films and our projects. We come out with them every so often. Pretty rarely. It took us two years to film this movie. And we really haven't released anything in those two years. So, I don't know: A View From a Blue Moon. Blue moons are pretty rare and, ironically, there was a blue moon when we came out with our first trailer. We got to come out with it on a blue moon. That was pretty cool.
Is there a surfing memory in particular that you always think about as that was the coolest thing that's ever happened to me?
Yeah, what you compare everything to — for sure. I've had several moments like that. I think the main ones have been times when I'm surfing perfect waves and it's just my brothers and my friends and no one else around. We had a session last winter. It was just me, my brother, and three of our friends, and this wave that never breaks. We got it really good with no one out. We surfed for like seven hours. But it's just one of those times like we were coming out of every wave with our arms in the air, screaming at the top of our lungs. Everyone screaming for the guy in the front. It was just one of the most amazing sessions ever, and that's one of those times that I'll remember for my whole life. From sessions that come up in the future, I'll always think back: Was it as good as that time?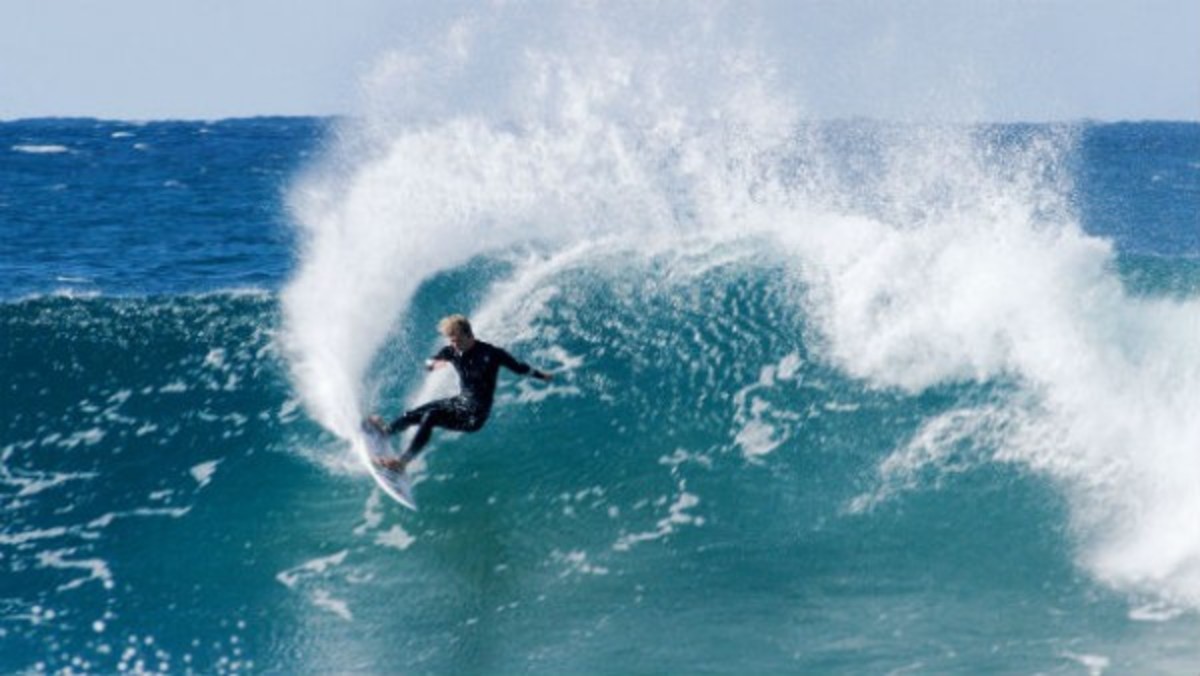 We've recently seen shark attacks during competitions. Has there been a time where you go, "Oh man, this is kind of serious," or a risky situation?
I haven't had a time too much like that. Maybe surfing some bigger waves. But the whole shark-attack thing, I wasn't there for that event. I was injured at the time. But I woke up and saw it and was kind of like, "Whoa." It's eye-opening. That place is pretty notorious for sharks. And we surfed so many waves around there. For that to happen during an event… to me, an event [is where] you feel the safest in the water. There's jet skis; there's water patrol. There's hundreds of people everywhere. It's kind of when you feel the safest.
If you could be anywhere right now, where would you be? What would you be doing? 
I'm actually enjoying the city. I haven't spent that much time here at all. I'm pretty happy here right now. So it's pretty cool to be here. I'm excited to get home, though.
RELATED: Why Nathan Florence Rode the "Best Wave Ever" at Teahupo'o

What's the first thing you're going to do when you get home?
Well, the first thing I'm going to do when I get home is… I just bought a boat. A big sailboat. We just got it all redone. So I'm probably going to look at it, check it out.    
What is the typical day for you?
I wake up early all the time. I love waking up early. I wake up early every day. Surf early. On a normal day, I'll probably surf, eat, sleep. Surf, eat, and then sleep. That's, like, my day.
Sounds like a pretty good day. 
Yeah, it's not too bad. I mean, when I'm at home, I don't even leave my house. If I have an amazing wave right in front of my house, I just walk out the front gate onto the beach and just surf. It's pretty awesome.
RELATED: Adventurers of Instagram: Surfer Kamalei Alexander
How do you want to be remembered? What do you want your legacy to be? 
I don't know. I'm not worried. I just want to have fun. I just want to do what I want to do, and I don't want to be forced into things that don't work. I would just like people to look at it and be like, "OK, your life is pretty open-ended, you can do whatever you want." You see a lot of people doing things they don't want to do. It's kind of sad in a way…. Show people that you can do whatever you love and succeed at it. Really put your mind to it. 
What do you want to do next? 
I've already been thinking about the next movie. We've really gotten into sailing lately, so something to do with sailing to far edges of the world and surfing amazing waves and exploring. But, I don't know. I'm going to take a break for a year or two and really focus on contests. 
RELATED: The 15 Best Surf Movies
What's something that people don't know about you? 
That's a hard one. Next to winning a world title, my biggest dream is to be able to sail around the world on a boat and go surfing amazing waves with no one around.

Alone?
No, with my friends. I don't know if I could do it alone. That's like my biggest dream next to winning a world title. Everything I want to do is toward that. I would love to do the contest thing and eventually just do that for three years and check everywhere out, go wherever I want to go. That's a big goal of mine.
Where would you go?
Living in Hawaii, I've already thought so much about it. I would go down to South Pacific and then follow all the islands kind of up into the Philippines and probably down through Indonesia. Go to India, Sri Lanka, then down to Madagascar, and through all of Africa. And then up the West Coast. And then probably… I don't even know. I don't know if I would cut across the Atlantic or go up to Europe for a while, and then cut across. It's just open ended. You can go wherever you want. That's, like, a dream.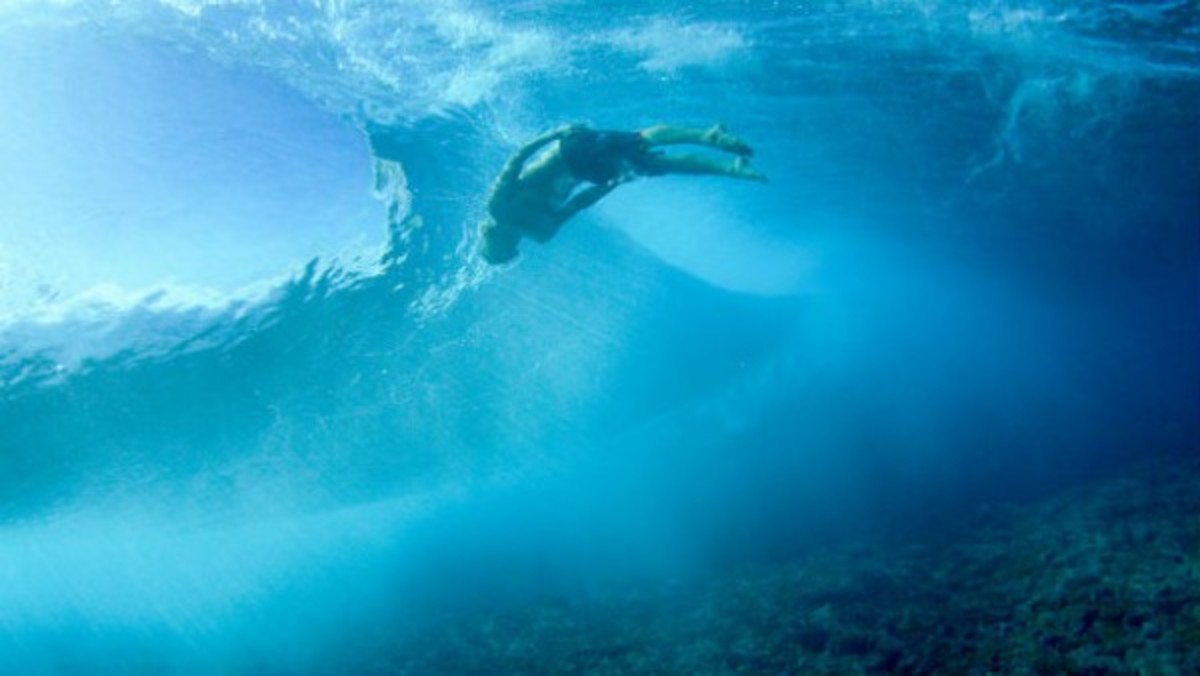 For access to exclusive gear videos, celebrity interviews, and more, subscribe on YouTube!