Jeff Mariani, 48, of Cedros Island, Mexico, almost got swept off his kayak before he reeled up an astounding 108.6-pound broomtail grouper while aboard a Hobie® Mirage® Pro Angler last week. Mariani, the owner of the new Cedros Tackle kayak fishing tour operator, was with Hobie Fishing's own Morgan Promnitz and Kevin Nakada at the time, reported the Hobie Fishing website.
According to the International Game Fish Association (IGFA) website, the current all tackle record for broomtail grouper is 100 pounds even, making Mariani's the new potential world record.
Mariani was hoping for a big Cedros Island yellowtail when he cast out his Kicker 25 surface iron in 80 feet of water near the salt factory. The fish are a common target at the remote island off Baja's Pacific coast, and a compelling reason he established his kayak fishing service outfitted with Hobies rigged with Lowrance color sonar and bait tanks.
As is his custom, he let the surface iron sink about 20 feet before beginning his retrieve. Four or five cranks later he was hooked to a then mystery beast.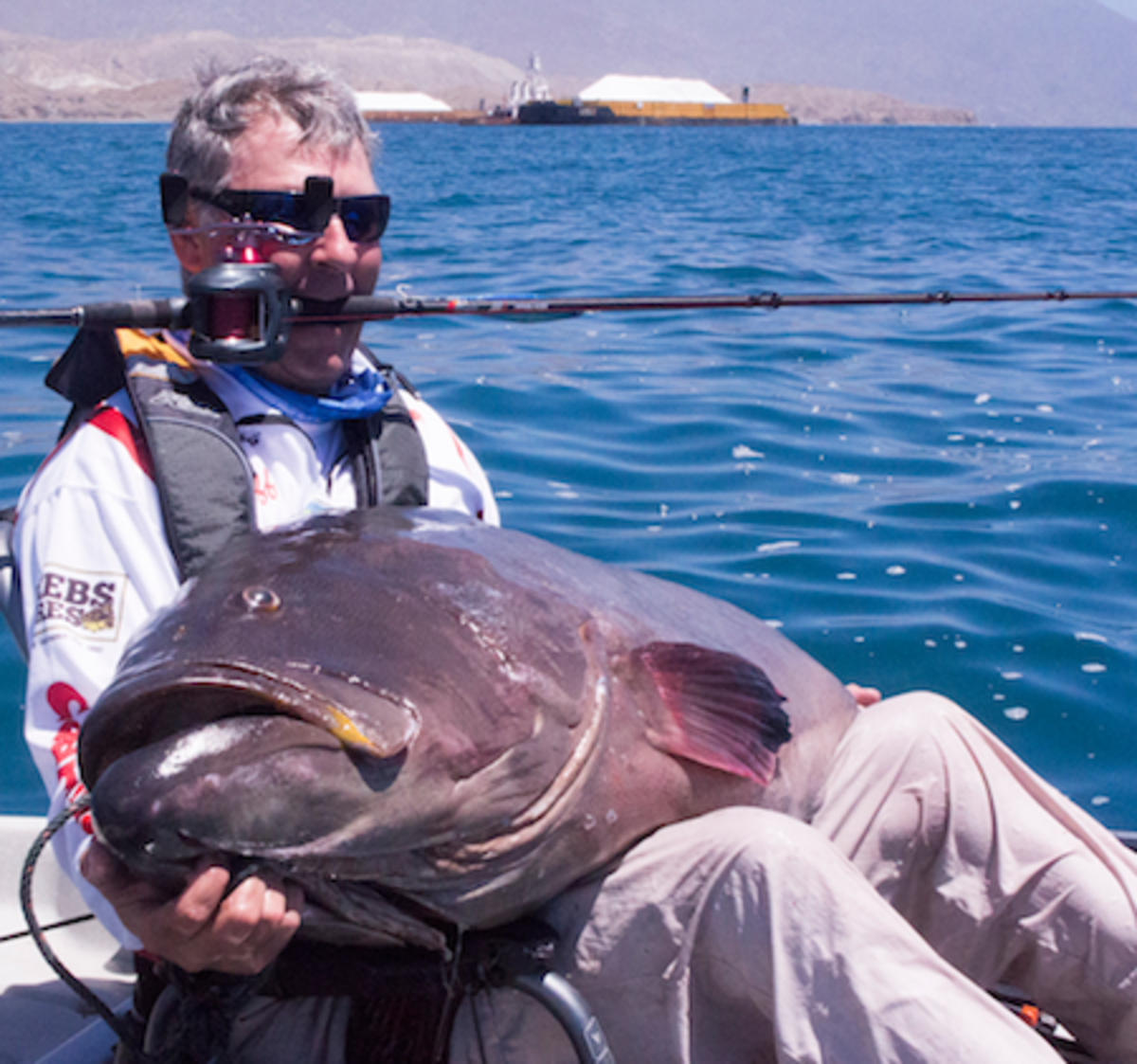 The battle was straight up and down for the first 20 minutes. It's fair to say he was under gunned. Mariani was using his heavy saltwater bass outfit, a Phenix M1 Inshore Series rod with a prototype Okuma Komodo baitcaster spooled with 65-pound PowerPro braid plus a 35-pound Seaguar Flurocarbon leader. Rather than a hindrance, Mariani figures the light rod helped keep him hooked up without worrying about going over.
"I never felt the fish was in control at any point. I was confident I was going to win the battle. All I had to do was sit there and remain calm, and get line back when I could," Mariani said.
A short while later, Mariani had the fish at color. What a surprise!
"When the fish came up I got on the radio and started screaming to the guys," Mariani said. Until that point, his largest-ever kayak fish was the 12-pound yellowtail he'd caught the prior day – a 96-pound upgrade in one day.
Everyone in the group was amazed. Mariani was ecstatic. It didn't take Nakada long to realize the massive fish was a world record contender. The group called the IGFA for advice, then took the fish into town where they found a scale (which they bought), and started documenting the catch in photos and videos.
"We called the IGFA again to make sure we were doing everything we should, and the guy said filet the fish and enjoy your meal," Mariani said. According to Mariani, the IGFA has already certified his scale. He's submitting a notarized statement and the line and leader used to catch the fish. At this point it should be just a matter of time before he joins a small list of IGFA all tackle record holders to catch their fish by kayak.
"I can't say enough about the Hobie team. Everyone has gone above and beyond to help me. I'm super happy to be part of the Hobie family," the pending world record holder said.
The article was originally published on Kayak Fish
For access to exclusive gear videos, celebrity interviews, and more, subscribe on YouTube!