It's not too often that the venerable British newspaper The Guardian reports on canoe tripping, but then again it's equally unlikely in a world of GPS and Google Earth to paddle a wild river that's never been properly mapped. For the past few summers, Canadian canoeist Adam Shoalts has been exploring remote Quebec waterways that have only previously been rudimentarily mapped with low-resolution aerial photographs. As The Guardian reported in July, Shoalts' missions have been marked by surprise and adventure—including accidentally running a 15-foot (not 12-meter as the newspaper headline erroneously indicates) waterfall on the Again River in 2012.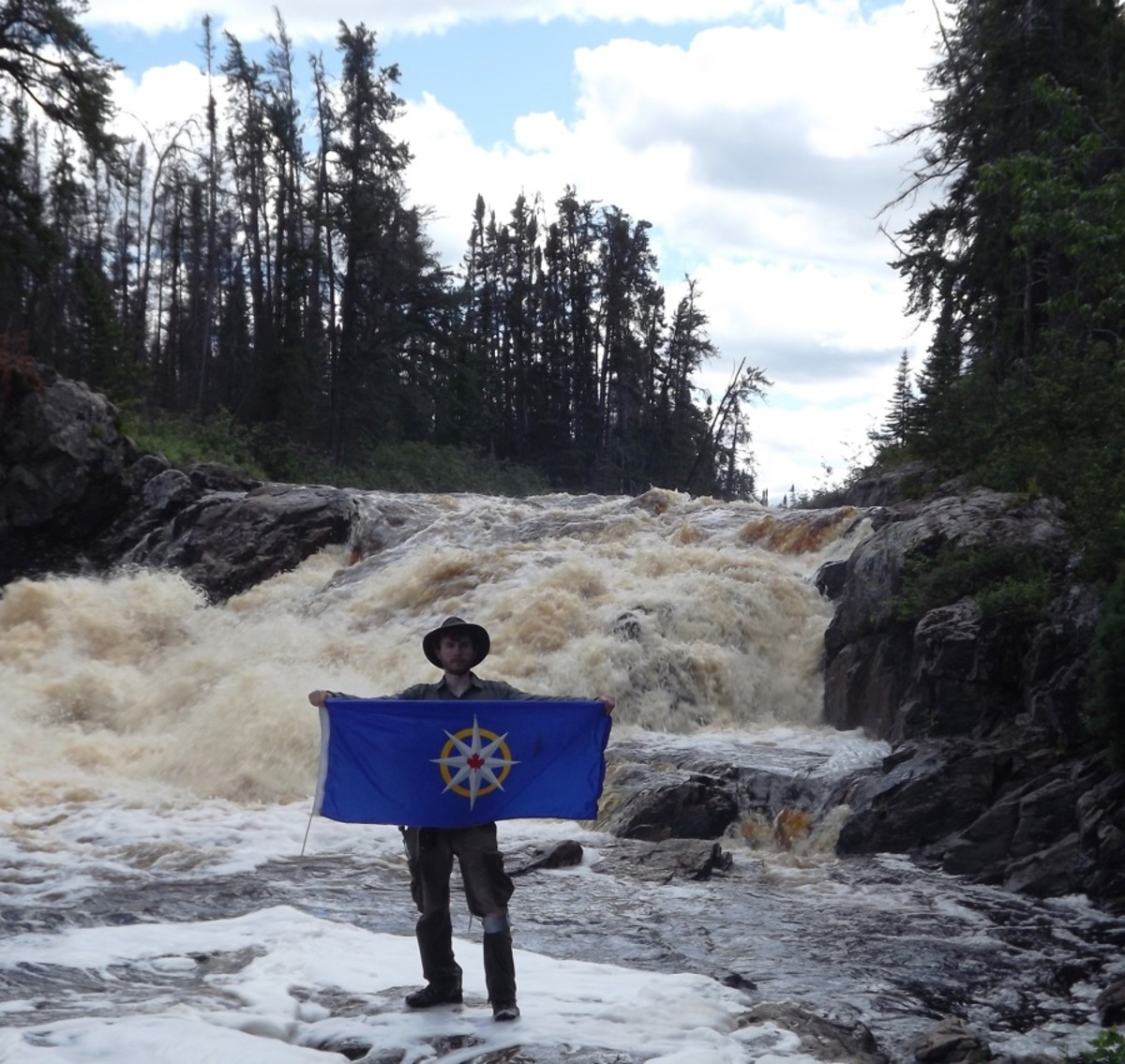 He returned to the Again River in August and recorded the heights and coordinates of seven unmarked waterfalls—including what "could well be the largest discovered in Canada in 100 years," according to The Guardian. We caught up with Shoalts, 27, a Ph.D. candidate at Ontario's McMaster University, to discuss his Royal Canadian Geographical Society-supported reconnaissance work.
CanoeKayak.com: What was the impetus for your James Bay rivers/mapping project?
Adam Shoalts: The underlying impetus for my expeditions is always my love of adventure and passion for the natural world coupled with innate curiosity and a thirst for knowledge. More specifically, with the Again River expeditions I was hoping to continue the spirit of old-fashioned exploration by exploring one of the last unexplored rivers on the planet and in the process publish new geographic knowledge—which has always been the essence of exploration.
Tell me about the Again River. How did you first catch wind of it and what was it like to paddle?
The Again River is a 65-mile-long tributary of the Harricana River. It is part of the Hudson Bay watershed, more specifically James Bay, a southern extension of Hudson Bay. The river is for the most part shallow and rocky, with plenty of rapids and waterfalls. I'm completing a Ph.D. specializing in the history of North American exploration, historical geography, aboriginal land use patterns and the like. That means I tend to spend a lot of time looking at maps of Canada and digging through archival and other records. It was that research that led me to the Again River.
Why hadn't the Again River ever been properly mapped?
Well that depends on your definition of "properly." Much of Canada's northern wilderness was only mapped in the mid-twentieth century as a result of aerial photography (as opposed to more accurate ground surveys). The resulting air photographs were then used to create 1:50,000 scale topographic maps—however, as you might imagine, flying over wilderness and snapping black and white photos is no substitute for "boots-on-the-ground" exploration. Important details like waterfalls are easily missed from the aerial photographs. The purpose of my expedition was to supply those details.
Describe your typical day on trip.
There is no real typical day because conditions vary depending on what I'm doing. The only constants are I start work early and don't stop until the evening—12 hours days are typical, give or take. Depending on what I'm doing, a day can either be spent bushwhacking and portaging through impenetrable, stunted boreal forest or dragging a canoe and supplies across muskeg—all while being attacked by hordes of blackflies incessantly.
Conversely, I can spend a day travelling downriver (or upriver), running rapids, portaging around falls while encountering endless chest-high deadfall from forest fires, and wading with the canoe through shallows. Setting up surveying equipment while having millions of blackflies attack my face is also typical.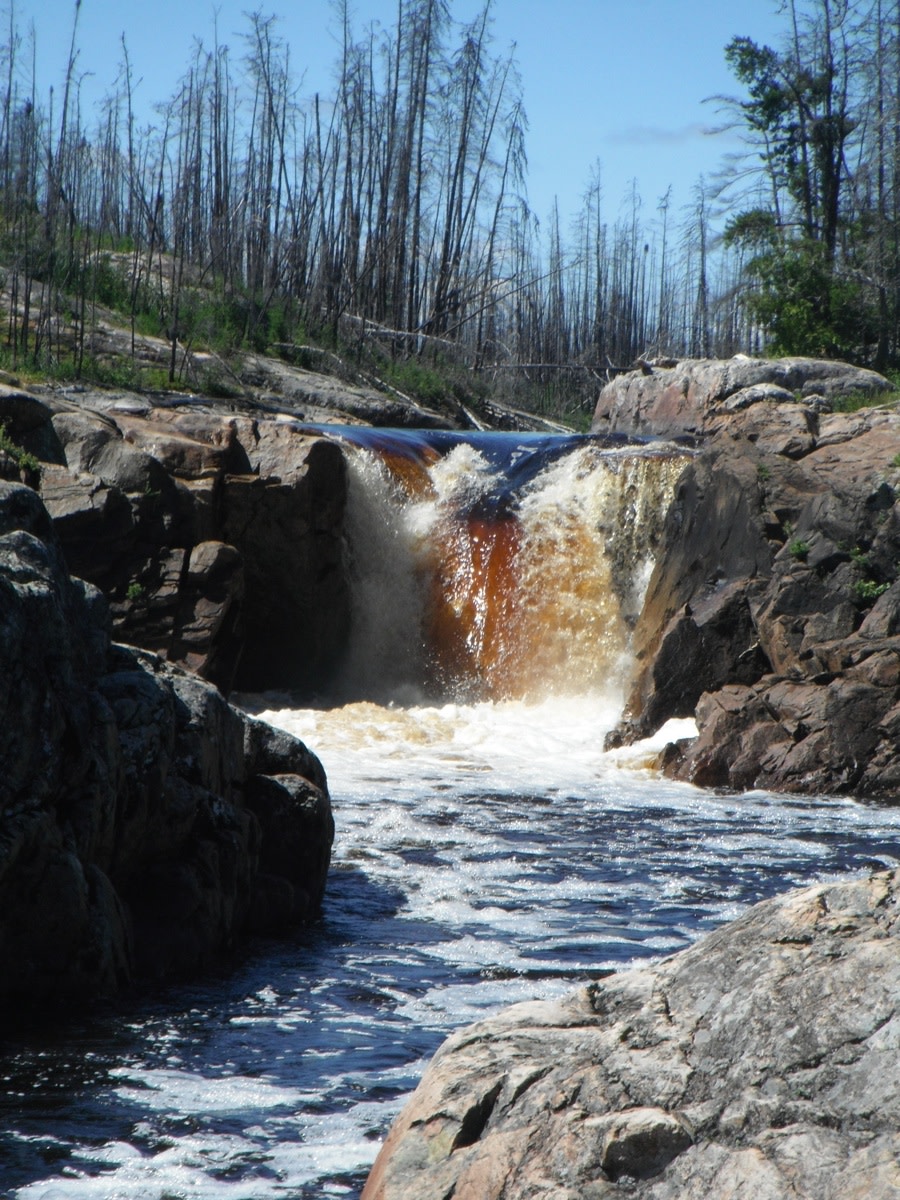 What happened in the incident described in The Guardian newspaper? How did you end up running a waterfall?
In 2012, while exploring the Again River for the first time, I went over an approximately 15-foot waterfall in my canoe. The river up until that point had been rather pedestrian—shallow, rocky, lots of small rapids but nothing out of the ordinary. By the time I realized there was a waterfall right in front of me it was too late to avoid going over it—so I plunged right over it. I was fine; I was underwater at the bottom of the fall for a while, but I wasn't hurt at all. I was wearing a helmet and life jacket, fortunately. My canoe, on the other hand, was rather worse for wear. It emerged upside-down in an eddy below the waterfall—the hull was crushed in, the oak gunwales were broken, the front seat was broken, and a bolt on the side of the vessel was gone. I fished the canoe and my equipment out of the river and had everything in working order again within the hour. The only thing I lost was my beloved hat, a fishing rod and a pair of moccasins. I continued downriver after that, a little more cautiously, and discovered several more waterfalls before the expedition was finished.
How does your project fit with the Royal Canadian Geographical Society's goals?
The Royal Canadian Geographical Society's objective is to rekindle exploration. Before I came along, the Society was in the main just sponsoring adventurers who were interested in paddling, kayaking, hiking, or climbing well-traveled routes. There is nothing wrong with that, and I enjoy doing it myself when circumstances permit. However, I proposed to the Society that we should go back to the basics of geographic exploration and seek to pioneer new routes, correct maps, and seek out unexplored rivers. They enthusiastically agreed, and I've been doing it ever since.
What's next for you?
I'm writing several books and completing my Ph.D. in addition to undertaking more expeditions. Some of my expeditions are similar to the Again River one—the objective is to generate new geographic knowledge, while others are more historical/archaeological. The underlying purpose is always the same though: explore wilderness and in the process discover new things.
The article was originally published on Canoe & Kayak
For access to exclusive gear videos, celebrity interviews, and more, subscribe on YouTube!