A bodyboarder in Western Australia is alive and uninjured, it seems, because the great white shark that knocked him off his board Saturday returned to bite the board instead of the bodyboarder.
Paul Goff, 48, was treated for shock after the ambush attack by a shark estimated to measure 16 feet. The incident occurred 150 feet from shore at Casuarina Point in Bunbury. Goff made it to shore with help from other surfers, then collapsed onto the beach.
Video footage showing Goff being helped ashore was captured by Benny Dreg of Dreg Surf Photography (posted above). Goff's trauma is evident as he tries to talk while slumping to the sand.
But he clearly grasps that he has just survived a shark attack, which he later described the attack to 7 News: "I had a hit from under the board that knocked me up into the air and sent my body back towards the beach, [and] the board towards the ocean.
"The shark came up between me and the board, and went towards the board…. I pulled the leash off my wrist, let go of my bodyboard, and turned and started paddling towards the beach."
The shark bit the bodyboard and circled briefly before disappearing from sight.
"Scariest moment of my life," Dreg wrote in an Instagram post.
"The ever watching eye of the boys seeing this beast keep circling around the stray bite-marked bodyboard still floating around out in the lineup…. It was chilling to watch," Dreg continued.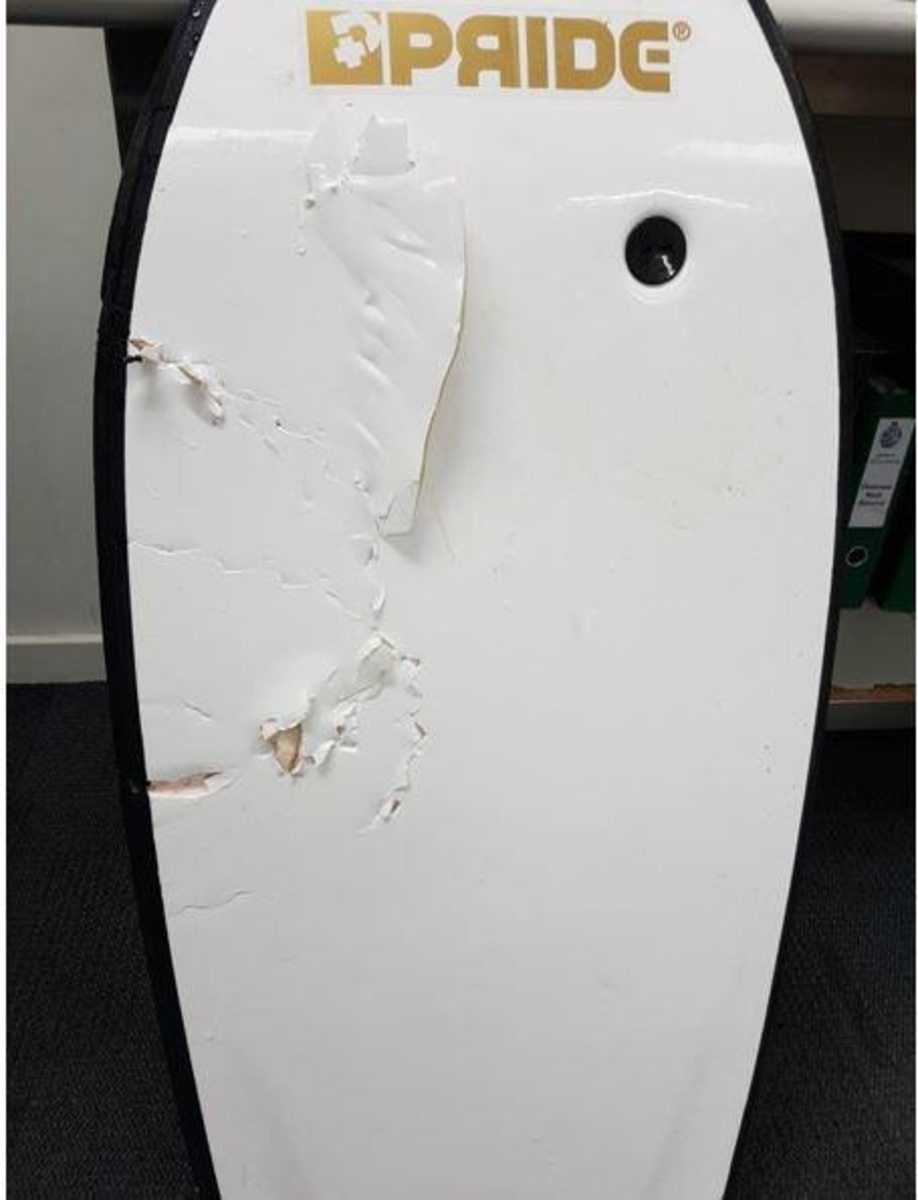 The shark struck the front half of the bodyboard, in the chest area, launching Goff from the board.
The "interaction" and public reports of a white shark sighting in the same area were mentioned in tweets by Surf Life Saving WA.
Lifeguards closed the beach indefinitely after the attack.
Dreg, when reached Monday by GrindTV, said the magnitude of what had occurred was was still sinking in.
"I've only spoken to a mate who was the on the beach and another who was right next to Paul," Dreg said. "Both are still feeling the wrath of it. I guess and it's a hard thing to deal with."
For access to exclusive gear videos, celebrity interviews, and more, subscribe on YouTube!