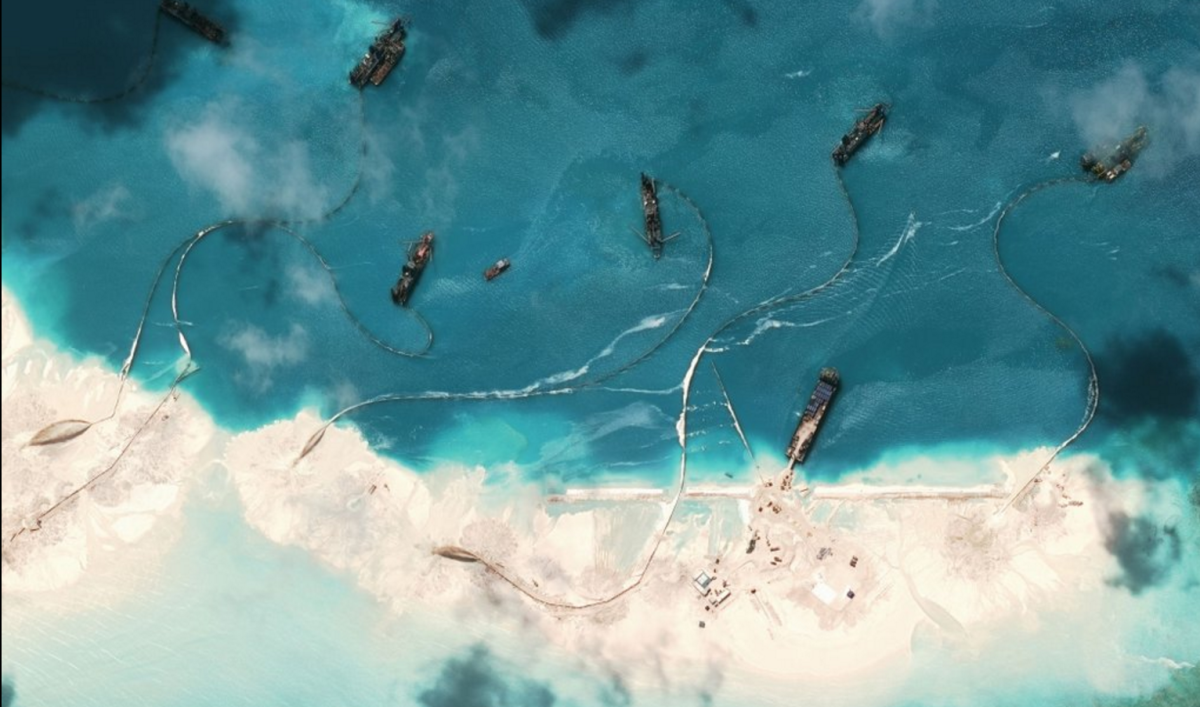 On Wednesday, in an exclusive report, the BBC revealed how Chinese fishermen are intentionally destroying coral reefs off the coast of Phillipine-controlled Spratly Islands in the South China Sea — all while illegally poaching endangered giant clams from the area.
In the report, BBC's Rupert Wingfield-Hayes flew out to the politically contested South China Sea to check on a tip that Chinese fisherman were deliberately killing off reefs near atolls controlled by the Philippines. Initially skeptical that the tip was just anti-Chinese rhetoric from a Filipino source angered at the brewing international strife between the two nations Wingfield-Hayes was appalled at what he found after arriving at the site.
Off the Philippine island of Pagasa, Wingfield-Hayes saw fishermen chaining their boats to reefs and revving their engines to break apart the coral.
RELATED: Video captures cruise ship destroying protected coral reef
"They had chained their boats to the reef and were revving their engines hard," Wingfield-Hayes wrote. "Clouds of black diesel smoke poured into the air."
Still, the intrepid reporter was unsure the extent of the damage, so he went into the water. There, he reported that the destruction was immeasurable.
"It was murky and filled with dust and sand. I could just make out a steel propeller spinning in the distance on the end of long shaft, but it was impossible to tell exactly how the destruction was being carried out … The result was clear, though. Complete devastation," Wingfield-Hayes wrote. "This place had once been a rich coral ecosystem. Now the sea floor was covered in a thick layer of debris, millions of smashed fragments of coral, white and dead like bits of bone.
"I swam on and on. In every direction the destruction stretched for hundreds of metres, piles and piles of shattered white coral branches. It seemed so illogical. Why would fishermen, even poachers, destroy a whole coral system like this?"
He would later find out that the fishermen were illegally poaching endangered giant clams, many of which grow to be over 100 years old, which can sell for up to $1,000 each on the black market. And while the Chinese government wasn't outright condoning the practice, Wingfield-Hayes reported that previous efforts by Philippine courts to imprison poachers was met with aggression and threats from the Chinese Navy.
The report, which also noted Chinese construction taking place atop the reefs, set off a firestorm on Twitter, where concerned users lambasted the Chinese practices:
Wow, screw the reef, we need an island! -> Flying close to Beijing's new South China Sea islands https://t.co/QhjHsTpW6r

— Allen Kinsel (@AllenKinsel) December 16, 2015
"What are they doing?" I asked the boatman.
"They are using their propellers to break the reef," he said.

"This… https://t.co/Ks68oUpfkC

— HKInterfaithClimate (@HKFaithClimate) December 16, 2015
'Reef mining' is causing deliberate reef destruction on an industrial scale https://t.co/vhpVPabKYg @BBCNews @wingcommander1 Heart wrenching

— francesmawson (@FrancesLMawson) December 16, 2015
With clams fetching more than coral, China's fishermen just destroy the reef to get them, reports @wingcommander1 https://t.co/AsQ3rRfb5M

— Tokyo Outsider (@tokyo_0) December 16, 2015
Watch as Chinese poachers wreck an entire coral reef in the South China Sea to gather giant clams. Very sad. (BBC): https://t.co/npdqLayBjh

— Steven Ashley (@steveashleyplus) December 16, 2015
Reef to island in less than a year: China has been building in South China Sea. @nytimes https://t.co/tOjMrBh624 pic.twitter.com/ewAlroIWny

— EGU (@EuroGeosciences) November 18, 2015
To watch the video of the destruction, head over to the BBC.
More from GrindTV
Fuse's Vermont headquarters are an outdoor lover's dream
320 Santas set world record for biggest surf lesson
How to freedive for California spiny lobster
For access to exclusive gear videos, celebrity interviews, and more, subscribe on YouTube!