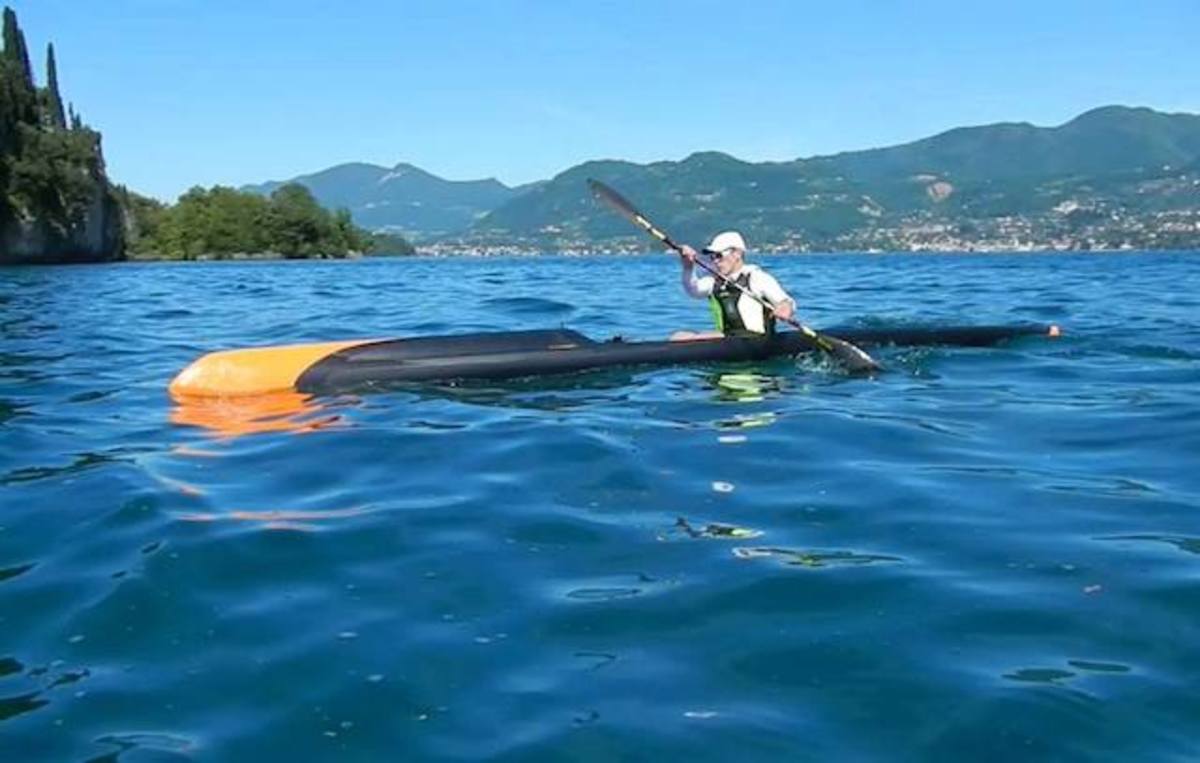 By Robert Ostertag
Last spring, my work took me to Europe. I'm a musician, and during a concert tour in May I took advantage of a few days off to try out surfski paddling in Sardinia. I immediately fell in love with the crystal clear Mediterranean water, the perfect weather, the cliffs and beaches, the warmth and generosity of the people, and the incredible food.
While there I was negotiating the details of my final European concert dates, and was offered two festival appearances and a radio broadcast if I remained in Europe a month longer than planned. I was ruminating over what to do when I left for a paddle session with Guido Cali, coordinator of the local surfski team, and Luca Bascio, maker of the Code Zero surfski. As we were rinsing the boats it hit me: why don't I take that month and circumnavigate Sardinia in a surfski?
Guido and Luca had the same reaction: A. That's crazy. B. That would be a dream.
Why That's Crazy
"Expedition surfskiing"is something of an oxymoron. Expedition paddling is something you do in a stable, robust sea kayak. Stable because you don't want to capsize out there with all that gear. Robust because you don't want to damage the thing hauling it out of the water on remote beaches. You want two hatches for all your camping gear, and a spray skirt sealing you into the cockpit to protect you from the elements. You plod along at a leisurely pace in your heavy boat with your heavy gear enjoying the scenery and solitude. I have done expedition paddling for years: Alaska, British Columbia, California, and the Sea of Cortez.
Guido and Luca agree that the idea is completely crazy, and that therefore I must do it, and that they will help me pull it off in whatever way they can.
Surfskis are ultra light open ocean racing kayaks. Long. Unstable. Fragile. Fast. No hatches, no spray skirt, no nothing. Stripped down to whatever makes the boat go faster. Surfskiers are focused on racing: insane bursts of downwind paddling in the company of other racers. If they are not racing, they are most often found training for racing.
Surfskis are for surfing. To catch a wave, you must accelerate your craft toward the speed of the wave. This is why all the board surfers at the beach line up at the exact same spot: you cannot accelerate a surfboard all that much, but if you catch the wave right where it breaks, you can jump on it nevertheless. In a surfski, you can move the boat so fast you can jump on waves that aren't even breaking, like wind waves out in the open water. On a windy day you can paddle right past the crowd at the beach arguing about who's next in line at the break, point downwind, and surf for miles.
It's not easy. Just to keep the skinny little thing you are sitting upright on requires balance beyond the most demanding sea kayak. Accelerating on to a wave requires the forward stroke of a racer. Staying on the wave once you have it requires superb water reading skills. Keeping this up for any length of time requires the stamina of a marathon runner. Just getting the fragile, ultra light object in and out of the water in high winds without banging it around the beach can take some muscle and concentration.
When it comes to how surfskis handle in the waves, weight is everything. People who don't really have the money to do so have been known to spend a thousand dollars extra for a lay-up that shaves off just a couple of pounds. The last thing you would want to do would be weigh a surfski down with camping gear. And God forbid anything break out there off shore in high wind.
So: expedition paddling belongs over here; surfski paddling over there. Never the twain shall meet.
Why That Would Be a Dream
Sardinia is a gorgeous island off the coast of Italy. Despite it's central Mediterranean location it feels surprisingly remote, both historically and culturally. The Sardinian people maintain their own language, Sardu, which has numerous village-specific dialects. The coast is lined with stunning rock formations, towering cliffs, assorted fortifications dating from World War II all the way back to antiquity, and white sand beaches–often with beach cafes and beach hotels. If you were going to paddle a surfski around Sardinia, how much food and camping gear would you need?
You want wind? The Mediterranean winds have been famous since all the way back when they routinely destroyed entire Roman fleets. Mistrals blow down out of Europe. Siroccos blow up from Africa. The typical problem for a surfskier in Sardinia is not whether there will be enough wind but whether there will be too much. With a 12-15 knot tail wind an accomplished surfskier can start surfing. Twenty knots and you are flying. Thirty knots and so is the adrenaline. Forty knots and most of us are off the water. Mistrals on the west coast of Sardinia can hit eighty knots.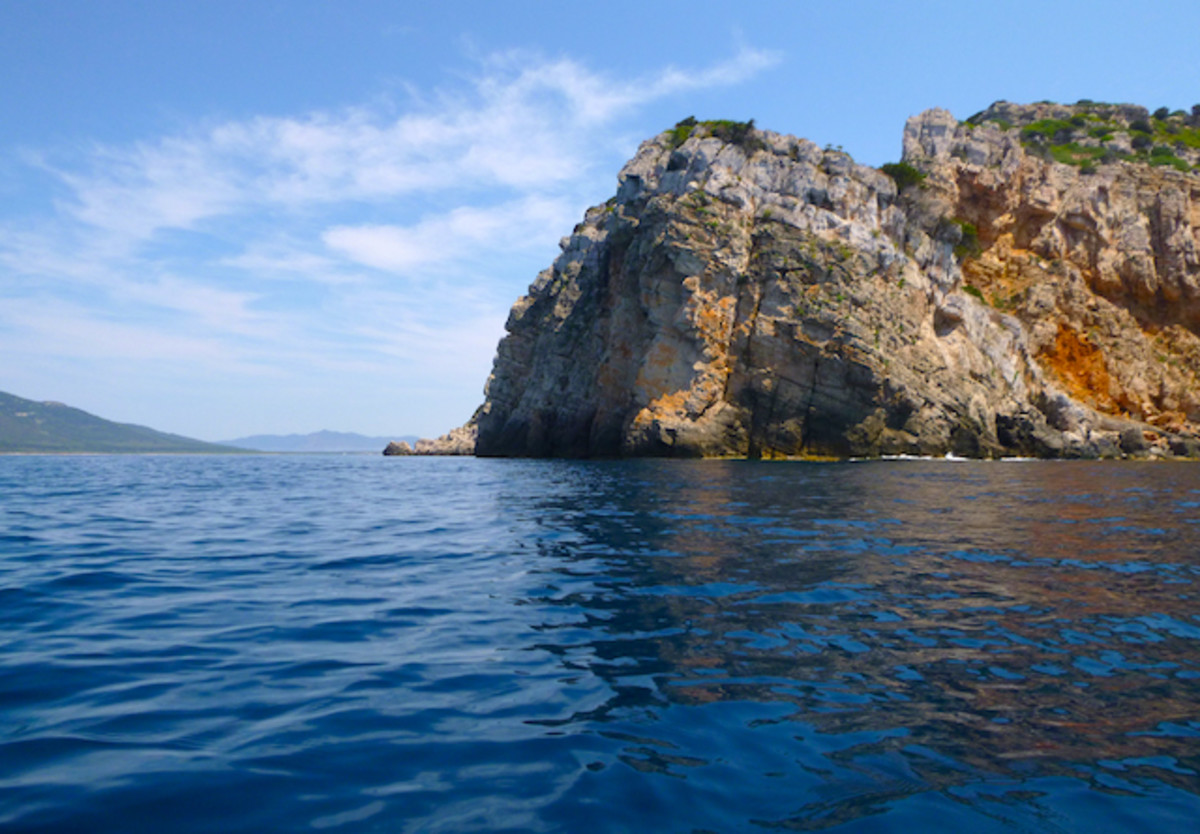 The Plan
Guido and Luca, being the Sardinians they are, quickly and emphatically agree that the idea is completely crazy, and that therefore I must do it, and that they will help me pull it off in whatever way they can.
To pull this off will be somewhat madcap. I don't have a boat or a paddle or, well, anything. I will have to assemble the gear and work out all the details in the midst of a busy concert tour, working after concerts late at night in hotel rooms where, as likely as not, the wifi promised by the proprietors is not working. I think about how rare an opportunity like this is: I am in a beautiful and strange place; I have a free month (unbelievable) at the perfect time of year for optimal surfski conditions; and I have access to the support and local expertise of Guido and Luca, the two pillars of the local surfski community.
I have been around this world long enough to have learned that often times the way to have an adventure is to commit yourself to it fully, and then somehow will it into existence. If you wait until all your ducks are in a row before committing to an adventure you will never have one.
I'm all in. Here comes a never-before-attempted surfski expedition circumnavigating Sardinia: 513 miles of clear Mediterranean waters, sunny skies, beautiful beaches, sculpted cliffs, seafood pasta and beer, and solitude.
If the rudder had broke five minutes before, the wind would have been blowing me to… Libya? Not a popular paddle sports destination.
I download maps of Sardinia to my phone. I put together some other stuff: clothing, water bags, a snorkel mask. I order an ultra-light mosquito-net tent. Epic Kayaks offers me a beautiful carbon fiber wing paddle, and by happy coincidence their European warehouse is in Berlin where I happen to be playing my second-to-last show before the trip. Luca Basciu offers me a Code Zero surfski. Is this for real? I am being sponsored!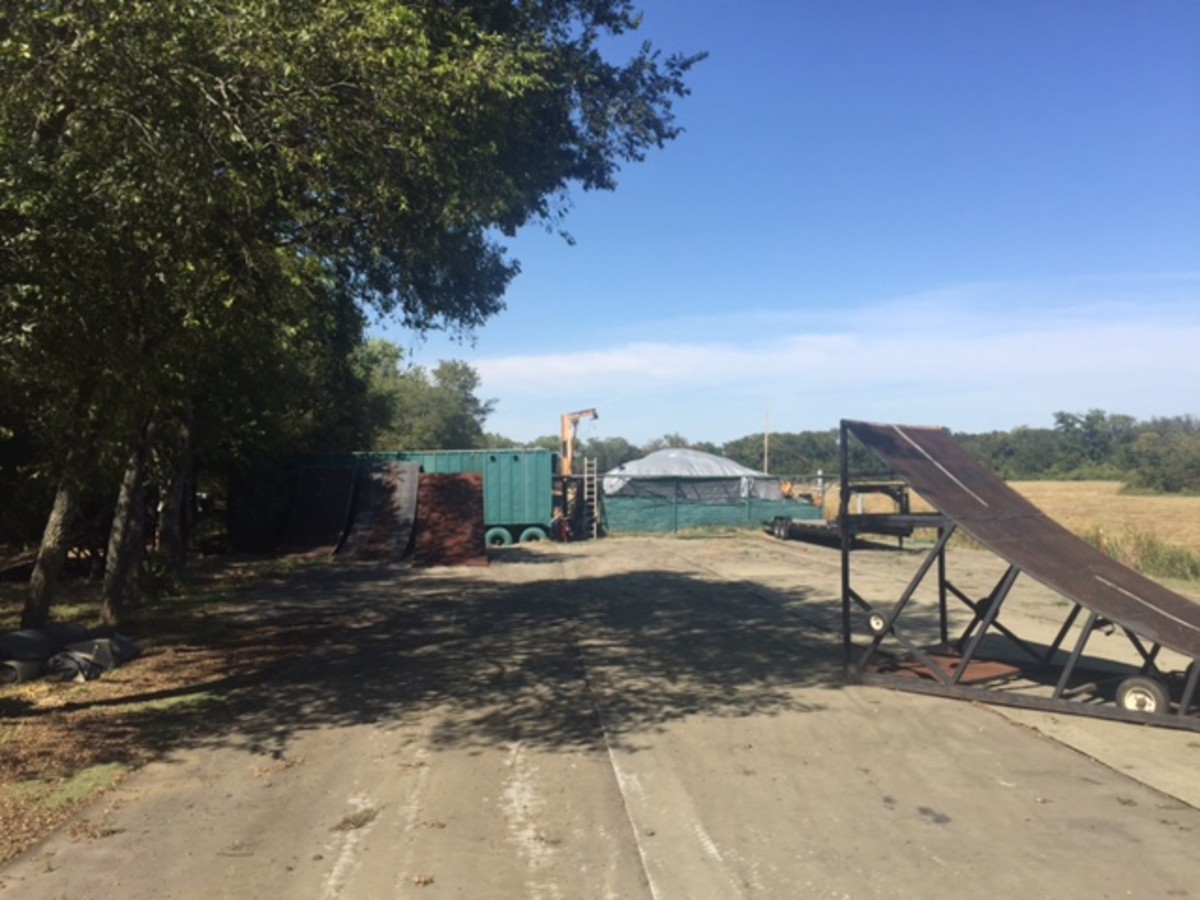 I fly to Cagliari at the southern tip of Sardinia and begin final preparations. Luca is putting the final touches on the boat. The Code Zero design comes from Felci Yachts, Sardinian makers of world class racing yachts. The Code Zero is their attempt to apply the latest in hi-tech sailboat racing technology to surfskis. You can see right away it is a horse of a different color because when you put the boat in the water it appears to be upside down. Technically speaking it has a "reverse aspect bow" (the bow is longer at the hull than it is on top at the deck). In theory this should make for a faster boat that cuts through waves.
It is nothing short of incredible that I have this boat at all. It is being provided to me Sardinian style: generously. Luca is loaning me the boat just because he loves the idea of someone doing something this crazy on the island he loves. There is not even a release to sign. Sardinian sea kayaking seems to be a lawyer-free zone. Nothing is signed, no money changes hands. I am simply handed the boat with a hug and a smile.
Question: what to bring? Answer: as little as possible! At 210 pounds I am already oversize for the Code Zero (the optimal paddler would be about 180) and every additional ounce will affect performance. But I do need to be prepared for beach camping if no hotel is handy. So let's see here: shorts and shirt for paddling, ultra light pants and shirt for on shore, a sheet, (no sleeping bag or ground pad), a salami in case I get stuck on a beach for a night, boat repair kit, toothbrush, phone with charger and spare battery (the phone is my camera, my marine chart, my writing notebook, and my emergency communications device).
Wait a second! Surely there is something here that can go! Nope. I actually need all that. It is the bare minimum. And that doesn't include the four liters of drinking water I will have on board. I get so obsessed about weight I buy a toothbrush to compare it's weight to the electric toothbrush my dentist wants me to use. OK, this is getting ridiculous. Maybe this is why "expedition surfskiing" is not a sport.
The tent I ordered fails to arrive. This is a major problem because there are reportedly mosquitoes on the beaches. I take a day and ride a train three hours to the only store in Sardinia that sells tents. (The pace at which Sardinian trains move is another indicator that, though the island may be just off the coast of Italy, you are not really in Europe.) They are out of stock. I turn around and ride the train three hours back. I substitute a spray can Off! for the missing tent. It's a stretch, I know, but I cannot wait. Between the airplane travel, the waiting for the tent and the boat, and the fruitless trip to the store, my month to paddle is shrinking fast.
Day One, Take One
The big day arrives and Luca takes me to the beach Italian style, clutching my gear bag and two paddles (the Epic and a spare) on the back of his motorcycle. We arrive at the launch giggling like kids who know they are getting away with something.
Right away it becomes clear just how crazy it was to throw a trip like this together so fast. The dry bag doesn't fit snugly and throws the balance all out of whack. I try taking it off the deck and wearing it as a backpack to keep the weight centered. It keeps the boat balanced but I feel like the Michelin Man. I paddle out and immediately the wind kicks up to 20+ knots. The cockpit isn't draining because my water bags are obstructing the drain, so add a few gallons of cockpit water to all the other weight. Yep. This is crazy.
Soon the wind has picked up to 30 knots with gusts over 40 and I am seriously struggling. The boat alternates between broaching (forced into an orientation perpendicular to the wind) and swamping (cockpit fills with water). Suddenly the boat stops responding to the foot pedals at all. Uh oh. I check the pedal rigging: all good. Check the deck lines from the pedals to the rudder stem: no problem. I jump into the water and turn the boat upside down (not recommended in 40 knot wind). No rudder! The thing has snapped clean off.
A sea kayak without a rudder is a manageable beast. Many sea kayaks don't even have rudders. A surfski without a rudder is a completely disabled craft. Losing a rudder in 40 knot wind is something close to a worst-case scenario. And this is my first day!
The wind is light and the seas are mild. The waves are just ripples moving through cascading shades of blue.
Fortunately I had just rounded the last point before the port at Notteri at the southwest tip of the island, and the wind is blowing me straight to port. If the rudder had broke five minutes before, the wind would have been blowing me to… Libya? Not a popular paddle sports destination.
I decide the best course of action is to hang on and let the wind blow me in to port. How bad can it be? Hours later I am pulling the boat ashore at sundown, knowing exactly how bad it could be. Keeping the boat upright and on course has required hours of sweep strokes. My teeth are chattering. My hands are covered with blisters. I am perhaps more exhausted than I have ever been.
But hey, I am still in Sardinia, so thirty minutes later I am having beer and a delicious seafood pasta. I find a beach hotel and nearly fall asleep on the floor on my way from the door to the bed.
Luca comes to pick me up in the morning. I would like to nominate Luca Basciu for "most generous person in the world." We drive back to Cagliari for repairs and the next morning I embark on…
Circling Sardinia Part II: New Rudder, Fresh Start

The article was originally published on Canoe & Kayak
For access to exclusive gear videos, celebrity interviews, and more, subscribe on YouTube!