By Kurt Mullen
Until Nolan Whitesell, even the best open canoeists lacked a true combat roll. When they capsized in whitewater, they swam.
As a teenager in Georgia, Whitesell worked out a reliable way to roll a canoe and then spent the next two decades seeking out ever more challenging runs. An engineer by training, he reinvented the canoe to slake his thirst for increasingly difficult whitewater, eventually arriving at the first open canoe designed purely
to tackle Class V, the Piranha, in 1984. Along the way he nailed a number of first descents, including the only canoe run of the Niagara Gorge.
"It's just fun to take on challenges that people think are so far beyond possibility that they just laugh," says Whitesell, 56. "And to prove it can be done with control, and not with recklessness or any of that."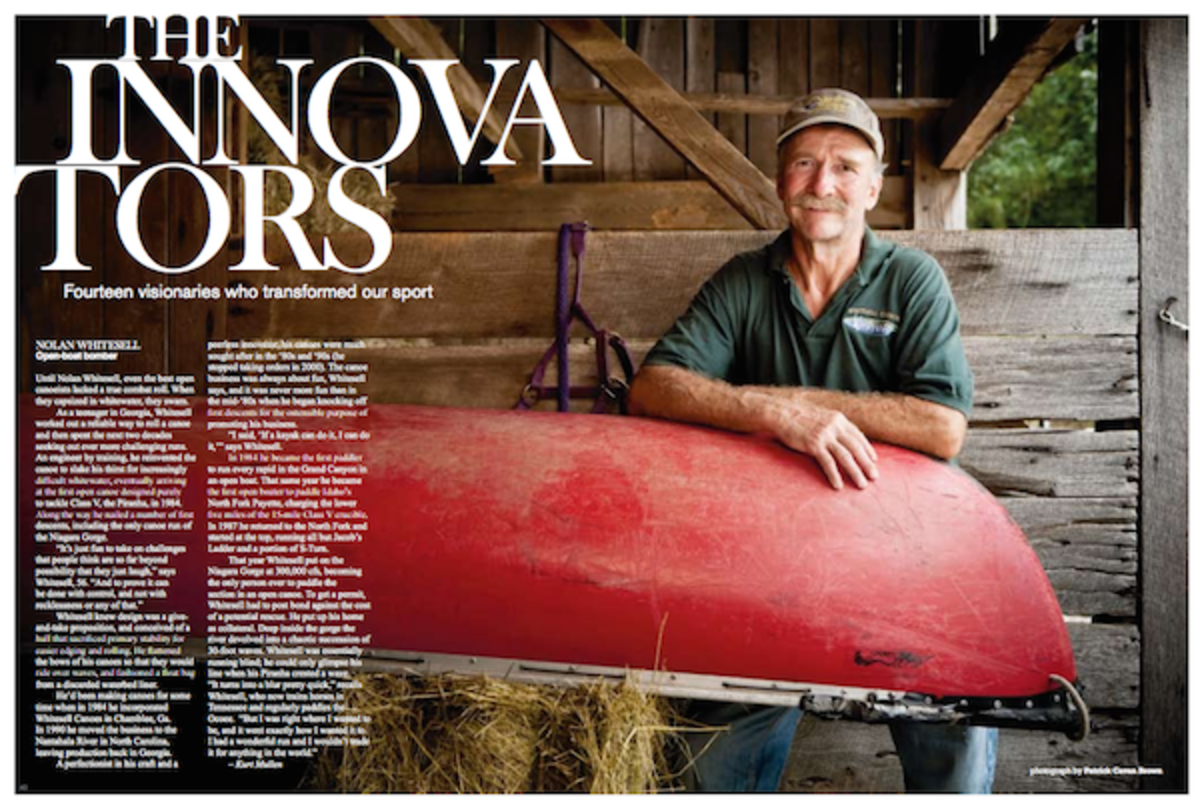 Whitesell knew design was a give-and-take proposition, and conceived of a hull that sacrificed primary stability for easier edging and rolling. He flattened the bows of his canoes so that they would ride over waves, and fashioned a float bag from a discarded waterbed liner.
He'd been making canoes for some time when in 1984 he incorporated Whitesell Canoes in Chamblee, Ga. In 1990 he moved the business to the Nantahala River in North Carolina, leaving production back in Georgia. A perfectionist in his craft and a peerless innovator, his canoes were much sought after in the '80s and '90s (he stopped taking orders in 2000). The canoe business was always about fun, Whitesell says, and it was never more fun than in the mid-'80s when he began knocking off first descents for the ostensible purpose of promoting his business.
"I said, 'If a kayak can do it, I can do it,'" says Whitesell.
In 1984 he became the first paddler to run every rapid in the Grand Canyon in an open boat. That same year he became the first open boater to paddle Idaho's North Fork Payette, charging the lower five miles of the 15-mile Class V crucible. In 1987 he returned to the North Fork and started at the top, running all but Jacob's Ladder and a portion of S-Turn.
That year Whitesell put on the Niagara Gorge at 300,000 cfs, becoming the only person ever to paddle the
section in an open canoe. To get a permit, Whitesell had to post bond against the cost of a potential rescue. He put up his home as collateral. Deep inside the gorge the river devolved into a chaotic succession of 30-foot waves. Whitesell was essentially running blind; he could only glimpse his line when his Piranha crested a wave.
"It turns into a blur pretty quick," recalls Whitesell, who now trains horses in Tennessee and regularly paddles the Ocoee. "But I was right where I wanted to be, and it went exactly how I wanted it to. I had a wonderful run and I wouldn't trade it for anything in the world."
This story first appeared in the Dec. 2009 edition of Canoe & Kayak, as part of our feature The Innovators.
Canoe & Kayak Innovators: 14 Visionaries Who Changed Our Sport Forever
Fun Brothers Jim and Jeff Snyder // Paddling Provocateur Corran Addison // The Prophet of Polyethylene // Warriors of the Self-bailing Revolution // Aluminum Canoe Guru Bill Hoffman // Sit-on-Top Visionary Tim Niemier // Open Boat Bomber Nolan Whitesell // Sea Kayak Savant Frank Goodman // The Bublik // Air Bag Revolutionary // The Royalex Miracle // Videographer Wayne Gentry
The article was originally published on Canoe & Kayak
For access to exclusive gear videos, celebrity interviews, and more, subscribe on YouTube!