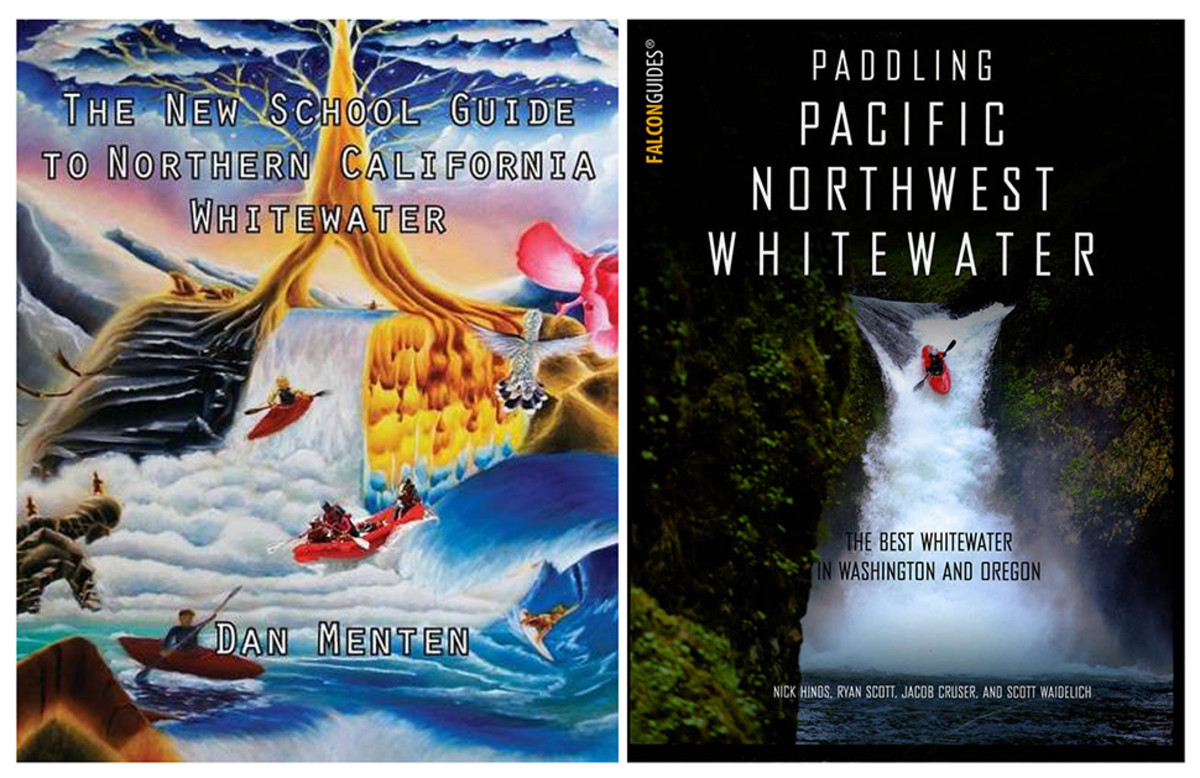 They say that you can't judge a book by its cover. But, in this case, you can. The cover of Paddling Pacific Northwest Whitewater is glossy, featuring a paddler in perfect form descending a majestic waterfall between moss-draped walls. Conversely, the cover of The New School Guide to Northern California Whitewater is pure NorCal: A hand-painted psychedelic menagerie of rafts, kayaks, surfers, and hummingbirds. One is all slick. One is all funk.
At 37, "New School" Dan Menten is hardly new school anymore. This gives some indication of the time it required to produce his labor-of-love guidebook. Twenty years ago, Menten moved to far Northern California to attend Humboldt State University, where he made it his mission to explore every blue line on the map. And there are a lot of blue lines here. A spaghetti web of drainages feeds the Eel, Klamath, Trinity, Mad, Scott, and Smith River basins–and Menten has explored the majority of them. Of the 135 reaches featured in the book, Dan has run 131.
This fact is apparent throughout the text, with interesting sidebars about local ecology, geology, people, and history. In his info boxes, Menten has a category titled "Local Beta." It's a semi-redundant title, because the entire book is really local beta. But the comedic, often cryptic tips featured in Local Beta are emblematic of this exhaustively researched book. Helpful quips include "Bring a handsaw," "Beware of dogs," or "Got breakdown???"
And there are stories. Following in the tradition of Chuck Stanley and Lars Holbek's classic The Best Whitewater in California, Menten has included various escapades from the North Coast paddling community spanning the past 20 years. The standard guidebook stuff is here, too; pictures, descriptions, hydrology information, and a how-to-use-this-book section. There is an overview map, with the river basins identified by different colored Bigfoot tracks.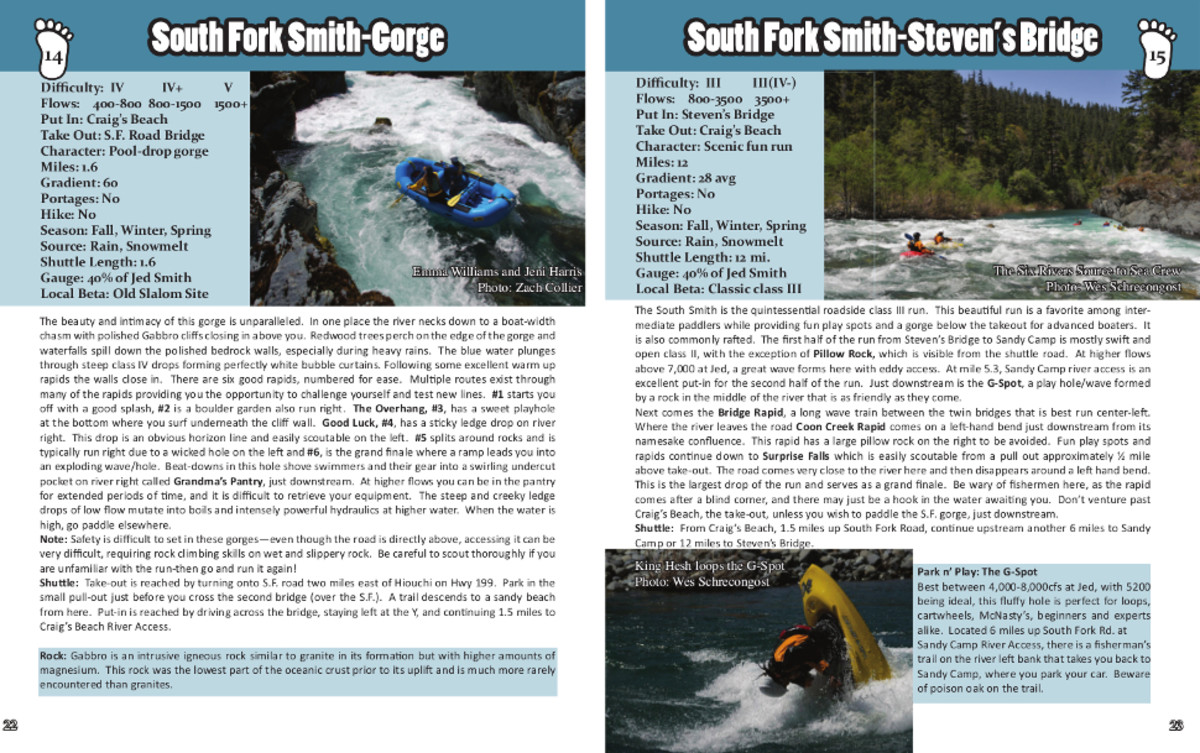 The New School guide unveils an under-appreciated area–a place that more paddlers are sure to make a destination soon. Meanwhile, just a Sasquatch stride north from Menten's redwood country is a broader region that has become world renowned for whitewater. Its best runs are covered in Paddling Pacific Northwest Whitewater.
This book is a tome, chronicling 157 runs in Oregon and Washington. Unlike Menten's mostly solo effort, PPNWW is the work of 51 different contributors. Principal authors Nick Hinds, Ryan Scott, Jacob Cruser, and Scott Wadelich are listed on the cover, along with the recognizable FalconGuides logo. This is a professionally produced, massive color book, geared toward good paddlers seeking the best runs in the Pacific Northwest. A typical entry features a 2-mile section of Class V whitewater–the learn-it-and-lap-it kind of stuff. That's not to say there aren't longer Class III and IV rivers in the book. There are. Still, the tenor of PPNWW delivers just what the cover promises—lots of steep, beautiful gnar.
River descriptions are arranged geographically, from well-known zones like the Columbia River Gorge to more obscure destinations like Northeast Washington. Some of the lesser-known, newly discovered creeks are a treat to read about. PPNWW  teases readers with the almost endless possibilities of these well-watered states. Shuttle directions are clear enough, with GPS coordinates for both put-ins and takeouts, a standard piece of information these days.
Paddling Pacific Northwest Whitewater: A Fresh Guide to Northwest Rivers and Creeks from Substantial Media House on Vimeo.
Both books could have used more time in the editing room. New School has many photo captions and page numbers that run off the edge of the page, and a few other inconsistencies in the layout. The design of PPNWW is super clean, but this only makes the typos jump off the page even more. No, the Elwha is not really 570 feet per mile! Remember, readers, guidebooks are anecdotal guides, not instruction manuals.
This fact, however, seems lost at times in both books, with overly detailed blow-by-blow accounts of individual rapids, even advice on how to run them. Certainly there is a place for detail-we all want to know how to recognize the big portage. But, as for rapid descriptions, aren't we going to scout the big drops anyway? Or at least follow a trusted leader? And who can really remember which way the book said to boof when they're halfway down the fifth major rapid in the second gorge?
PPNWW is a bit guiltier of this approach, perhaps a product of having so many contributors. The differing voices throughout the book can be confusing, especially when compared to the consistent tone presented in Menten's book. For ease of reading, New School gets the nod.
Advertisements are prominent throughout both books, and they fit in naturally to their surroundings. The first ad in PPNWW is for nationally distributed New Belgium brewing. A typical New School ad appears on page 13. It features "Bearfoot" Brad, the shuttle guy for the Smith River.
At every turn, these two new guidebooks couldn't appear to be more different. But, in essence, they are very much the same. Both are products of passionate whitewater paddlers, and that enthusiasm is apparent in the texts. Both books document magical regions rife with forest-cloaked river canyons. One is a highlight reel of two full states, while the other is a detailed inventory of one fifth of a state. Different as they may be in appearance, both books are treasures to have, presenting a wealth of 21st century information on the rivers and creeks of the Northwestern United States.
More required reading from CanoeKayak.com:
5 Guidebooks to Take on your Next Grand Canyon Trip
The Ultimate New Zealand Guidebook
A look inside 'Whitewater of the Southern Appalachians'
Comrades on the Colca: Q&A with author Eugene Buchanan
The article was originally published on Canoe & Kayak
For access to exclusive gear videos, celebrity interviews, and more, subscribe on YouTube!