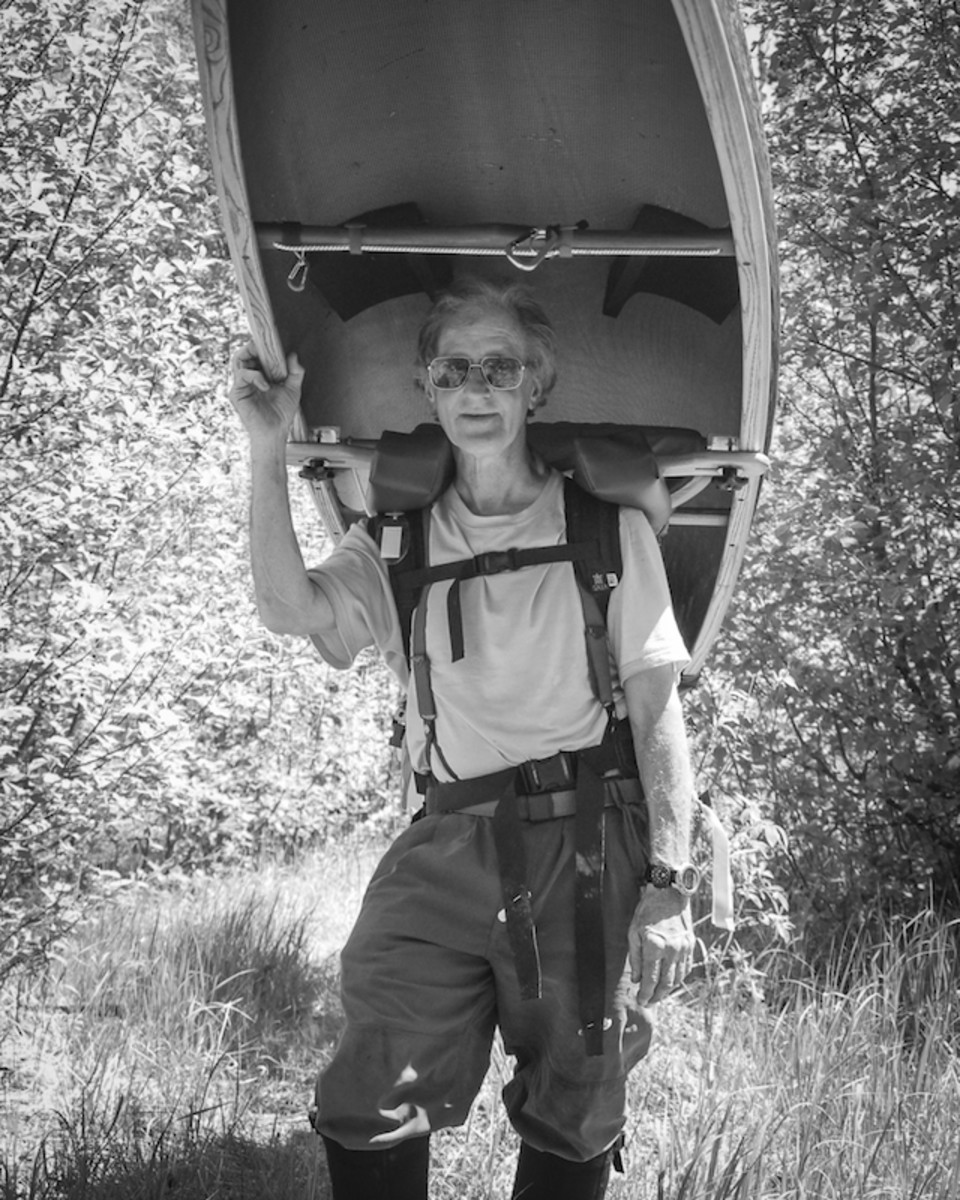 By Larry Rice
At 5'-5" and 129 pounds soaking wet, with graying, dark brown hair and hazel eyes magnified by thick bi‑focal glasses, Cliff Jacobson could easily pass for Woody Allen's younger brother. But looks can be deceiving, and in Jacobson's case it most certainly is, for this former science educator and wilderness canoe guide is the most published paddling author of all time, with over a dozen books in print, at least 600 magazine articles penned, and a popular camping skills DVD.
Born in Chicago in September 1940, light years away from untrammeled canoe country, Jacobson was a single child who developed an affinity for the Great Outdoors at an early age. "The Boy Scouts shaped my life," he says. "I started canoeing when I was 11-years-old at a rustic Scout camp in northern Michigan. I put a lot of miles on wood-and-canvas canoes exploring the rivers up there." This Eagle Scout's interest in paddling never waned as he progressed through his teenage years; in fact, it only grew stronger. "I was a voracious reader," he says. "If anything had the word 'canoeing' in it, I had to read it, not once but many times."
A few years after graduating from Purdue University in 1962 with a degree in forestry, Jacobson wound up teaching 8th grade environmental science in Hastings, Minnesota, located about ten miles south of Minneapolis-St. Paul, or more importantly, a five hour drive from the Boundary Waters Canoe Area Wilderness. And it was his first trip there in 1966 that literally changed his life. "I fell in love with the place," he says. "The Boundary Waters is a magical place. There's just something about the piney woods, the lakes, the loons that captures my imagination, and the imaginations of so many others."
Jacobson explored the BWCAW at every opportunity. His knowledge of what works, and perhaps more importantly, does not work on a wilderness canoe trip, grew by leaps and bounds. To augment his meager salary as a teacher, he began to lead canoe trips as a professional outfitter and guide for the Science Museum of Minnesota. "It was great," he says. "I got paid for doing something I loved!" Since his initial foray to the BWCAW some 50 years ago, he reckons he has camped nearly 600 nights in this pristine north country riddled with lakes and portage trails, and hundreds more in Canada's remote Barrenlands.
Jacobson's honesty and unabashed opinions about anything and everything related to canoeing and camping has made him the Grand Poobah of northern canoeists. In 2003, he received the American Canoe Association's prestigious "Legends of Paddling Award," presented to one or more individuals each year for their legendary contributions to paddlesport, and was inducted into the ACA Paddlesport Hall of Fame. An in-demand speaker at paddling events around the world, Jacobson's lively, info-filled presentations routinely draw standing-room only crowds in auditoriums that hold more than 500 eager listeners.
Approaching his 75th birthday this year, Jacobson says that despite a heart attack scare in 2012, he physically doesn't feel much different now than he did when he was 35. The only thing that has changed, he says, is that now he's reluctant to race down a river or plan a canoe trip involving lots of gut-busting miles per day. "I've seen my thousands of caribou, been charged by grizzly bears, chased across a river by polar bears, paddled among beluga whales, done my share of dicey rapids, and I love all that. But you know what? At my ripe ol' age, I'm more into slower-paced canoe trips with great pals to places other than the North Country. After 41 years of guiding in Canada, I retired in 2009. At this point in my life, it's so much more enjoyable canoeing with friends who know what the hell they're doing!"
But will canoeman Jacobson still do those challenging river trips deep into the Far North where one can perch atop a hillock and gaze out over miles upon miles of open, awesomely wild tundra? "As long as I'm still able to hold a paddle and have buds who don't mind having this old geezer along, you bet I will!" he says, his eyes alight with fire. "Especially if there's some great draw, like that fabled white musk-ox at the end of the trail."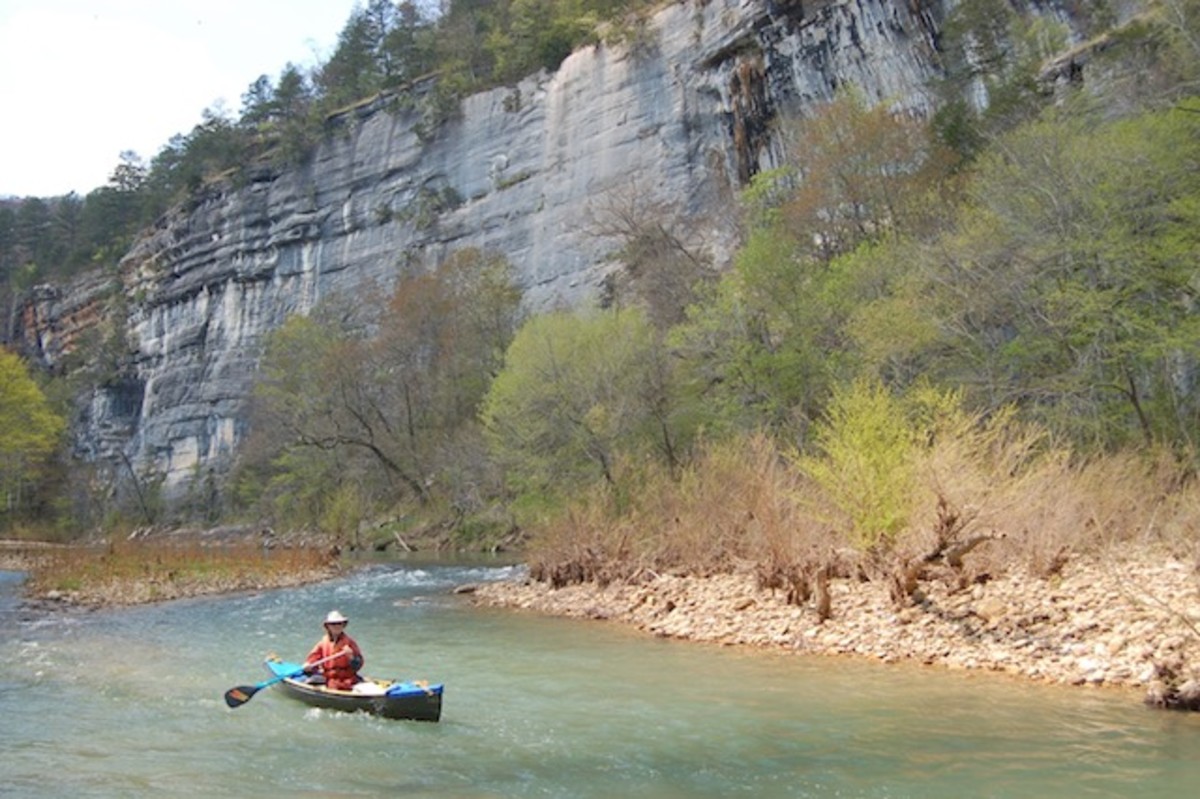 — Cliff Jacobson, in his own words —
Sigurd Olson, whose name will always be linked with the Northwoods, was one of the writers I most admired as a boy. I even had the pleasure of meeting him a couple of times before he died. But I could personally stand to read only so much of his stuff. You see, I'm a Calvin Rutstrum fan. And here's why: while Olson wrote about the shimmering fish in the moonlight, Rutstrum (one of the best-known outdoorsmen of his generation and the author of fifteen books on wilderness camping experiences and techniques) would tell you what lure to put on your line to catch them. That's the difference. Rutstrum was my mentor, beginning and end of story. The things I accomplish today with technology, Rutstrum accomplished with hard work and skill. He was really a woodsman. He canoed the wild North Country before they even had maps.
After Rutstrum died in 1982, there was really no one out there who was taking the old canoe and woodcraft ways and modernizing them. In most of the canoeing literature, so much of it was nonsense. Tips and techniques parroted over and over again by writers who hadn't actually done what they were recommending. Even today, too many outdoor writers are continuing to copycat what others have said. They're spending too much time at the computer and not enough time in the woods and waters. When I started writing outdoor skill books, I decided that I wasn't going to perpetuate these fallacies. I cut through the crap and gave my readers practical things they could use. If I said 'don't do this,' I told them what to do. I have personally tried everything in my books. If it doesn't work, it's not in there. Period.
Part of the problem in today's high-tech, gadget-heavy world, is that too many people place much more emphasis on equipment than they do upon the skills required to use it. Skills are always more important than things. If you've got totally the wrong things and you're skilled, you'll make it to the end of the trip. But if you have the best of everything and you don't know what you're doing, you're not getting anywhere.
My philosophy is that canoeing is actually a very small part of a backcountry canoe trip. In my books and magazine articles, I want to share with paddlers tips and tricks that will smooth their way into the wilderness, things like how to get a fire going in the rain, rig a rainfly, stormproof a camp, deal with bears and bugs, read a map and compass. One of my goals in writing has always been that when someone reads one of my books, if they don't learn at least one new thing on every page then I shouldn't have written that page. There's no fluff.
The fifth edition of my book, "Canoeing Wild Rivers: The 30th Anniversary Guide to Expedition Canoeing in North America" (released in the spring of 2015), is the work I am most proud of; it's my heartbeat. It's a book that's very different than anything out there. It addresses all the nuts and bolts for canoeing and exploring North America's waterways, the things I think canoeists really want to know."
I love little solo tripping canoes. I can't get enough of them. I got into solo boats about 1974, long before their "rediscovery." A friend of mine had built a small tandem and tricked it out with just one seat for paddling solo. I tried it and instantly said, "Wow!" There's a freedom and magic to paddling your own canoe that you can't experience with a partner. It's sort of like driving a nimble sports-car instead of a lumbering 16-wheeler; you're doing your own thing. I like boats that make me smile, and these little solos makes me smile a lot.
Because there were no solo tripping canoes being made back in those "Dark Ages," a couple friends and I kept tinkering with designs and eventually came up with a 14.5-foot boat with a V-bottom and hollowed ends so it ran very quietly in the water and rose with the waves. Mad River Canoe took a look at it and bought it. It became the Ladyslipper (after Minnesota's state wildflower), but the name changed to just the Slipper after the first year because guys wouldn't buy it. Constructed in either fiberglass or Kevlar, the canoe became an instant hit among solo seekers, myself among them.
I own several tandem canoes, but in general, except in rapids, tandem canoeing doesn't appeal to me much. I mean, tandems are the only practical way to go if you're flying into some wilderness river, but I pretty much stopped doing those types of trips; by contrast, my solo boats I use all the time. Of these, my all-around favorite is the 32-pound carbon/Kevlar Bell Yellowstone solo. It dances on command like a fine Western cutting horse. It's a sweet little boat that I can paddle on day trips near home or on weeks-long wilderness expeditions.
I am optimistic about the future of canoeing. Things tend to go in cycles: for example, solo canoes were very popular at the turn of the century, then they faded to obscurity. They enjoyed a re-birth in the 70's – 90's, then largely disappeared again. In the last year or two, I've noted a slight uptick in the sales of my "Basic Essentials: Solo Canoeing" book, and I've seen some recent car ads that have canoes—not kayaks—on top. Could solo canoes be coming back?
Canoes are better adapted to wilderness tripping than kayaks, especially long trips where there are portages. Yes, the majority of today's canoeists have gray hair. The average age of those canoeing Minnesota's Boundary Waters is now over 50. Thus it warms my heart that the Boy Scouts are one of the few organizations that still take kids camping and canoeing.
I don't consider myself an expert paddler. On a whitewater scale I would probably be considered a basic intermediate. That's the bad news. The good news is that I think it has protected me because it has encouraged me not to overestimate my abilities. The defining entity that determines success on a wilderness river is not high-skill paddling, it's high-skill avoidance technique and good judgment. If I'm not sure I can do a rapid, I'll walk or line around it.
Nothing has been more bad-mouthed in canoeing literature than the tumpline (a wide strap that attaches to a pack or bundle, and is placed just above the forehead so that all the pack's weight is borne by the strong neck muscles). But as far as I'm concerned, anyone who bad mouths a tumpline either hasn't tried it or is an idiot. With a tumpline you have incredibly good balance and control and you can carry amazing weights with it. That's why the voyageurs carried all their trade with tumpline packs. The trouble is that most Americans are like the 8th graders I taught: if you don't get something instantly, it's not worth learning. And to master something like the tumpline takes a little time. But once you get it, it's awesome.
Some traditionalists claim that a wooden beavertail paddle, paddled the Canadian way, is the fastest way to move a canoe. I don't think so. There's not a racer in North America that uses a long beavertail paddle; they all use short, carbon fiber bent-shafts.
If I could leave people with only one Cliff Camping Tip, it would be put the ground cloth inside the tent. Bite the bullet and do it, and you'll never be wet again. Why? Putting the ground cloth underneath the tent is the same thing as taking the tent and pitching it on a slab of concrete; water is going to pool and go through the floor. Forget about what tent manufactures say about this. Not to sound egotistical, but I camp out and they don't. I'm selling joy. They're selling product.
I would like to see some enterprising canoe manufacturer make a serious high-volume Kevlar tandem tripping canoe that's about 17-feet-long and reasonably light (40 pounds) so little guys like me can carry it on a three-mile portage over the tundra. The truth of the matter is that on these Far North trips you don't need a heavy-duty Royalex canoe. You look at your rapids, you know what you're running, and you're selective in what you do. Consequently you don't hit a lot of stuff. My boats don't take that much abuse going down the river. They take the abuse on land, when they're handled, loaded on vans and airplanes, and shoved on trains.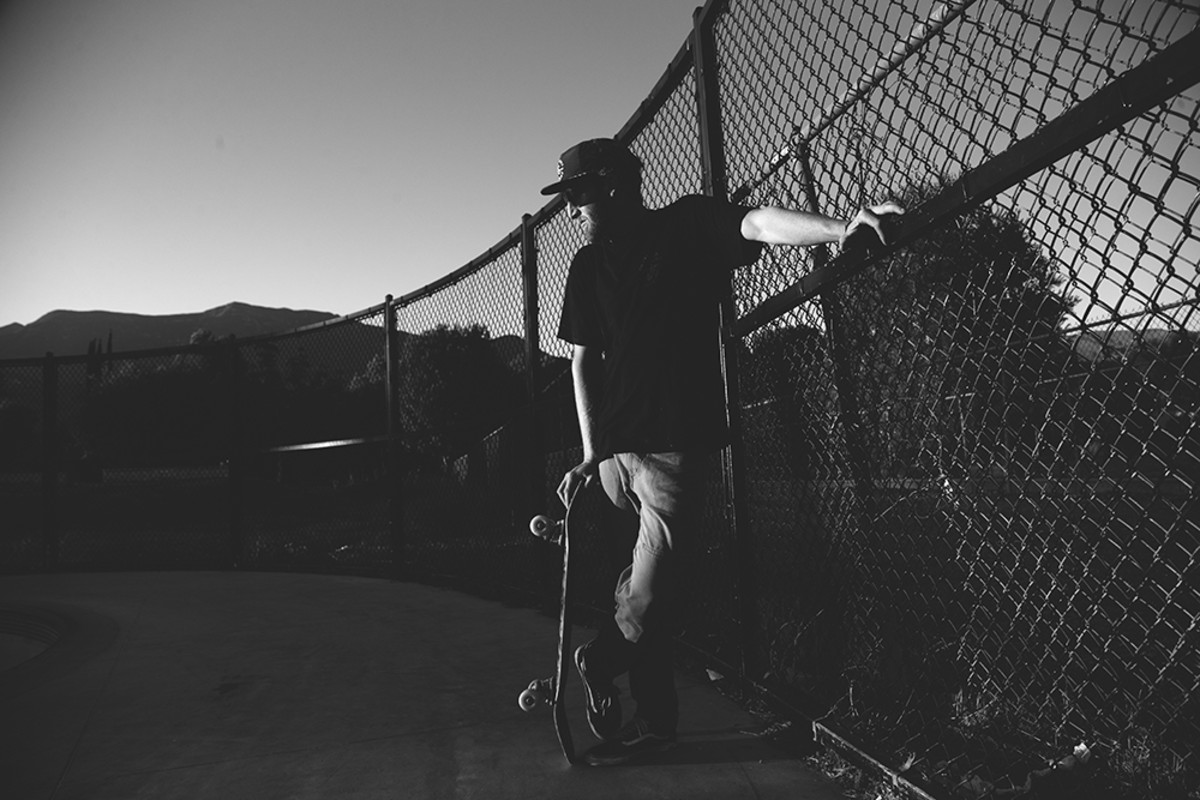 I would place David Yost alongside Gene Jensen as the two supreme canoe designers of the past century. Jensen knew how to build fast canoes. Yost understood boats that turn on a dime, yet have excellent tracking capabilities and are extremely seaworthy in cross-chop and big waves. And that's a rare combination.
Kayaks and SUP's are the primary choice of those who just want to paddle for an hour or a day. Those who want to go longer usually choose canoes. If wilderness has a future in America, so, too, do canoes.
If I were to go to Greenland or do some big, huge open water trip, a sea kayak is the only way to go. Otherwise, it's just not what I do. I don't find kayaking comfortable. I don't like sitting down low with my legs stretched straight out, not being able to move. I don't like windmilling my arms all the time with water dripping down. Bottom line: I find that kayaking is not nearly as user-friendly as paddling a canoe.
I sometimes think that it would have been fun to grow up in the age of the voyageur, but there's one thing that stops me cold: I can't see at all without my glasses. I would have been cannon fodder back then. I would have been culled.
When my first wife, Sharon, died in 1990, I came to realize that as much as I loved the wilderness, I missed Sharon more. That was a really big revelation for me, and it made me appreciate that the relationships that we have in life, and the love that we have for our spouse, our mate, our children, our friends, is a far greater reward than paddling any remote river. If I had to choose between love and the wilderness, I would choose the love.
The article was originally published on Canoe & Kayak
For access to exclusive gear videos, celebrity interviews, and more, subscribe on YouTube!