RAGAB IS HAVING TROUBLE  with his camel. It has tried to bite him several times. Each time he lithely dodges the huge, swinging head, but now the camel is roaring, a bellicose sound that echoes along the red desert walls.
"She is scared," Ragab explains. He is only 16 years old, yet already he understands camels better than most humans ever will. "She only one month in training."
As our camel driver, Ragab is responsible for transporting the four of us, climbers from Wyoming, and our gear to a small oasis deep in the mountains of Egypt's south Sinai. When we reach base camp at the end of a long day, he manages to unload our heavy duffel bags from the camel and get a feed bag over its head. The camel continues to moan while grinding away at the corn inside.
By this time, Salim, our Bedouin guide, has already pulled out a bundle of brushwood collected en route and started a fire. In minutes he has hot mint tea bubbling in a tiny, pitch-black pot. He sets four plastic cups in the dirt, spoons half an inch of sugar into each one, then pours in the silky brown liquid.
The four of us sit cross-legged in the dirt, toasting Salim for the sweet treat, and then turn our attention to the thousand-foot granite wall above. Half the height of Yosemite's Half Dome, the west face of Jebel Naja, a massive red granite peak, is one of the largest rock faces in the Sinai. We've come to climb it.
It was only two weeks earlier that we decided to fly here in the first place. I'd learned of these unknown walls in south Sinai from a British mountaineer, Dave Lucas, who runs a guide service, the Expedition Consultancy.
"It's utterly stunning is what it is," he told me when I called him in London. "Mountains of granite bursting right up out of the desert."
The Sinai Peninsula is that pizza slice of desert bounded on the east by Israel and the Gulf of Aqaba and on the west by the Gulf of Suez. Lucas lived in south Sinai for over a year and has been climbing there for 16 years.
"Because of the fear of terrorism, the tourist economy has collapsed," Lucas told me via Skype. "The Bedouin need our business."
"What about the risks?" I asked him. "Killings, kidnappings?"
"That's all happening in the north," he said. "South Sinai is safe."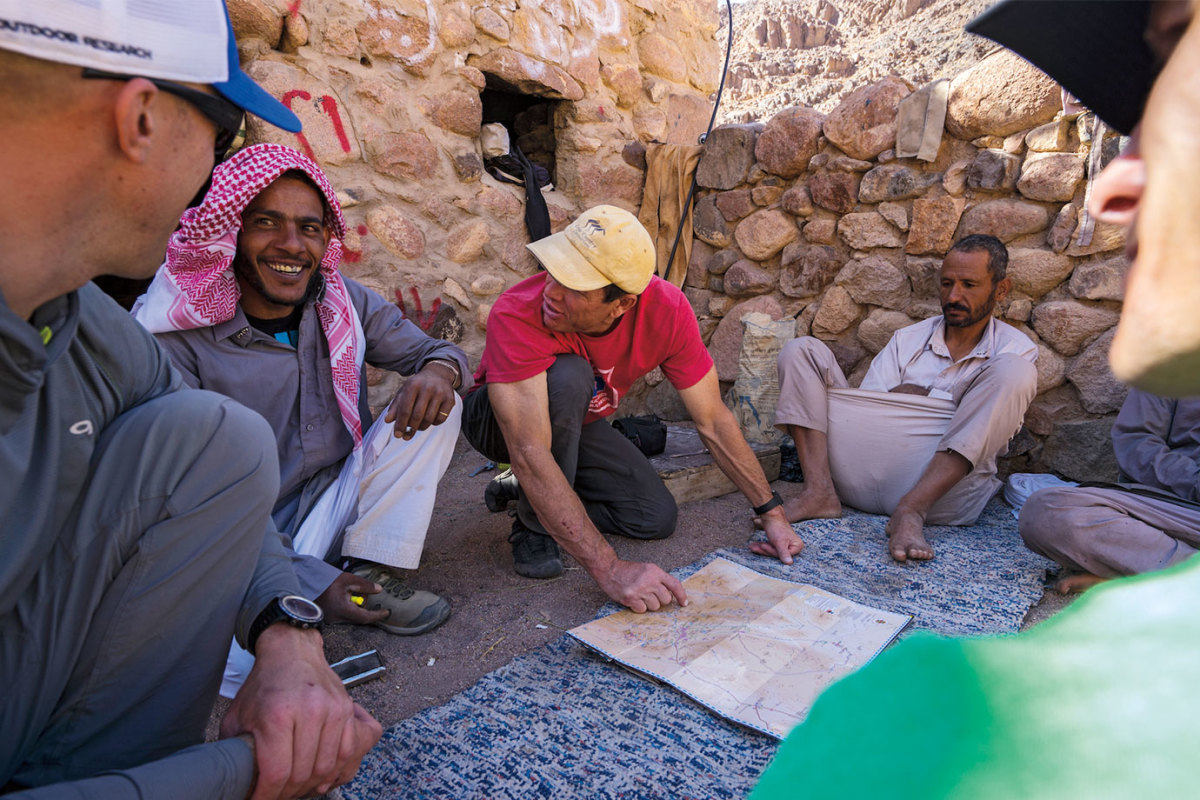 Lucas emailed me maps, contacts, and route descriptions. It was late October. The best month for climbing in the Sinai is November. This gave me a full year to prepare a climbing expedition—or a week. So I called a scrappy bartender in Lander, Wyoming, with whom I'd once shared a beer: Kyle Elmquist. Did he want to go climbing in Egypt?
"When?" Kyle, 34, asked.
"Next week," I said. I told him that the expedition would cost $2,000, and we'd be gone one month.
"I'm in," he said without hesitation.
An hour later I called Micah Rush, 38, a fireman, fully certified international mountain guide, and one of the best all-around climbers in Wyoming. Micah had a 3-year-old son and a 6-month-old daughter. "Let's do it!" he said. Meanwhile, Kyle convinced another Lander climber, videographer Kyle Duba, 32, to join in, too.
We bought tickets that same day, and the four of us met up in the Denver airport a week later, giddy with the spontaneity of our enterprise. When we landed in Cairo, we got visas for $25, spent two days in the city seeing the pyramids and the pollution, then set off into the Sinai in a rented van. Driving from Cairo to the village of St. Catherine, we had to stop at a dozen police checkpoints, a camouflaged bunker with a 50-caliber machine gun and mustached soldiers at each one.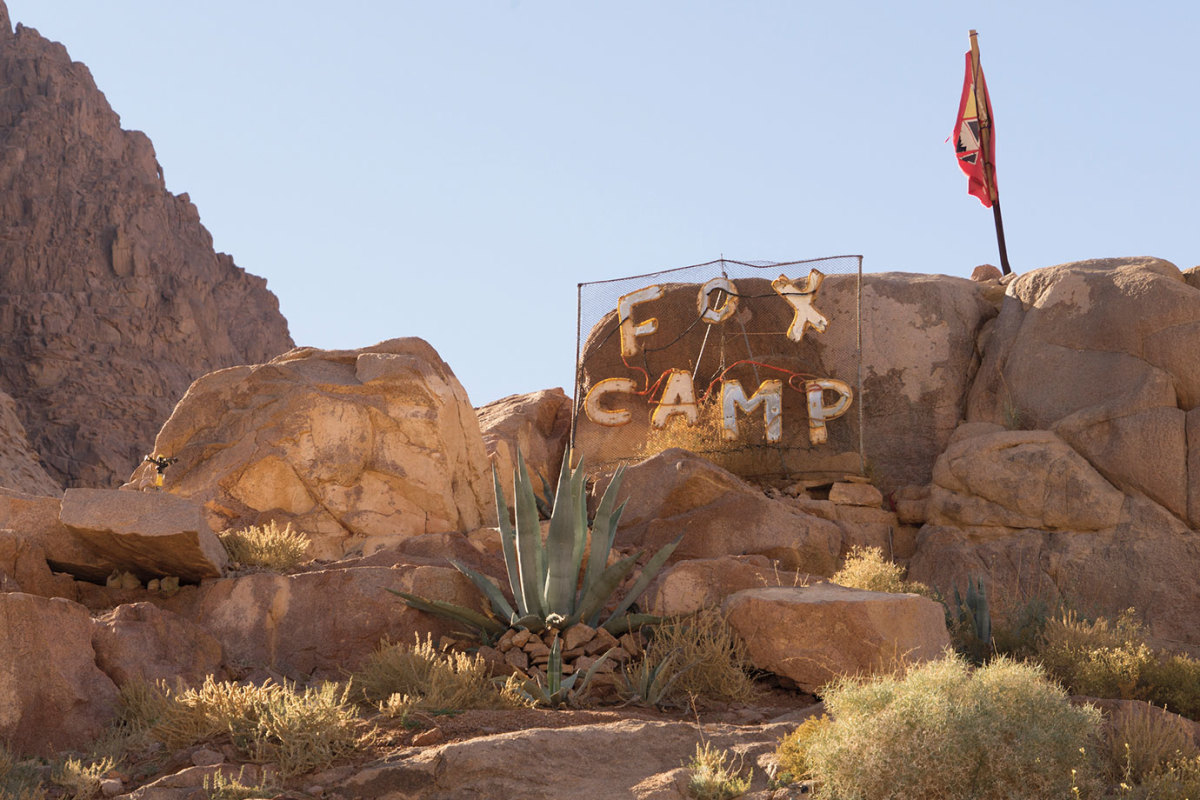 In St. Catherine, we stayed in a stone hostel called Fox Camp for $15 a day, room and board. Beds were basic and bathrooms shared, but the meals were tremendous—eggs and fresh bread for breakfast, chicken and couscous for dinner. The area is surrounded by steep-sided granite mountains, so we warmed up on multipitch routes that were within walking distance. One afternoon we were high on a wall when we heard the cry of the muezzin from a minaret far below.
"It's the call to prayer," said Micah.
Micah and I had been climbing hard since dawn, entreating fate to give us good fortune—no stuck ropes, no falling rock, no bad falls.
"We've been praying all morning," I quipped.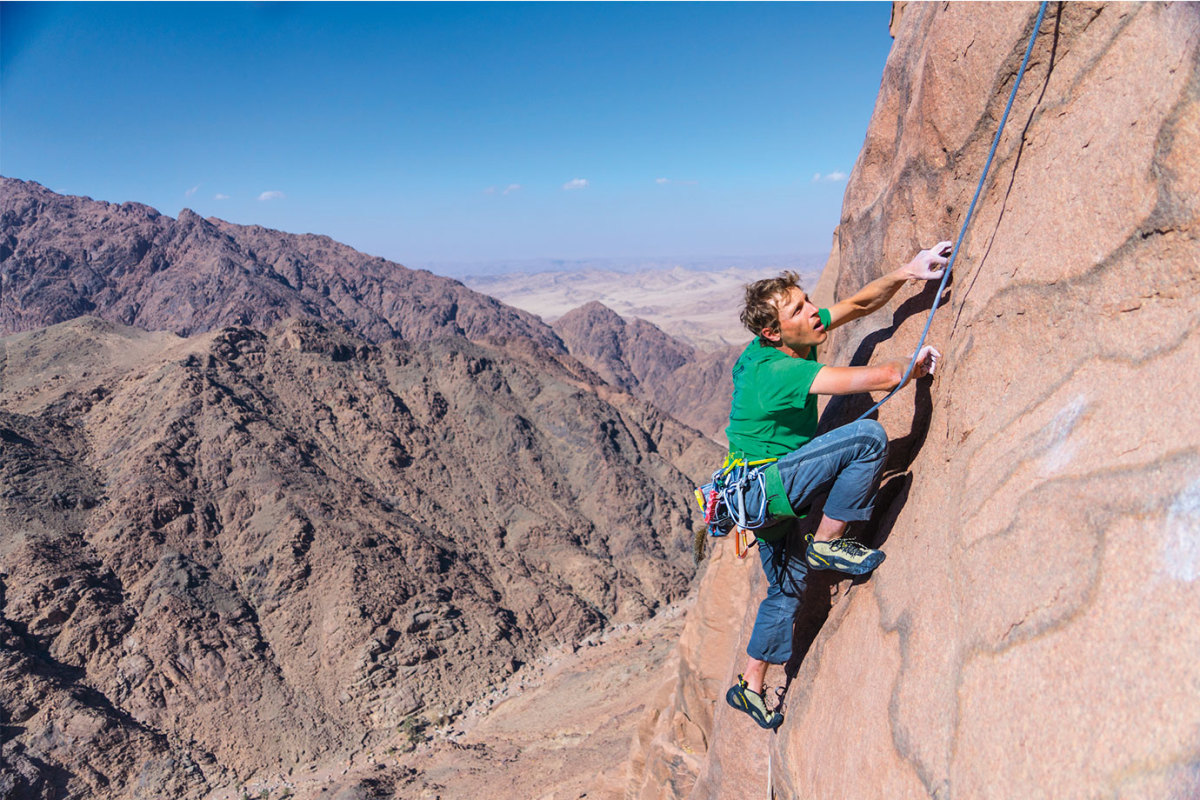 "Next week," I said. I told him that the expedition would cost $2,000, and we'd be gone one month.
The next morning we did an easy hike up Mount Sinai, where, according to the Old Testament, Moses received the Ten Commandments. We reached the summit at twilight and then, along with pilgrims of all three Abrahamic faiths—Islam, Judaism, and Christianity—watched the sun's blood-orange globe rise above a burnt-red landscape.
"It's so unbelievably peaceful," said Elmquist, his eyes closed, his face gilded by sunlight.
On the way down we visited St. Catherine's Monastery, a stone castle in the sand at the base of Mount Sinai, where Moses supposedly saw his burning bush. It is one of the oldest continuously functioning Christian monasteries in the world, and has a mosque inside prayers, Salim made us fresh bread over the fire while we loaded our packs with ropes and climbing gear.
The first day on the wall was a reconnaissance. Lucas had climbed the west face of Jebel Naja in 2014, naming his route "Beauty and the Beast." But the classic line up the middle was still uncompleted. We climbed two pitches of the central line and discovered why: The crack we'd been following disappeared. The granite was bare for a hundred feet before the crack reappeared.
"It's going to require bolts," said Micah.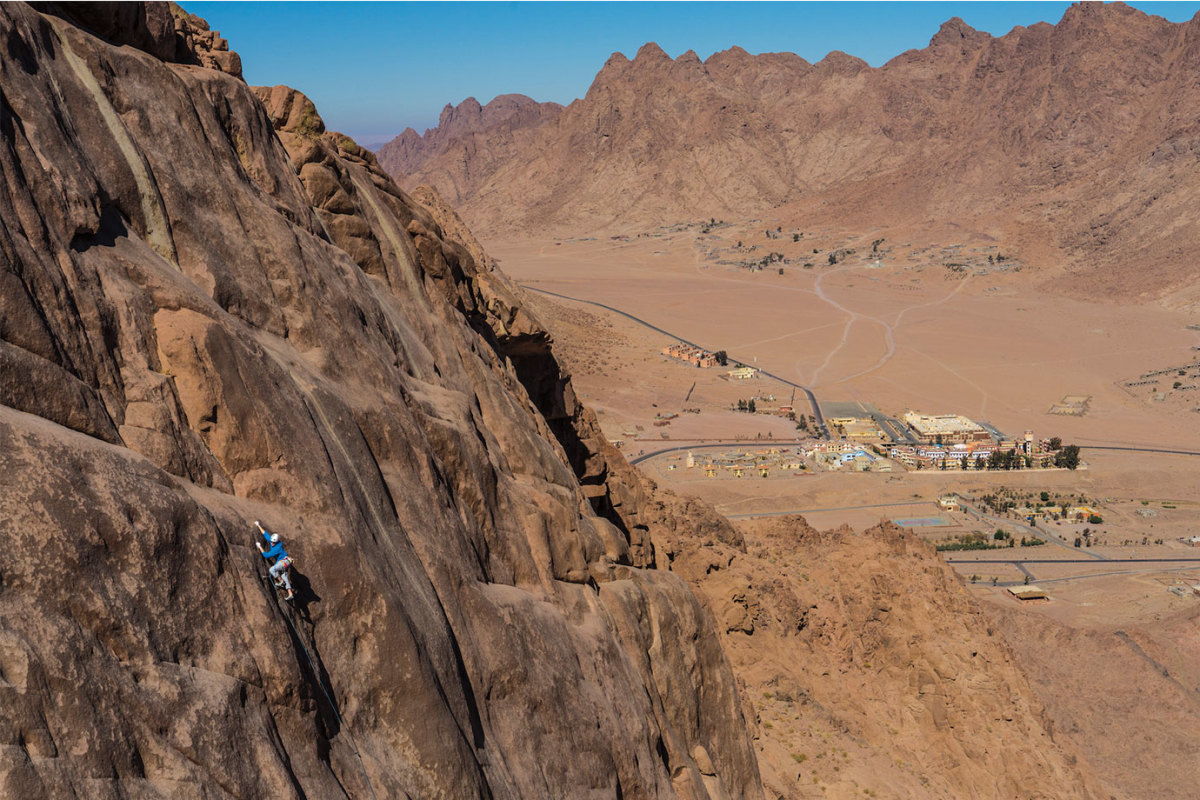 Back down in camp that night, Salim had prepared for us fresh baba ghanoush with eggplants he'd purchased from local farmers. Over the next few days, while Micah and Elmquist pushed the central line by hand-drilling holes in the hard granite, Duba and I succeeded in establishing a seven-pitch route we named "Camel Dung" for the rotten rock at the top.
Then, on Thanksgiving Day, all four of us attacked the central line. Micah led the sketchy pitches where an enormous fall was possible and courage critical. Elmquist led the blank sections where precise footwork and fingers of steel were essential. I led the off-width cracks that were an awkward size and required a certain obstinacy. Duba photographed the ascent.
There is something deeply gratifying about being high on a remote wall with three friends. Cell phones don't work, and there is no possibility of rescue. It's just the four of you, tied together, working your way up, having reclaimed the world of comradeship, sweat, fear, and resolve.
Once on the summit, in the setting sun, we decided to name our new route "the Sheikh." In the end, we spent a month climbing desert granite and put up 40 new pitches. Every morning we ate flame-cooked flatbread; every evening we were fixed a Mediterranean feast. We made long hikes to hidden oases, walked with our camels through hand-watered opium fields, and spent hours talking to the Bedouin—all on just a week's notice.
You may believe that if you light out on a journey, your world will stop without you. It won't. Micah's 3-year-old son, Marcus, fared fine without him and was excited to see photos of his dad riding a camel. My wife was happy for time to focus on her own projects. The Lander Bar, where Elmquist works, still sold plenty of beer in his absence.
Very little changed—except us. And in the end, that was the whole point. 
For access to exclusive gear videos, celebrity interviews, and more, subscribe on YouTube!