Hundreds of filmmakers are in Park City this week for the Sundance Film Festival, but only Jimmy Chin can say he shot a movie while dangling from a Himalayan mountain 20,000 feet in the air. Meru, co-directed with Chin's wife Elizabeth Chai Vasarhelyi, chronicles the first successful summit of the Shark's Fin on Mount Meru by pro climbers Chin, Conrad Anker, and Renan Ozturk in 2012 (documented that year in the Men's Journal feature, Mount Impossible). Each The climb first captured the imagination of serious climbers in the '80s because it combined all the most challenging aspects of high alpine mountaineering in one location.
"The first 4,000 feet of that climb are very technical ice and rock climbing, but you are carrying two-hundred pounds of equipment that you need to ascend the last 1,500 feet," explains Chai. "The particular intrigue and fascination with Meru is it is very complicated puzzle of a climb and how to crack it successfully was something that evaded many great teams." 
We spoke with Chin about making a movie while climbing a mountain, Renan Ozturk's stroke-like symptoms on the mountain, and Chin's plan to spend Sundance skiing the backcountry with Conrad Ankler and Jon Krakauer.
What was the process of making this film like?
The first shot we ever took for it was from an expedition in 2008 to Meru. It was more of a creative short, and we were documenting for posterity, and just for ourselves, and obviously it evolved over time as the climb became more of a centerpiece in our lives. Conrad for sure, is a huge influence in my life, and I thought there was something there that tied his incredible life, and all that he had been through, with the story of this climb. It kind of evolved over time, and built its own momentum. 
Why was Meru such a fascination for Conrad and yourself?
It has a notorious reputation within the climbing world, and a reputation for a mountain comes from how many people have tried it, who those people were in particular if they were really strong teams, and how many people failed on it. It had this reputation, and in the '80s it where it was on the cover of a prominent climbing magazine, and it pointed to that mountain as the future of possibilities, and something that maybe wasn't even achievable at the time. It's a very complex mountain, and you had to climb this big alpine climb in order to get to basically, an El Cap-style climb. So you're putting an El Cap wall on something like Denali. For climbers at the time it was perceived as this next ultimate goal. In a lot of different realms, like deep sea diving, there are these pinnacle objectives that people talk about within the core community. It was Conrad's mentor, Mugs Stump, he was one of the great climbers of his generation, and it was his obsession, and he tried it multiple times, and he had a very spectacular failure where he was really injured on it, and had a really hard time getting off of it. Conrad at the time wasn't even allowed to go on that climb with Mugs. Just like the mentorship of climbing is passed down generation to generation, Meru was an objective that was handed down from Mugs to Conrad and from Conrad to me and Renan. 
What was different about this climb?
I had climbed objectives that had certain aspects that were challenging, whether that was altitude, or it was really difficult ice climbing, or really difficult big wall climbing, but you never got it all in one package like this.
What sort of climbing are you doing?
?We place bolts but very, very, selectively. We mainly use gear that we could place into the cracks and take back out, you place these anchors, and they are this complex web of cords, and they are all equalized and there are redundancies of the system, and then when you finish sleeping there, you take everything out, and then you haul everything it with you. It's called capsule style climbing, because you package everything up into a capsule and you keep moving up the mountain. The big difference in how we climbed is that we didn't use fixed ropes that went back to the camp. Once you leave the ground you are constantly moving everything upwards so your not connected to base camp.
What's it like to shoot a film while climbing a mountain?
My shooting has kind of developed along with my climbing over the years. When I first really started to take my climbing seriously in Yosemite, was about the same time I started shooting seriously as a photographer and eventually as a filmmaker. They have grown together in parallel. It is always a challenge, of course, to divide the bandwidth between staying focused on climbing and the creative effort it takes to shoot. It can be very challenging; it is also very gratifying to do it, when it is working well together. On Meru, we were being pushed really, really hard physically and mentally, and then to try to film on top of that it is hard. 
I understand that because of the way you are in the harnesses, you can loose circulation in such a way that it can be really painful?
It is kind of like putting a tourniquet around your leg, and if you've been sitting it is cutting off your circulation which is already not very good because of the altitude and the cold and because you don't have many calories to burn. There is a term called the "screaming bar feet," because it is so painful, the blood comes back into your hands and feet and its extremely painful.
You just had a child. How does she impact your work?
I haven't been on a serious expedition since we had our daughter Marina, and I'm not sure when or if I will go on another one any time soon. But it could happen. Climbing, and being in the mountains, and skiing is part of who I am, and that's not really going to go away. You can't just erase who you are and your passions and where you go. Will it effect my decision making? Sure. I think it would be dishonest to say it wouldn't affect my decision-making when I'm in the mountains. But I'm sitting in my car because I just skied a backcountry lap up on Teton Pass, and every day that I can I'm going to be climbing or skiing.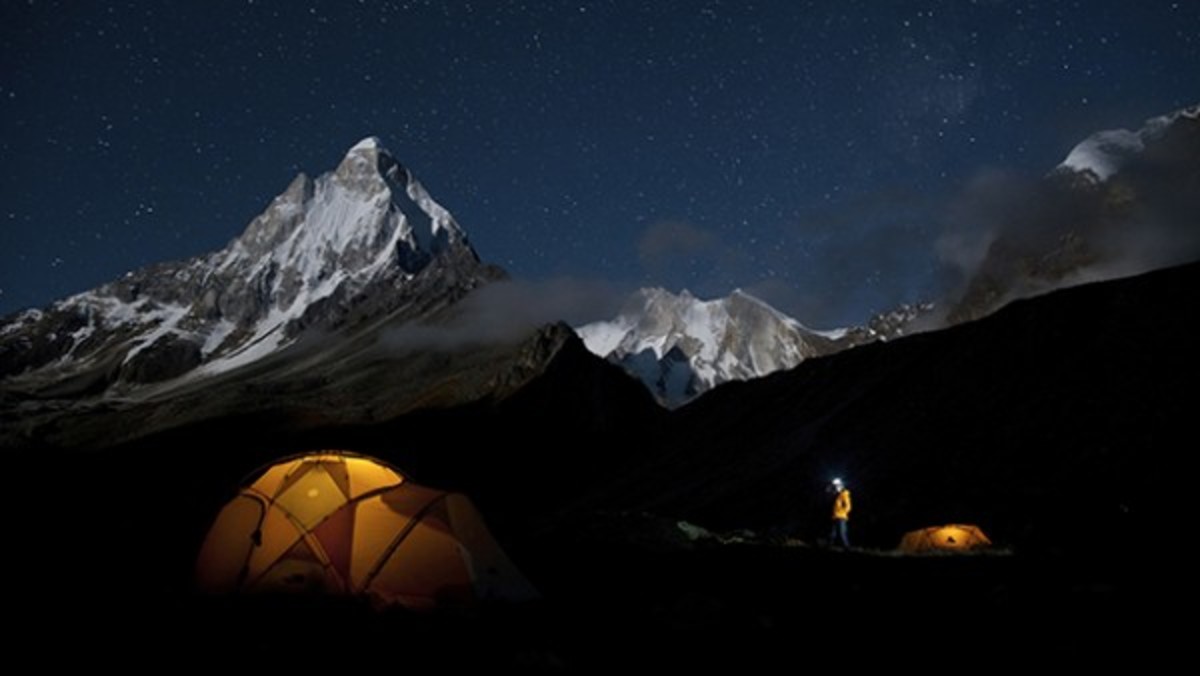 Photo by Jimmy Chin
Have you seen Conrad hold back from the big expeditions because of the impact it could have on his family?
He climbed Everest without oxygen the year after Meru, he skied Denali last year. He's never really slowed down. It is also tied to our careers. This is how we make a living too.
The film showed a day where Renan wasn't speaking clearly. How concerned were you?
We were definitely concerned. I think when you're in a moment like that it's different than how you think about it on the ground. When you're in a moment like that you go into a triage mode and you're making calculations, 'What are we going to do? How are we going to go down? What's the best way for us to manage it? What are going to be the hardest parts of getting him down?' You're getting into this rescue mode. We knew we couldn't move that day, and we were doing that cost benefit analysis. We were very concerned, and we were making a plan. I was checking his vitals. We were monitoring how he was doing, a lot of the stuff was fairly regular, but again, we couldn't really diagnose what it was. It could have been high altitude pulmonary edema, it could have been cerebral edema. The next morning we monitored all night. It wasn't getting worse necessarily, but you just never know. In high altitude pulmonary edema sometimes you can better and then get worse.
Do you have any big expeditions planned right now?
There are some discussions around a few. There are always a few irons in the fire. I am shooting a fairly significant ski mountaineering project around Jackson for National Geographic in March. The story is focused on the history and the heritage of ski mountaineering in Jackson and the Tetons. 
Will you get out at all in Park City?
I'm pretty sure Jon Krakauer, and Conrad and I have plans to go back-country skiing and doing something outside hopefully everyday. We don't like to sit inside all day.
For access to exclusive gear videos, celebrity interviews, and more, subscribe on YouTube!