"People talk smack about the Fisher Towers," Paul Gagner, big-wall climber and desert adventurer, says from a brown overstuffed couch he snagged from the dumpster. "It's way softer in the Mystery Towers, they're like hard mud."
Fifty-seven-year-old Gagner is talking about sandstone spires 100 to 1,000 feet in height in and around the Colorado Plateau, which encompasses vast parts of Arizona, Utah, Colorado and New Mexico. Here the red rock (sandstone) is porous, absorbing water when it rains, which weakens the holds (this is why no one climbs wet towers). Some spires lose three inches a year in height due to erosion, which is especially true in the Mystery Towers.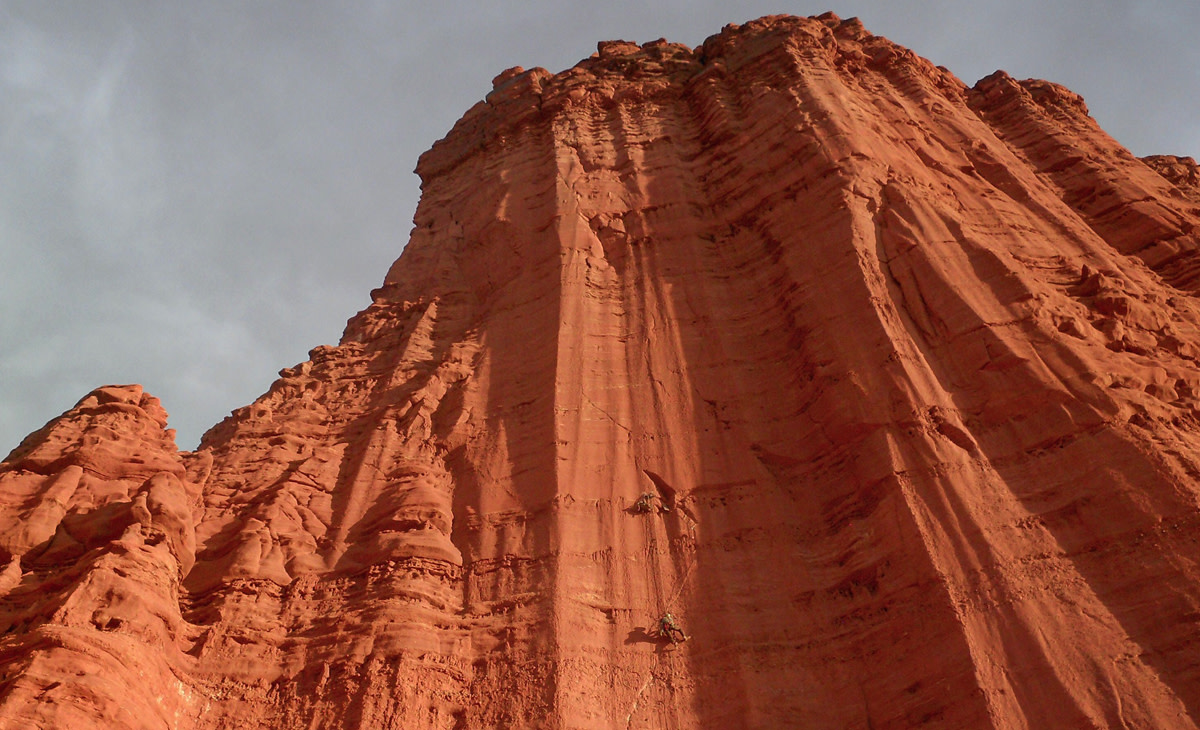 As the desert tower climbing pioneer Layton Kor once said, he ascended them "Not because it's there, but because it might not be there much longer."
The well-traveled spires like Ancient Art in Fisher Towers, are relatively solid, but most others are filthy. The less traveled towers, the ones containing teetering blocks and mud-choked cracks, that's what Gagner seeks out, and he's climbed many of the most difficult, dangerous ones in the country.
Those who drive hundreds or thousands of miles to reach to these towers view them like aged cheese, and the strong flavor is certainly not for everyone.
Gagner takes a sip of whiskey and lets out a mild, sarcastic laugh. To his left is his climbing rack, holding tools of the trade – 107 cams, pitons of various sizes, hammers, stacks of carabiners and ropes, plus piles more of the same in a nearby closet.
For 40 years, Gagner has climbed everything from the hardest aid routes on 3,000-foot El Capitan in Yosemite, California, to the tallest desert tower in the country, the 1,000-foot Tooth Rock outside Page, Arizona.
Where El Cap has bullet-hard, reliable granite (except sometimes), Tooth Rock has flakey and powdery sandstone, like burned wood. To get to the top of that tower he completed an abandoned line started by another party.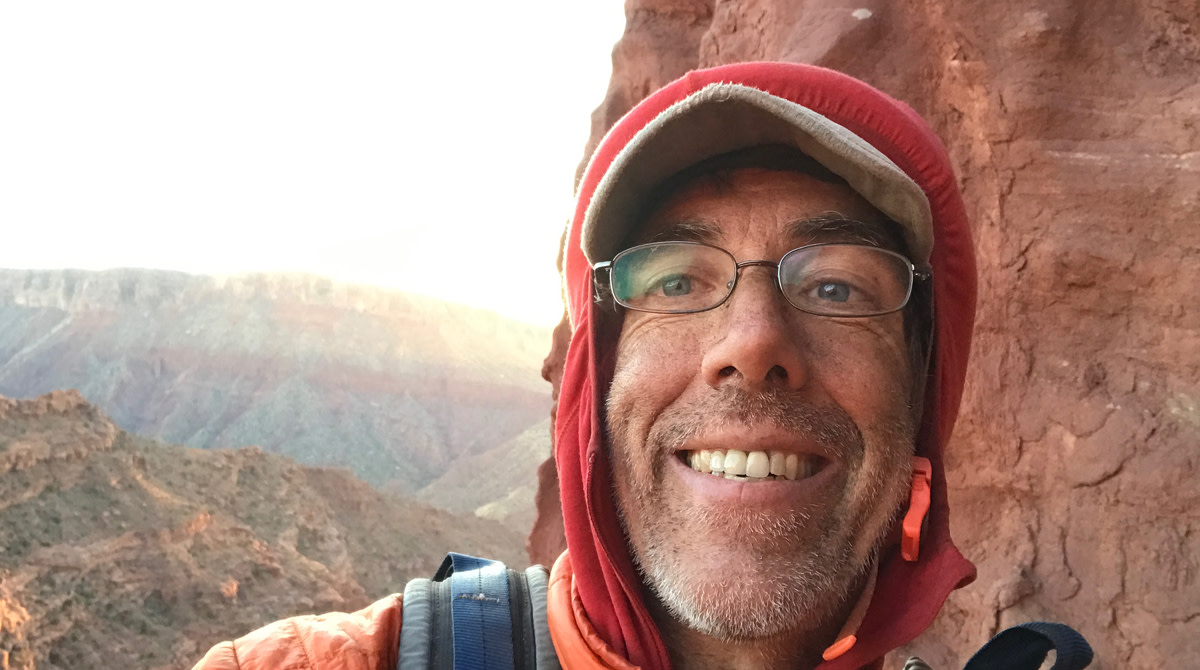 He likes it all, the trickier the better, especially mud towers. This past summer he spent two weeks climbing the long alpine routes in the Bugaboos in British Columbia, and he climbed El Cap again very recently. However, come mid-autumn, when the American Southwest desert has finally cooled from the 100-degree summer heat, he'll be back out there climbing pinnacles, scraping and clawing his way up to reach their remote summits.
GrindTV caught up with Gagner between his sales trips for an outdoor lighting company and his trip up El Cap with Sunny Stroeer.
At his apartment in Boulder, Colorado, he told us what draws him to the biggest, most rotten towers in the country – lines of chaos, improbability and danger. He says, "You have to know all the tricks to make it pretty safe. I can mitigate the risk, but not totally. That's part of the allure."
Before moving into sales, Gagner worked as a Grand Teton National Park Jenny Lake climbing ranger for seven seasons, and during that time he participated in some 200 rescues. Of these he says, "I can think of two where people did nothing wrong. Like spontaneous rockfall. The other 198 could have been avoided: lapse of judgment; trying to beat the weather; in over your head. The chances of getting hurt if you're paying attention are pretty rare. My point is I could be hit by rockfall, take a massive whipper — but the chance of that happening is very low."
He says climbing desert towers remind him of his first outdoor climbs. Gagner grew up in San Jose, California, and he frequented Pinnacles National Park in the late 1970s, an area of knob-covered domes and broad faces.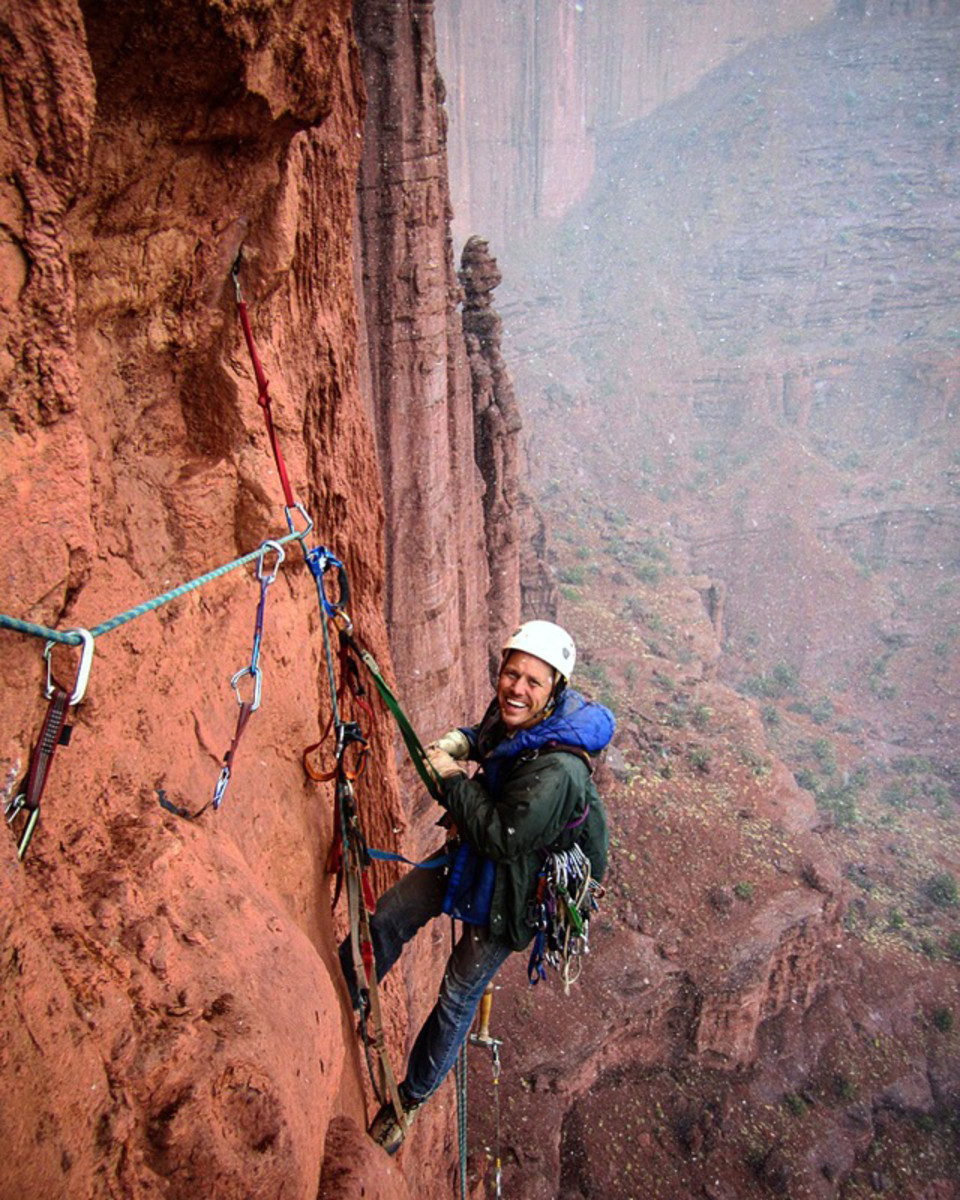 To do first ascents there, he would hook fragile edges so he could hand-place a protection bolt. Sometimes the edges he was hooking would rip off and he'd take big falls. Other times he and his partners would crawl to the top of a route, sit down and admire the surrounding countryside of oak woodlands, talus caves and prairie falcons.
Those early experiences shaped him as a climber, and he progressed to take on the biggest walls in the world. But things haven't always gone as planned, including in 1995 in Baffin Island, Canada, when he ended up marooned for 14 days and nearly died of starvation. His partner faded away from climbing after that but Gagner kept at it.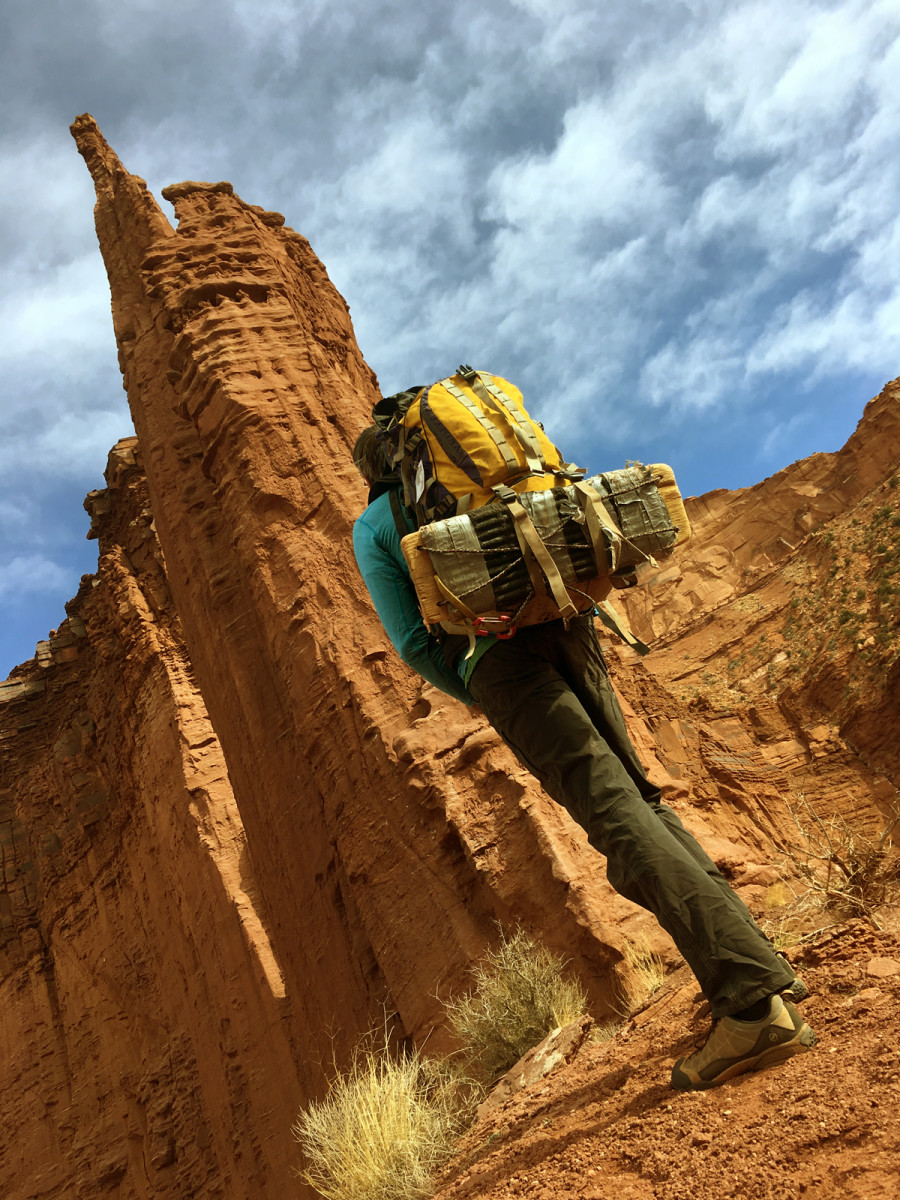 Last autumn, Gagner climbed the tallest rock in the Mystery Towers, 400-foot Citadel, via a line containing a 40-foot flake that pried and flexed away from the wall when he weighted it. His first attempt was with Stroeer but they came down after the route became too much for her. He finished it with Ryan Kempf, who calls the climb one of his finest prizes.
Back at the apartment, Gagner shows us a bolt that came out in his hand while on the Citadel. High on the upright sword-like formation, he went to clip the bolt and both it and the surrounding rock fell out into his hand, ash-gray sand pouring through his fingers.
Instead of replacing the bolt, he drove a sharp piton into the nearby rock and continued on. To many, a failed bolt would be enough to send a party retreating, but to Gagner overcoming obstacles like this is part of the game.
Another draw is the solitude.
To reach the Mystery Towers, 20 miles northeast of Moab, Utah, (and less than a mile from the Fishers) requires navigating a multi-hour-long faint trail through a maze of steep drop-offs and also "batmaning" (hand over handing) a rope to get past a 30-foot blank wall.
Once there, towers, steep like buildings, are coated in mud that hangs down all sides like fluted drapes. "The summits of these formations are seldom visited, tiny and reserved for the true desert-tower aficionado," wrote Steve "Crusher" Bartlett in Desert Towers: Fat Cat Summits and Kitty Litter Rock.
Gagner estimates the Mystery Towers attract about a dozen people total. Then he describes the views he gets while perched on the edge of the giant melting candlestick shrouded in clouds, the surrounding summits poking out above the white. "It's super beautiful … the whole starkness and beauty of the landscape. Not many people get to experience that."
Check out more Nature stories from GrindTV
Angela Eiter sends the most difficult route ever climbed by a woman
NPS proposes peak season entrance fee at 17 national parks
For access to exclusive gear videos, celebrity interviews, and more, subscribe on YouTube!