Open your freezer and dig out the oldest bag of frozen veggies you can find — the one tucked in the back and covered in ice and frost.
Now imagine if that bag was stuck to the side of a vertical wall, bonded, like that kid from A Christmas Story who stuck his tongue to a frozen pole.
Now imagine hanging from that bag by sharp ice tools and crampons — this is ice climbing, the kind you find in places like Ouray, Colorado and Canada's Icefields Parkway.
To some, climbing vertical frozen waterfalls for hundreds (or thousands) of feet is their passion and profession. These people aren't crazy, they're just happy to be out in the mountains with friends in an otherworldly setting.
They know the risks — that they're ascending frozen liquid plastered to a rock wall — but they're trained and experienced.
One of these athletes is Jess Roskelley, out of Spokane, Washington. As the son of one of the world's greatest high-altitude alpinists, John Roskelley, 34-year-old Jess has spent the last 20 years on some of the steepest, most technically demanding ice and mixed climbs in the world.
He doesn't focus on the biggest peaks like Everest (though he did climb it with his dad at age 20). He prefers shorter and more technical mountains, "ones that are a lot more vertical," he says.
So, what's his secret?
"I break down every move of an ice climb," he told GrindTV.
Mounting Gargoyles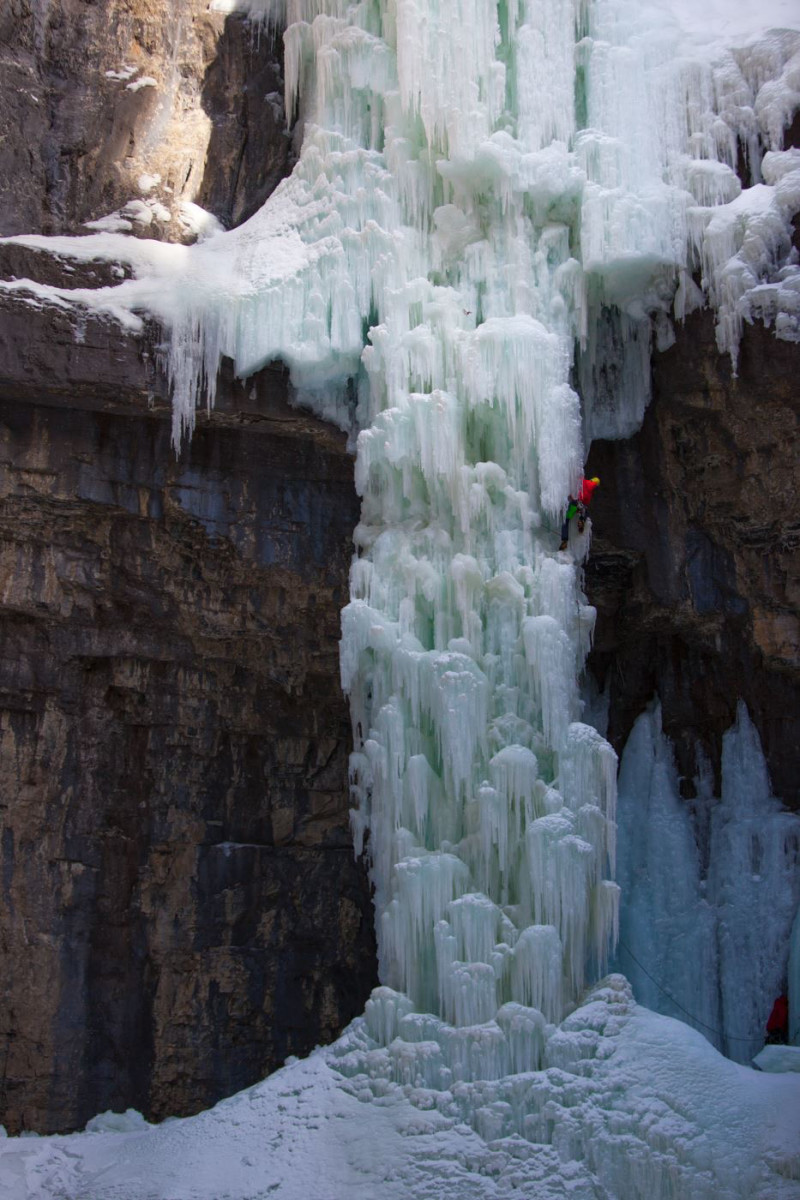 No, this isn't some
Dungeons and Dragons
thing. Named after the mythic creatures used in architecture to funnel water from the roof to pipes that drain it away, gargoyles are body-width or greater sized blobs that stick out of the ice.
They're undercut, meaning you have nothing to kick into, so "you have to mount them like a saddle by swinging your leg over them," Jess says.
These chunky roadblocks force ice climbers to pick the path of least resistance.
"Gargoyles make ice climbing a lot more fun and lot more circuitous than going straight up, as you dodge them left and right. Once you're on top of these overhanging mushrooms, then you can rest and assess the next move up," he says.
Traversing Curtains
A curtain of ice is just what it sounds like. Thin and fragile, they can be the width of your hand or up to 30-feet thick. And swinging your ice tool hard into a thin one generates enough force to shatter it, so it's best to be gentle and hook the ice.
"A big ice curtain like the Weeping Wall is so large that you can feel good about it. On the other hand, I didn't like Ice Nine because the rock at the top was sharp and it caused the ice to crack while I was on it. When I got to the top, the ice split all the way across but didn't fall off.
"To keep balanced, and to prevent any unnecessary stress on curtains, make sure to keep your hips square with the ice and stay in a forward stance.
"My dad told me not to kick the ice like a horse kicking a barn. You want to be like a ballet dancer," Jess says.
Don't Skate, Mate
Jess continues, "Even though I've topped out on a million climbs, I'm always the most careful at the top."
The tops of ice routes can collect loose snow and crud, so haphazardly placed tools can lose purchase easily. Also, transitioning from a vertical to a horizontal plane in crampons can feel like standing in roller skates. "This is the one place people fall the most," Jess says.
"When I'm topping out, I use my crampon front points as long as necessary until I know that what I'm standing in is flat. When you're pulling over the top, make small, secure footsteps. And don't be in a hurry," he says.
Leader Should Not Fall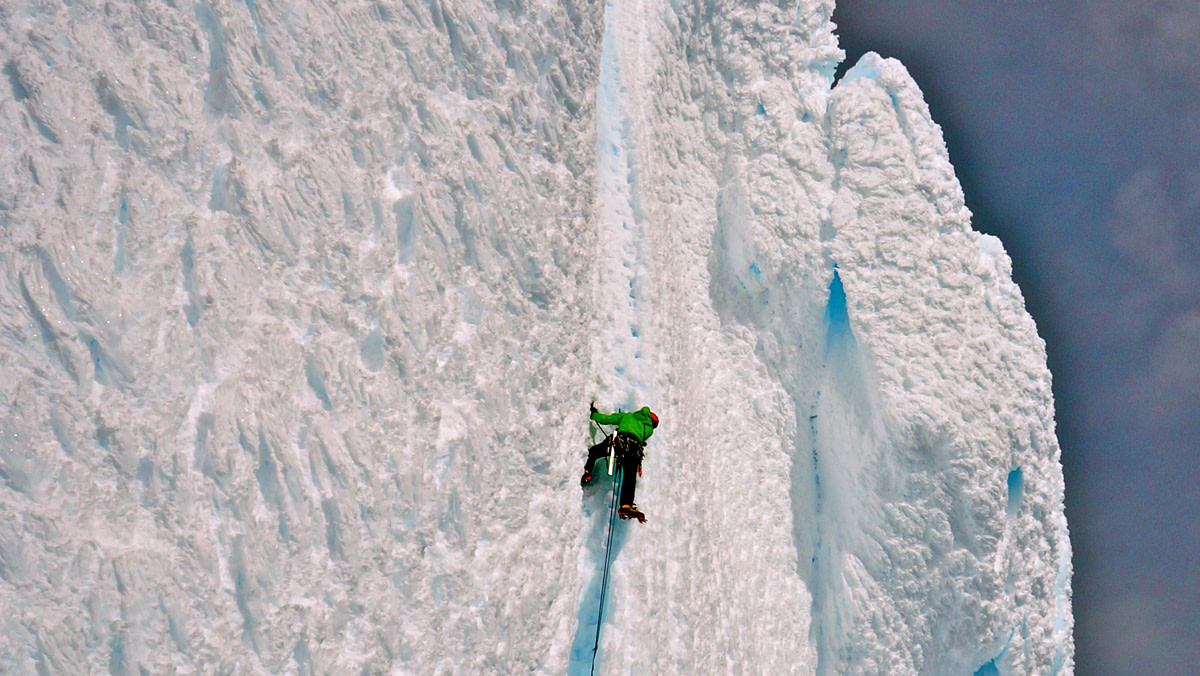 Ice climbing is not a sport where falling is a good idea. Even a short fall can result in a twisted ankle or worse due to crampons snagging on the ice. More than one ice climber over the years has had to fuse their ankle because they broke it after a bad fall.
"You need to be calm, cool, collected and relaxed the entire time," Jess says.
This is why he rock climbs all year, trains in the gym and does shoulder and arm workouts. He also does calf exercises to keep his legs strong for standing on crampon front points.
The Screaming Barfies
Because climbing ice requires holding your arms over your head for long periods of time during cold weather, this means that the blood is drained away from your hands. When you bring them back down, the blood pumps back in making your hands burn.
The pain is so intense that it makes you want to scream and throw up at the same time.
"It's enough to make a grown man cry," Jess says plainly. The good news is this feeling only lasts from a few seconds to a minute. "But you'll feel like it's an hour." Once it happens, you're hands are warm for the rest of the day.
To learn more about ice climbing, hire a guide or attend an event like the Ouray Ice Festival, Bozeman Ice Festival and others.
More from GrindTV
How to plan a first date with a ski bum
Ski manufacturer runs ski factory from a traveling tiny home
New surfboard design puts snowboarding at its core
For access to exclusive gear videos, celebrity interviews, and more, subscribe on YouTube!