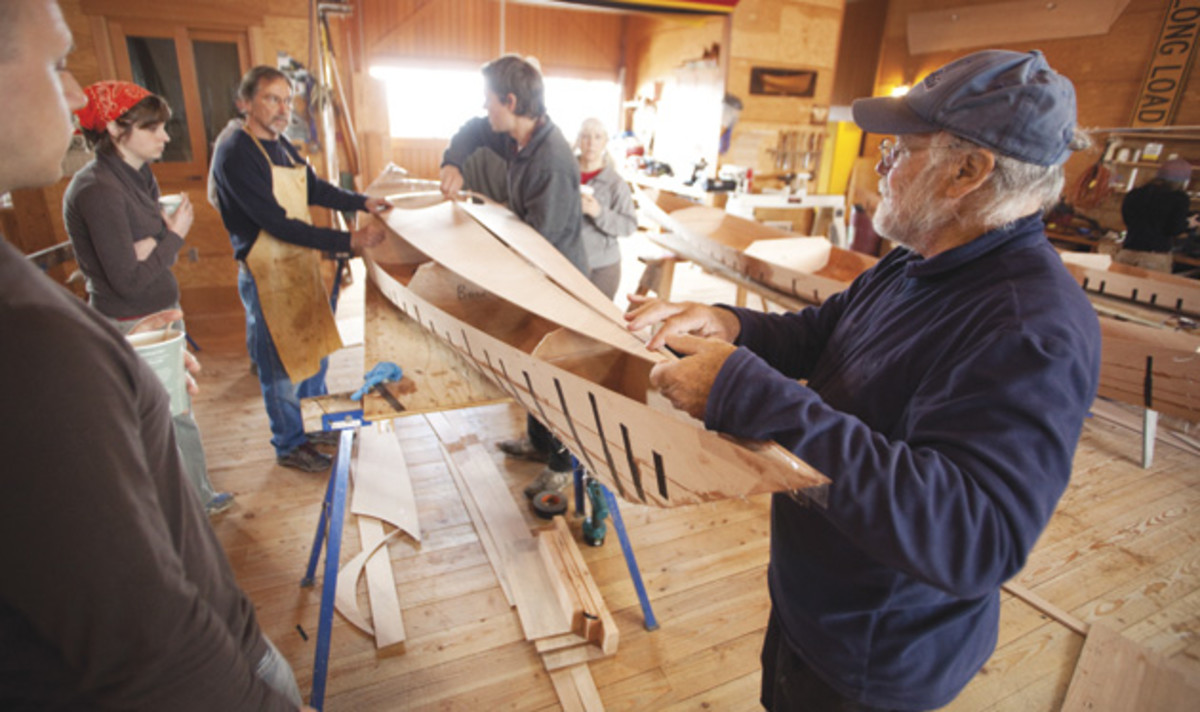 This article originally appeared in the August 2012 issue of Canoe & Kayak.
By Rob Casey
"My favorite part was Day One. You start with a few pieces of wood, and by the end of the day it begins to look like a boat."
Matthew Smurthwaite places a strip of mahogany plywood as he speaks. "My friends asked why I didn't just buy a plastic kayak. I told them I wanted to build something with my own hands—something I could be proud of when I put it on the water."
We're in the Northwest Maritime Center in Port Townsend, Wash., with five other people lovingly transforming piles of lumber into kayaks. Sunlight streams in through the big windows, illuminating sawdust hanging in the air and covering the rustic wooden floor. Students confer quietly, as Pygmy Boats founder and chief designer John Lockwood floats from project to project, dispensing advice and encouragement. Though building stitch-and-glue kayaks requires no specialized skills, it does require a leap of faith.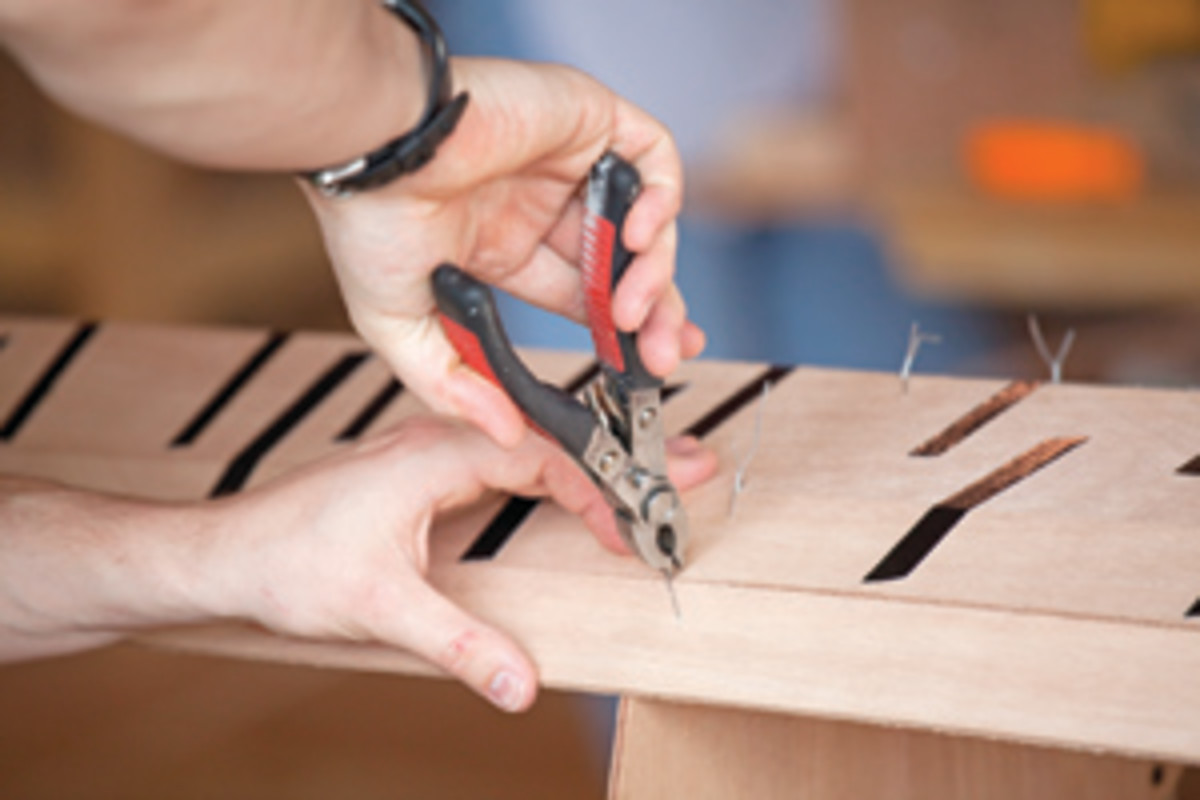 "We began to offer this workshop for customers who were afraid of building a boat themselves," Lockwood says. Pygmy now offers four of these workshops each year.
Smurthwaite, a soft-spoken resident of nearby Bremerton, carefully twists the wires joining the wooden planking of his Murrelet sea kayak, a multi-chined boat designed for high performance paddling and Greenland rolls.
"I think if I did this on my own, I'd have a lot of questions," he says. "With the help of John and his staff it has really made the process a lot easier."
Pygmy's boats come as kits—boxes full of precision-cut mahogany plywood, fiberglass cloth, epoxy and instructions. It's up to the customer to stitch and glue the pieces together, binding the pre-cut panels together with 20-gauge wire then filling the seams with epoxy. Finally both sides of the boat are covered in fiberglass cloth and epoxy.
As the students finish each step, Lockwood gathers the group for a hands-on demonstration of the next stage in the six-day metamorphosis from box of sticks to finished craft. The students range from their late 20s to retirement age, men and women, complete novices and experienced builders alike.
"The boat has its own life or personality when it's done. Like the taste of a peach, it's almost impossible to describe," says Michael Maslach. This isn't the first kayak he's built, and his tone makes clear it won't be his last.
Lockwood built his first stitch-and-glue kayak in 1971, while living in a hand-sewn teepee in British Columbia's Queen Charlotte Islands. He'd broken his hip badly in 1967, and was on and off crutches for eight years. The Queen Charlottes have a tidal range of 24 feet, and getting his heavy Klepper kayak to the water became a daily trial. Lockwood dreamed of a lightweight boat that would be rugged enough to endure coastal B.C.'s wet, rocky shores. Through trial and error, he began to learn about boat design. Eventually he moved south to Seattle, worked as a computer programmer, and designed software for naval architects.
But the clean lines and lustrous beauty of wooden kayaks were never far from his mind, and in 1986 he founded Pygmy. His first kayak kit was the Queen Charlotte, a more refined version of the kayak he built years earlier in the island archipelago of the same name.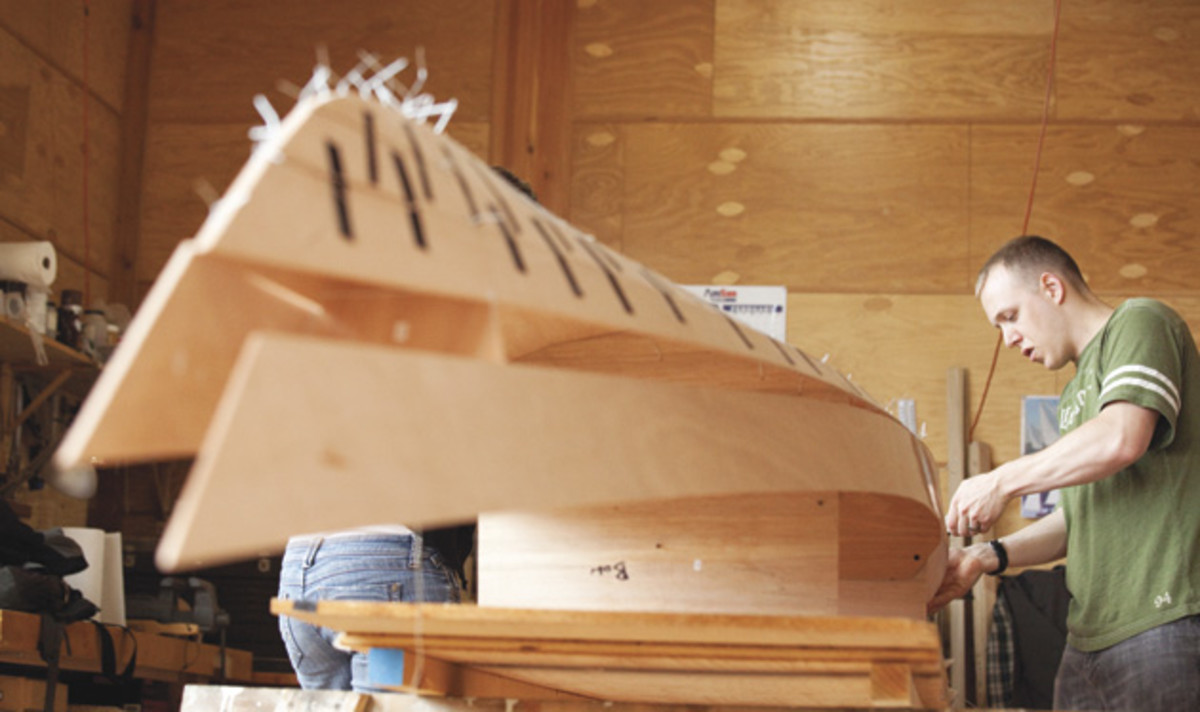 — Stay tuned to CanoeKayak.com next week for Smurthwaite's video build-blog at CanoeKayak.com/skills
Workshop Week
Day 1 — Introduction to the process, tools and technique. Students begin to stitch their first panels together.
Day 2 — The hull is completed and glued.
Day 3 — Deck is assembled and glued. Students work together to lay decks on each boat.
Day 4 — Inside is glassed.
Day 5 — Underside is glassed.
Day 6 — Deck is glued to the hull.
Day 7 — Students put their finished kayaks on their car and drive home.
The article was originally published on Canoe & Kayak
For access to exclusive gear videos, celebrity interviews, and more, subscribe on YouTube!