The Golden State holds just about any challenge you could ask for—mountains to climb, waves to surf, coastal roads to ride. Here are 25 of the best adrenaline-pumping, eye-popping sweat fests to add to any fitness bucket list, all shot on an LG G4 smartphone with a 16-megapixel camera.
Surf Malibu: Malibu's Surfrider Beach has been hopping with longboarders since the Beach Boys ruled the charts and Gidget was a superstar. But the place isn't all Hollywood hype: The famously long and friendly "right" (surfer slang for a wave that, well, goes right) is one of the most fun waves in the world—and great for beginners, since it's often a notch smaller than surrounding breaks.
 > DO IT: Rent a board from the Malibu Surf Shack (malibusurfshack.com) on Pacific Coast Highway, and join the lineup closest to the Malibu pier for a mellower swell.
Fit Travel: 8 Coolest Offbeat Places to Paddle Surf in America >>>
Tackle the Santa Monica Stairs: You gotta love a lung-busting cardio blast that ends with a plunge in the ocean. A favorite among L.A. locals, the tree-lined network of stairs in Santa Monica Canyon encompasses nearly 300 total steps, for an almost 250-foot vertical climb. Finish up with Ocean Way, which leads right to the beach.
 > DO IT: A brutal 10-minute loop takes you up the steep 189 concrete stairs from Entrada to Adelaide, then down the more gradual stairs as you return to Entrada.
Sprint to the Top of Mount Baldy: Every Labor Day, about 650 Angelinos attack the 10,064-foot Mount Baldy for the Run-to-the-Top race. But you can scale it at your own pace any other weekend. We recommend the fire road, a rocky singletrack climbing 4,000 feet through lodgepole pines before rising above treeline. At the top, expect a jaw-dropping view all the way to the Pacific.
 > DO IT: To compete, visit run2top.com; on your own, avoid Baldy in winter, when it's snowy and more treacherous.
Learn the Ropes in Joshua Tree: "JTree" is one of the most famous climbing destinations in the world: The mini mounts of tactile granite rise from the desert like the greatest jungle gyms on earth. While it's easy to scramble up many rocks in the park without a rope, to scale one of the 8,000 designated climbing routes, you'll need gear and a guide.
 > DO IT: Take a course with Joshua Tree Rock Climbing School then spend the night at Hidden Valley campground.
Get Up Close to the Hollywood Sign: Views from the top of Mount Lee, home of the Hollywood sign, are great, but they're not of the sign itself. For that photo op, hit the Innsdale Drive fire road above the Hollywood reservoir, which passes below the 45-foot-tall, 92-year-old landmark.
 > DO IT: Turn this 3.5-mile hike into a TMZ tour starting in Beachwood Canyon, where the streets and trails pass Moby's former castle and Madonna's old villa, to Lake Hollywood.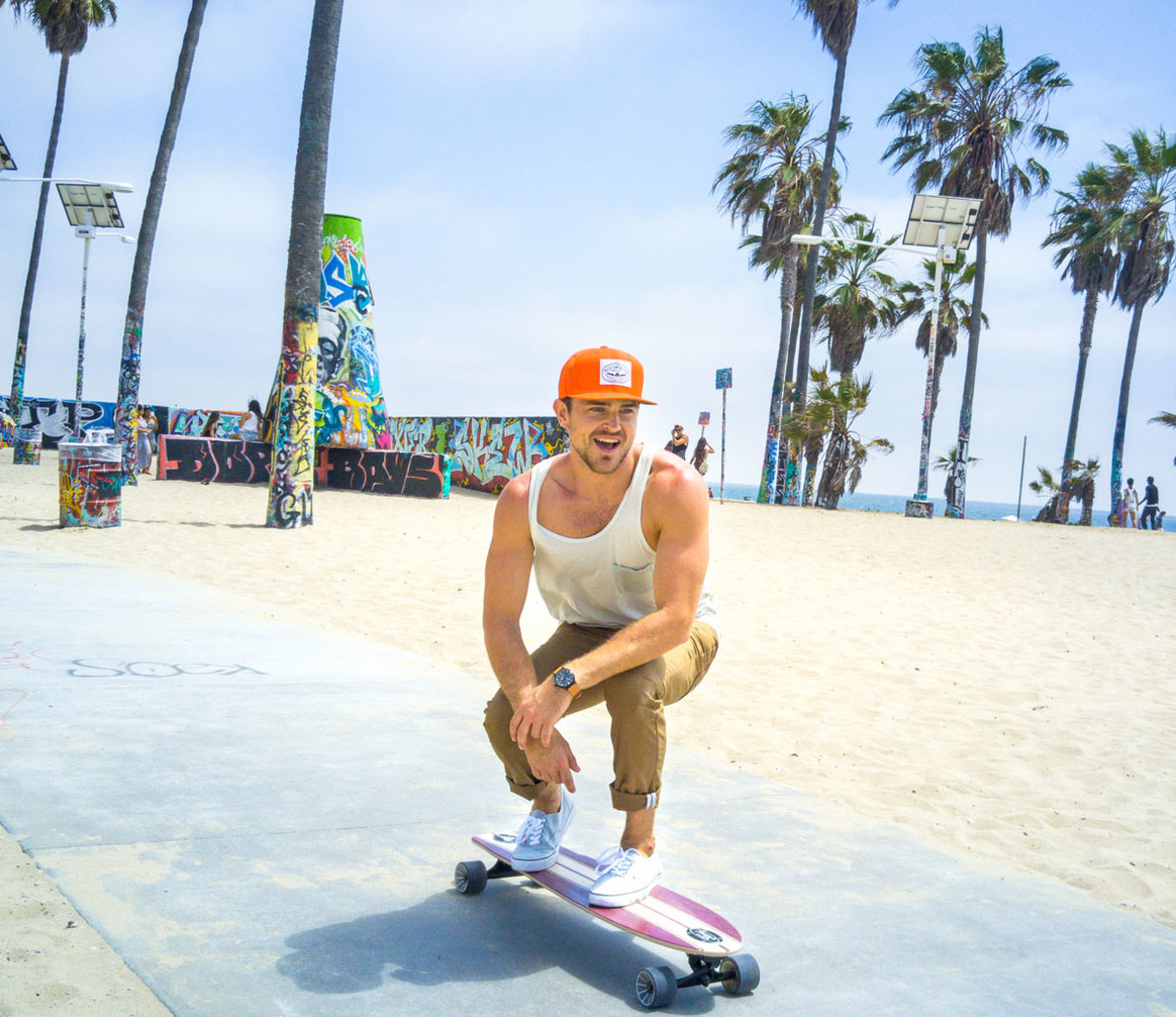 Shred Venice: Just as it was 40 years ago, the Venice Beach boardwalk is still a spectacular freak show of Dogtown skate rats, head shops, artists, and musicians. Running about a mile and a half long, from Marina Del Rey to Santa Monica, it passes the famous skate park and Muscle Beach. The best way to see it all? Carve your way along it on a longboard.
 > DO IT: Rent a board from any one of the beachside kiosks at the Venice Pier, then cruise until you hit Rose Avenue. Finish it all off with a pint at the Venice Ale House.
Cool Off at a Desert Waterfall in Palm Springs: Lazing pool side, listening to Sinatra, it's easy to forget that Palm Springs is surrounded by dramatic high-desert scenery, including the 10,834-foot Mount San Jacinto, with scenic hikes like the three-mile Murray Canyon Trail along a palm-lined stream to the Seven Sisters Waterfall.
 > DO IT: Parking is at the end of South Palm Canyon Drive. June to September, be ready for extreme (100° plus) heat.
Run the Dipsea: The 105-year-old Dipsea Race, which extends from Mill Valley to Stinson Beach, is the oldest organized trail run in the world. But to hit the demanding seven-mile route— home to the infamous "Cardiac" and "Insult Hill" trails—you don't need to enter the June event. It's open to the public year-round.
 > DO IT: To snag one of the 1,500 spots in the official race, get your application in by April 1. For course details, visit dipsea.org.
Drop 20,000 Vertical in a Day: To ski this distance in one day, you're talking around 15 quad-burning runs. To begin, hit up Lake Tahoe's Squaw Valley, with its 29 lifts and 3,600 skiable acres. At Squaw, a single top-to-bottom run will earn you nearly 3,000 feet, and shorter world-famous lines like KT-22 and Headwall are sure to keep things interesting.
 > DO IT: Hit Squaw mid-week so you can zip through lift lines. Map your day ahead of time at squawalpine.com.
Kayak Emerald Bay in Lake Tahoe: Of Lake Tahoe's 72 miles of shoreline, no section is more stunning than the sandy beaches and rock outcrops of Emerald Bay, where the lake's crystal-clear water has a near-tropical hue. Fish off the back of your boat, hit Fannette Island, and spend the day navigating its six miles of shore.
 > DO IT: Launch at D.L. Bliss State Park, a couple miles north. Or, park at the lookout, hike down, and snag a rental on the bay itself.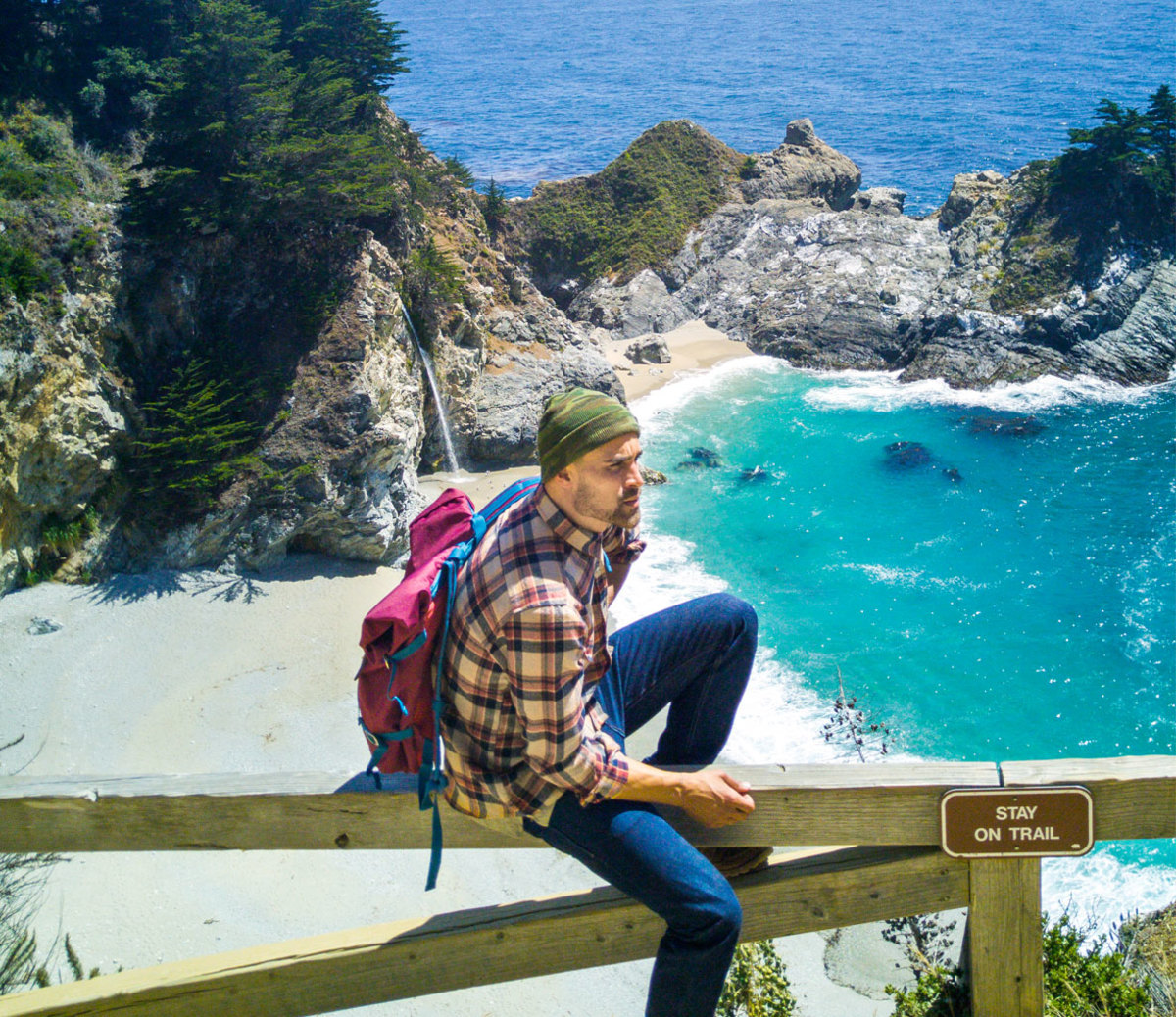 Hike Big Sur: The waterfall that drops from the cliffs of Julia Pfeiffer Burns State Park and right into the Pacific Ocean is probably one of the most photographed landmarks in all of California. But instead of doing what the masses do and hiking the 10-minute trail for a photo, tack it onto the end of the much more challenging Ewoldsen Trail, a 4.5-mile loop that runs through dense redwoods and along the creek that feeds the falls before switchbacking its way up to an incredible lookout. 
 > DO IT: Start at the same parking lot as the trail to the falls,and follow signs for the Ewoldsen/Canyon Trails.
10 Best National Park Hikes >>>
Swim from Alcatraz: At a mile and a half, this challenging open-water swim is the most famous leg of the iconic Escape from Alcatraz Triathlon. But, with choppy 55° water, it's a formidable swimming challenge in its own right, you'll find, as you fight your way to shore with the Golden Gate Bridge above you.
 > DO IT: Hitting this swim at slack tide is key, so currents don't drag you out to sea or into the bay. A wet suit is also a must, as is a support boat to haul you out of the water in case of an emergency.
Hike Half Dome: Few of the country's natural wonders are as iconic as Yosemite's most famous granite monolith, Half Dome, with its sheer 2,000-foot face on one side and just-hikeable slope on the other. And when we say "just hikeable," we're not kidding: The bracing 4,800-foot, eight-mile trek is 10 hours round-trip. But with unforgettable views of Yosemite's roaring waterfalls and jagged peaks, it's worth every second.
 > DO IT: Just 300 of the elusive permits are issued a day; enter the lottery at recreation.gov.
Catch a Fly Ball from Your Kayak: AT&T Park, home of last year's World Series–winning Giants, sits right on San Francisco Bay—kayakers congregate just beyond its southern wall in hopes of catching home run shots that splash into the water.
 > DO IT: Rent from City Kayak, a 15-minute paddle from the ball park. Go to Ferry Plaza Farmers Market and tie up for fresh oysters, then paddle out for first pitch.
Survive S.F.'s Seven Hell Hills: With grades as steep as 30%, this 30-mile climb kicks off with a hike up San Francisco's highest spot, Telegraph Hill. But catch your breath—things are about to get real: If Russian Hill and Nob Hill (so steep they have steps for pedestrians) don't bring your lunch back up, Divisadero, one of the city's steepest streets, surely will.
 > DO IT: Join an organized ride at SF Bike Coalition (sfbike.org).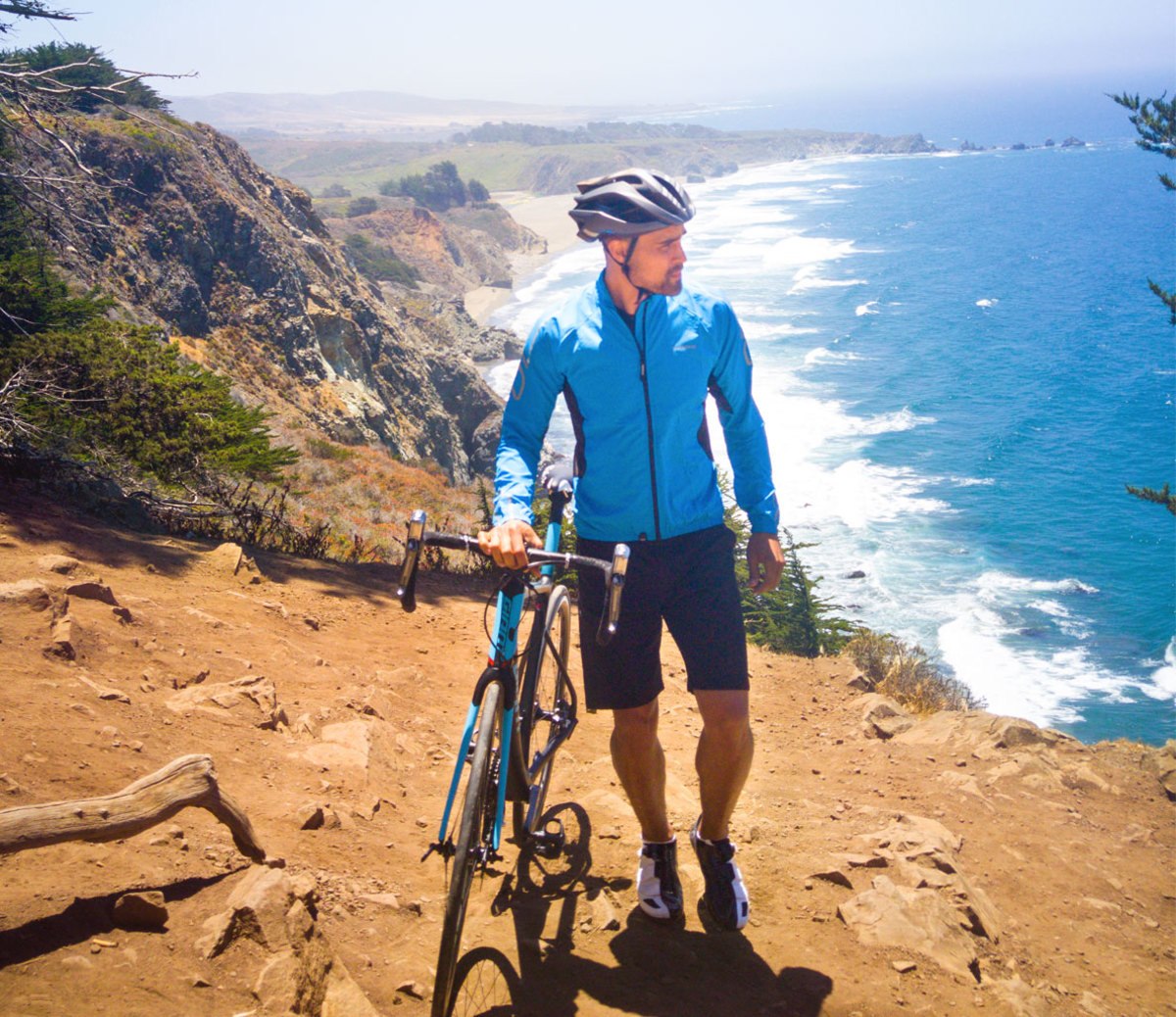 Bike a Stage of the Tour of California: Drawing cycling's elite and covering more than 700 miles over seven days in May, this 10-year-old bike race is the U.S.'s Tour de France. For the rest of us, Stage 2, from Nevada City, through the foot-hills of the Sierra, is a great challenge. At 120 miles, it climbs 6,000 feet and covers some of the most beautiful countryside in the state.
 > DO IT: You'll need a car at the ride's start and finish. For details, go to amgentourofcalifornia.com.
10 Reasons to Get On a Bike >>>
Lift Like Arnold at Muscle Beach: Welcome to the original meathead paradise. Now located in Venice, it dates to the 1930s when it began as a small platform on the beach in Santa Monica. Now a bit rusty around the edges, the pit, as it's known, is where Schwarzenegger and his buddies pumped and posed.
 > DO IT: Muscle Beach Venice sits below a giant concrete barbell where 18th Avenue hits the beach. Buy a $10 day pass from nearby Muscle Beach Gym.
Off-road on Mount Tam: Marin County's Mount Tamalpais has been ground zero for mountain biking ever since the mid-'70s, when guys like Gary Fisher and Joe Breeze were just mutton-chopped, bike-loving hippies. Today you can rent a bike with state-of-the-art dual suspension rockets and follow in their tire tracks.
 > DO IT: Visit Sunshine Bicycle Center in Fairfax for a rental, then bomb the famous Repack downhill.
Summit Mount Shasta: Rising 14,180 feet above sea level, Shasta is one of California's great mountaineering trophies. A guide is a must; and though the intimidation factor seems high—the volcano, covered in hulking glaciers, towers above the land around it—the summit can be achieved by just about anyone, in two long days and with only a basic grasp of crampon and ice-axe skills.
 > DO IT: Hire a guide at Shasta Mountain Guides, reserve gear at the Fifth Season—and start that cardio!
Explore an Abandoned Gold Mine in Joshua Tree: Desert Queen Mine is one of the state's best-preserved gold-rush relics—but you have to hike to get to it. The two-mile trail through the 120-year-old complex, with its deep shafts, rusting machinery, and crumbling buildings, drops 150 feet into a ravine; climbs up the other side through mine remnants; then ends with expansive views over the park.
 > DO IT: Park at the Pine City trailhead; stay home when the weather's hot.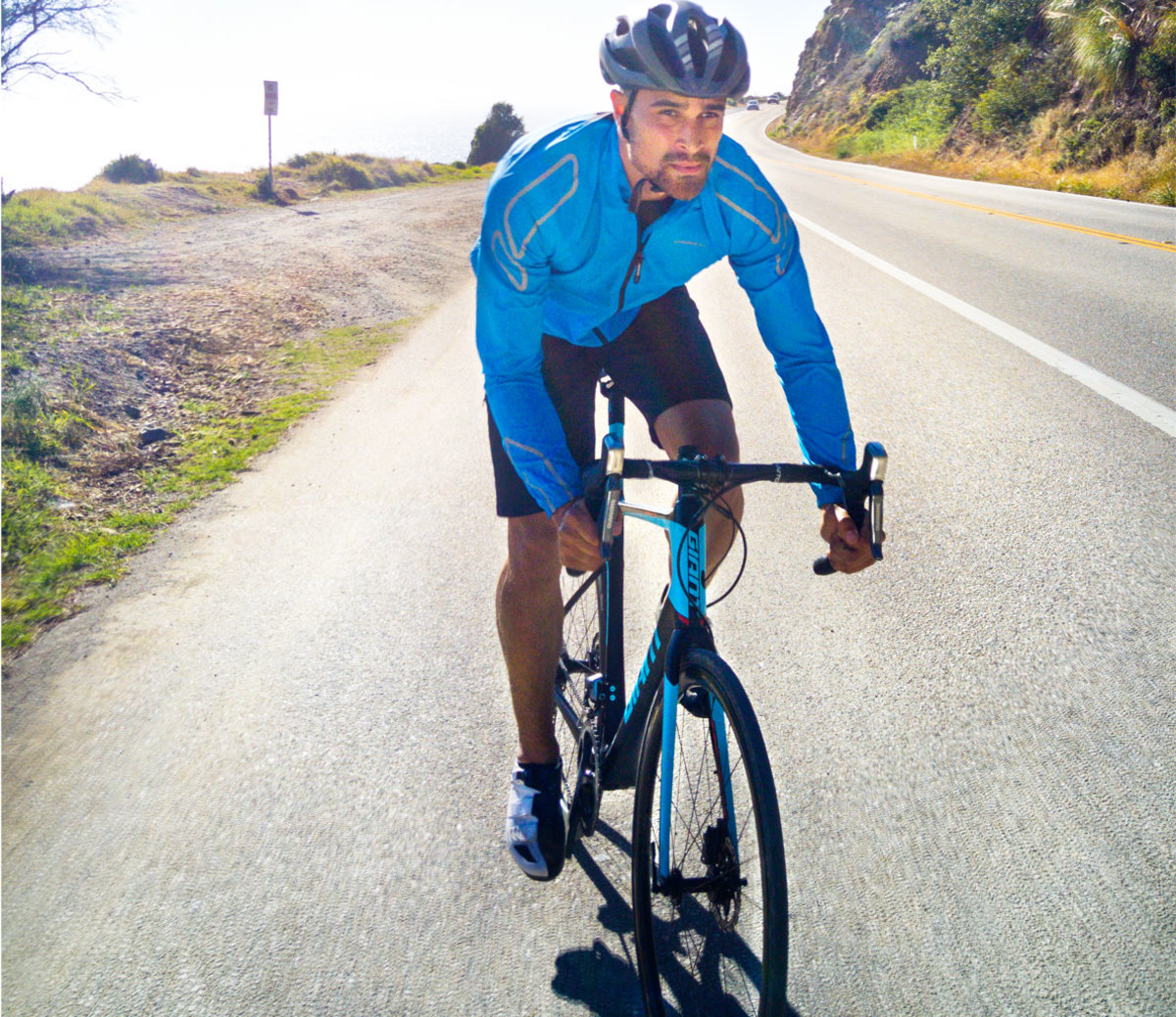 Get high on Pacific Coast Highway: The best sections of San Francisco-to-L.A.'s Highway 1, also know as the PCH, can be ridden in as few—or as many—days as you'd like. While en route, fuel up at foodie havens like Deetjen's and Big Sur Bakery, watch colonies of elephant seals basking on the rocks, and soak sore muscles at the famed Esalen hot springs.
 > DO IT: For the best of the PCH, start where the road rejoins the coastal cliffs after Big Sur, heading south. An easy one-day stretch starts at luxe hotel Post Ranch Inn, whose bar has the best views in the state, and ends 12 miles later at the Esalen Institute. If you're up for a tougher second leg, ride from Esalen to the spectacular Hearst Castle.
5 Exercises to Build a Better Body for Cycling >>>
Backpack the PCT: The Pacific Crest Trail, running 2,650 miles from Mexico to Canada, has stunning bite-size sections that can be tackled in as few as three days. It doesn't get more classic than the John Muir Trail through Yosemite, which passes below a dramatic spine of 14,000-foot peaks.
 > DO IT: It's three days from Yosemite Valley to Tuolumne Meadows, where you'll find resupply shops. For a permit, visit pcta.org.
Lift at Mike's Mecca: Mike Burgener is a world-class Olympic weightlifter and trainer, and his home gym is a hub for CrossFitters worldwide (the "Burgener Warmup" is a staple). Set in the hills of Bonsall, Mike's Gym is basically a souped-up garage. It used to be private, but on occasion he now opens it up to the public and welcomes serious devotees.
 > DO IT: To visit, get in touch with His Burgenerness (mikesgym.org).
Test Yourself on Malibu's Tri-ride: On this 20-mile stretch of Pacific Coast Highway often used for triathlons, you forget you're in one of the country's biggest cities. Beaches like El Pescador are rugged and wild, and cliffs fall away from the road and plunge hundreds of feet down to crashing surf.
 > DO IT: The route: Highway 1 from Zuma to point Mugu State Park State Park. Break up the 40-mile round-trip with a fish feast at famed Neptune's Net.
Do Stand-up on Mission Bay: The calm, pristine waters of San Diego's inland waterway are the perfect place to learn how to stand-up paddleboard. Just a few minutes from downtown San Diego, Mission Bay Park has 27 miles of shoreline, much of which is sandy beach—meaning, perfect for a picnic or a quick, cooling dip.
 > DO IT: Find SUP lessons/board rentals at the Mission Bay Aquatic Center (Santa Clara Point, south end).
For access to exclusive gear videos, celebrity interviews, and more, subscribe on YouTube!