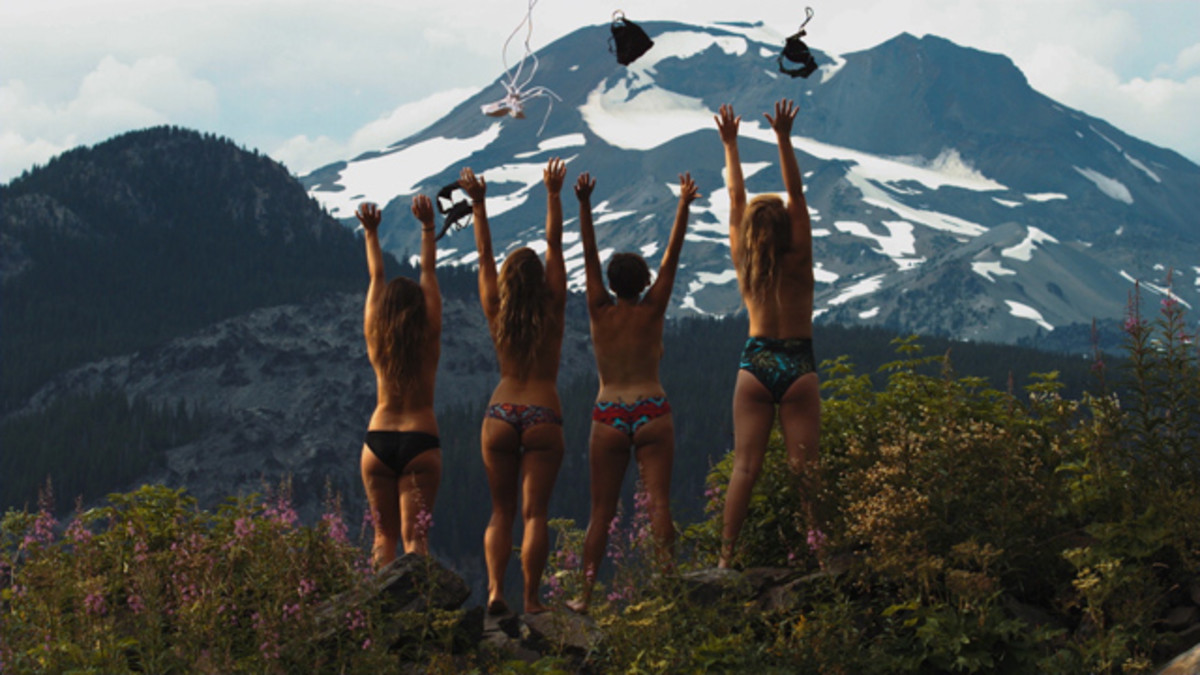 Photos of women exposing themselves to the great outdoors with the accompanying "MTNBabe" hashtag have become a common sight on Instagram feeds over the past few years, but it wasn't until recently that someone decided to bring those pictures to life.
A zany crew of outdoor adventurers from Bend, Oregon, did just that a couple of months ago, filming their own entertaining ode to the mountain babe with an arsenal of RED cameras, a killer song, and a few PBRs for good measure.
But the crew isn't just making waves in the hashtag world. Known as "The Bivy," this collection of adrenaline junkies has been putting together a series of mind-bending action sports videos ranging from skiing twin booters at Mt. Hood to highlining over ocean caves in Hawaii. They are led by Ari DeLashmutt and Wes Coughlin, two late-20-somethings who decided to blend their passions for skiing, snowboarding, BASE jumping, sky diving, highlining, climbing, and every combination in between with their commercial film backgrounds to bring something new to the cinematic table.
With plans to release episodes throughout the year, The Bivy is one production company that has our captive eyes and ears for the foreseeable future. We caught up with DeLashmutt in between shooting for the next Bivy episode (a paragliding and BASE jumping edit with a mean twist, we're told) to get inside the mind of the unique production company and see what's next for the guys and gals from central Oregon.
You certainly got our attention with this MTN Babes video—where did that idea come from?
We weren't sure how we were going to edit it, how tasteful we were going to go, and I guess that's a matter of opinion, but it's hard to argue that sex sells.
MTN Babes is a really cool Instagram handle, and I think it's liberating for the girls who participate. I think that in the action sports world, girls are underestimated. The edit came out the way it was because we took two girls out with a canoe and they would be out in the wild and have this big mountain babe reveal. Then one girl was like, "Can I bring my sister and her friend?" And all of a sudden we have five girls there. Everything you saw was their idea; they were fun and loved that video. I think it turned out awesome.
The next MTN Babes video will definitely be more PC, but we don't want to lose that appeal of beautiful girls out in nature doing awesome things. Kicking off the Bivy with that version of MTN Babes basically says we're going to do what we want here. We hope that we can find likeminded people who want to get behind that. I think that's what the people want to watch and be a part of.
How was The Bivy born?
[My cofounder Wes and I] have been making commercials for five years, and when you do that you are taking the input, vision, and dreams of five to a dozen people and trying to make that work. It's tiring. Especially for filmmakers like us who are athletes.
The project has been distilling for the last three years; it's always been what we want to do. In the last three to five months have we really started looking at and talking about how it's going to work. We knew we could make the videos, but that costs money and we're paying rent on top of that, so finding out the "how" has been the beginning of the Bivy project. Once we realized we could make it happen and make it sustainable, the project was born.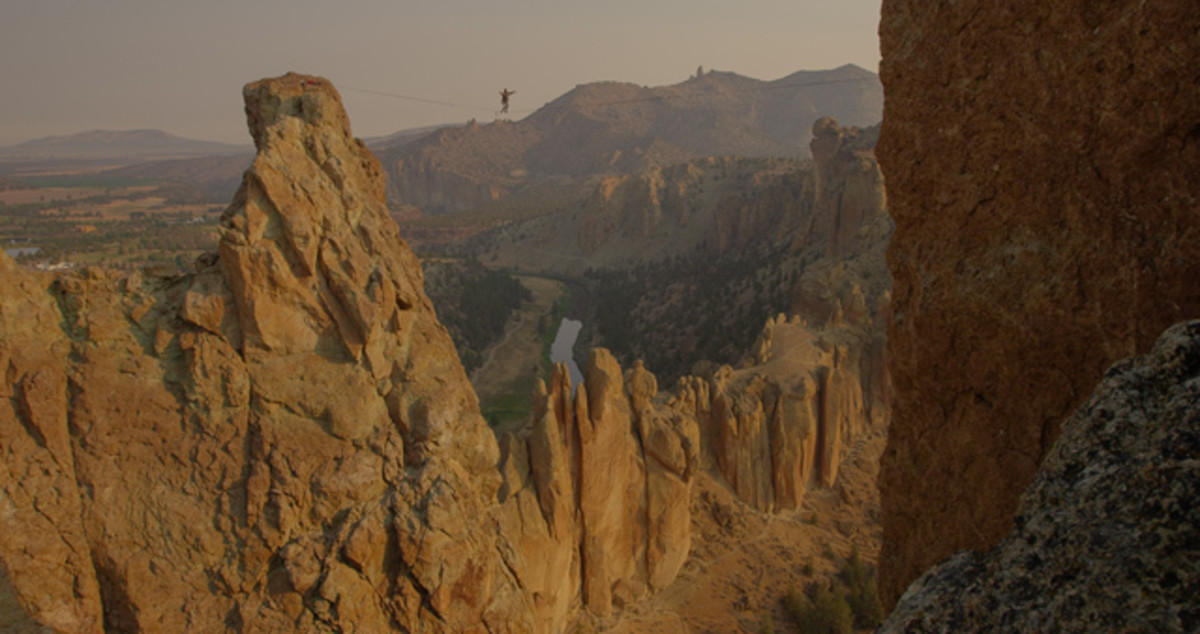 So how is this sustainable?
We want to have sponsors, we want to work with people on an episode basis. I don't want to be tied down to year-long contracts and deliverables. I think if we focus on what we think is awesome and it's quality, I think that companies are going to want to be a part of that. The more viewers we get, the more quickly a company can determine our return on our investment. Companies are smart, though, and they will know its something they can invest in and it will be totally awesome. In the long-term we would love to make and sell products—things that represent our brand but, more important, our lifestyle. People buy things by what they identify with. You don't necessarily buy The North Face because you like the product; you buy it because you climb mountains and people identify with that. You know?
Are you guys sticking with the serial episodes? What's the game plan here?
I think a big part of our format is how people ingest media. I would love to make an hour-and-a-half feature-length film, but no one is going to watch it. You barely break even. I think that our format is driven by how we watch videos. People watch videos that are two to six minutes long. We're trying to build this viewership of likeminded people, which involves a continuous stream of fresh and original content.
We want our viewers to be the athlete's friends. We want to see these athletes scared, but we want to see them joking around too—it's not all about the drama. I think our format is focused on creating this viewership of eclectic people. The Bivy is kind of like, "Look at these people doing amazing things." Sometimes it's crazy, sometimes it's sky circus, sometimes it's creative filmmaking, but it's always entertaining.
How has being an athlete shaped your filmmaking approach?
Honestly, being athletes is what sets us apart as filmmakers. As commercial filmmakers we've worked with a lot of different filmmakers, and they are usually passionate about filmmaking but not always athletic. They know how to use a camera, but when I say it's going to be negative 20 and there is going to be four feet of pow, can you get your 50 pounds of camera gear to the top of the mountain? Our passion for outdoor sports and actually participating has enabled us to take our cameras into places that people don't take cameras.
We're talking about paragliders, base jumps, powder skiing—they can all ruin your camera, and you have to have skills to go in the backcountry. So our passions for action sports set us apart as far as access and ability to think of these crazy ideas.
It's the only way to make this happen. There's no other way. I'm not paragliding as a gaper. You have to be an athlete to film like us. Look at Scott Gaffney at Matchstick Productions—he's the baddest skier/director ever. He was in the movie and now he's making the movie. The only way he can make that quality of a movie is by being on the other side of the lens at one point. Being an athlete gives you a full circle understanding of the process. Someone who's never done it is going to have a hard time imagining it. One of my favorite parts of The Bivy is using all these different skills that we've picked up at odd points in our lives and bringing them all together.
More from GrindTV
How to take the perfect action surf shot
From the Archives: The faces of surf
5 unique tips for better landscape photography
For access to exclusive gear videos, celebrity interviews, and more, subscribe on YouTube!