Words and Photos by Rebecca Parsons
If a trip to Costa Rica is on the horizon, Experience Nosara needs to be on your radar.
The renowned outfitter offers a range of different adventures and packages for the everyday explorer including waterfall hikes, birdwatching hikes, kayaking tours, snorkeling excursions. But for the SUP-minded traveler, they also offer a variety of flatwater, river and ocean SUP tours geared towards paddlers of all levels. 
After a few days of surfing and getting fried by the sun in Playa Guiones, nestled in the northern region of the country, my boyfriend and I decided to take a break from the waves and try out the SUP Mangrove Tour.
Experience Nosara has everything planned out from start to finish, making the experience as stress-free and enjoyable as possible. They picked us up at our Airbnb and shuttled us down bumpy jungle roads to the river mouth for the start of our tour. After exchanging pleasantries with a Canadian family of five who would be joining us, we were off to explore the lush mangroves.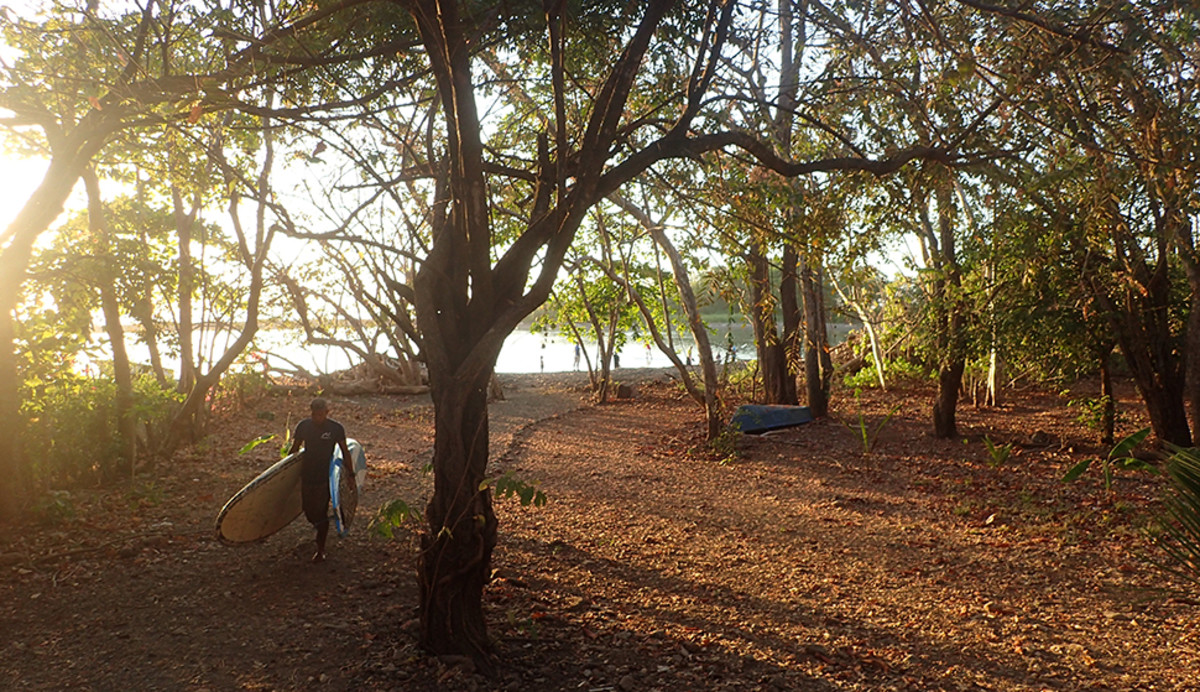 We began our paddle through the calm waters of Rio Montana and Rio Nosara. All seven of us were already experienced paddlers, so we didn't waste time going over basic SUP techniques, though this tour would be perfect for beginners. 
The first thing I noticed was how still everything was. The winds had been picking up when we left Playa Guinoes but on the river there wasn't even a trace of breeze. The water was glass and the largest mangroves I've ever seen provided a canopy of shade overhead. Great blue herons and egrets silently waded in the shallows, while snook and crocs swam undetected beneath us.
Our guide Jose, who also happens to be a bit of a SUP surfing legend in Costa Rica, chatted with us about the best local surf spots, while pointing out noteworthy flora and fauna as we paddled. He slowed down as we came around a bend and pointed out the home of a female croc they frequently spot on their tours. He assured us there was nothing to fear, but suggested we veer right to avoid her territory, just in case.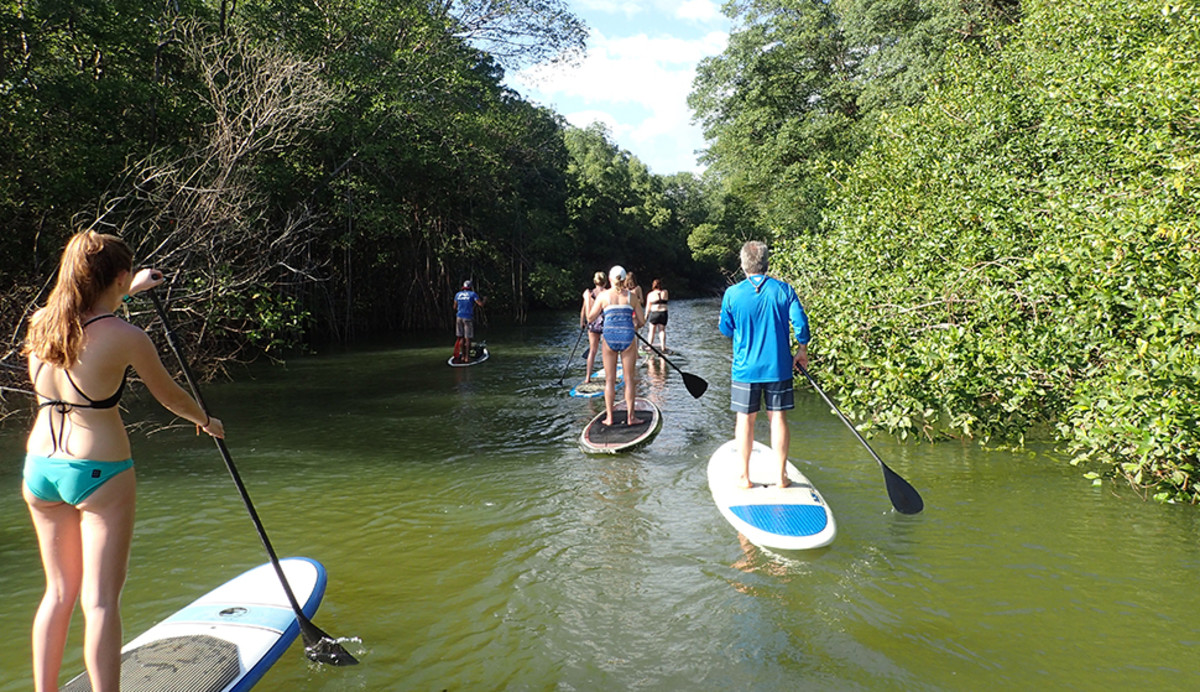 After a mile or so of easy paddling, we reached the end of the river and beached our boards. We picked our way a short distance through a hidden jungle trail before coming out on Playa Nosara. Hermit crabs scuttled through the sand and a couple stray cows meandered down the beach, taking in the view.
We plunged into the Pacific and bodysurfed empty waves. After we'd had our fill, we cooled off on the beach with fresh coconut and pineapple before heading back to the river.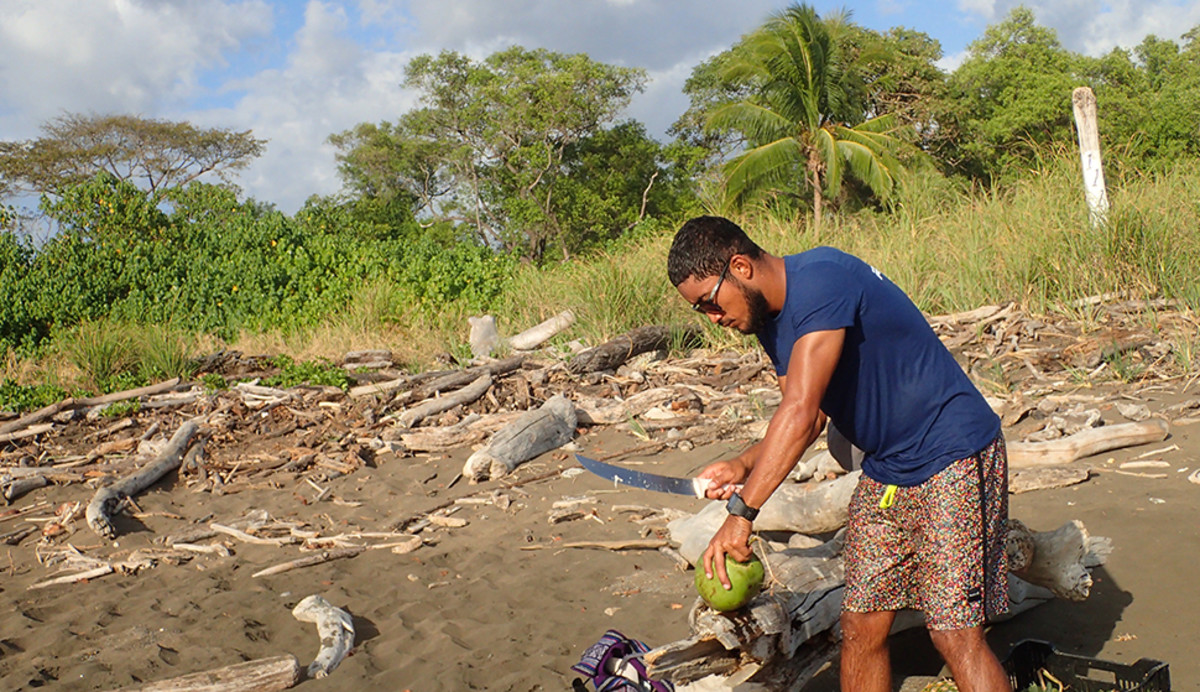 We retraced our steps back down the river, the serene beauty of the jungle equally as impressive the second time around. As we approached the beach where we began our journey, the sun was low in sky, casting stunning reflections off the calm water.
Tired and happy, we piled into a taxi van, the bumps of the road lulling us into a state of peaceful bliss. We were dropped off at a local bar and restaurant, a stone throw from our temporary home, where we were treated to complimentary jugo naturales, or natural juices. We sipped on ice-cold passionfruit and hibiscus juices, reflecting on a day well spent.
The article was originally published on Standup Paddling
For access to exclusive gear videos, celebrity interviews, and more, subscribe on YouTube!