Canadian duo Jillian Brown and Martin Trahan, winners of C&K's 2017 Dream Adventure Contest, presented by NRS, are currently in the midst of Coursing Through America, a radical 4,750-mile canoe voyage from the Pacific Northwest coast to the Atlantic waters on the tip of Florida.
It's a journey that began with 500 miles of upriver paddling against the current of the Columbia and Snake rivers before transitioning into a hellish 375-mile portage across The Great Divide. Despite the obstacles outlined in our last update, the duo made immediate miles on high-water flows down the upper Missouri. While it may have seemed safe to assume this leg would be easier than the last, nothing can be taken for granted with Mother Nature. Deadly tornados, massive reservoir crossings and the daily struggle against ticks and nature's elements have all threatened to veer their journey off track. But with a little luck and a whole lot of willpower, Brown and Trahan powered through the windy expanses of the "big three" reservoir lakes that stall through-paddlers (Fort Peck, Sakakawea and Oahe), and are beginning the next free-flowing downriver stretch of the expedition into the Missouri River heartland, currently heading into Omaha, Nebraska.
While dealing with bad weather is a way of life for expedition paddlers like Brown and Trahan, their latest leg of the journey featured one storm that neither of them were ready for. The two were paddling across Lake Sakakawea in North Dakota, when the skies turned dark and their weather forecaster passed along an ominous message.
Jillian's account of the harrowing early July storm is chilling and the experience has left a lasting impression. It was a point both Brown and Trahan reiterated when discussing that terrifying night.
"We did everything to be safe and even though we did it, we were not safe," said Trahan. "Sometimes Mother Nature is going to strike and there is nothing you can do about it."
"I don't think either of us have moved past thinking about the night yet, because we are still getting hit by storms," added Brown. "It seems like everyday we get a message that we are in a severe storm warning and you instantly think back to that night and what could have happened."
Though for all of the life-threatening encounters, the duo has also been blessed with countless interactions and help from complete strangers along the route. Perhaps no experience was more memorable than when the two Canadians found themselves in the middle of a Fourth of July parade.
This was not an isolated case of American generosity.
"I thought Canada we were the friendliest people but so far in America we have always met amazing and generous people," said Trahan. "This is one of our goals, we wanted to experience the American culture and we just love it."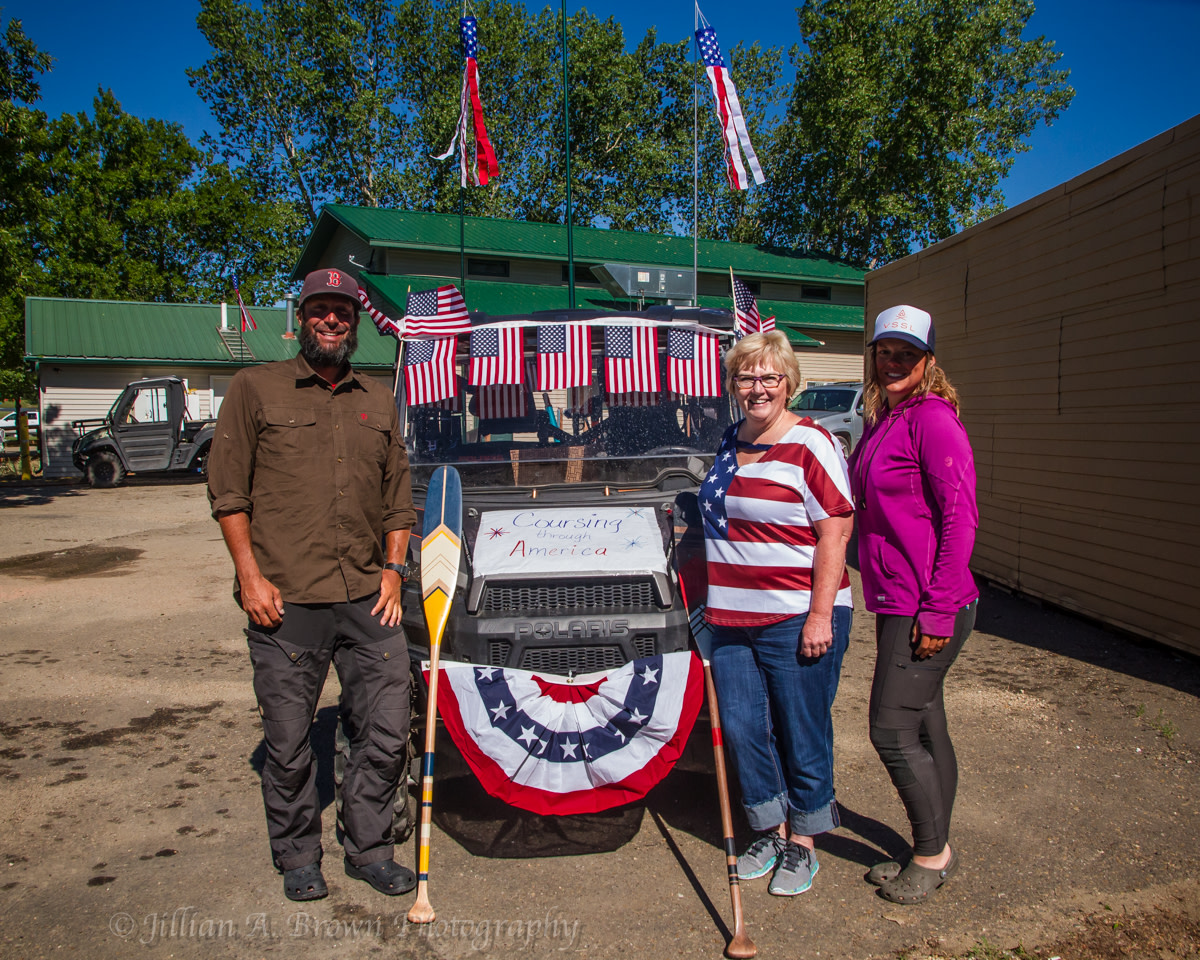 Beyond the local support, the canoeists achieved another major milestone last week when they completed crossings of all the major lakes and reservoirs along the upper Missouri. With the prospect of getting windbound on these large waterways now in the rearview mirror, the two should be able to make some serious progress, aided by the abnormally high flows of the Missouri River.
To get a deeper sense of what these two have experienced, look for our hour-long conversation with Brown and Trahan to drop later this week.
Follow their expedition:
Facebook: Coursing Through America
Instagram: @jillianabrownphotography  // @martin_trahan_canoeist
Related
Coursing Through America | 4,750-Mile Canoe Expedition Underway
Coursing Through America | Portaging 375 Miles on a Broken Foot
The article was originally published on Canoe & Kayak
For access to exclusive gear videos, celebrity interviews, and more, subscribe on YouTube!