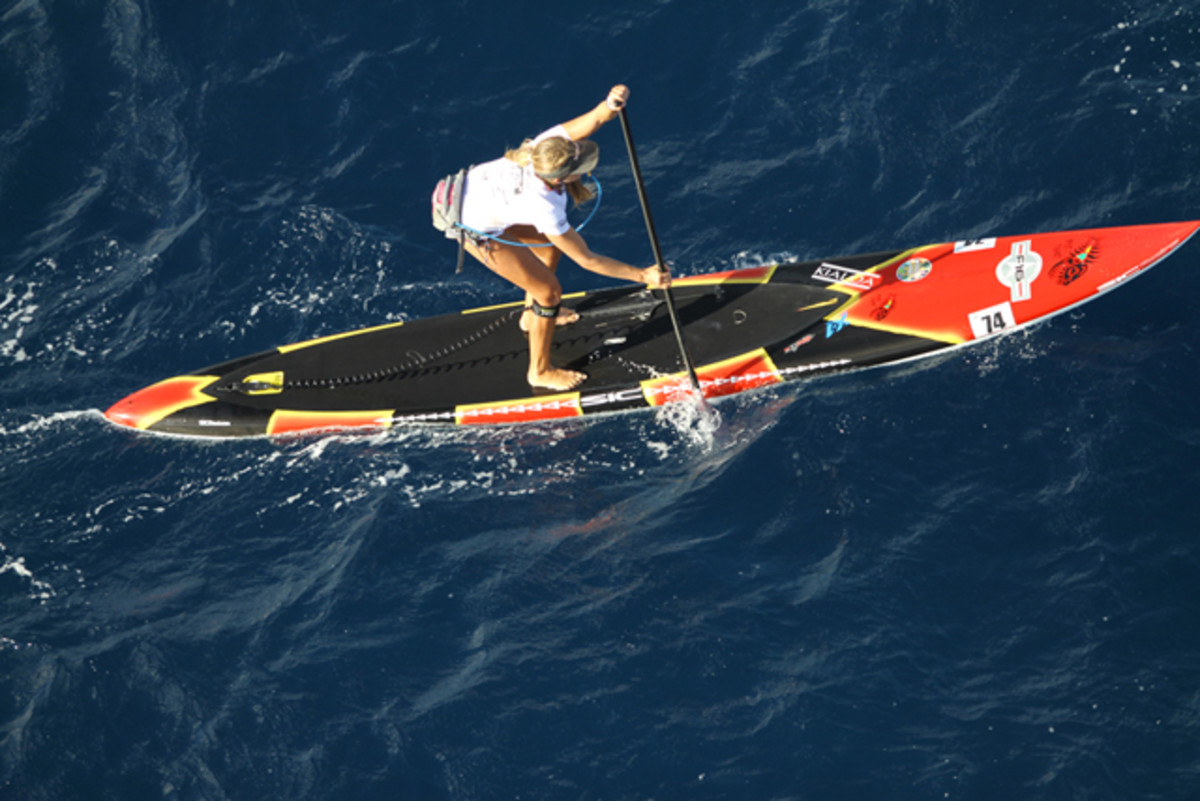 3 Ways to Cross Train for SUP
Standup paddling is primarily an endurance event but while there will always be something magical about a good long downwinder, in the sports performance community the days of exclusively doing extended, slow distance training are done. Exercise scientists have shown that mixing in several high intensity sessions each week can boost VO2 max (maximum oxygen uptake), improve your body's ability to process lactic acid and extend the duration at which you can maintain power output (sometimes referred to as speed endurance). Short bursts of activity can also improve blood sugar regulation and fat metabolism.
While you can follow BOP champ Danny Ching's program for SUP intervals, it's also helpful to get in some lung-busting cross training when you're not on your board. Here are a few cross training methods that will help you increase speed in SUP sprints and enable you to keep going with the best of them in distance events. —Phil White
CrossFit Endurance
With 10 straight wins across the Molokai2Oahu's 32-mile Channel of Bones in the prone paddle boarding division, it's fair to say that Jamie Mitchell knows a fair bit about endurance training. But Mitchell thought that he could become an even better athlete if he shook up his on-the-water and land-based regimen, so he turned to Brian MacKenzie, founder of CrossFit Endurance.
While the CrossFit Games have introduced some longer events, such as the nightmare half marathon row from the 2013 Games, much of CrossFit's programming still centers on short duration sessions and explosive movements. MacKenzie recognized that runners, triathletes, cyclists and other endurance athletes could incorporate CrossFit-style strength building exercises into their training while shaking up how they approached skill-based and cardiovascular work. Mitchell reaped the benefits of working with MacKenzie from day one. "Brian has a wealth of knowledge and I like his no-nonsense approach to training—you always leave a session with your tail between your legs!" the Aussie legend said. "My cardio and strength-specific training definitely helps my paddling and surfing."
Rowing
SUP is a total body workout, so if you're going to get better you not only need to cultivate the proper stroke mechanics, nutrition and recovery (cool down + sleep + mobility—more on that in our forthcoming video series with MobilityWOD's Kelly Starrett) but also focus on other head-to-toe activities when you're not on your board. "My favorite workout on the rowing machine is a 30R20, in which you row for 30 minutes with long, powerful strokes at 20 strokes per minute," said SUP pioneer and paddle crafter Ernie "EJ" Johnson. You can also build power by rowing 5,000 meters and changing the stroke rate every 2 minutes for a "ladder" workout of 2 minutes at 16 SPM, 2 at 18, 2 at 20, 2 at 22, 2 at 24 and then back down.
It's best not to do too much low rate, high power output work as it can put too much strain on your musculoskeletal system. So mix in some steady distance work and short intervals with higher stroke rates on the rower, such as 10 x 1 minute at 30 strokes per minute or above and 85% plus intensity, with 75 seconds rest in between each set. Also try 4 x 1250 or 1500 meters around 26 to 28 SPM and 65 to 75% intensity, with three minutes rest between sets. Be sure to warm up and cool down for at least five minutes, with 10 stroke bursts of speed in the warm-up to prepare your body for going all out. And as ever, technique is king, so check out some 'how to row' videos to make sure you're doing it right. You'll want to learn the proper technique to avoid back injury.
Suspension Training
Last year, Tony Freitas reckoned that his son Mo needs to get stronger to make even more progress in the SUP scene against the likes of young warriors Kai Lenny and Connor Baxter, not to mention powerhouses like Dave Kalama and BOP champion Danny Ching. So he and Mo rigged up a suspension trainer system in their backyard to complement paddling, surfing and other on-water workouts. The TRX trainer is one of the most versatile suspension training tools, which not only enables you to train at home but also to take it with you on the road. From rows to mountain climbers to pushups and dozens of other exercises, TRX enables users to challenge themselves through full ranges of motion with their own bodyweight.

The article was originally published on Standup Paddling
For access to exclusive gear videos, celebrity interviews, and more, subscribe on YouTube!