There's no denying the popularity of organized cycling tours has skyrocketed in recent years. As it turns out, exploring a far-flung country by bike is a great way to slow down and really develop an authentic sense of place. But the same can be said about a destination's food scene—you can learn a lot about a place by its culinary specialties and traditions.
Luckily, this batch of cycling itineraries combines the best of both worlds. Perfect for any adventurous epicure, these bike trips are all about the food. From classic routes in famed foodie hot spots to exciting and unexpected newcomers, here are some of the best gastronomic cycling tours worth exploring in 2019.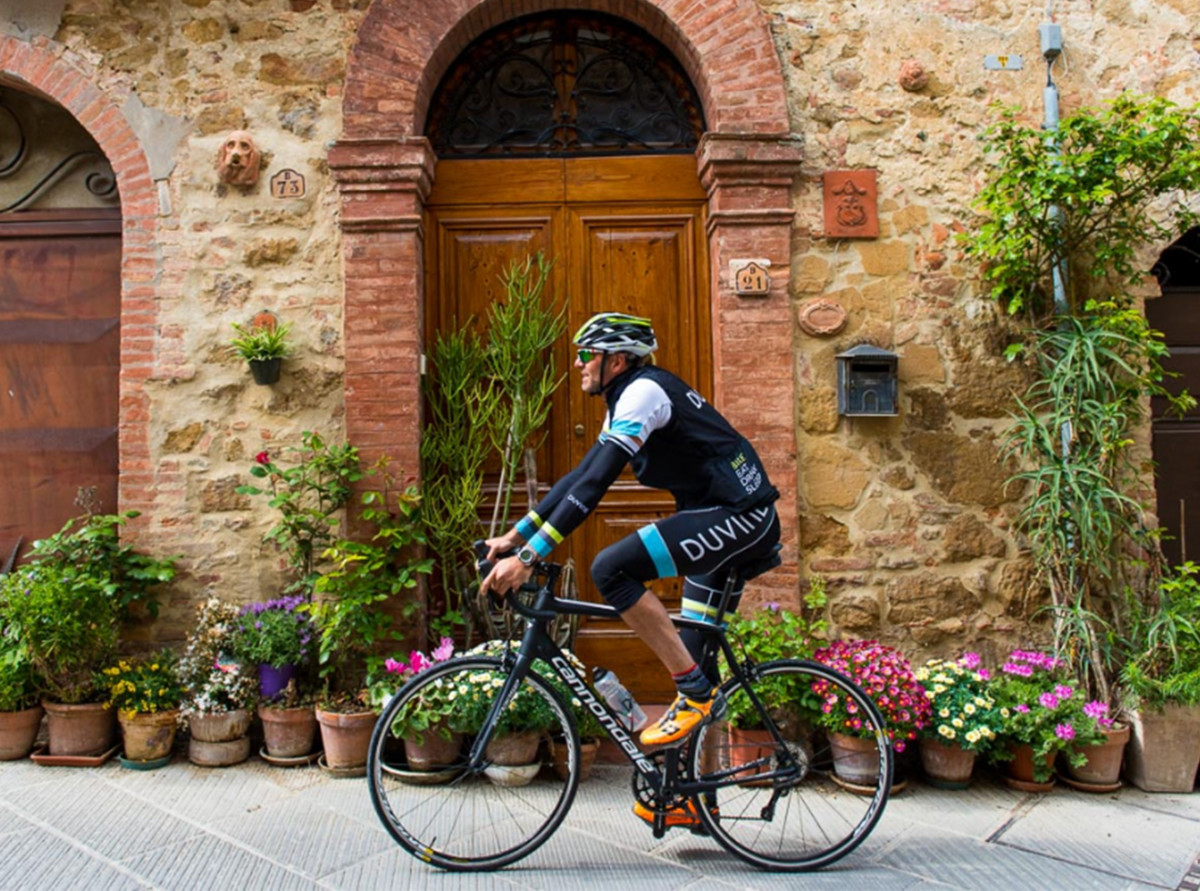 1. Tuscany Harvest Bike Tour
The experts at DuVine Cycling + Adventure Co. certainly know how to curate an unforgettable food-focused itinerary, and their six-day route through Tuscany is no exception. One of the world's most coveted gourmet destinations, cyclists pedal through rolling hills while indulging in Italy's countless culinary delights. Guests can join a dog-led truffle hunt; harvest olives to be pressed into oil; forage for porcini mushrooms in a chestnut forest; learn about the region's wild boar; and even cook in the 15th-century home of a beloved local (her name's Lina). Just don't forget to save room for a glass of Chianti and fresh espresso.
2. Kentucky Bike Tour
Whiskey lovers won't want to miss this tour, which winds through Kentucky's iconic bluegrass backdrops. Trace along the legendary Bourbon Trail, which kicks off in Louisville and extends through Lexington. The undulating route from Backroads brings cyclists through picturesque pastures, rustic woodlands, and quaint country roads. Along the way, brush up on your bourbon history during private distillery tours, and be sure to sample the goods before you leave. Note: It's not all about the bourbon—there are even more local specialties to look forward to, including mint julep ice cream and rural farmhouse dinners, which highlight the region's finest homegrown ingredients.
3. Golf Gourmet & Celebrity Chef Tour
For anyone who enjoys a morning putting on the green as much as an afternoon spent pedaling on the trail, don't miss this one-of-a-kind experience from A Taste of South Australia. Participants will have the opportunity to acquaint themselves with one of Adelaide's most challenging golf courses before treating themselves to Australia's exciting culinary scene. Chef Andrew Fielke (cheekily nicknamed "The Wizard of OZ") specializes in showcasing Australia's native ingredients and cuisines. You can even choose to get in on the action and learn from the pro, or simply sit back and relax. Even better, the itinerary can be condensed into one full-day experience, or expanded for two- and three-day tours.
4. Lakes and Volcanoes by Bike
Thrill seekers have long been drawn to Chilean Patagonia's dramatic landscapes, ranging from glistening lakes to imposing volcanic peaks. Here, there's an outdoor activity for virtually every adrenaline junkie, but cycling is not to be missed. Organized by Upscape, this weeklong circuit begins in Puerto Varas and heads north to Pucon, winding through rural villages, impressive fjords, and dense forests. Throughout the seven-day journey, participants can look forward to waterfront picnics featuring Chilean delicacies; sipping craft beer produced in Patagonian microbreweries; and meeting local producers of provisions like honey and blackberry jam.
5. Spain: Basque, Navarre & Rioja Wine Regions
Escape from Spain's typical city attractions, like Barcelona and Madrid, and opt to spend a few days biking through the country's notable wine regions. This 10-day trip from VBT offers a mix of culture, cuisine, and a healthy combination of relatively easy trails. But it's especially ideal for anyone who appreciates Spain's traditional culinary staples. Sample the region's famed Rioja varietal produced in underground cellars by generations-old winemakers; snack on an assortment of mouth-watering tapas; and indulge in a lavish dinner prepared by Michelin-starred chefs at a Relais & Chateau property.
6. Cycle Bali
Sure, the idea of a Bali vacation may conjure visions of over-water bungalows and idyllic white-sand beaches, but there's a whole lot more to experience on this Indonesian island. With its iconic rice paddies, lush forests, smoldering volcanoes, and ornate temples, Bali's adventurous side is just waiting to be discovered. Intrepid Travel's 8-day Cycle Bali itinerary traverses the island, hitting all the hot spots along the way. When not fueling up on a colorful assortment of indigenous fruits, cyclists will be able to feast on the most authentic Balinese cuisine, always prepared by a team of local chefs.
7. South Africa Chef on Wheels Tour
If you've ever dreamt of biking through a far-away destination alongside a world-renowned chef, then you're in luck. DuVine Cycling + Adventure Co.'s brand new departure through South Africa is perfect for the curious gastronome. Over the course of six days, participants will ride with celebrity Chef Seamus Mullen while being treated to an epic lineup of health-focused dishes, each inspired by the freshest local ingredients. Regional specialties to anticipate include braaivleis (a type of barbecued meat), pap (similar to polenta), and mieliebrood (cornbread with a South African flair).
8. Burgundy Food & Wine Tour
When it comes to exceptional food and wine, very few countries can contend with France. Mix in their breathtaking sceneries, historic sites, and centuries-old architecture, and you've got yourself one of the most in-demand destinations on earth. This seven-day cycling tour from Discover France cuts right to the chase. Kicking off in the city of Dijon, the route winds its way through Burgundy's premier checkpoints, including Beaune and the Cotes de Nuit wine country. Guests will be treated to a lineup of gourmet dinners highlighting classical French favorites, as well as the region's famed white and red wines.
9. Cycling and Cooking in Sardinia
Want to savor the flavors of the Mediterranean? Well, you're definitely not alone. This weeklong itinerary from BikeTours.com masterfully blends together a passion for cycling with the culinary arts. Participants will soak in Sardinia's jaw-dropping views while learning all about Mediterranean cuisine. Sample local olive oils, wines, and cheeses, while also learning to prepare traditional dishes like malloreddus (gnocci) and culurgiones (a unique stuffed pasta pocket). Virtually every day consists of a tasting or cooking class, so you'll never get bored.
For access to exclusive gear videos, celebrity interviews, and more, subscribe on YouTube!