Danny MacAskill is by any measure a successful athlete: More than 48 million fans have witnessed him in action, he has spots in commercials, he earns a six-figure salary (paid by his sponsors), and he'll soon appear in his first Holly­wood movie. But MacAskill, 25, whose skills combine BMX and mountain biking, has never competed or won anything. His entire career so far has risen from feats recorded for YouTube.
Last year MacAskill traveled back to his childhood home in Skye — a Scottish island with fewer than 10,000 people — to shoot his second video, "Way Back Home." The eight-minute clip features MacAskill in the countryside, front-flipping off castle walls, backflipping from driftwood on the beach, and soaring to a climactic stall on top of a red phone booth. He shot it over the course of 10 months, driving hundreds of miles a day between Edinburgh and Skye in a camper provided by Red Bull.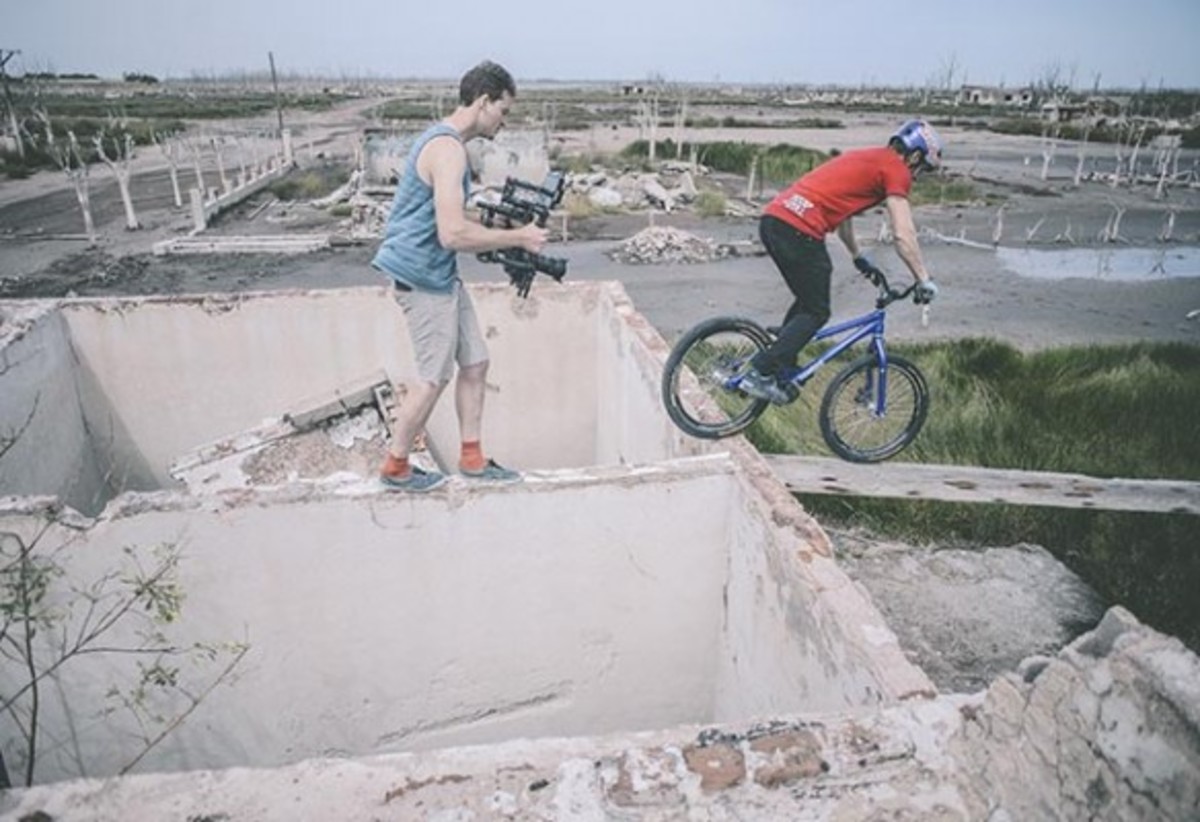 (Danny MacAskill and a photographer film in the abandoned village of Epecuén, Argentina. Photograph by Fred Murray / Red Bull Content Pool) 
MacAskill lived in the van and on friends' couches for months after "Way Back Home," starring in six videos during a particularly nomadic — and productive — time. "Everyone should have a camper at some point in their life," he says.
During this period, he found time to fly to New York for a different kind of shoot, as a stunt double for Premium Rush, a bike-courier action movie starring Joseph Gordon-Levitt. "They couldn't give me many takes because there's a lot of money getting spent," he says. "But I could do every trick the first time, every time." After two weeks in New York, he flew back to Scotland to shoot more video — with a crew of two.
Even when Red Bull decided to sign him in late 2009 — what he calls "the biggest and most-life-changing decision I've ever made" — MacAskill didn't join a team. "It's about having the freedom to do whatever I want," he says. With a big sponsorship under his belt, MacAskill has gone on to shoot a VW commercial and spawn his own signature Five Ten sneaker and an Inspired-brand bike.
MacAskill's fast rise to fame started on a four-foot-high fence, topped with six-inch iron spikes. It took him four days and numerous knee-jarring crashes to span the fence, and learn to nimbly hop off it. His friend, David Sowerby, captured everything on camera. The stunt became the highlight of a five-and-a-half-minute video called "Inspired Bicycles," posted on YouTube in 2009. The video received a couple of million hits in two weeks. Soon, the $9-an-hour bike mechanic was the topic of conversation among pro cyclists, BMXers, mountain bikers, and even Lance Armstrong, who tweeted about the video.
The years have been punishing to MacAskill's body. He can no longer straighten his fingers, thanks to the death grip he takes on his handlebars, and he's suffered three broken collarbones, broken arms, fractured feet, and a torn meniscus. His father used to worry he might meet a fate similar to their 19th-century ancestor Angus MacAskill, a 7-foot-9 giant who, according to family legend, toured the globe exhibiting feats of strength until a bold dare (lifting a 2,000-pound anchor) crippled him. "I've been told I've got a short shelf life," says MacAskill. "I realize I'm not gonna do this till I'm 60."
But that isn't stopping him from pushing it. "Danny, more than any other rider I've worked with, never wants to do average stuff," says MacAskill's friend and fellow rider Stu Thomson, who shot "Industrial Revolutions," MacAskill's most recent YouTube video. "To me and you it's amazing, but if it doesn't challenge him, he doesn't really like doing it." It's not unusual for MacAskill to spend hours perfecting a stunt that lasts mere seconds onscreen. His phone booth stunt in "Way Back Home" involves a custom-built ramp using peat he'd collected from a bog and dried all summer. The five-second trick took five hours and hundreds of attempts to nail.
This year he has more videos lined up, including one in Vancouver, British Columbia. Then there's the Skye Bridge in Scotland, which he has been eyeing for years. "It's a bridge that's about 41 meters high. I've always wanted to jump off. I'd let go of my bike and fall into the water." MacAskill insists his first video simply came out at the right time, but guts and skill like his are rare. "If you're good enough," he says, "things will sort themselves out."
(MacAskill hops through a dead tree in Epecuén. Photograph by Fred Murray / Red Bull Content Pool) 
*This story first appeared in the January 2012 issue of Men's Journal. 
For access to exclusive gear videos, celebrity interviews, and more, subscribe on YouTube!