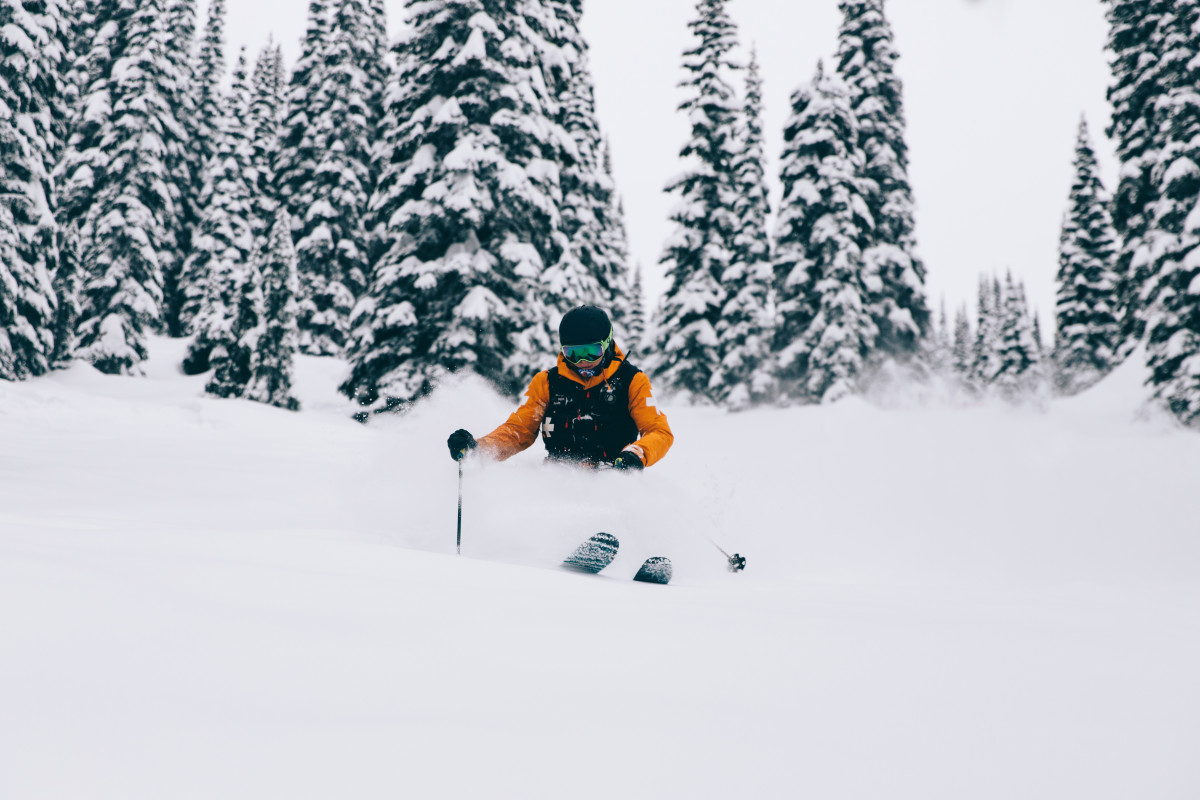 5:45 a.m. – I released a big yawn, rubbed my eyes and looked around. Huddled with five others in the appropriately named 'clubhouse,' we gave each other meager greetings and threw on our jackets. Mornings after big storms start an hour earlier and take considerably more work to get the resort open. Despite pre-dawn alarms, each movement from the Fernie patrollers was swift and methodical. I could tell the work day had begun.
5:55 a.m. – We marched out of the hut one at a time, checking our transceivers at the door. Outside it was still pitch dark and snow is dumping on us, much like it was in my dream just thirty minutes ago. Even at night I can unmistakably spot my cohorts, each clad in a bright orange uniforms.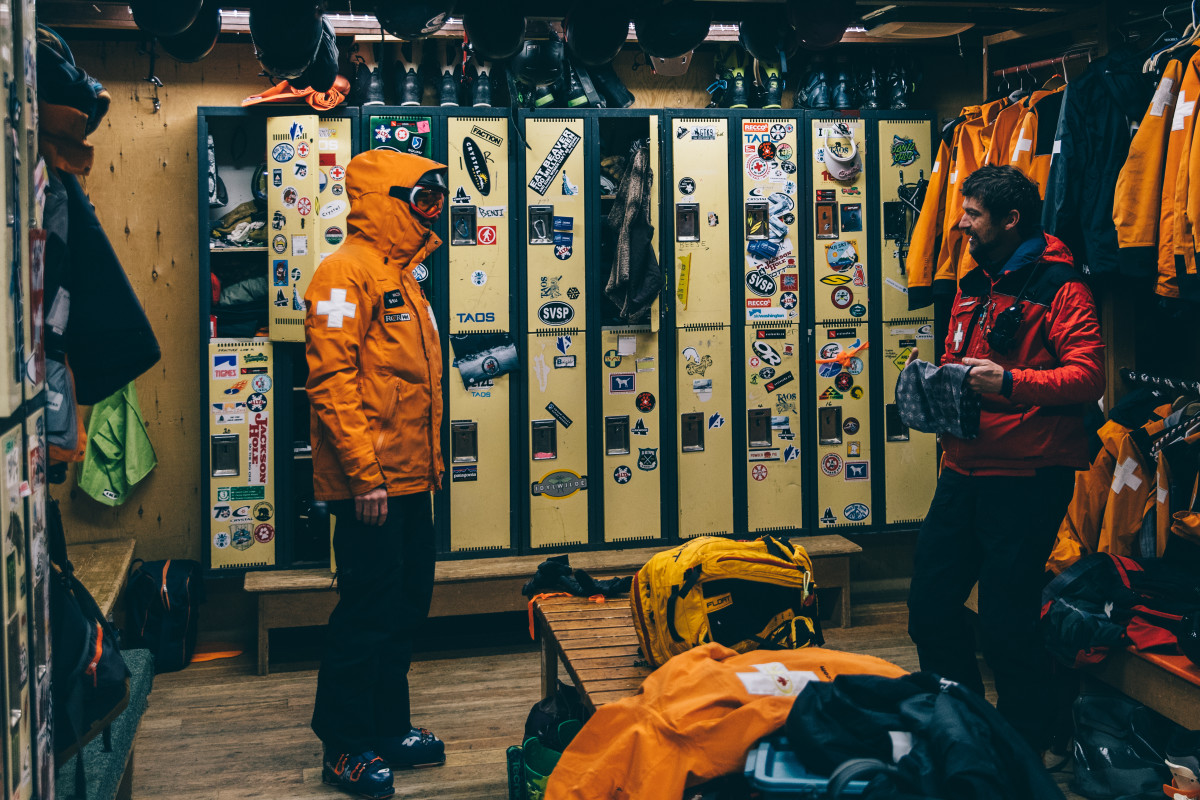 6:03 a.m. – Stu Robbins, the lead forecaster, looks at me and asks "Ever rode Canadian?" I've been around snowmobiles my whole life, but have no clue what he means. Noting my confused look, Stu clarifies "Tandem on a sled." I say sure, we load our skis on the rear rack, and hop on.
6:13 a.m. – We stop halfway up the mountain at a small weather station to gather snow data, which takes just a couple minutes. Back on the sleds, we climb above treeline and enter the large upper bowls. Driving in a near whiteout, I feel as though I'm on the moon until we reach White Pass Hut (the patrollers hideout on top of the mountain).
6:28 a.m. – Exchanging readings with the forecaster on the other side of the resort, Stu barks numbers into the radio that mean absolutely nothing to me. I could chalk this up to being in British Columbia and an inability to use the metric system, but still, I'm surprised I don't recognize more. I do pick out a few things: 15 centimeters of new snow, 8.5 percent water content, considerable avy risk, and rising. That's about it. They seem to have developed their own shorthand for depths, loading, and locations of concern.
6:42 a.m. – With an agreement on the level and type of risk, the team starts discussing explosives. This sounds a bit like a caller at an auction, but with precision. They select the chutes, slopes, and cornices that need the most control work today and allot kilograms to each risky area.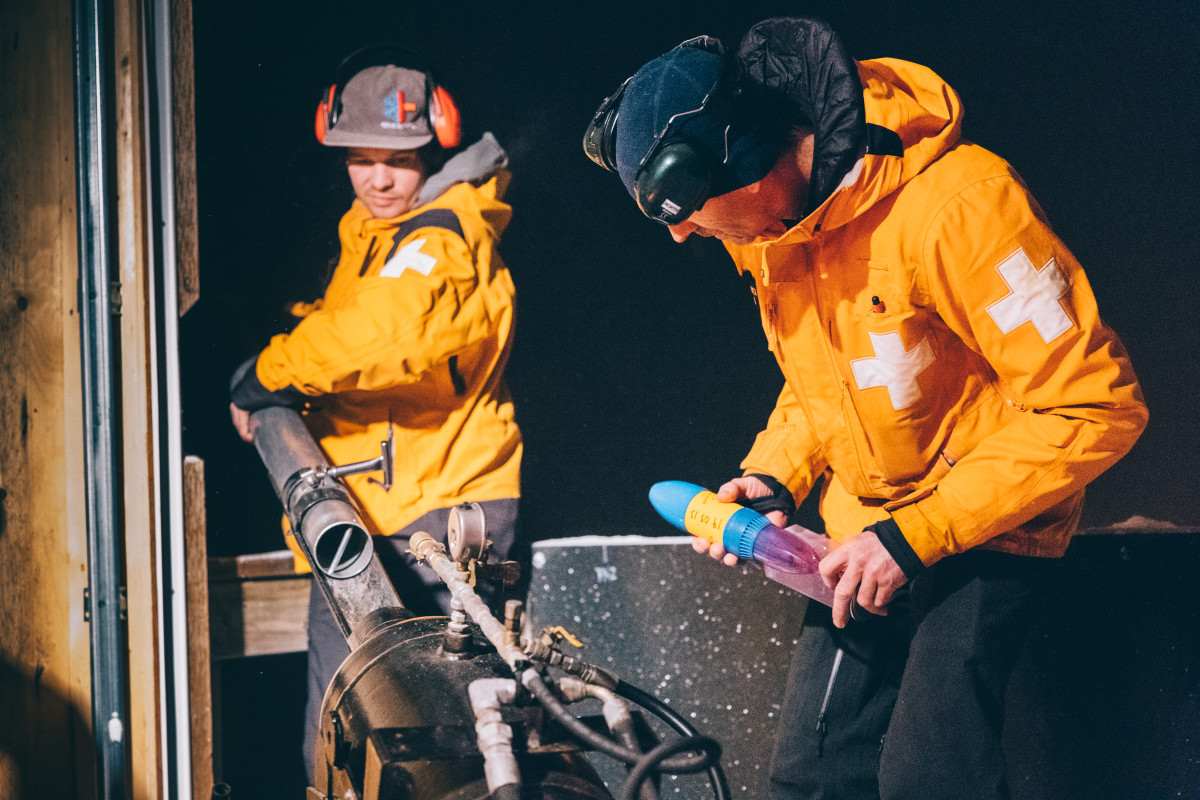 7:00 a.m. – At seven sharp, the first shot is fired from the artillery, just above the hut. The town of Fernie has a noise ordinance that keeps ski patrol from starting any earlier. Two gunners work in tandem loading and firing the nitrogen-pressurized system, which they admit functions much like a large potato gun. The direction, angle, and pressure in the barrel have been refined through dozens of shots. Even in the dark very few shots are wasted on the wrong area. Stu offhandedly mentions that less than 1 percent of the shots fired are duds – fewer than 10 all season. Audible feedback tells the patrollers what they've hit. Louder booms mean that they hit rock and softer ones imply deeper snow.
7:24 a.m. – Once this fireworks show is complete, I march back downstairs. I glance at my watch and realize it's still before most people are having their morning cup of coffee and Stu has 16 hand charges fully assembled. The full patrol team will arrive soon and he'll walk them through the control strategy.
Fernie employs 44 patrollers and as I glance around the room during this briefing, it's pretty clear that all of them are quick to digest the game plan. The mountain averages 11 meters of snow each year, so avalanche control days like this are fairly common. Unlike most resorts, the majority of the inbounds area at Fernie is prone to slide. By some estimates over 80 percent of the terrain is at risk.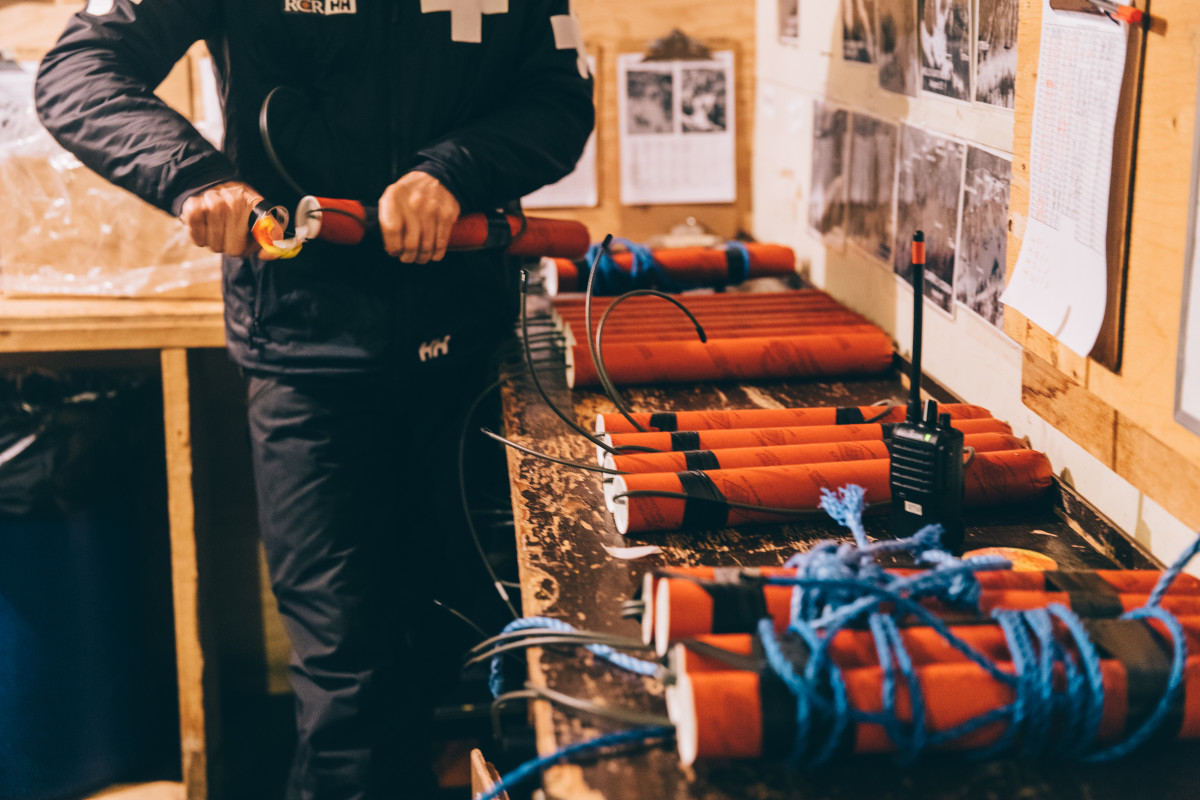 7:45 a.m. – At the end of the meeting Stu allocates jobs and explosives. We head outside and realize that despite dawn light, visibility is still nearly zero with heavy snow and fog. The ski patrol team is deployed in pairs for safety. Patrollers start to fan out over the five major bowls of Fernie Resort, staying high on ridges. Together, their aim is to manage snowpack stability and minimize hazards by actively triggering slides, either with hand charges or by ski cutting.
7:49 a.m. – At this point I've heard roughly a dozen bombs go off and am fully awake. I'm greeted by Kevin Giffin, who's been patrolling at Fernie for a couple decades and has the task of showing me around for the rest of the day. To his credit, he's one of the few people that can ski and talk coherently at the same time, which makes him a perfect tour guide. That, and he knows the mountain as well as anyone.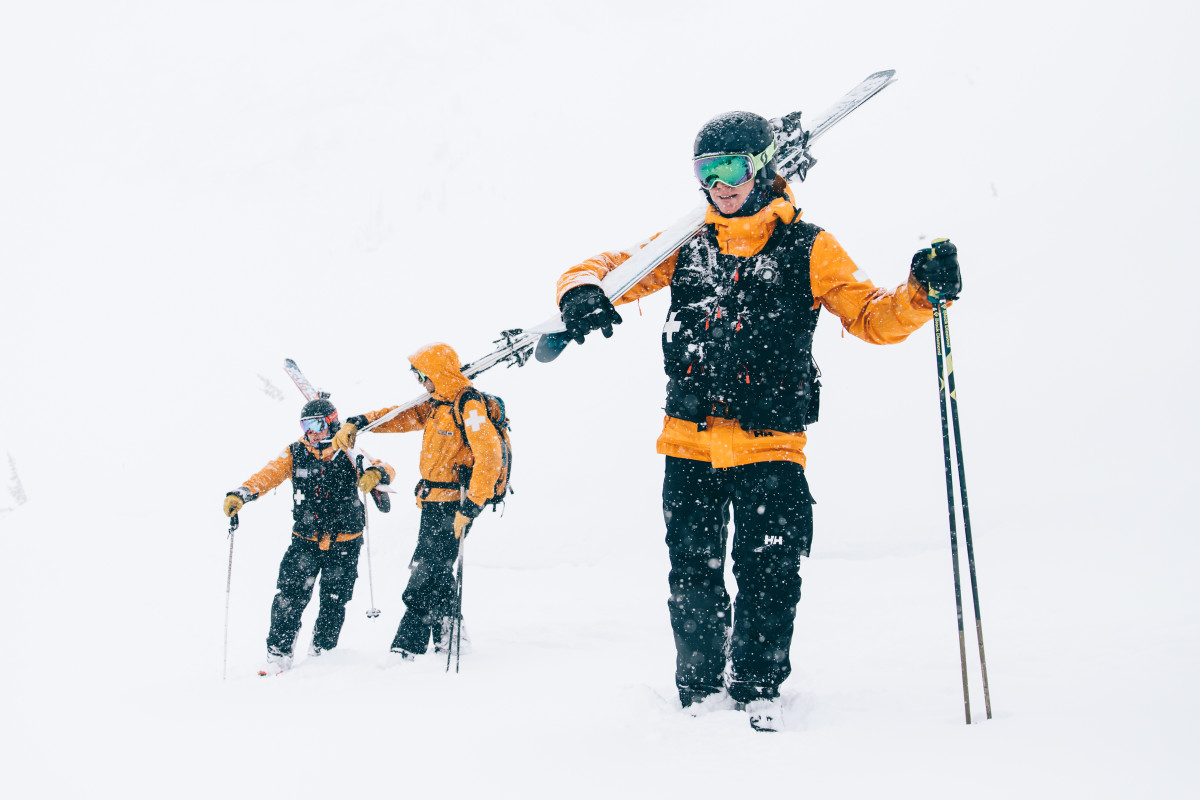 8:02 a.m. – Gif opts to take me on a route with two other pairs of patrollers, and a lot of explosive work. We proceed in single file down a small spine, taking careful ski turns. Our groups leap frog from chute to chute, lighting hand charges and yelling out countdown of the blasts. Back and forth I hear "Two minutes!," shortly followed by "Thirty seconds!" and then large booms. For each charge I mimic Gif by plugging my ears and tilting by body away from the upcoming blast. After about ten minutes we've covered the full ridge and surprisingly only one small slide was triggered.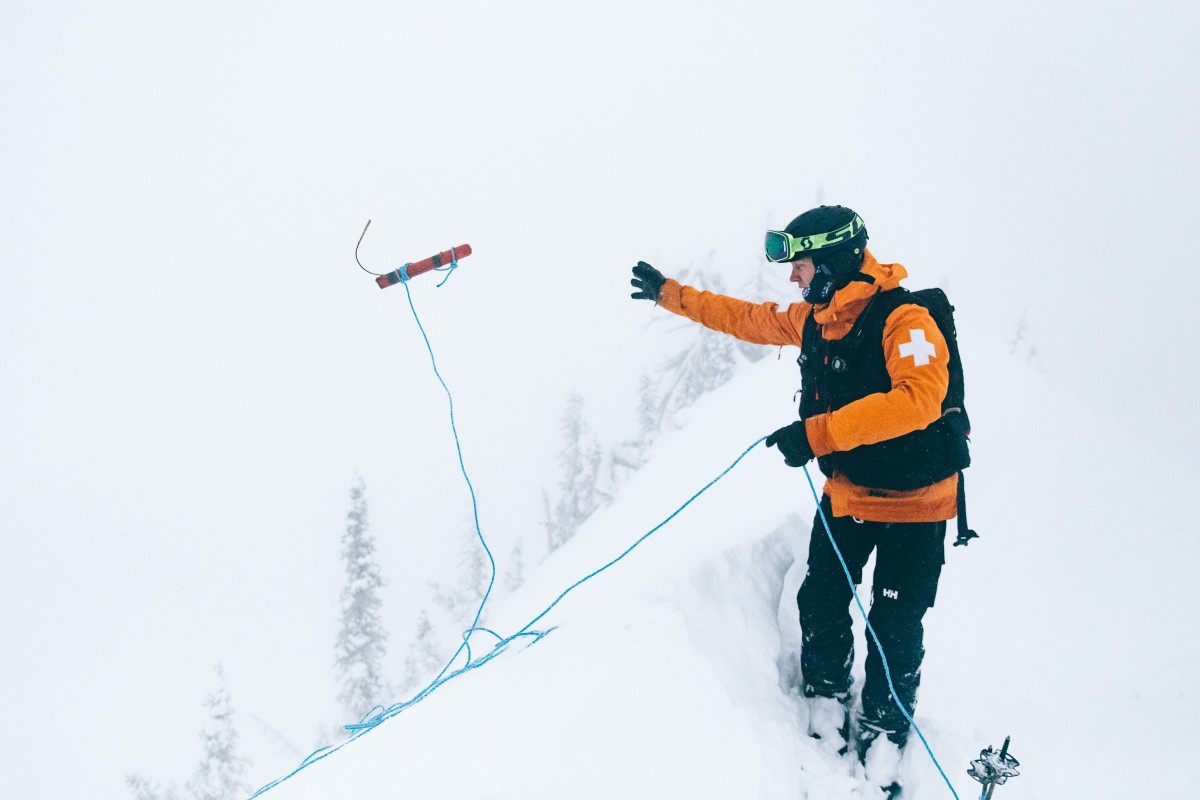 8:19 a.m. – The crux of our selected route is a small rappel, roughly 25 feet. I watch all four patrollers in front of me fly down it with ease. They tie munter hitches to a carabiner clipped to their harnesses and leave their skis attached to their boots, the jump the last 7 feet. Timidly, I follow them, inching my way down. Despite a lack of style, I eventually make it back to snow safely.
8:40 a.m. – Still twenty minutes before the lifts open to the public, we've completed our control route. I can still hear bombs going off on the peak, where a few teams are controlling avalanches on the large upper headwall. Over the radio we get confirmation that most of the other patrollers have wrapped as well, with only a handful of groups with control work left.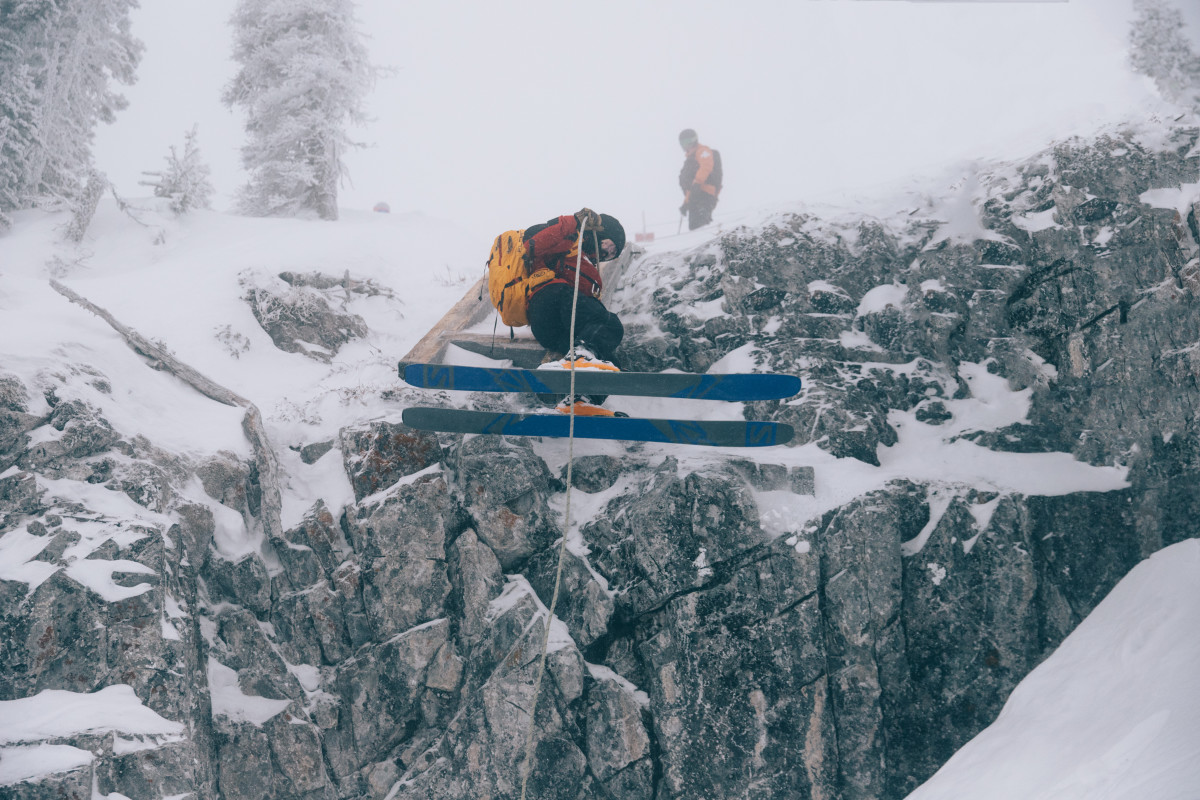 8:42 a.m. – Some of the better powder turns of my life. We ski a full lap, top to bottom, with grins plastered to our faces.
8:52 a.m. – Some three hours after I buckled my boots, we're back at the base of the resort. Despite being a weekday, small crowds are starting to line up at the lifts in anticipation for powder turns. Gif and I walk the opposite way, toward Big Bang Bagels. Both of us are hungry and this is the best reward for a hard few hours of work. On our way we stop a few times to greet guests – Gif seems to know every local on the mountain.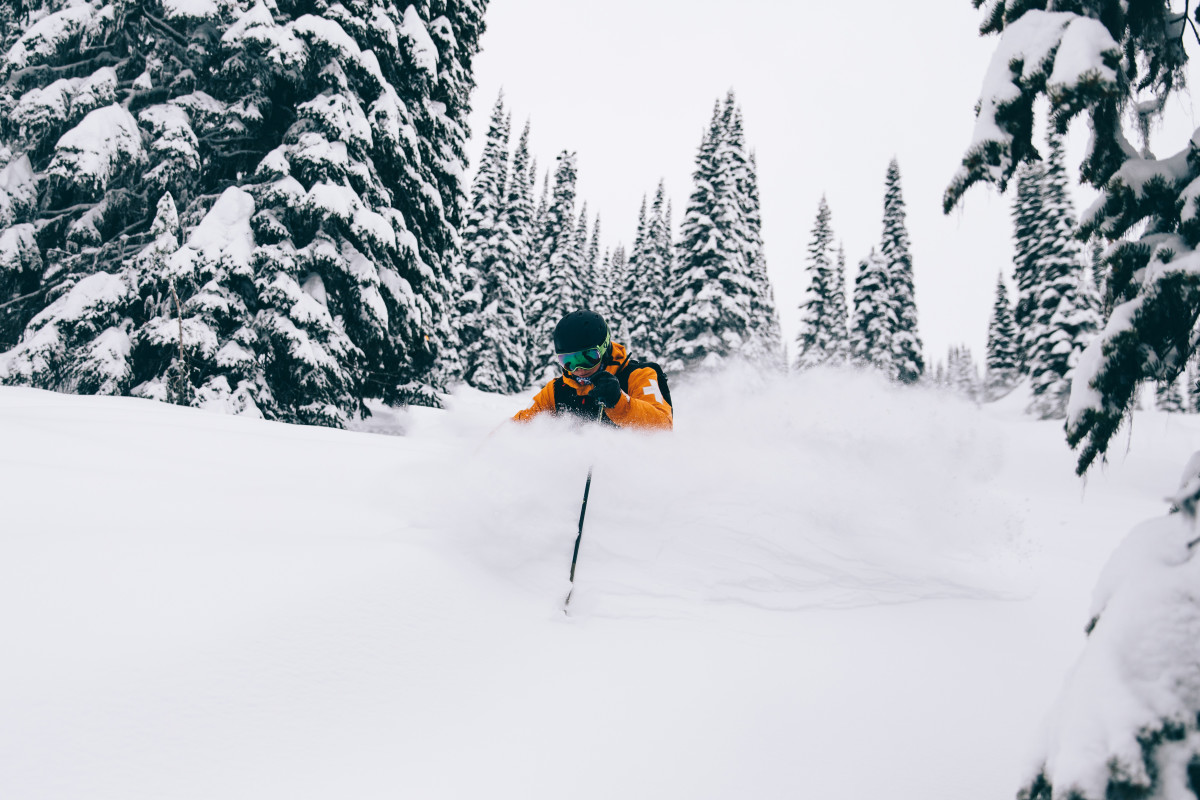 9:18 a.m. – Refueled, we get a call on the radio that Megan Kelly, the ski patrol assistant director, is about to run a test for her avy dog Mogul. I rush to throw on my helmet and goggles and hop on the nearby Timber Chairlift. We rendezvous with Megan at the top of the mountain and are warmly greeting by Mogul, a five-year-old shepherd.
9:24 a.m. – I follow Megan on a traverse to a nearby bowl, somewhat off the beaten path, in which she'll test Mogul. Somewhere in this small plot – maybe 200 meters long and 200 wide – is a sweater buried 75 centimeters into the snow. She tells us the sweater was worn for three days by someone else, then buried without her knowing the location.
Megan and Mogul have 45 minutes to find it, but ideally it'll take them much less than that. She leads Mogul from top to bottom, zig-zagging back and forth, with surprisingly few commands. Mogul is free to float and sniff what he wants. We watch from the downwind side, not to get in the way. Ten minutes later he starts digging with conviction, and she knows he's onto the sweater.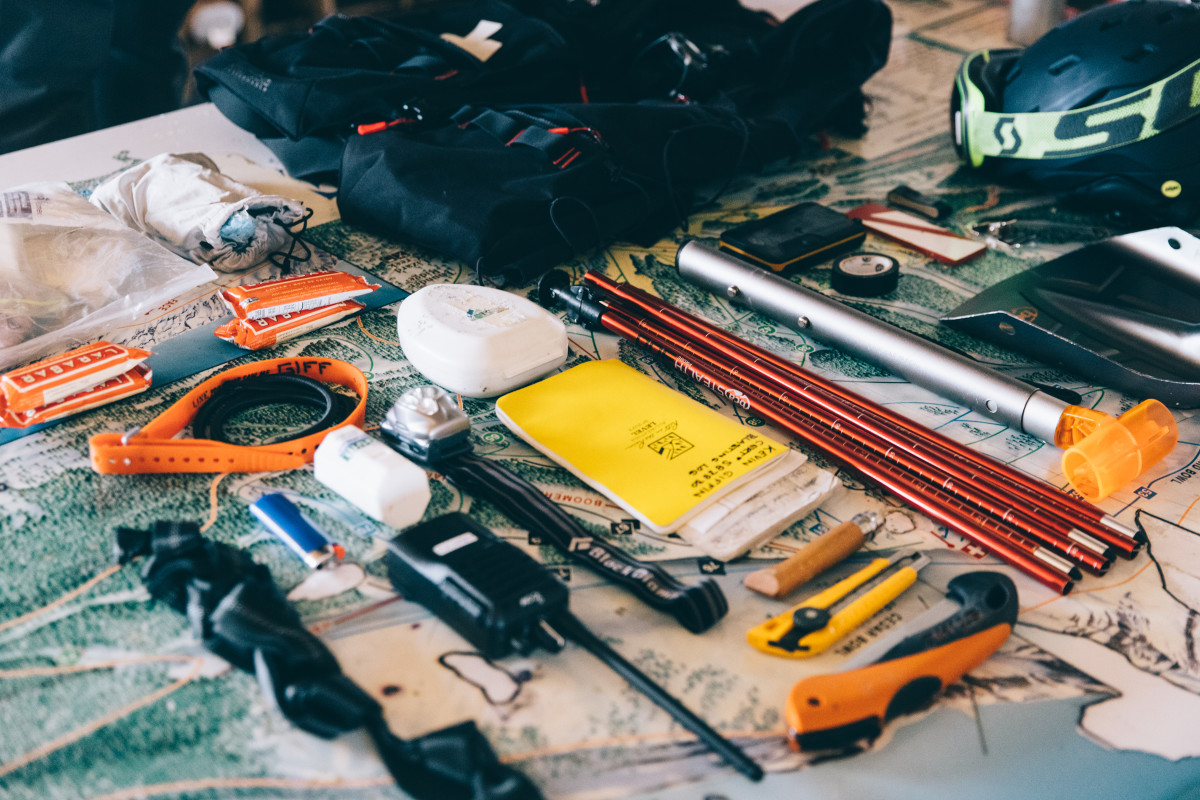 9:42 a.m. – Gif then leads me farther to the north, on a long ski traverse. He's heading to his favorite lines in Curry Bowl, near the edge of the resort. Every minute or two he stops to fix signs that have fallen over at night or put up a few ropes in areas that are climbing in risk. For the rest of the morning I do my best to keep up, skiing laps in new places, while stopping with Gif to help guests with questions and directions.
After just a single day on the slopes with the Fernie ski patrol I've learned a lot – almost more than I can remember. From high-level methodology to tactical precision of control work, it's become clear why Fernie is renowned for its avalanche safety. I'fm lucky to have learned from them firsthand.
All Photos By Andy Cochrane.
For access to exclusive gear videos, celebrity interviews, and more, subscribe on YouTube!