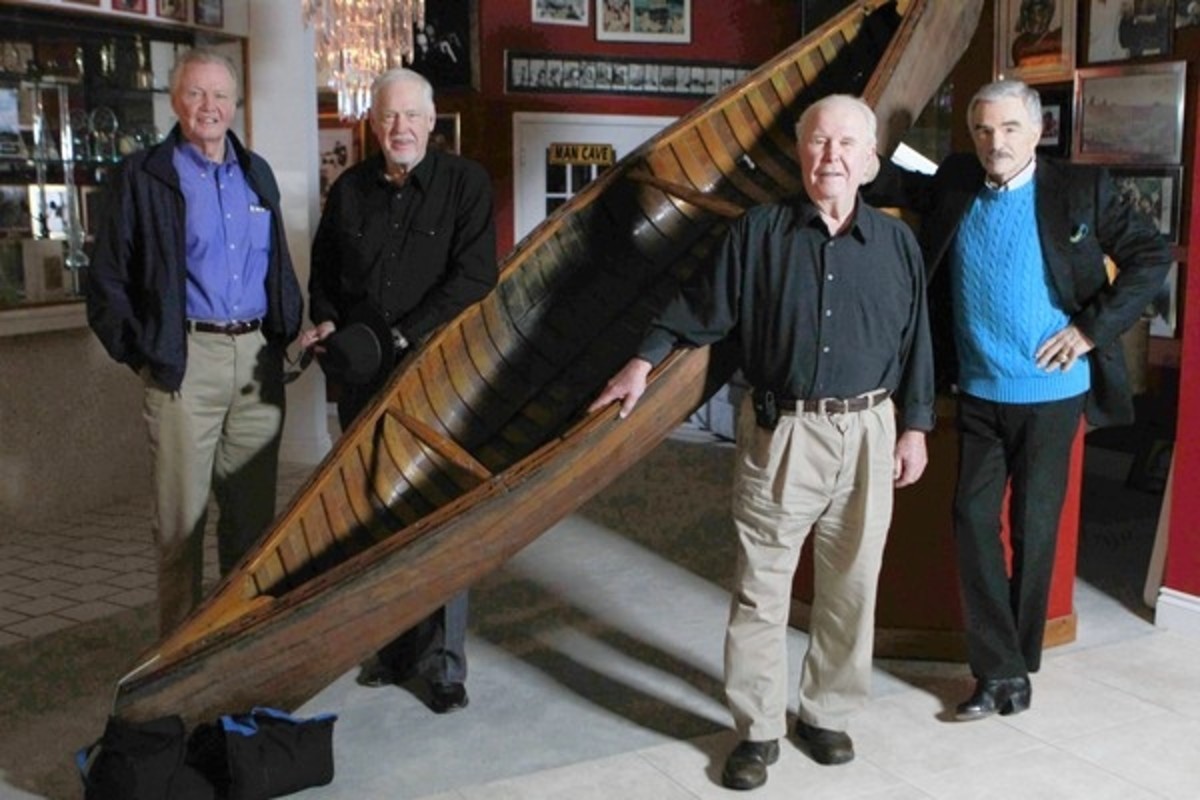 Cue the banjo music.
A wooden canoe from the personal collection of Burt Reynolds, restored from pieces of the canoes used in filming Deliverance (Warner Bros., 1972) was recently sold by auction house Julien's Live of Los Angeles for the winning bid of $17,920, well above its expected price of $800-$1,200.
As first reported by wooden paddle-maker and blogger Murat Vardar, the canoe, which was housed at Reynolds' Museum, is a composite of two canoes made for the iconic canoeing film (Warner Brothers commissioned a number of canoes made for the film, as Reynolds' canoe is ultimately destroyed).
"I had posted about this canoe back in 2012 during the 40th anniversary of the film when it was housed at the Burt Reynolds museum in Florida," writes Vardar on his blog. "A casual glance shows that major reconstruction efforts were done quite amateurishly. Also, this canoe is much shorter than the tripping canoe featured in the film, with no seats or a center thwart."
Nevertheless, some sleuthing by Benson Gray of the Wooden Canoe Heritage Association revealed that six identical, 16-foot Old Town Guide canoes (in dark green) were shipped to the film location in Clayton, Georgia, a year before the film was released. With wood ribs and thwarts, the canoe bears two serial numbers (#184739 and #184432) on both stems that are still visible and match the build records from Old Town Canoe Co., he reports. Further, shipping records indicate that it was shipped to the film's location in Georgia on April 26, 1971. "It appears someone 'reconstructed' this canoe with ends from two of the original 16-foot Guide models, resulting in a shorter 11′ 6″ boat cobbled together with bits and pieces," says Vardar. "While the auctioneer can't guarantee any proof that these actual canoe bits appeared in the film, Benson's research reveals that at least there is some association."
In the film's classic destruction scene, after paddling partner Ronny Cox (Drew Ballinger) falls out of the canoe, Jon Voight's character, Ed Gentry, goes down a rapid backwards and the canoe breaks in half after hanging up on a rock (see video below). "This scene likely cemented the idea in peoples' minds that canoes are fragile, despite the fact that wood canvas canoes survived many epic canoe expeditions in history," writes Vardar. "The truth is that the scene was accomplished with a bit a of Hollywood special effect – the canoe had been cut in half amidships from gunwale to gunwale so as to break quickly and cleanly."
–See photos from the filming of Deliverance and go behind the scenes with Doug Woodward.
—Read about another Deliverance canoe auctioned for $3,000 in 2013.
—Original Deliverance trailer. Jump to minute 2:30 for the famous canoe destruction scene.

The article was originally published on Canoe & Kayak
For access to exclusive gear videos, celebrity interviews, and more, subscribe on YouTube!