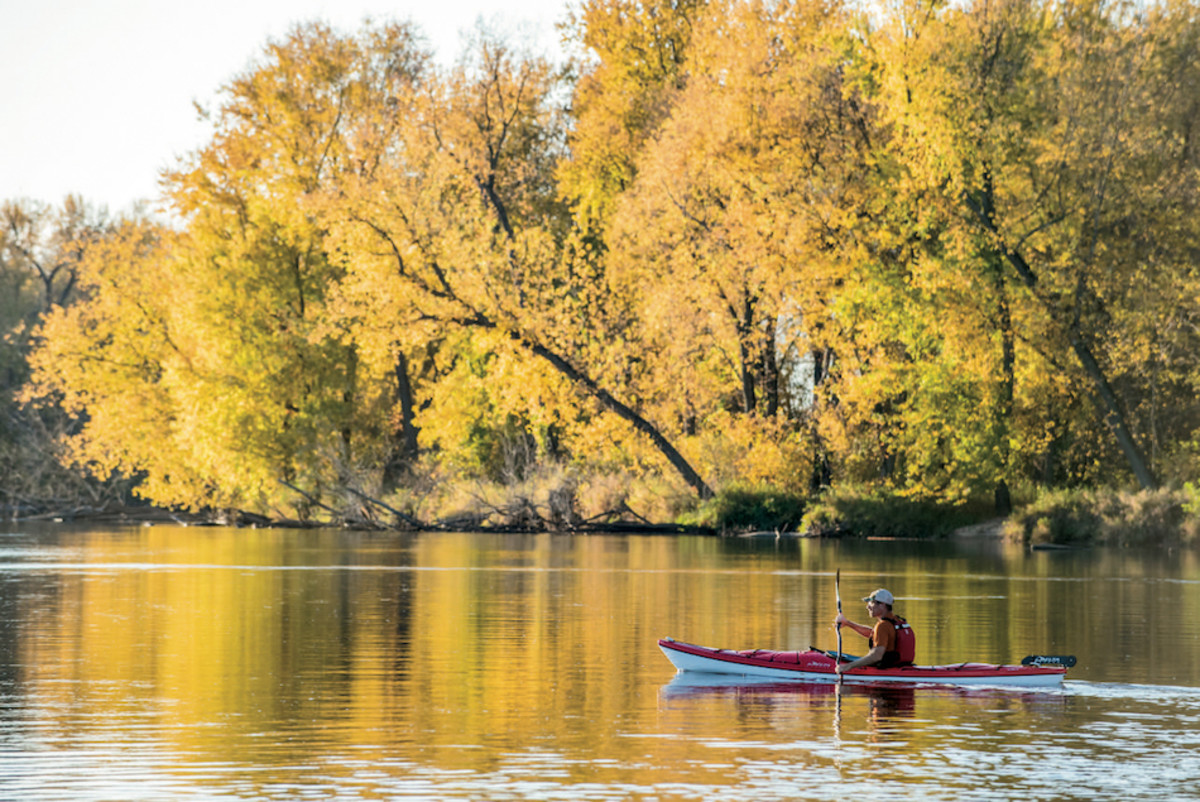 (L: 14′; W: 23.75″; 45 LBS.; Thermoformed ABS plastic
$1,995 with rudder; deltakayaks.com)
Delta is known for building beautiful and well-finished kayaks from thermoformed plastic, and the 14 is no exception. Thermoforming is simple in theory, but heating a 20- foot sheet of ABS plastic (think football helmets) and shaping it into the deck and hull of a kayak and fastening them together is no simple procedure. Delta specializes in thermoforming, and does it as well as any thermoform manufacturer, in our out of the kayaking world. The company got its start building kayaks for outfitters who run multi-day trips on Canada's west coast. That heritage has instilled some typical design characteristics in Delta kayaks—chiefly that they are comfortable for beginning paddlers, and capable of hauling massive quantities of gear. Delta manages to pull it off without making the 14 look stubby. It is certainly not sleek, but it is (dare I say?) cute. If the Vision reminds me of a BMW and the Stellar a Porsche, the Delta 14 is a Volkswagen van from the mid-60s. And just like the van, it has storage.
The 14 is the only kayak reviewed with a day hatch directly in the front of the cockpit, which is quite convenient for your smalls: nutrition bars, first aid kit, and easy-access meds (insulin or an Epi-pen). I like the efficient use of otherwise wasted space between your kneecaps.
Prepare yourself for a massive amount of capacity; over 200 liters. If you are interested in carrying a little more gear for longer tours, or you just want to take more luxury items, you'll have plenty of room for the wine and crackers, with a large wheel of Brie. Don't mind if I do.
Loading it up for an overnighter, I was amazed at its capacity. Stuff just kept disappearing. We put a roll-top table and a full-sized umbrella chair into the rear hatch, and there was room for more. I lost count of the number of ten and twenty-liter dry bags that disappeared into the hull. The large hatches made it easy. If any water seeped in, it was not enough to concern me. Dry bags are there for a reason.
The seat is simple and comfortable, though I'd like a little more structure in the seat pan. My guess is that this seat fits a lot of people, and that's good. I really like the simplicity of the seat trim, just a tab that fits into a slot on the seat front. No knobs to lose, and easily adjusted while in the cockpit. My derrière isn't small, and I had room to spare.
What it lacks in speed it makes up for in comfort. Some people confuse speed with efficiency. Speed refers to how fast the boat can go; efficiency is about the amount of effort it takes to move at a satisfying clip. This hull is efficient, but it's not designed for speed. It reaches its hull speed quickly, but once you reach that speed that'll be all she gives. Which is fine, because the last one off the water wins and paddling all day in an efficient boat is a pleasure.
The Delta 14 is available with an optional rudder. If you're going to use this kayak for longer trips over open water, I'd recommend it. All in all, a fine choice in this category, and at 45 pounds, fairly easy to move around.
CLICK A BOAT BELOW TO READ REVIEW
Stellar
Stellar 14
Dagger
Stratos
Curren Designs
Vision 140
Necky
Looksha 14
Hurricane
Sojourn
Delta
Delta 14
The article was originally published on Canoe & Kayak
For access to exclusive gear videos, celebrity interviews, and more, subscribe on YouTube!