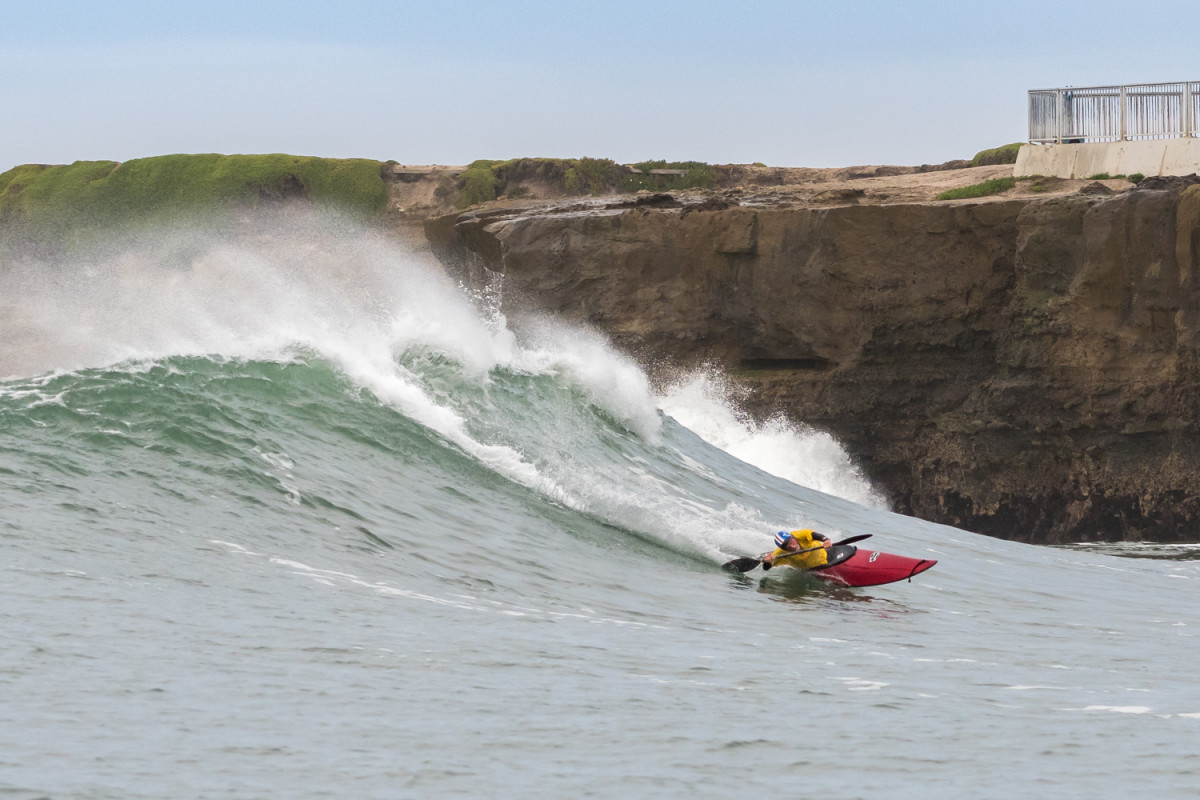 By Bryon Dorr
Photos: Bryon Dorr, Marc Boyd, Tom Gomes & Dennis's many friends
Dennis Judson has probably taught more people how to swim and dive than anyone in California. He carried the torch for all surf kayakers since the sport's early days. He was an active dive and swim instructor for nearly four decades, and had been diving and charging big surf in a kayak around the globe for about as long.
Dennis was CEO of O'Neill in the company's early years, 1969-1977, and in 1978 started his own business, Adventure Sports Unlimited, in Santa Cruz. ASU provides instruction, tours and trips for a wide range of activities to this day, specializing in diving, swimming and kayaking.
The Santa Cruz Paddlefest started in 1985 as a way to promote ASU and provide a contest for the budding sport of surf kayaking. Dennis started, shaped and grew the event for 29 years, before handing over the event reins to the next generation just a few years ago. He might have stepped down as event director, but he remained a competitor and a larger-than-life personality at the event.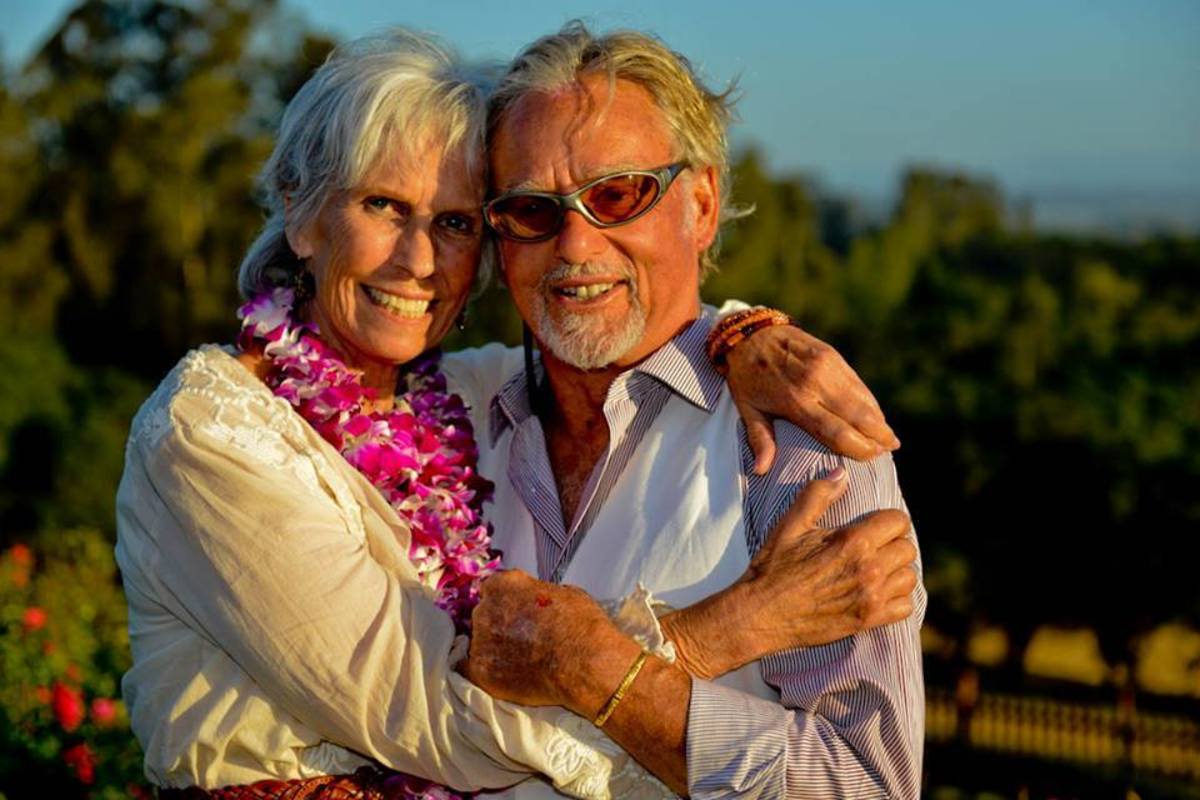 Besides his passion for adventure, his immense skills in the water and his innate ability to share his passions with everyone he came in contact with, Judson will leave a legacy of love and stoke that is second to none. If you asked him what was his greatest love in this life, he would have surely answered his wife of 40-plus years Ginny Wedderburn, who passed away in August 2014.
Judson is perhaps best known for his unique style, usually consisting of some combination of banana hammock, vest jacket or sport coat, big furry boots and/or fleece onesie. That outfit would many times be accompanied by a bloody mary or fine cocktail, always in an appropriate glass. Even if you didn't see him, you'd hear his unique cackling laugh, or all those around him laughing at his quality stories of adventure from points afar.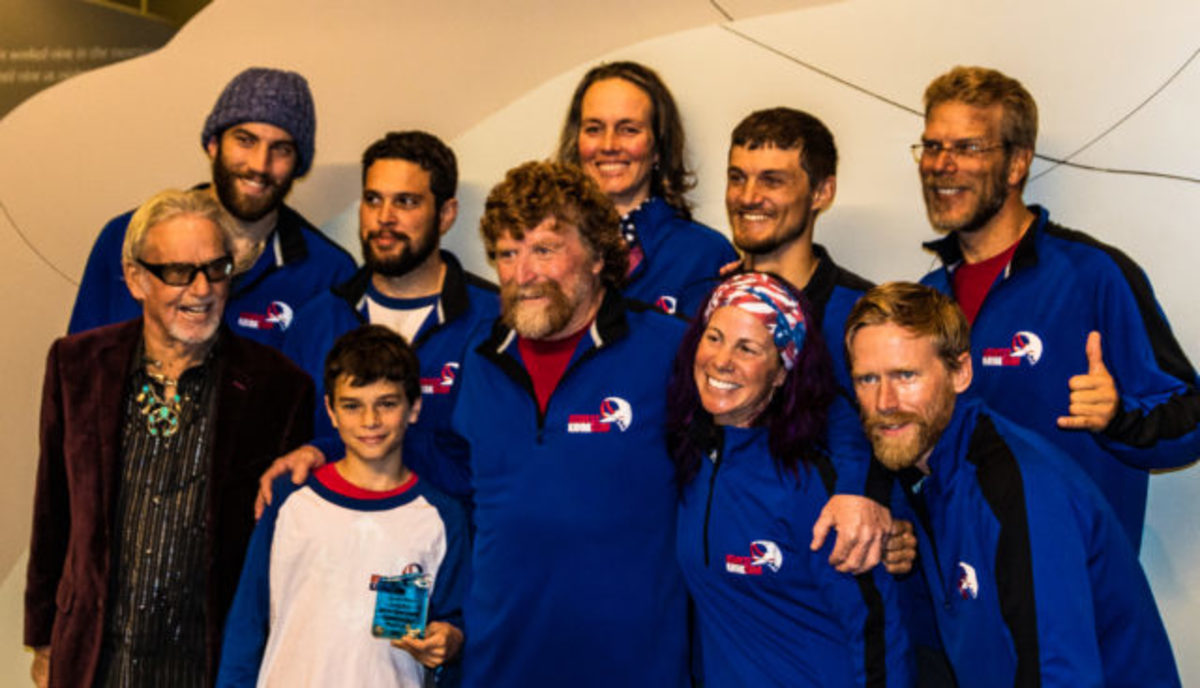 On one of those recent adventures abroad to surf kayak competition in Ireland, Judson experienced some bad indigestion, a probable small heart attack, on the plane ride. Still, he gathered himself and headed to the event site. He experienced another heart attack soon after, on a beach where bystanders quickly got him the medical attention. While he spent the entire competition recovering in the hospital, he managed to talk the doctors into letting him watch the finals and attend the closing ceremony, in true Dennis Judson fashion. Still recovering, he suffered a fatal heart attack about a week later. He was 73.
Judson's legend will live on in so many that he's influenced over the years, and in no way can be articulated in mere words or images. Hopefully these photos and snapshot memories and tales below, by his many paddling friends, will give you a small taste of this truly inspirational man's influence and legend.
Reiko Michisaki– "Fully geared up on a Fijian dive boat and Dennis looks at me and says 'Oowee!' and then takes a small leap and does a one arm handstand off the gunnel of the boat and a backflip into the water. The divemaster is stunned, and we all fall backwards into the water and scatter."
Dave Johnstone– "I will always remember you and I trying to out-stupid each other. We paddled out at Scott's Creek on a 10-foot day with our dive gear in our Dancers, blinded by the fog of hubris. We were going to surf and get some abalone. We lost a lot of gear that day and we were lucky to make it out. Nothing ever stopped you out there, you were always one with the ocean. We were invincible back then … I thought we still were."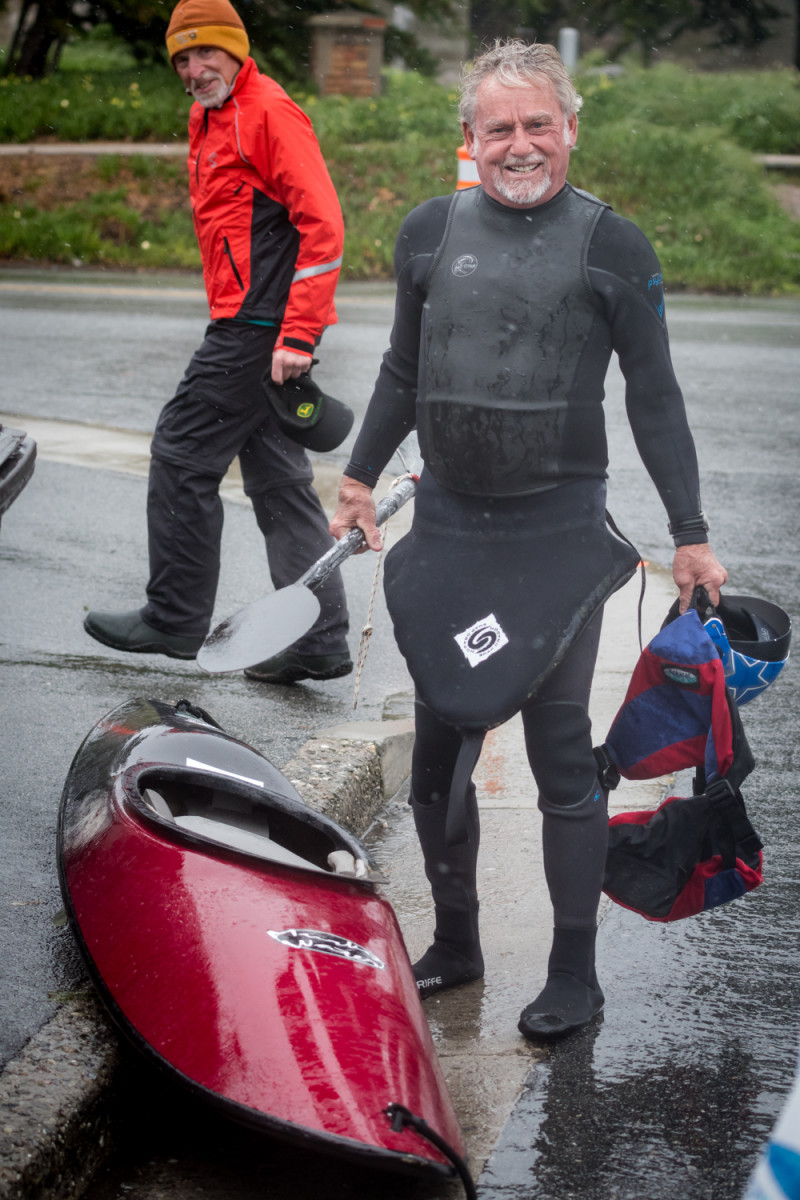 Jennifer Dohrmann– "Dennis always liked to say, "I never promised my gear an easy life."
Jeff Moag– "The jumpsuit. The scotch. The stoke. There will never be another Dennis."
Devon Barker-Hicks– "I felt so lucky to know a man who loved Ginny, kayaking, diving, people, and lemon drops! He lived, kayaked, and dove on his own terms. A true ambassador for the human race."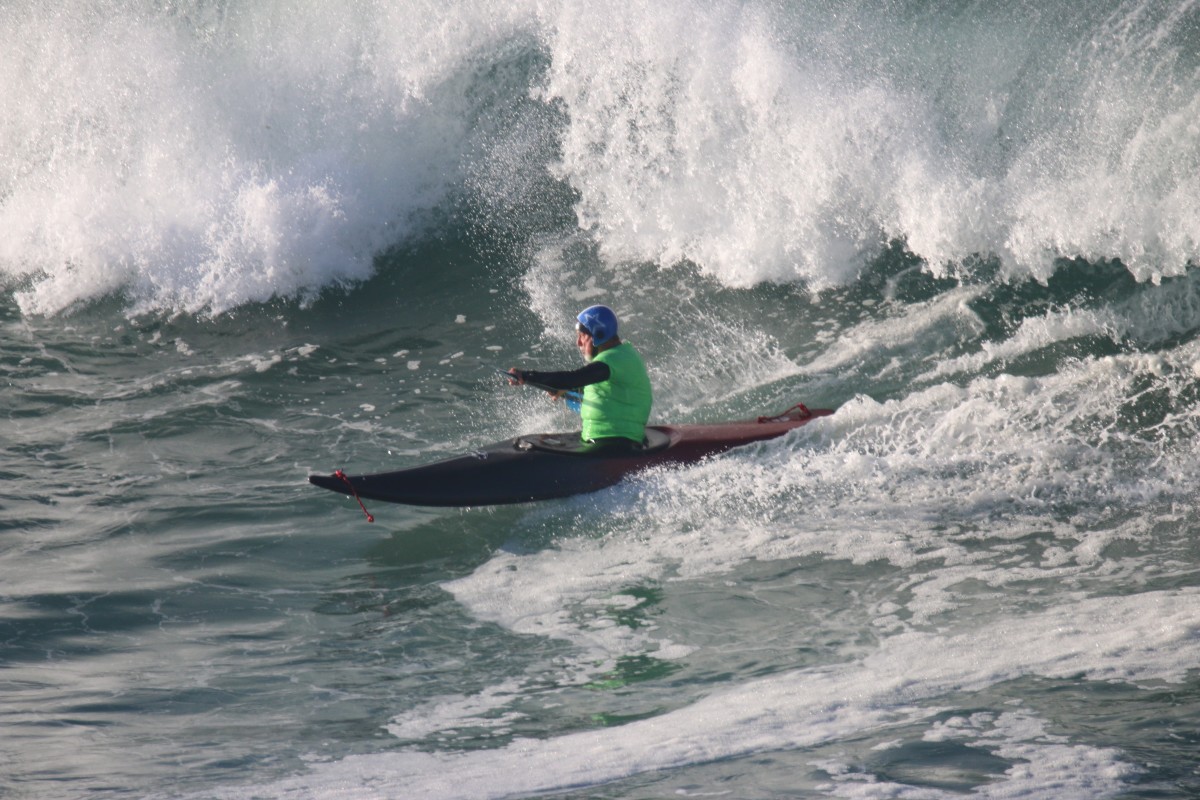 Darren Bason–  Standing atop the cliffs at the 2003 Worlds: "He was wearing some crazy green outfit with a weird hat, I looked at him and thought Wow that Irish dude really takes the part seriously LOL. Then he laughed. I'd never heard a laugh quite like that! Later I was introduced to Dennis from California, and from that moment on he was a friend and the 'slightly crazy dude in the speedos and baby romper.' My kids words, not mine."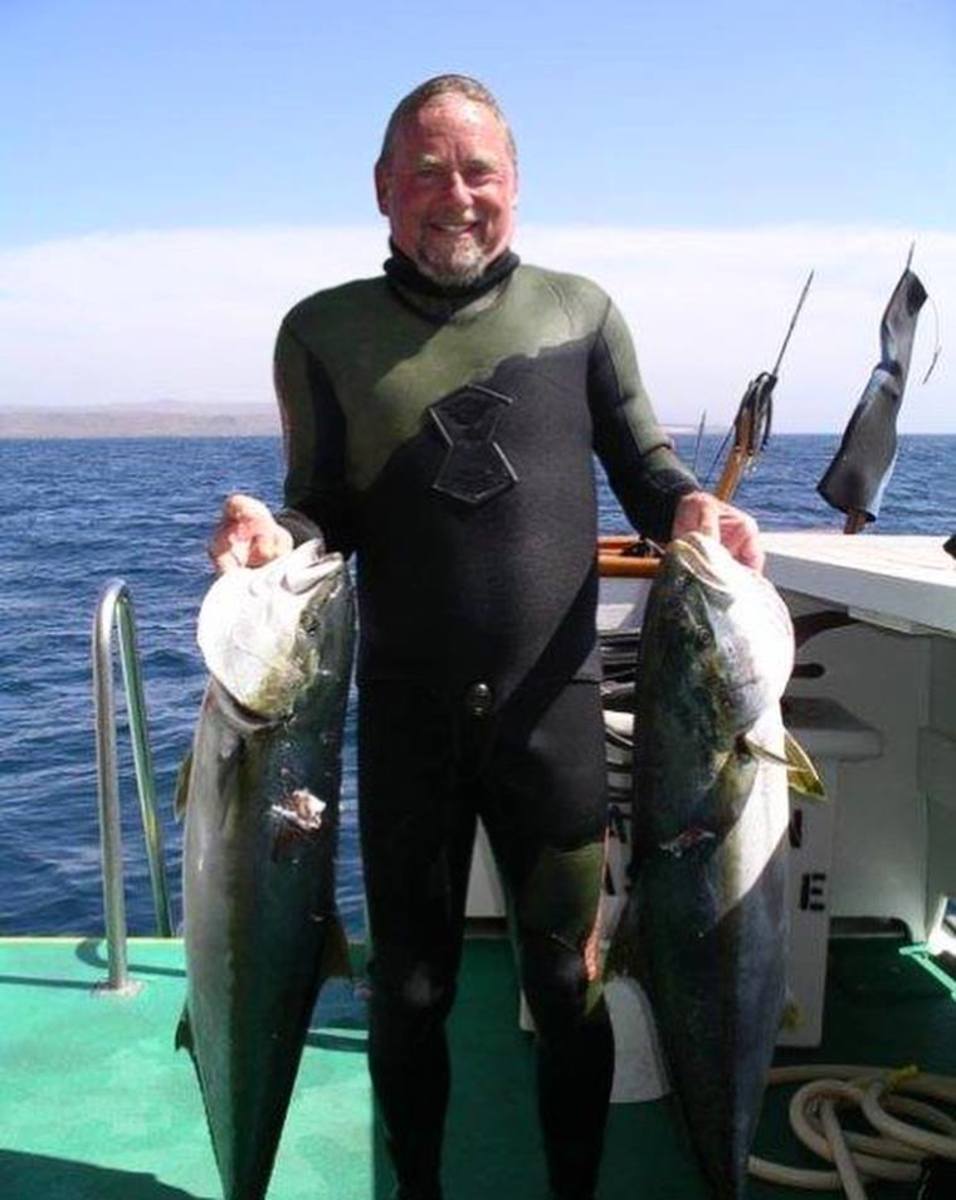 Sean Morley– "Dennis literally changed lives, daily. By teaching folks to swim, to dive, to surf. The greatest of gifts. He changed my life by organizing the premier surf kayak event on the planet that brought me to California and changed my life forever and for the better."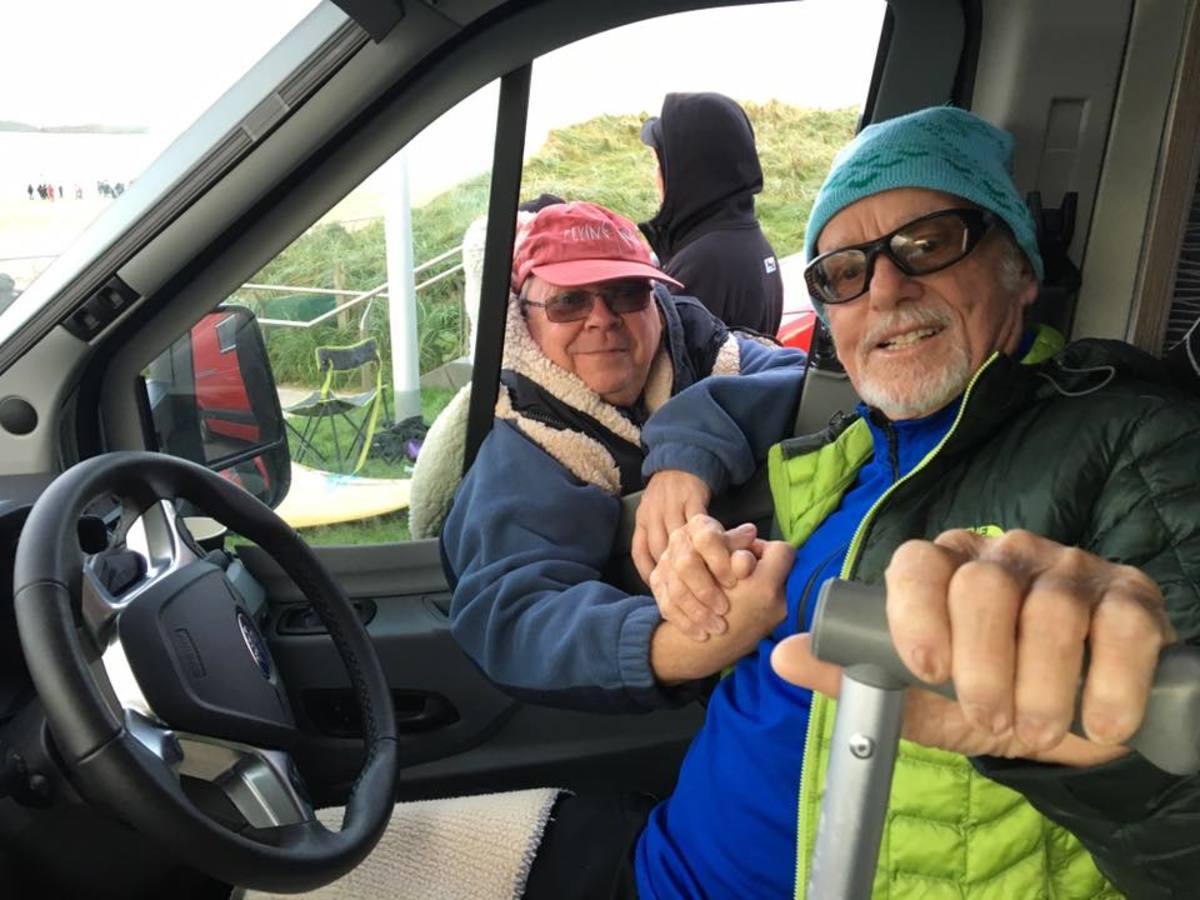 Marc Woolward– "Larger than life but so understated. Traveling with him on a surf trip in Costa Rica earlier this year and in-between the twice-a-day surfs (I swear he put the most water-time in that week, despite being well into his 70s) and his ongoing feud with four-year Willow over possession of the hammock, Dennis told us some of his stories. I am sure another human being will never again be able to claim charging double-overhead Cloudbreak (he wasn't even sure of its name) in their 70s in a kayak (!?!?) and being the former CEO of O'Neill? The word legend is overused. If you look it up in the dictionary, you'll find a picture of Dennis."
Dave Grigsby– "That laugh … One of a kind, I can close my eyes and hear him now. I love how he cracked himself up!"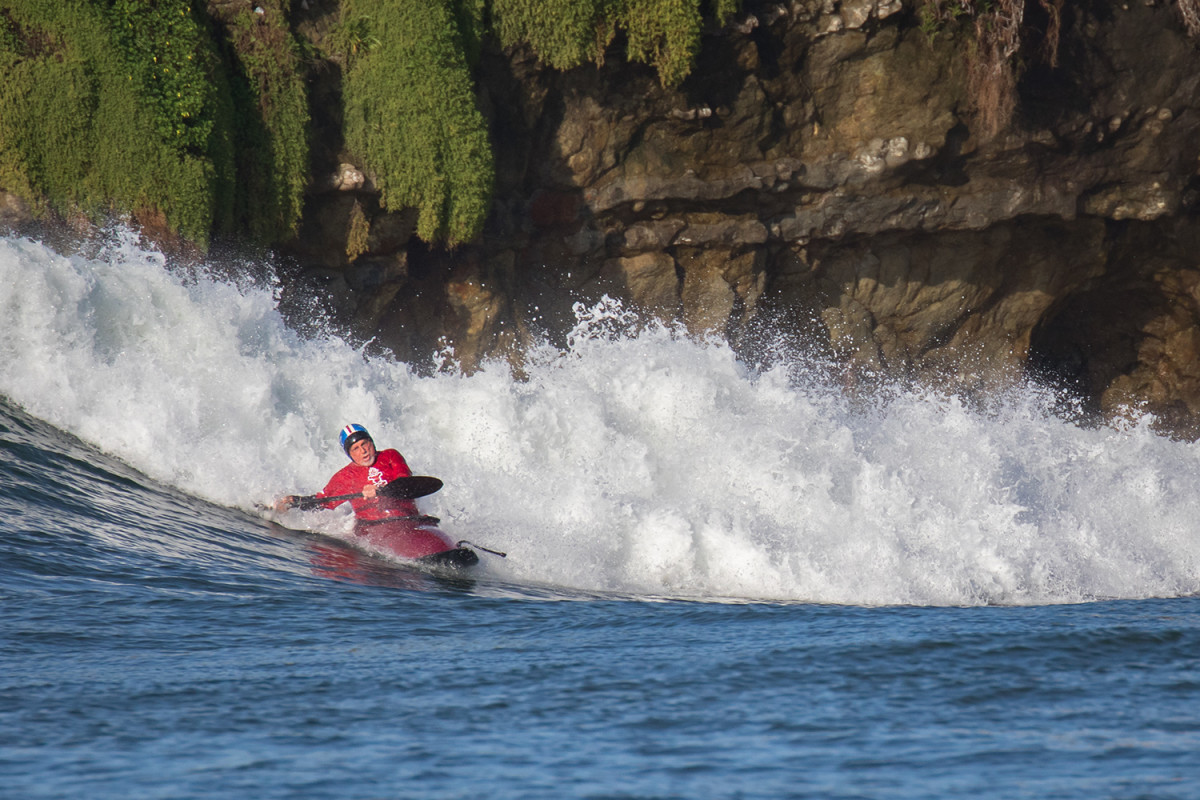 Scott McGuire– "One of my favorite memories was at the Kayak Surf World Championships in Costa Rica back in '95. Lots of Dennis stories from that trip, from changing a tire in a rain storm to learning Tai Chi in that Speedo. But the best was the closing night, everyone pretty lit and someone started a contest to see who could do the best impression of Dennis's laugh. People from all over the world gave it their best. The Scots, the Ticos, the locals and his own teammates. If you weren't trying, you were crying with laughter at all the impressions. Then Dennis's own laugh rose above all. He took it all in stride and laughed harder than the rest. Which really sent everyone off. My stomach hurt for days after from laughing so hard that night. He just embraced it fully and brought everyone together."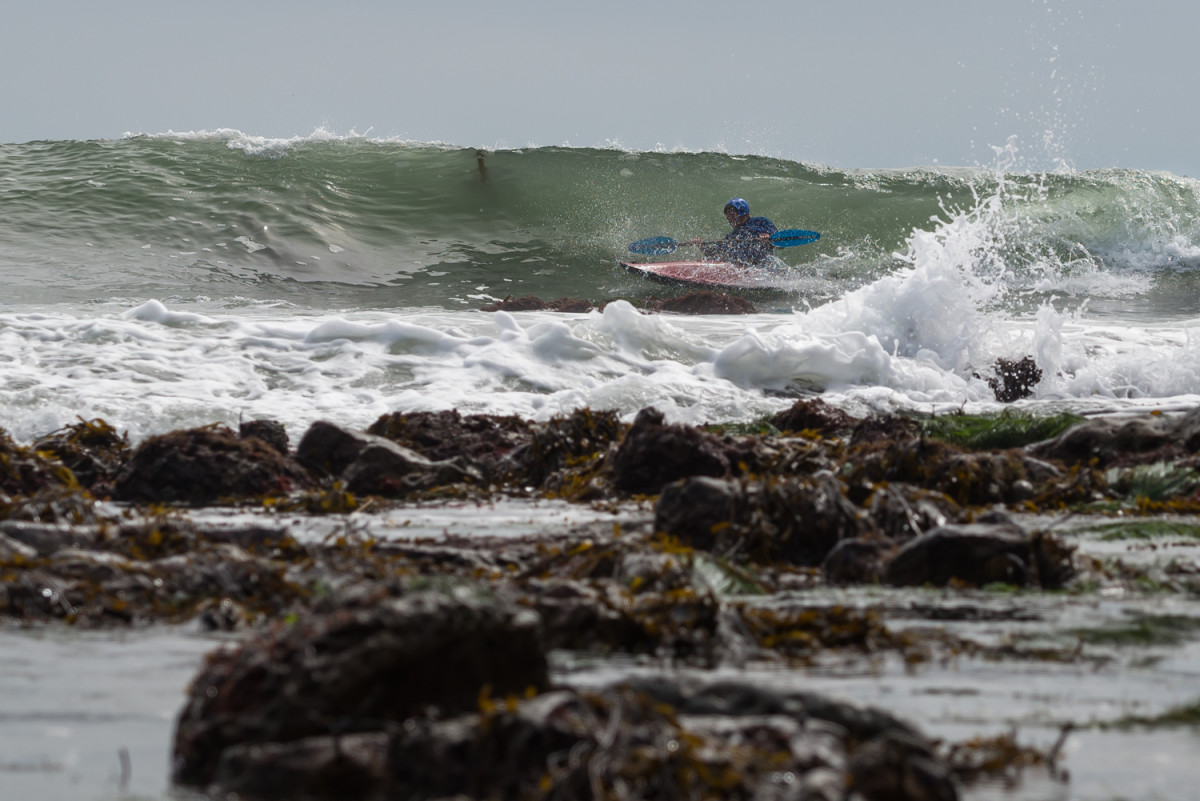 Buck Johnson– "This story illustrates Dennis's 'Devil May Care' attitude: During the early days of my surf kayaking, a friend of mine and I met at Davenport for a surf. The waves at the first break were small but we saw a couple of boaters out at the point dropping some bombs. We paddling north to join them and got about halfway there when we decided that they were at the "A" site and we were still "B" site surfers. Later, when we got the parking lot, we found out that the paddlers were Dennis and Mark Pastik. When Dennis asked why we didn't join them, I told him that the wave size and lack of escape route had me worrying about ending up on the rocks. He looked at my 'yak and said, 'You are paddling a Wold, the kayak will take the beating.' Then he cackled that laugh of his. It didn't seem to cross his mind that it wasn't the boat, but my body bashing against the rocks that was my concern. He was different and he was special. He will be missed."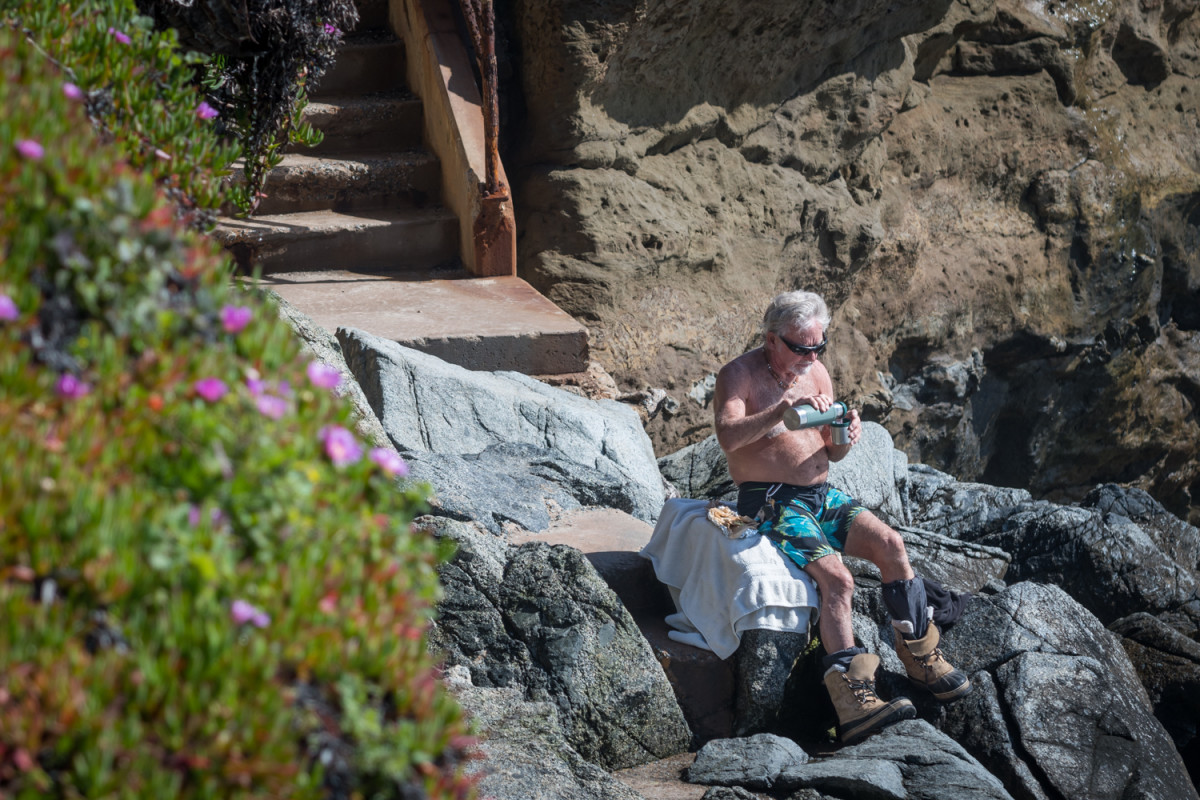 Teresa Rogerson– "I 'got' Dennis when at Sand Dollar Beach in Big Sur we were having a team surf. At night there was a carefully tended fire, and pitchers and flasks of cocktails — all by Dennis. In the dark I arrived to the fire in my typical fleecy whatever wear, and there was Dennis, keeping warm in his furry boots, his banana hammock with its bling reflecting the light of the fire, and a robe of some kind that in my mind was like a velvet king's robe. It didn't matter at that point if it wasn't. He was warm, and he was unforgettable. Most importantly, he was exquisitely kind and hospitable to each person who came to the fire. I felt like a child who is well loved around Dennis."
Ed Martinez– "Dennis was the penultimate waterman – I have never seen, heard about or met another that exceeded him. My memories will be of him charging most of the biggest days Steamer Lane has produced in 40 years in a kayak, partying till the wee hours then getting up in time for dawn patrol to do it all again (for a week straight). He was a monster in a kid suit."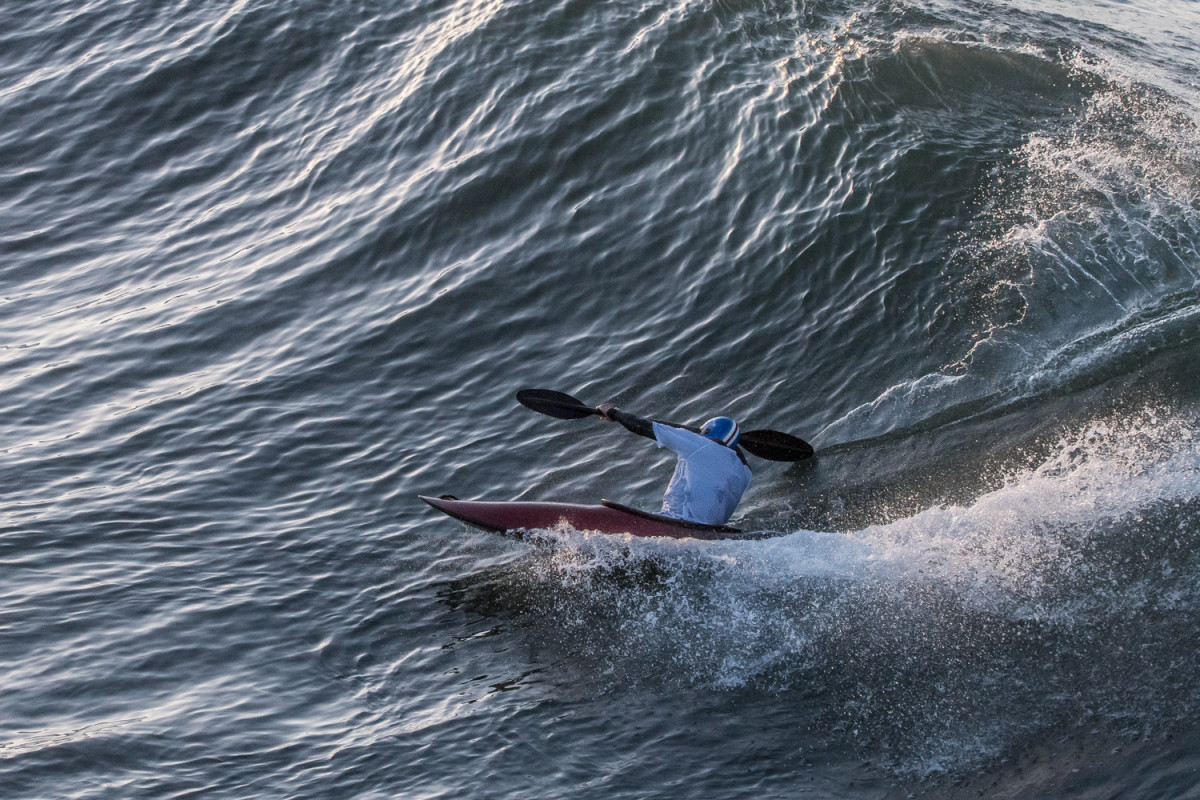 Joey Hall– "We organized the World Championships of Surf Kayaking on the East Coast of the U.S. in 2011. Two weeks before the contest date, a hurricane destroyed all access to the competition site. We had to scramble to move the contest an hour north. During that time, Dennis was so supportive, telling people he had full faith that we'd pull it off. I'll always appreciate that. We wound up having an amazing event. As the head organizer, I was absolutely floored at the awards ceremony to have Dennis present me with this beautiful glass wave sculpture, as a gift from the West Coast to the East. Having the most accomplished surf kayak event organizer of all time give me his approval meant the world to me."
Paul McHugh– "What kind of blazer goes with a Speedo? That sense of style will never come by again…"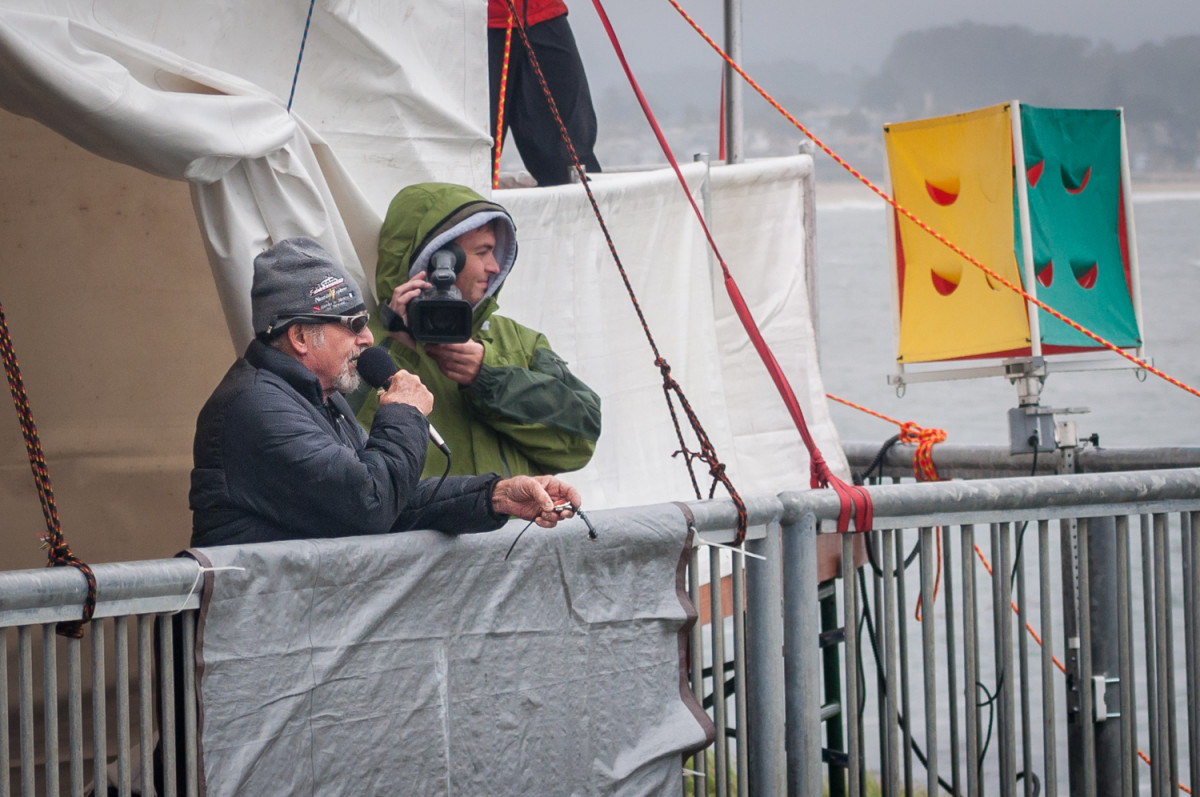 Jameson Riser– During the Surf Kayaking Worlds in Scotland: "Sun does not bring out the surf in Scotland … but it had been an overcast cold day and we had plenty of stormy surf that day in the competition. We were at the car park on a bluff overlooking the surf spot. Everyone was changing and packing up the cars. Dennis was standing in his banana hammock (and nothing else) drinking a martini (in an actual martini glass) and laughing (with the classic Dennis cackle) He was over looking the surf and yes the sun had just come out. He was looking at everyone and saying 'It doesn't get any better than this, just look at it, isn't it perfect and laughing again.' When he discovered how much I enjoyed the scotch, I stuck close to him that whole contest; he was tasting every scotch whisky he could order and was always sharing it with me."
Vincent Shay– "We had a Paddle-out at the 2017 Davenport Paddle Surf Classic this last weekend to remember Dennis — Great tribute for a great soul who always supported all things 'paddle.'"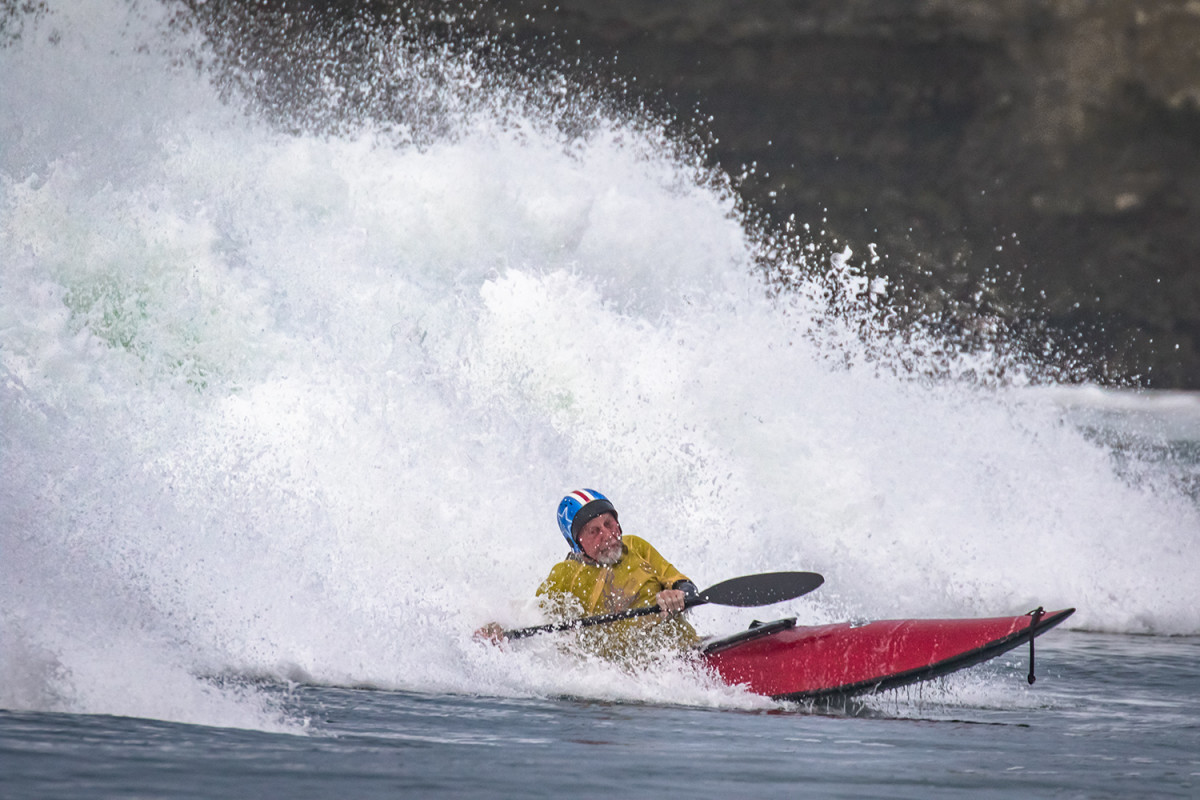 Mathew Hoff– "Dennis Judson truly was a force of nature. That man lived with such a huge energy and kindness about him that he touched the lives of everyone. Anyone who has ever met Dennis has a 'Dennis Story' and each one is more ridiculous and unbelievable than the last. These tall tales of laughter and happiness are why we loved Dennis."
R.I.P: Dennis Judson (January 14, 1944 – November 6, 2017)
---
— Dorr's coverage from this year's SCPF and more on the new era of the classic event.
The article was originally published on Canoe & Kayak
For access to exclusive gear videos, celebrity interviews, and more, subscribe on YouTube!