This is part II of the two-part post, Deso/Solo. Click here to read Part I: Solo trip or death sentence? • an eclipse on the river • just some regular old symmetry-focused topographic detective work.
As I continued down-canyon, the walls rose in contrasting sedimentary layers. Occasional beavers crossed the current. Next, a raft and kayak flotilla — the other permitted launch of the day — motored past at a swift clip, offering cheerful waves. Guy had told me that many trips motor through to the inner gorge, but he felt there was much to explore in the stark beauty of the upper 20 miles. I kept pushing my oars across the flattest of flatwater until setting camp upstream of Gold Hole.
After inflating my new NRS Quiver paddleboard, I floated downstream in search of an old iron-prow skiff — and found it tucked under a ledge on river-left, with a few hundred mosquitos. On the itchy return to camp, I fought the current, ferrying back and forth across the river. I realized if I'd gone much farther I might have donated my raft and tent to the river gods.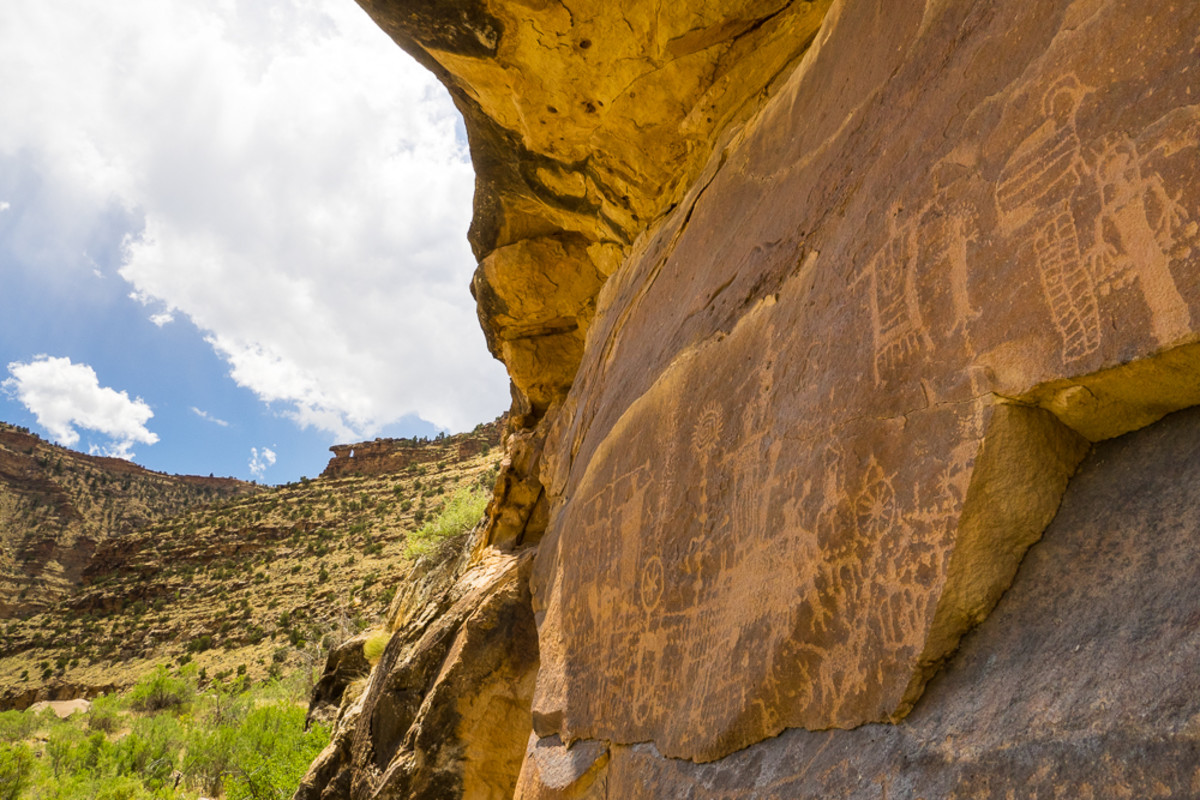 The next day, my body ached from all the rigors of driving, packing, and launching a solo raft trip the previous day, but I was determined to make every stop. First was at Rock House Bottom, where I hiked up a side canyon searching for a petroglyph panel attributed to the ancestral Fremont culture. Above, a red-tailed hawk soared amid steep crags and spires. Below, I searched the north-side cliffs for rock art. Rounding a corner, I entered a narrow space between brush and cliff. At my feet were dozens of piles of bear shit, in round piled clumps. I practically jumped back out of this slot, my head on a swivel. And there were the petroglyphs! How convenient. I briefly forgot about the bears, as I followed a 500-year-old herd of bighorn sheep etched into solid rock by a lost and ancient civilization.
As I returned to my boat by a new path, I noticed dozens of paw-pads and claw marks in the mud near the river. And just downstream, I heard a large animal rustling in dense brush, but I never confirmed if it as cattle or bear. Thunderclouds rose as I passed beneath Lighthouse Rock and entered the inner gorge. I'd briefly considered retaking the famous original photo from the 1871 Powell expedition, but the left shore was overgrown with tamarisk, an invasive species currently being managed for removal. Downstream, the canyon unfurled in stairsteps of crimson rocks and green cedars, like an overlapping series of Christmas-themed pyramids.
For days, I rowed through riffles and long, slow pools. Hiked along washes and creeks in search of panels of inked-on pictographs and etched-in petroglyphs. Camped on sandy beaches and explored the shorelines by paddleboard. Read books, until the sun lifted off the rocks and stars replaced blue skies. I inspected abandoned artifacts in a moonshiner's cabin in Firewater Canyon. At Rock Creek, where Deso approaches the Grand Canyon in rim-to-river depth, I explored an abandoned ranch made from fitted stones. Stumbled across a massive praying mantis devouring a struggling lizard on the trail, and nearly rolled my ankle in the process.
Thunderstorms descended here and there, and one day I rowed right into one. Then I rowed to shore when lightning closed to within a mile. Then I stood on shore as fat raindrops pelted the river. And finally, I crawled under an alcove, and hid, as lightning struck the far side of the river and ignited a small stand of cedars.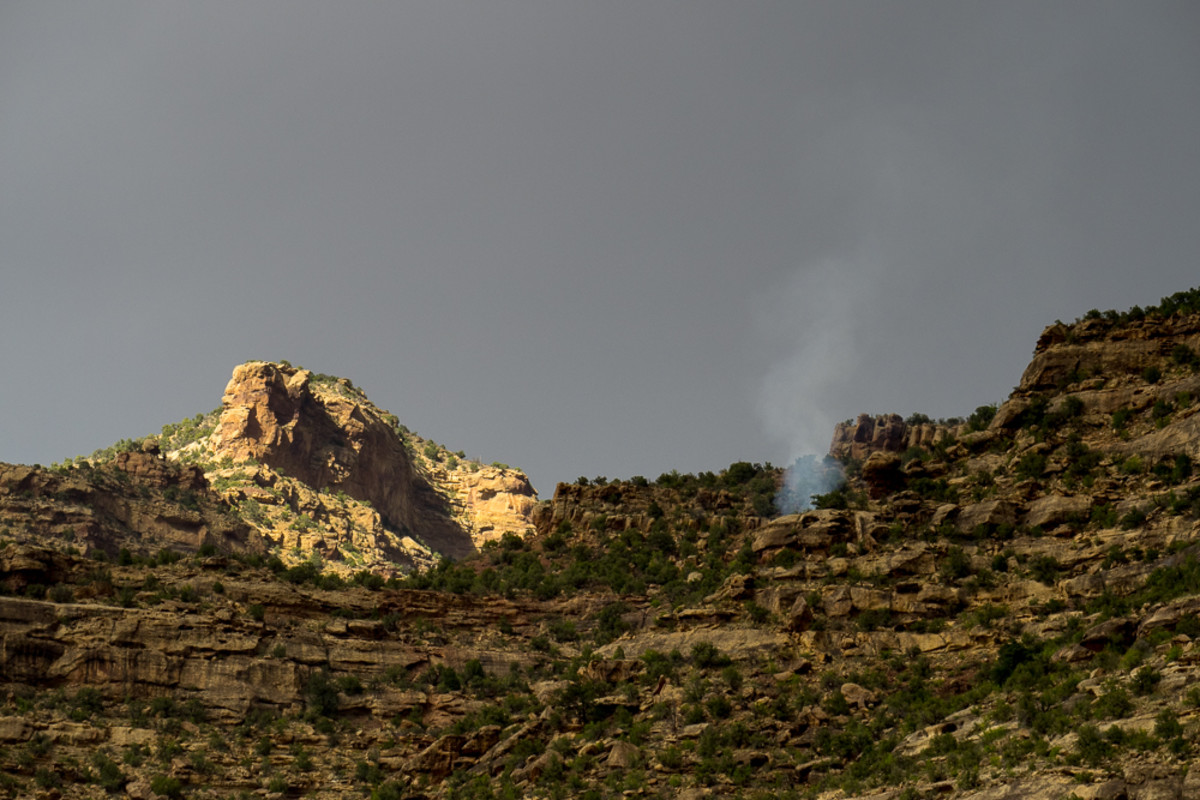 As I continued, the days blended together, until the canyon sadly began to recede. Suddenly, I crossed a few groups here and there, clinging to the remaining miles of Deso. While I hiked, they passed down the river and waved. While I rowed, they bent up from building tents at sandbars and waved back. Meanwhile, small fish flopped across the surface of the water, and I stopped to inspect an inscription by Denis Julien, a French trapper who traversed the areas in 1830s. I approached with caution the Joe Hutch Rapids, but found the plunging chute to be good clean fun. Searching McPherson Ranch on the Uinta and Ouray Indian Reservation reminded of the challenges the Native Americans of the region still face.
Five days in Deso had passed in a blink. After descending the two most challenging Class II+ rapids — an abrupt drop at Wire Fence and a sinking plunge of Three Fords — the brilliant colors and surprising vitality of Desolation Canyon fell behind. Now, I entered a canyon called Gray, which at one time was named Coal Canyon by the original expeditions, after a lignite seam running midway through a stark and crumbly landscape. More like upper Deso than inner, I'd been told to expect swifter current here, and more rapids. But in the limited August flows, instead I found the occasional boulder bar riffle split by agonizing pools.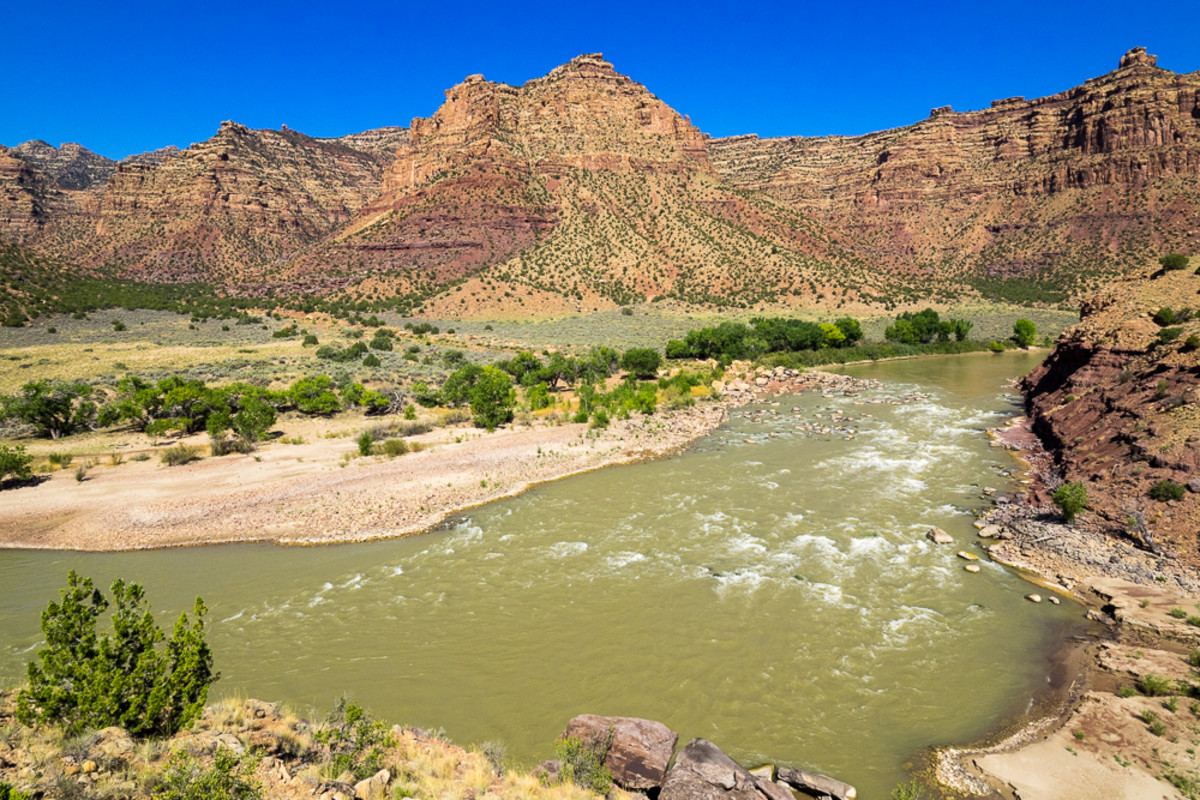 I'd rowed 75 miles, across what felt like occasionally draining bath tubs. And speaking of baths, I was pretty ripe from all the paddleboarding, hiking, and scrambling around mythical sites. Now my arms felt heavy, as I pushed alternating forward strokes across yet another stagnant pool. I've always used a cadence on long-distance kayaking or rowing trips, typically a one, two, three, four, kind of thing. But in these deeply historical canyons, my cadence transformed from numerical to oddly verbal.
"Hey, Fremont culture," I said. "What were you doing out here? Was it a time of wetter climate? Were you hiding from other tribes? Did you owe someone money?"
"FYI, we weren't some single entity made up of a collective consciousness but a group of complex and disparate individuals," said the imagined representative of the Fremont culture. "But yeah, it was pretty rough doings back then."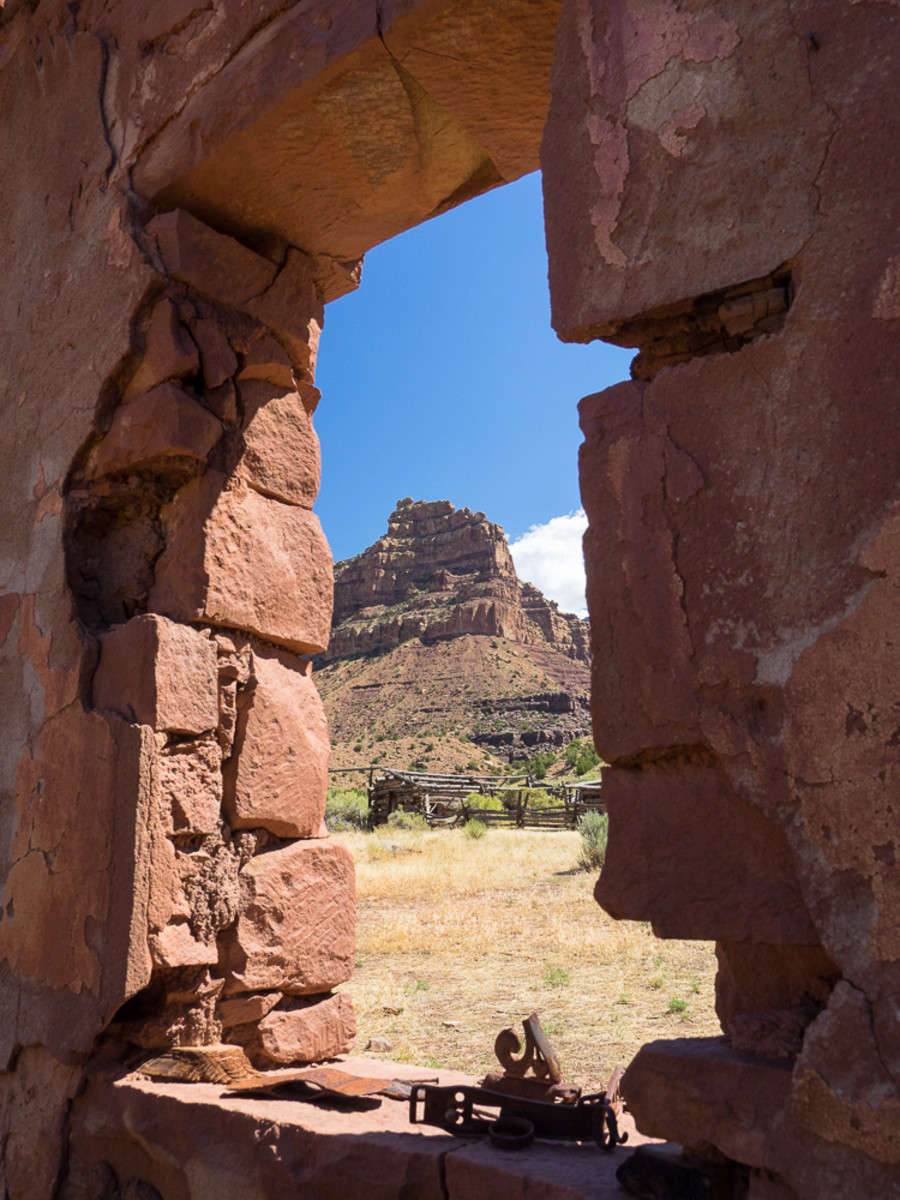 "Hey, Denis Julien," I said. "You're such a badass to have wandered alone through empty deserts full of loose shales, incontinent bears, and ambitious praying mantis. Do you think I'm a wimp for rowing a rubber raft with a cooler full of cold beer down a desert river in August?"
"There's a great deal of anachronistic references in your question that I'll need to unpack before answering," said imagined Denis Julien. "But tell me more about this cold beer."
"Hey, John Wesley Powell," I said. "I just don't understand the name Desolation. The first twenty miles, sure. But it's pretty thriving below Lighthouse Rock. Along the upper route, you renamed the canyons every few miles, practically. Did you consider Hidden Canyon?"
"Look, pal," said imagined John Wesley Powell. "There was a lot going on. By this point, we were mostly dragging wooden dinghies around rapids, eating soggy biscuits and bacon fat. It wasn't really an ideal situation for creative expression. But, hey, I second Denis on that cold beer query."
I continued through the windings of Gray Canyon, occasionally stopping to peer into deeply cut side-canyons. I passed Saleratus Rapid, which my map incorrectly reported was the spot where the 1869 expedition lost their baking soda and switched to flatbread — an event which actually occurred at Bright Angel Creek in the Grand Canyon. Near Coal Creek Rapid, I explored an old miner's cabin. The next day, below the long boulder garden of Rattlesnake Rapid, Nefertiti rock appeared on right. Entering the Green River Daily section, I soon encountered some day-kayakers.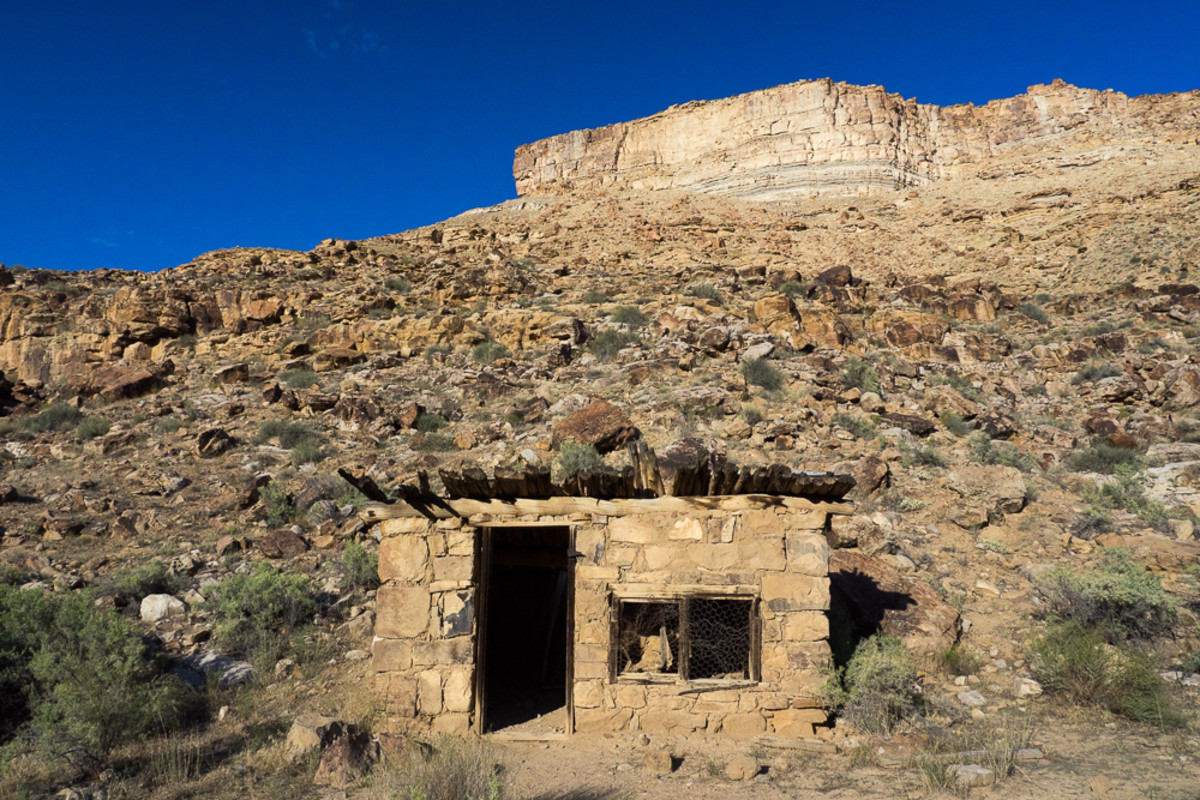 "Where's your group?" asked one kayaker, dumbfounded.
I glanced over my shoulder and startled for comic effect.
"You took off without them?" The kayakers were laughing hysterically, like this was the funniest thing in the world. Then, when I told them I'd come down Deso solo, they got quiet and humble, like this was the most terrifying thing in the world.
"What's it like?" asked a young woman in a whitewater canoe.
"Some pretty hard rapids up there," interjected the first guy, before I could speak.
"It's not much different than down here," I said, running through the few challenging spots by name. Then the first guy admitted none of them had ever been, so I encouraged them to give it a try someday.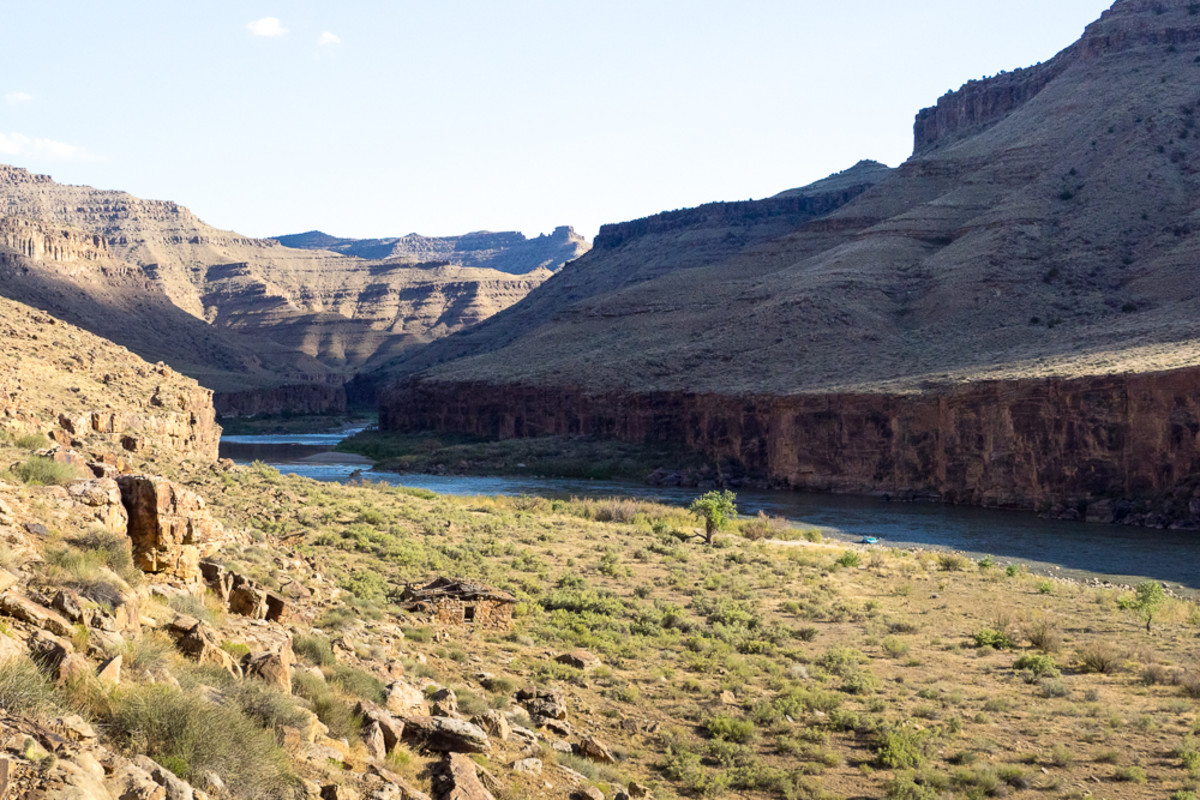 The takeout was at Swasey's Beach. Across the river, rose the iconic Gunnison Butte, like a landmark from a spaghetti western. About this outcrop I would soon learn one final myth upon visiting with the director of the John Wesley Powell River History Museum, in town. A myth not unlike the one that the rapids we've never seen are the hardest. Or a myth that despite having the skills, experience, and confidence to run a river, a solo trip is a death sentence.
That final myth: On the northern edge of Gunnison Butte there was once a rock pinnacle called Old Brigham, which rose like a needle in a pin cushion over the valley below. Green River, Utah was one of the few towns in Utah not founded by Mormons, and it had long suffered from more busts than booms. Residents believed they'd been cursed by this rock and talk of destroying it circulated for years. Then, one day many years ago, there was a great thunderstorm. Through the darkness of the storm, some claimed to see a flash, more of dynamite than lightning. And the next day the rock was found toppled.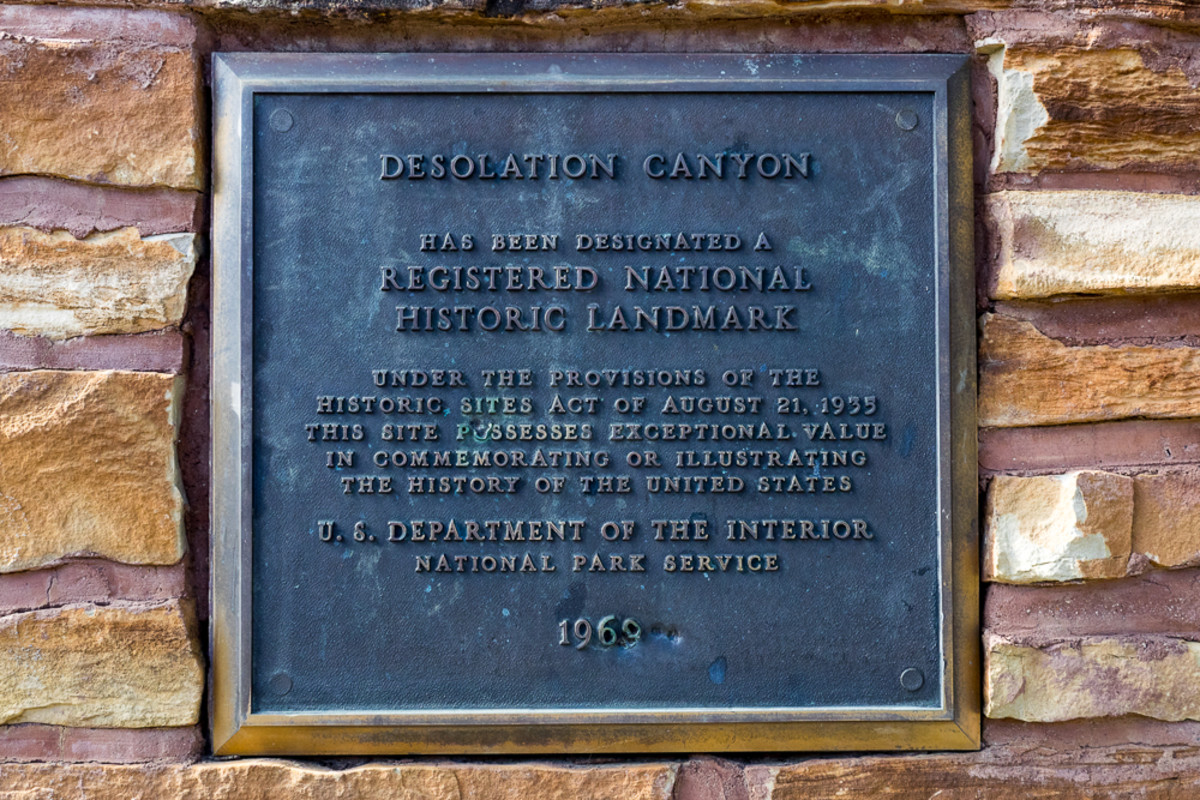 I guess some things just can't be known for sure. Did a drunken mob blow up Old Brigham? What was the fate of the Fremont culture? Who was Denis Julien? Was Sumner's Amphitheater misplaced on maps? I left Green River — a town with plenty of potential but still waiting for its boom — with more questions than answers. But at least I knew one thing. Such myths and mysteries live on, deep within a canyon called Desolation.
Read PART I, plus more by Mike Bezemek, who writes and photographs the series Regular Paddler, Remarkable Waters  and Weekend Expeditions for C&K. He is author of Paddling the John Wesley Powell Route and Paddling the Ozarks for Falcon Guides and Twit Lit Classics® for Skyhorse Publishing, a book series which reimagines classic works of adventure literature as tweets for a 21st century audience. Learn more at mikebezemek.com.
The article was originally published on Canoe & Kayak
For access to exclusive gear videos, celebrity interviews, and more, subscribe on YouTube!