I called Eric and Laura on a lark. It was the day before we put in for a last-minute four-day trip down Utah's Labyrinth Canyon, and I wanted to know if they'd drop everything to come along. It was an absurdly long shot, with the schedules of two adults and two kids to consider, plus the fact that they'd be coming from Seattle, a 17-hour drive if you don't stop or pay much attention to the posted limit.
I should have given them more credit. It was raining in Seattle, sunny in the desert, and Eric and Laura Zann are justly famous in our circle for making long rallies. They said yes on the spot, piled the family and dog into the minivan and cannonballed through the night, arriving from the west at the same moment we pulled in from Colorado one state to the east. Eric hung his bleary-eyed head out the window, crying "Tomas! We're here! Let's go paddling!"
In honor of Eric and Laura, we appropriate an overused advertising slogan as trip motto. For the next four days we resolve to Just Do It, without giving much thought to whatever "it" may be. Within hours, shuttle service Tag-a-Long Expeditions has dropped our fleet of five canoes and one sea kayak at the Ruby Ranch put-in on the muddy banks of the Green, 23 miles below the town of Green River, Utah. After squeezing collapsible tables, chairs, portable toilet, 15 gallons of water, smoked oysters, one slingshot, a full wet bar and one muddy dog named Toby into our boats, our group of 12 pushes off into the gurgling current.
The Green River originates high in the Wind River Mountains of Wyoming, quickly gaining size and character as it winds 730 miles south through Utah, metamorphosing from a sparkling crystal clear stream into a sluggish muddy giant. Numerous stretches of the Green are famous for their whitewater including the Gates of Lodore and Desolation Canyon. This section, Labyrinth Canyon, offers calm water and stunning canyon scenery. It's a perfect trip for a group like ours, with five kids. Best of all, permits can be secured very easily, so last-minute expeditions like ours are a snap even in the middle of summer.
Soon after the San Rafael River trickles in from river right, the Green changes character. Sage-covered rolling hills and ranch land give way to vertical orange sandstone walls and airy cliffs. Black zebra stripes of desert varnish streak the walls. Soon the intense summer sun is clipped by the high walls, and the cliffsides constrict even further. We round an oxbow and camp at an intersection of canyons known as Trin-Alcove Bend.
---
Sage-covered rolling hills and ranch land give way to vertical orange sandstone walls and airy cliffs. Black zebra stripes of desert varnish streak the walls.
---
"Hey dad, I see a petroglyph!" announces our son, Skyler, soon after landing. "Look, up on the wall above the tent. And there are even more by the kitchen!" The Green River canyons are covered with ancient Native American rock art, most likely left by the Fremont Culture (500-1275 A.D.). Almost every major side canyon reveals clues from earlier inhabitants, including dwellings and drawings ranging from fist-sized sheep to life-sized human forms.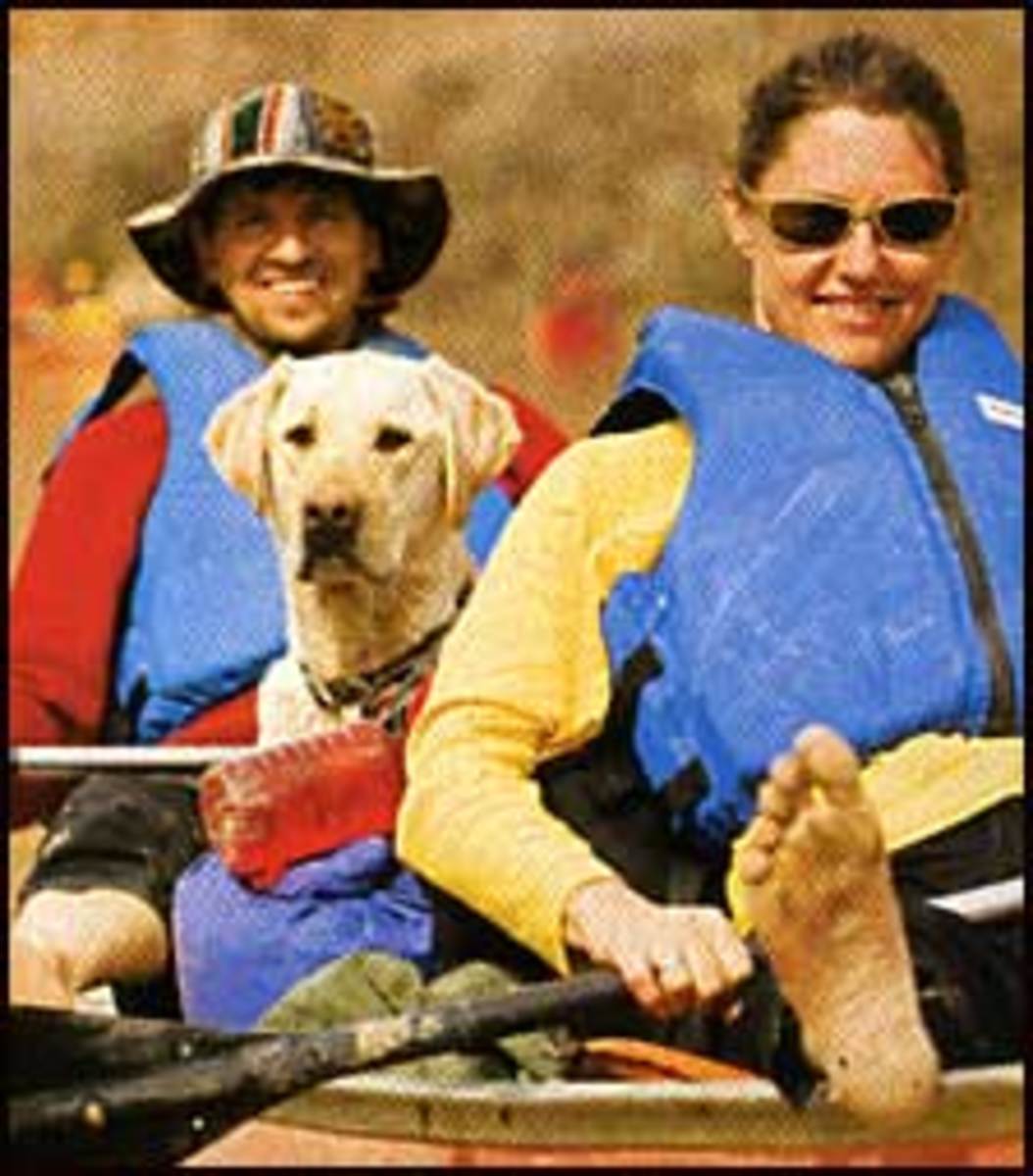 The "ancient" pictographs near our kitchen wind up being muddy handprints from recent boaters. The shaman figure above our tent is another story—carved into black desert varnish on a narrow ledge centuries ago. The kids spend hours searching for more rock art, finding other figures near camp. With a fresh-water stream cascading out of narrow side canyon nearby, its obvious this fertile location has been inhabited for centuries before us.
Our Just Do It mantra comes in handy in motivating the crew for day hikes up side canyons and the kids to do the dishes. For me, personally, this trip is a much-needed respite from a go-go life back home. It gives me permission to just lounge in the canoe or drop over the side and just float in the warm current.
Our little armada of boats continues downstream with no real schedule to keep. Late in the day we encounter a narrow strip of toasty white sand directly below a huge overhanging sandstone wall. Someone mentions sunbathing and sand castles, and, dutifully, the rest of us Just Do It. Eric, paddling by himself today, was last seen with his legs drooping haphazardly over the gunwale of his canoe, apparently catching a cat nap while ricocheting lightly between sand bars and rocks. Soon he comes into view far upriver, his canoe spiraling downriver like a leaf falling in slow motion.
Near our little beach is a river register, an area of modern-era river etchings left by boaters. While we don't participate in this tradition, some of the artwork is impressive. One human figure is about 7 feet long, deeply cut into the sandstone wall. Many others are simple names and dates of boaters on the river. We spot the famous inscription left by Denis Julien at head height.
Julien was a French-American trapper with a penchant for river travel and a habit of carving his name into the canyon walls. His inscriptions, all dated 1836, are found at many points on the Green and even Colorado River. In the spirit of Denis Julien, we look for beaver while we continue paddling downriver, spying one large chocolate-colored furry critter ferrying across the current near our campsite.
On our last morning in camp, the Zann clan is looking restless. We can see our takeout at Mineral Bottom in the distance.
"So Tomas," Eric says as we load dry bags into the canoe, "what are we going to do next?"
"I'll have to look at the calendar to see when we can get some time off," I say lamely, but I can tell he isn't buying it. This is the guy who loaded up his family and his dog and drove halfway across the country on a phone call. He just keeps smiling until I wither. "On second thought," I say finally, "we're already in Moab. Let's go mountain biking."
"Okay," he says. "Let's just do it."
---
IF YOU GO:
Labyrinth Canyon of the Green River, Utah
River permits can be obtained for free from the BLM or through Tag-A-Long Expeditions (tagalong.com), who can also provide shuttles and gear rentals, including mandatory firepans and river toilets.
April and May have lower water levels, but ample sandy beaches for camping and milder temperatures. Spring weather can be hot and sunny to cold and wet, so plan for both. June brings hot weather, higher water and fewer—though still ample—camping options. July and August get really hot. Suitable for canoes and sea kayaks.
The article was originally published on Canoe & Kayak
For access to exclusive gear videos, celebrity interviews, and more, subscribe on YouTube!