A shoestring adventure in unfamiliar waters in the name of freedom, exploration and staying stoked
Words by Mike Misselwitz
Photos by Zach Mahone
The June heat bent the air rising off the rails as we pulled from the station at Grand Junction. Western Colorado's vast Grand Mesa flashed between the adjacent boxcars creating optical illusions in the heat waves. We barreled out of Junc-town into the arid plateaus, passing oaks and hay bales, cows and an odd couple of fornicating goats, and then, the centerpiece—the mighty Colorado River—weaving through the high desert like the stitching of a well-worn quilt.
I took over an empty row in the back of the lounge car and sprawled across the seats like an unsupervised child. It'd been too long since I'd kicked off my shoes, shut down my laptop and just sat still; too many months of work-eat-sleep-repeat. That sort of concrete daily existence wears on a person such as myself raised free to roam on dirt and play in water.
Staring into the Colorado's runoff roar, the bumper-to-bumper baggage of my "normal" life back in Southern California—a life, which as of late, seemed to be relentlessly grownup—was displaced by the reprieve of this journey.
The grind to make my way in the world paused as the world came to my window. I felt like a kid again, but I still had some work to attend to.
My assignment: three days in Vail, Colorado to cover the river SUP races at GoPro Mountain Games, the revered high-country competition of outdoor sport. Experiencing that elite performance in a world-class venue promised to be awesome, a privilege for any journalist and outdoorsman. It also promised to be long days of hard work, deadlines, stress, pressure and business.
But a month before the trip I swapped the dates of my return flight to spare four open days for exploring the whitewater scene, turning my assignment into a jumpstart vagabond adventure. Beyond the storybook of Vail, the greater grit of Western river playgrounds called. I wanted a first taste of this curious culture—gut-churning rapids, echoing canyons and hard-earned beers around riverside campfires. I needed a good dose of dirt.
Dirtbaggery does not fly well in Vail. There I'd have a hotel room for the Mountain Games, but for four days following I'd have a sleeping bag and the softest ground I could find. Four unplanned days isn't exactly customary for a man whose every move is currently plotted out on a Google calendar. Worst-case scenario, I'd have an adventure.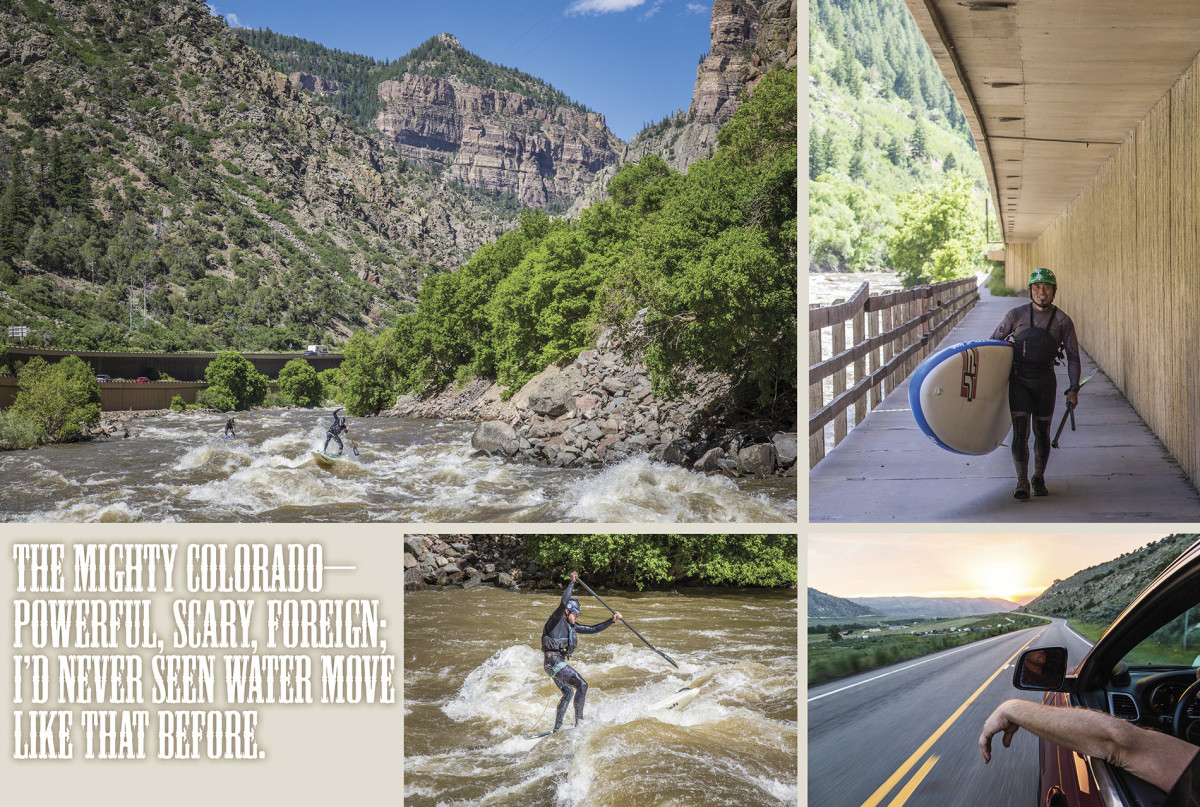 That adventure started when my train ride ended in Glenwood Springs, where a call ahead had landed me a ride to Vail with friend and local whitewater maven Brittany Parker.
The emergency lights on Brittany's giant Sprinter van were flashing uncontrollably when I found her waiting curbside at the Glenwood Springs train station … not a good sign for a guy banking on a lift.
"Welcome to Colorado!" Brittany tooted her horn with big eyes smiling, "This is my good friend Jacob Quinlan and this here," she patted affectionately on the dash, "is Blinky."
Turned out, Blinky's sporadically flashing hazard and dash lights were normal. Brittany bought the van earlier that year with more than 300,000 miles on the odometer. She figured after that many miles tramping the US and Canada, Blinky, in her old age, had earned the right to flash her lights if she pleased.
"Don't worry, blinking is just the van's thing," Jacob laughed. "Take the front seat. You'll want a good view for this drive."
We saddled up and set out for Glenwood's namesake canyon, Blinky's gauges flashing while Brittany and Jacob shared their stories. Brittany, a pioneer of standup river surfing and women's whitewater SUP, spends her days traveling the country as an ambassador for Badfish SUP and hosting events for her RVR2RVR enterprise, an organization geared toward introducing women to river paddling. Jacob, a stout river surfer with an extraordinary understanding of whitewater mechanics, works as an engineer for Surf Anywhere, an organization dedicated to developing waves in whitewater parks around the nation. This was my introduction to the Western whitewater society—the genuine funk of a van-life gypsy gang in pursuit of the next pumping river wave.
Up I-70 and into the Rockies we blinked, the Colorado's wild Shoshone rapids foaming and flashing torrentially below, limestone walls and collages of ancient stratum climbing a thousand feet above.
That same river has grooved its trough ever deeper into these mountains since the Ice Age, building the geological marvel now known as Glenwood Canyon.
The Colorado dominated the view. Powerful, scary, foreign; I'd never seen water move like that before.
"This is a great week to be here," said Jacob. "These rapids only turn on like this for a few weeks a year and that's right now. The flow looks to be around 10,000 cfs (cubic feet per second); only a couple standup guys would even think about running Shoshone at this flow."
Little did I know, two days later I'd witness those couple guys buck down that same section, the start of many surprises on this escapade. But for now we were on to the Games.
We landed in Vail and hot-damn the hype was real. I bid farewell for the time being to Brittany, and my child-like hiatus morphed back to business. A who's-who of outdoor athletes and aficionados wandered among tents erected by the dozen showcasing the market's latest gear—SUP, kayak, trail running, mountain biking, slacklining, disc golfing and even dog fetching. Competition of all sorts grew crowds at every corner of the resort village. Vail Valley's timber-railed footpaths between swank hotels were super-highways for thousands of spectators roaming amid the global sum of adventure sports outfitters. Disneyland for the outdoorsman and woman.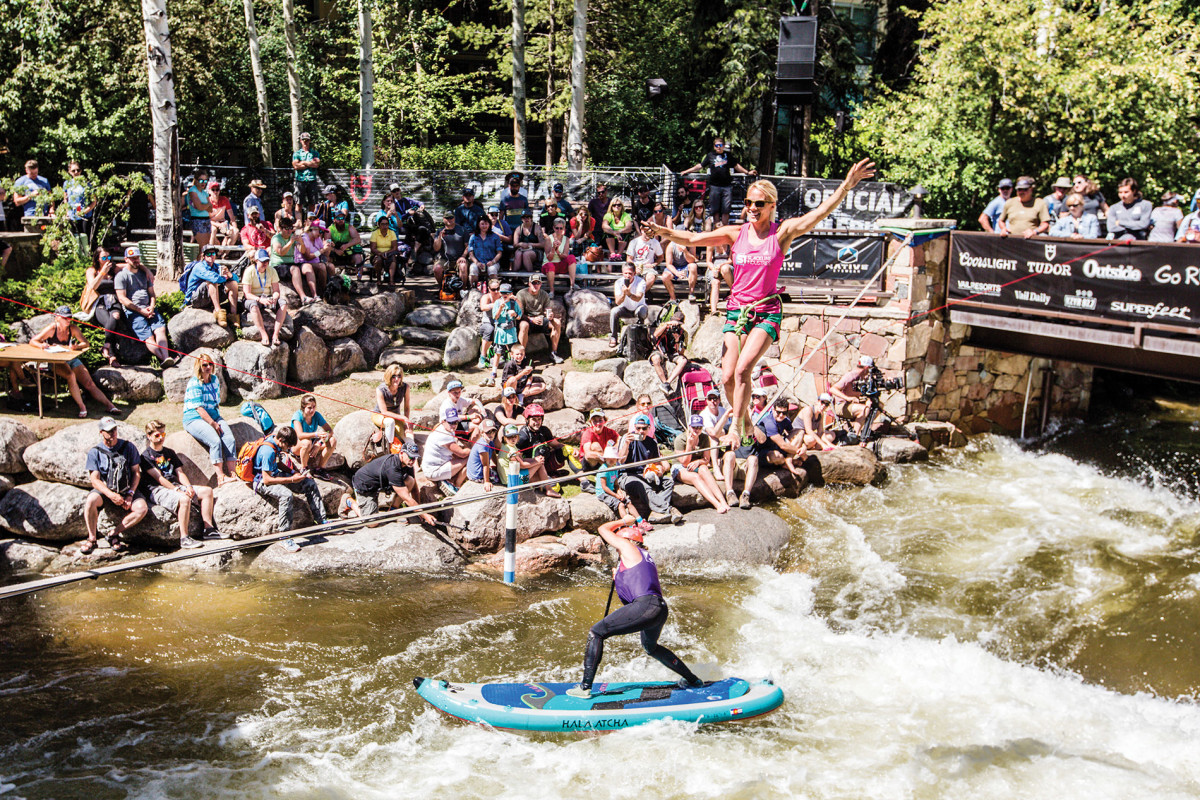 Cutting through the center of it all, the banks of Gore Creek were lined with spectators as the world's best whitewater paddlers battled down the rapids. The competition opened with the downriver SUP sprint—a three-mile time-trial through class-II/III rapids that sees competitors tumbling over rocky shallows, ducking low bridges and stomping or being stomped by steep drops. Next came the SUP cross, where competitors race rail-to-rail around scattered checkpoints in five-person heats, some cleaning rapids seamlessly and others colliding into all-out yard sales. It's a spectacle that needs to be experienced to fully fathom. The crowd ate it up; carnage really does sell.
Amid the chaotic honey hive of the GoPro Mountain Games, the river contingent stuck together like a traveling band. These athletes dedicate their lives to traveling the States' circuit of river competitions, converging riverside at various events for what feels more like a family reunion than a serious competition. Laughs, hugs, high-fives and of course, cheap beer—a signature of the off-water river culture—all flowed freely across the crowd.
Among the competitors were repeat Mountain Games victor and whitewater SUP pioneer Michael Tavares and his young and fiery rival/friend, Spencer Lacy, a Colorado native who's garnered a reputation as the best standup guy on whitewater today by running the entire Grand Canyon on a SUP and pioneering first-SUP descents in notorious Chilean waters. Lacy took second in the downriver sprint just ahead of Tavares and behind Masayuki "Yacu" Takahata, a modest but immensely talented river standout from Japan. Taking the podium beside them was Natali Zollinger, the stout Moab farm girl-turned-whitewater expert who took the women's SUP Cross, and Kiwi star Annabel Anderson, who rarely paddles whitewater but ended up taking first in the Downriver SUP Sprint. It was the most communal, makeshift and fun-loving podium I've seen while covering events.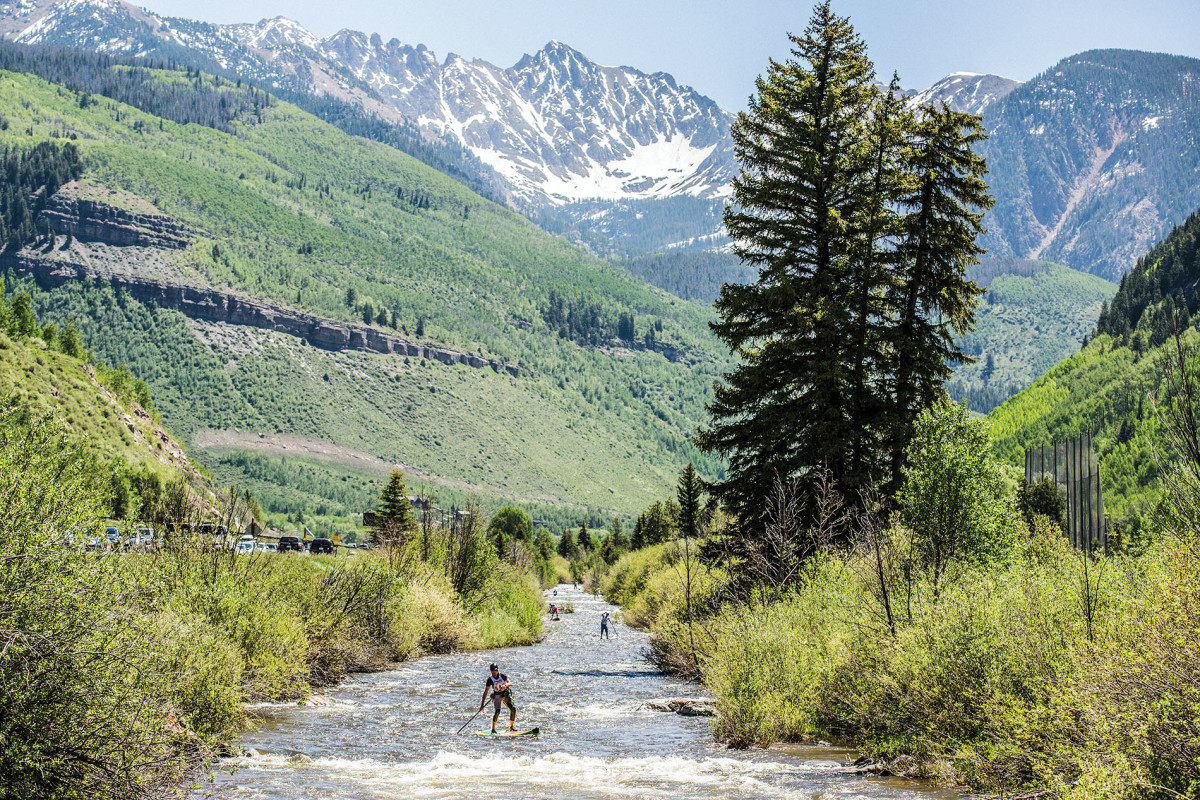 When the Games ended I shut down my laptop and photographer Zach Mahone and I lit out of Vail like we were on fire, the prospect of whitewater and no obligations fully eclipsing the high-frequency frenzy we'd just surfaced from. With my hotel days in the rearview I crashed on Zach's couch that night next to his pooch Koko, and fell asleep fast to thoughts of the adventure. It felt like I'd finally made it to Colorado.
Koko's farts woke me before dawn and we filled Zach's roof box with paddle and camping gear and hit the road. I'd made plans to shoot photos of Spencer and Yacu running Shoshone, the stretch of whitewater I'd seen days before. The flow had risen and the rapids looked like death; thundering heaps of whitewater rising and folding by the ton, whirlpools sucking into centrifuges deep below. As a lifelong ocean surfer the prospect of scoring double- or triple-overhead surf is what I live for, but the way this water moved scared the shit out of me. My child-like gumption to try it myself was temporarily quelled and I resolved to watch and learn for the time being.
Spencer and Yacu had already run Shoshone twice when we met them at the put-in. Before we'd part ways that afternoon, they'd lap it twice more. The devotion and calm to stroke into that turmoil standing up, over and over, is dedication you rarely see. The type of adrenaline-fueled, here-and-now mentality—the ability to embrace one moment at a time—was a reminder for my own busy life.
"It's pretty brutal," Spencer laughed after a particularly wet run. "See that hole? I got pinned under there for a while and had to climb my leash to find my board."
Spencer's account sounded a lot like a two- or three-wave hold-down, one of the scariest situations in ocean surfing. He called Shoshone a Class-IV section, perhaps modestly, but that was coming from the same dude who told me I'd be fine in these rivers with a thin wetsuit. Turns out Western whitewater is freezing, as I'd find out first hand the next day on the next river a little farther west.
Morning came before dawn and I roused in my sleeping bag on the floor of the Adrift Adventure River Tours boathouse in Dinosaur, Utah to a giddy resident kitten batting my nose with its paw. On a workday I might have been annoyed, but in that moment the kitten and I were on the same page.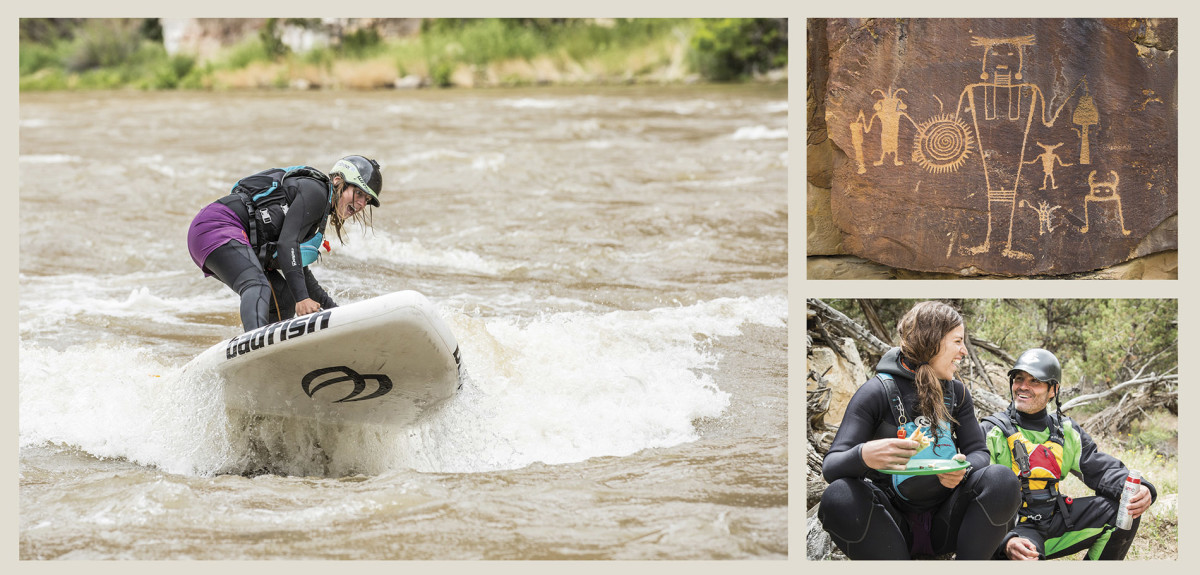 That day we'd paddle through Dinosaur National Monument via Utah's Green River. The journey would take us through Class-III rapids pumping at peak flow through Split Canyon, a nine-mile stretch that cuts through towering walls of red rock riddled with dinosaur fossils and artifacts from Native American inhabitants. It's a section of river that requires near-impossible private permits to run. But Zach's friends at Adrift had offered to let a handful of us tag along with them in exchange for some photographs. After seeing Spencer and Yacu—arguably two of the top river SUP athletes in the world—battle with Class-IVs on Shoshone the day before, the opportunity seemed as much a challenge as it was a privilege.
We geared up for the river with the cold nip of night still clinging to the mist. Driving to the put-in at McKee Springs, the road turned to dirt and soon we were in prehistory—shark fin canyon peaks climbing a thousand feet above, eons of encased dinosaur fossils with ancient petroglyphs from the Fremont people camouflaged in the slots above the expanse of the Green. This was sacred country.
Stepping shakily onto my borrowed inflatable and stroking out of the eddy, I could hear rapids thundering around the bend. Feeling vulnerable as ever I looked around to find my comrades grinning with stoke beneath the giant maw of Split Canyon.
Sploosh! The first wave-train bucked me off and a frigid flush of whitewater swamped the neck of my wetsuit. Sweeping high-speed through the peaking rapids as I swam back to the board—not dead, not injured, not fighting but flowing—I found my feet and chortled some strange stoke-spewing wail.
"Welcome to the frontier!" shouted back Javier Placer, owner of Adrift Adventures and a clear-cut adrenaline hound. "Now tell me that wasn't unforgettable! Going places you've never been—that's what it's all about!"
By the time we pulled out after our nine-mile hiatus from the real world, in the real world, the accomplishment of simply being there in that space and time was sheer revelry. I was full-blown fizzing on Utah's whitewater like a freshly poured soda. We bid adieu to our hosts and left Dinosaur National Monument in a zen-like state, the lot of us steeped in the surreal euphoria that comes only with simple pleasures like riding water. Thrills like that can't be found in a cubicle.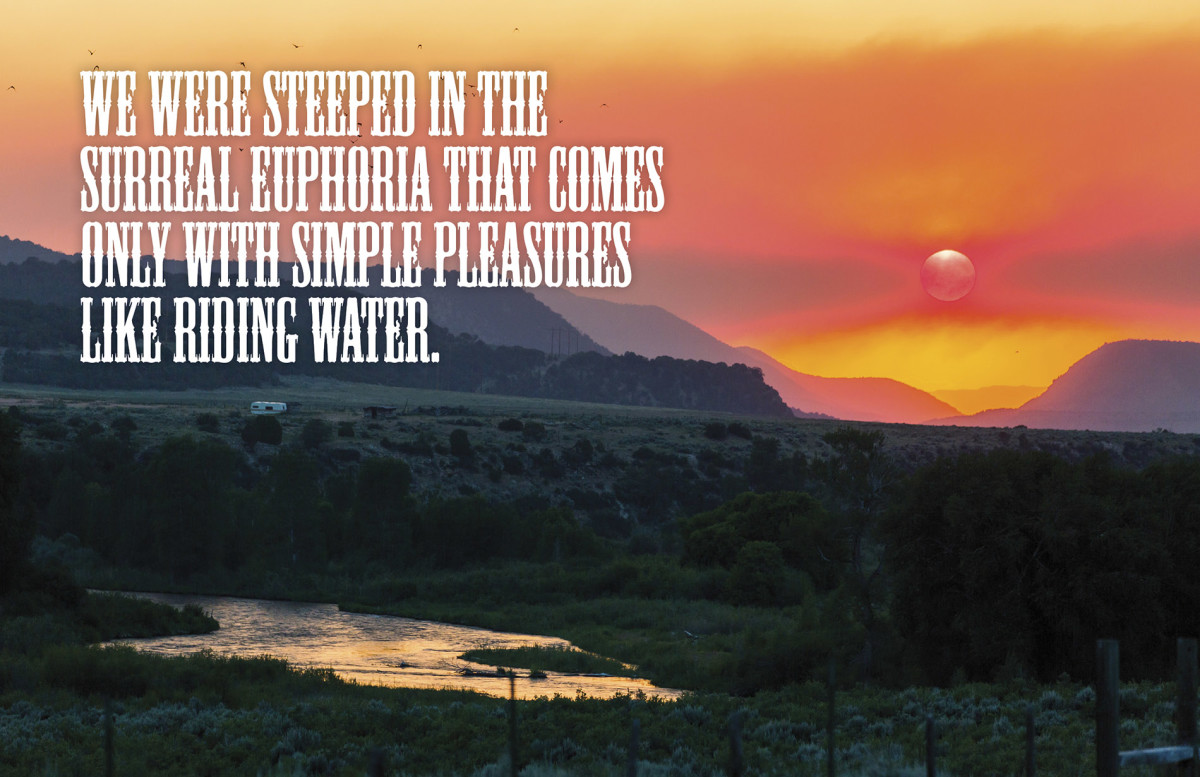 Four hours later we were back in Glenwood Springs watching the sun set while our tired muscles unwound in a riverside hot spring. The rage of the river that once haunted me now felt like a peaceful murmur below. After a day of romping in the wilds and a warm bath, we were in bed by 8.
I rose before dawn on the day of my departure and not because I was sleeping on a deflated paddleboard in someone's driveway. We'd been fortunate enough to set up camp in the yard of a sympathetic Glenwood Springs local, and the sound of the town's namesake standing wave foretold the moment I was most excited for: a chance to surf it.
The door of Brittany's van slid open and out popped her big eyes beneath a thick beanie.
"Good morning!" she smiled. "Hope you slept OK … are you ready?"
My sleeping bag was already packed up.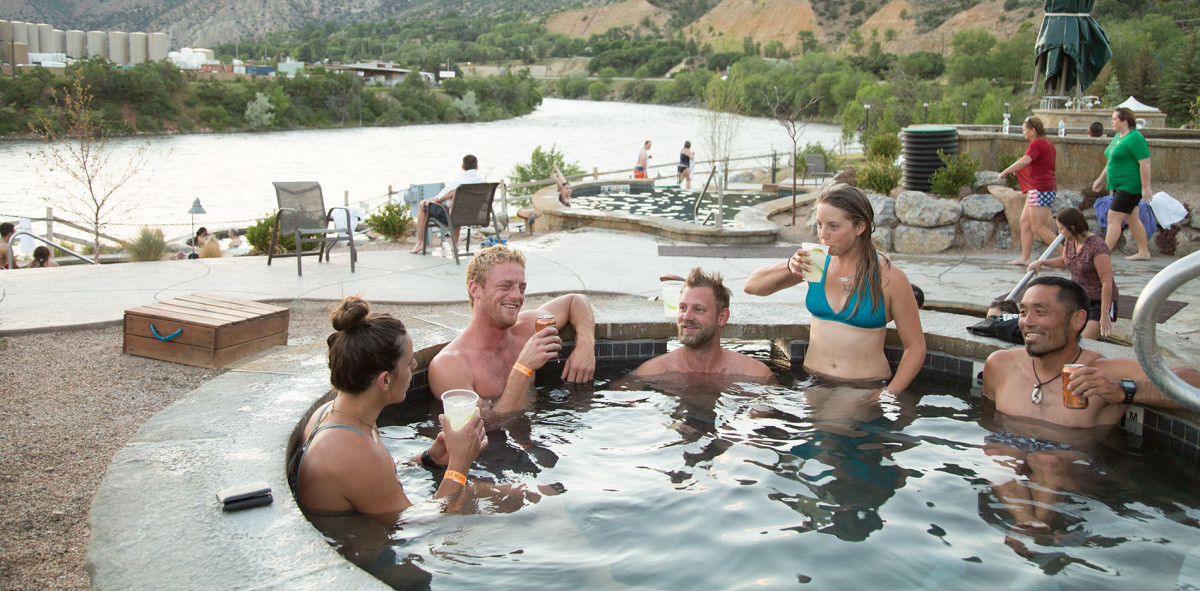 River waves are something of a novelty in the ocean world and until that morning, the challenge of river surfing had been lost on me. The mechanics feel completely backward from ocean surfing—water sucking at you instead of pushing you from behind, movement all over whilst standing in one place. Brittany and I arrived at the wave early with not another surfer in sight. I dipped in upstream and stroked out toward the middle of the rapid for my first go, angling backwards into the trough. The wave seized the tail of the board and I was heels over head tumbling downriver before I knew what was happening. Hiking back, I watched Brittany finesse into a sweet ride, sweeping from rail to rail with the hard-earned style of a seasoned whitewater savant. It's not easy to make river surfing look good, but the best things don't usually come easily.
Two hours later I'd caught my fill. Fatigue set in, food called, and beyond that, I had a train to catch back the the Junction airport. Brittany and I sat at the rivers edge, silently admiring the wave, tossing pebbles into the flow and reveling in the scene. Eventually my daze gave way to the insidious return of adult anxieties like overstaying my welcome, empty pockets and answering emails.
"You sure you can't stay another few nights?" Brittany said, breaking the silence. "Everyone's heading to the Arkansas River for FIBArk (river festival) this weekend and the whole community will be there. Cancel your flight and come with us."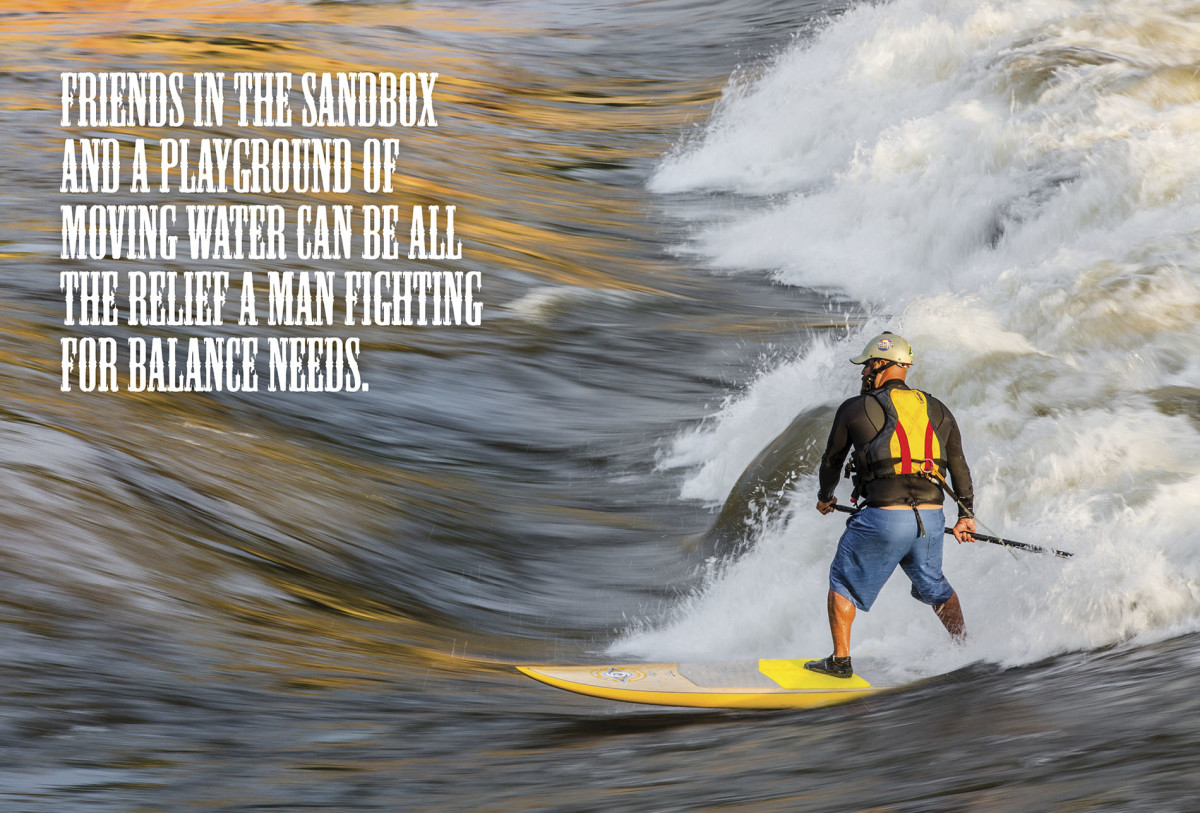 Friends in the sandbox, partners in pursuit of everlasting stoke and a playground of moving water can be all the relief a man fighting for balance needs.
I sat on the river's edge, my equilibrium humming, and considered. –MM
This story was originally published in our 2018 Gear Guide + Photo Annual, on newsstands and available here in print and digital form.
2018 Gear Guide + Photo Annual Trailer

Related 
Video: River Surfing Perfection at Colorado's Glenwood Wave
Full Coverage of the GoPro Mountain Games
Water of Life: Exploring Water (and Whisky) in Scotland
The article was originally published on Standup Paddling
For access to exclusive gear videos, celebrity interviews, and more, subscribe on YouTube!