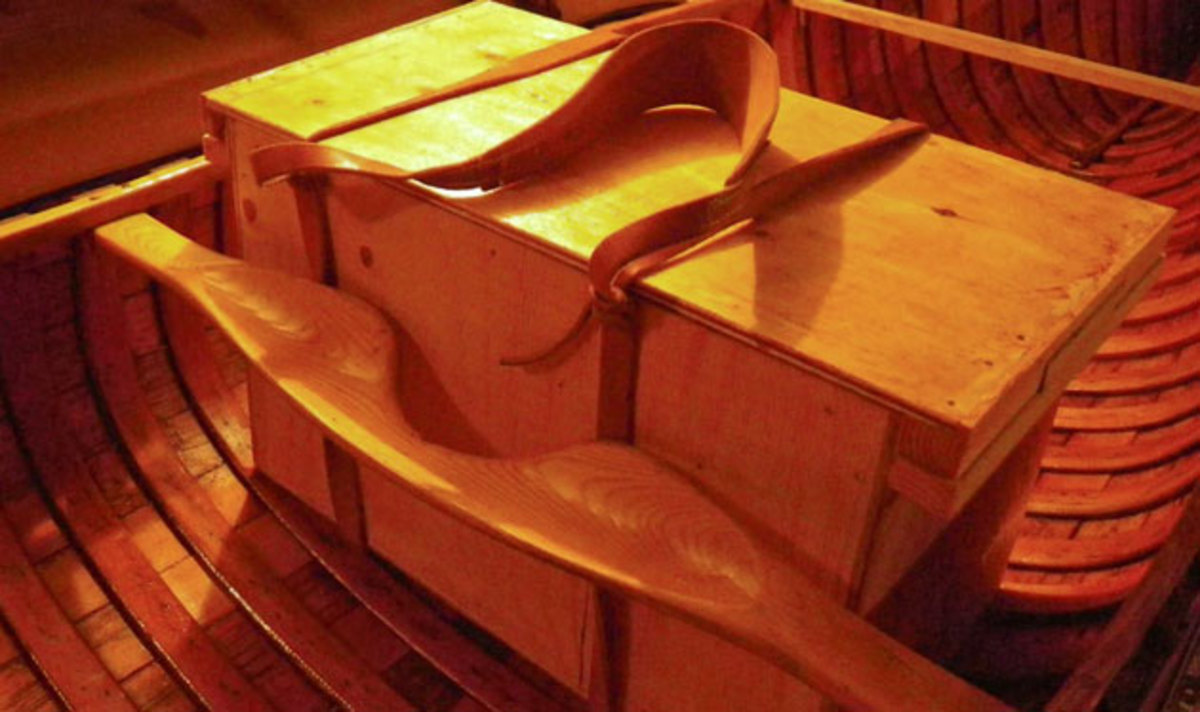 By Conor Mihell
Traditional canoe-trippers still rely on simple wooden boxes known as "wannigans" to carry provisions and cooking gear. Some suspect the term wannigan is has aboriginal roots or perhaps it originated in Canadian logging camps. Regardless, paddlers in my home of Northern Ontario have been using them as grub boxes for about 100 years. According to former Camp Keewaydin staffer Heb Evans in his classic 1975 book Canoeing Wilderness Waters (out of print), the main advantage of using a wannigan is that its hard wooden sides protect the carrier from the sharp edges of pots, pans and cookery. It also affords a convenient cutting board top and a bench or table for in camp. Lacking shoulder straps, a wannigan is carried with a tumpline, the old-school head strap made famous by Himalayan Sherpas and French-Canadian voyageurs.
As someone recently bit by the traditional bug, I decided it was high time to build a wannigan or two of my own. The project can easily be completed in a few evenings of work, basic tools and about $25 of materials.
Materials: Traditional wannigans were often constructed with quarter-inch plywood sides and 1-by-12-inch pine bottoms, ends and top. Today, quarter-inch plywood can by hard to find and pine lumber is expensive. To save cost and weight, I used cheap spruce strapping to build the frame of the box and covered it with readily available 3/8-inch plywood. A full-size sheet of plywood provides enough material for two average-sized wannigans.
One 4'x8′ sheet of 3/8″ plywood
Two 1″x2″x8′ spruce strapping
One hundred no. 4 1-inch screws (brass or stainless steel are best)
Waterproof adhesive (carpenter's glue or epoxy)
Scrap pieces 2″x4″ or other 2-inch-thick lumber
Quart spar varnish and/or enamel paint
Fiberglass cloth and resin (for a more durable and waterproof finish—optional)

Dimensions: According to Evans, the typical Camp Keewaydin wannigan measured 22 inches long by 12 inches wide and 12 inches deep. This was the preferred size for carrying foodstuffs. A slightly larger wannigan (known as the "jewelry") was used to carry cookware and dishes. Evans recommended a maximum length of 25 inches for a typical 17-foot tripping canoe. I decided on 24 by 12 by 14.
Step 1:
Spruce strapping serves as a frame for the wannigan. I used a miter box to cut 45-degree angles for the corners at the ends of the box and secured them with one screw and plenty of glue
(Photo 1)
. To connect the two ends together I notched the corners once the glue had set and secured strips of strapping with two screws and more glue
(Photo 2)
. Be sure to drill pilot holes. This step could be skipped if you decide to use dimensional lumber (1″x12″ pine) for the base and ends.
Step 2:
If you're a rough carpenter like me, you'll probably end up with a not-quite-true frame. This is not a big problem, just be sure to measure carefully before using a circular saw to cut the plywood panels that sheathe the frame of the wannigan. Use screws and more adhesive to secure the panels
(Photo 3)
. The lid should be slightly longer than the box so that a gusset can be attached on either end (see step 4). Some trippers prefer using hinges for the lid but in the design I chose the lid is fully removable.
Step 3: Use a scrap piece of two-by-four lumber the same width as the box for handles. A clever trick is to cut a shallow 10-degree angle on each handle with a circular- or table saw to offer a more secure grip. Carefully cut out sections of the upper part of the handle to leave a tab, which will key together with a notch in the lid (step 4). Fasten these pieces to both ends of the box (Photo 4).
Step 4: Use a scrap piece of two-by-four lumber to build lips on either end of the lid. These pieces are notched to match with the tab on the side-handles to prevent the lid from sliding. Fasten the lips securely with screws and glue (Photo 4).
Step 5: Sand the wannigan and finish the exterior and interior with your choice of spar varnish, marine enamel or fiberglass cloth and resin.
The Tumpline: Leather tumplines are available for purchase in some paddling shops or you can build your own using copper rivets, heavy-duty thread and long strips of leather. To carry a wannigan you will need a tumpline with 7-foot tails. Alternatively you could use thin-gauge (quarter-inch is about right) climbing rope for the tails and reclaimed seatbelt webbing for the headpiece.
Rigging the Wannigan: Use a "wannigan knot" to secure the tumpline to the food box. Begin by placing the tumpline on the ground in an elongated U. Set the wannigan on top and pull the tumpline headpiece and tails over the long sides of the box to the lid. Evans recommends adjusting the length of the tumpline so that the middle of the headpiece is about a forearm's length from the lid of the wannigan. Now pass each tail under the headpiece and form an X-shaped wrap (Photo 5). The key is to maintain tension on the tumpline throughout. Secure the loose ends of the tumpline around the backside of the wannigan.
The article was originally published on Canoe & Kayak
For access to exclusive gear videos, celebrity interviews, and more, subscribe on YouTube!