When asked how long he's been a professional photographer, Bryce Brown laughs uncomfortably. He points out that he doesn't shoot commercially or on assignment. And it was only a year and a half ago that he began selling his images to magazines and submitting his work to photo competitions.
Yet after two decades of capturing moments from mountain expeditions, he's turned his hobby into a priority.
Brown, a critical-care doctor, now gets all his hours in for the month in 10 back-to-back days at Ontario's Thunder Bay Regional Hospital, then spends the next 20 days ice and rock climbing and skiing in the Canadian Rockies.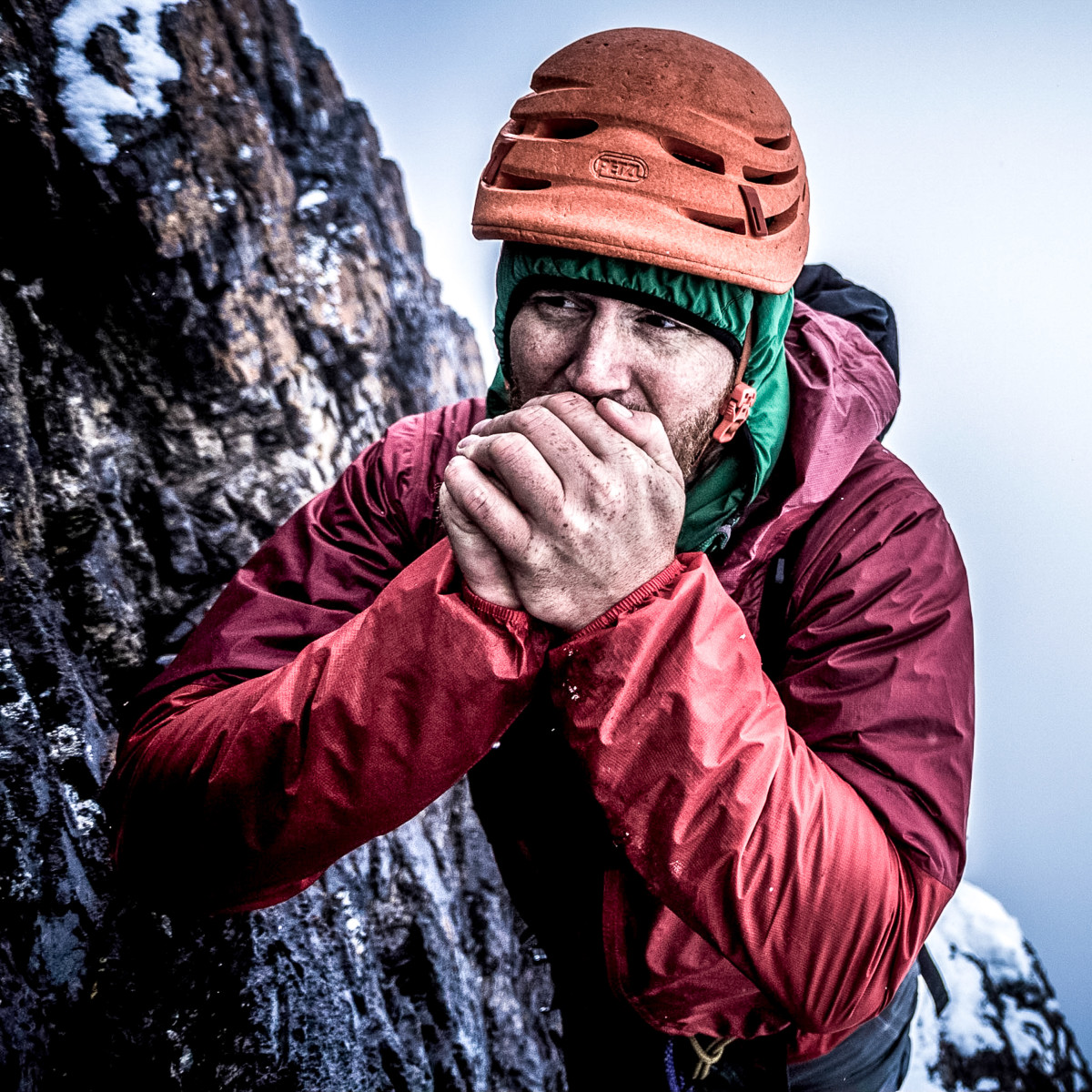 Brown has been the expedition doctor on every big trip he's been on, including four to Mount Everest starting in 2000. These days, he eschews grand-scale, complex expeditions that require Sherpa guides. He and his wife, Dr. Sunny Twelker — his main climbing partner — prefer to climb in the mountains, self-supported and without using ropes left in place by other teams.
Brown always has his camera at the ready. Yet what the viewer admires in his photos doesn't always suggest the intensity of the expeditions.
Here are the stories behind three seemingly serene shots Brown has created.
Skiing off Mount Everest
"This is without a doubt one of the wildest things I've ever seen," Brown captioned his Instagram post of Kit DesLauriers atop Mount Everest's South Ridge in 2006. She's dressed in a bright-orange 8,000-meter suit and has an oxygen tube extending from her face, resembling a character from "Star Wars."
Kit, her husband, Rob DesLauriers, and photographer Jimmy Chin had skied off the 29,029-foot summit, but they'd stopped and rappelled the Hillary Step at 28,750 feet. During the descent, one by one, their skis tangled in the aging abandoned ropes strung over the Step, causing delays.
RELATED: How much does it cost to climb Mount Everest?
The pause caused them to burn through the precious oxygen in their tanks. Nine Sherpa climbers were with them for support, but they could do only so much to help, especially at the Death Zone on top of the world. Soon the oxygen in Brown's tank was exhausted and he began to hyperventilate and black out.
"Then Mingma Ongel Sherpa gave me his own oxygen, and he went without. He saved my life," Brown says.
Ongel Sherpa and Brown formed a bond on that expedition, and they continue to climb together to this day.
Rescue on Mount Logan
In June 2015, Brown and his team attempted Mount Logan's East Ridge in alpine style with plans to ski down the other side. At 19,551 feet, Logan is the second-tallest peak in North America and only about 800 feet shorter than Denali.
Soon after they reached the summit, a storm blew in, causing Brown's partner, Gord Bose, to suffer frostbite and hypothermia. Still near the top of the mountain and realizing it was too dangerous to continue down, the crew hopped into a crevasse that doubled as a snow cave.
RELATED: The craziest mountain rescue stories
Three days later, they began descending via the 11-mile summit plateau to reach their intended ski route out. The storm continued as they spent the next four days trying to get down the mountain. Low on food and fuel, and out of concern for Bose, the team called in a rescue on their satellite phone.
"It was the highest heli-rescue in Canada, at [about] 5,700 meters [approximately 18,700 feet]," Brown says. "That took a lot out of me."
Earlier this year, Brown earned second place in the Banff Mountain Film + Book Festival for his photo essay documenting his attempt and later rescue on Mount Logan.
Expedition to Cholatse in the Himalaya
From mid-October through the end of November of this year, Brown and Twelker traveled to the Khumbu Valley of Nepal to climb the 21,129-foot Cholatse.
"I've seen that mountain on every trip I've taken to the Khumbu in the last 10 years," Brown says. "It's an alpinist's peak, with beautiful flutings and a beautiful ridge climb. If you asked a kid to draw a mountain, that's what they would draw. It's steep and pointed."
During most of the trip, the two battled a nagging respiratory illness, coughing up "Khumbu lung butter," as Brown calls it. They tried to wait it out at Camp 1, but their weather window was forecasted to close soon.
They had to either go up or give up.
"The higher I went, the worse I got," recalls Brown. "I was moving too slow. We reached the summit ridge after dark and saw we still had about 100 meters to go — probably about an hour. At that point we weren't sure we could make it up and back down again."
In his weakened condition, Brown was unable to descend very far, so the team set up a spot to rest overnight at 20,000 feet. "We spent all night shivering in a crevasse with only an emergency tarp for shelter," he says, "and maybe slept, maybe not.
"I had vivid dreams of a Sherpa man standing over us, protecting us from frostbite and tucking our tarp around us."
"I don't usually epic," Brown says. "Usually everything is routine and goes to plan. But when the mountain deals out more adventure than planned, I make sure I have my camera out."
To see more of Brown's work, including images from his 10-day Everest and Cholatse expeditions, follow him on Instagram.
For access to exclusive gear videos, celebrity interviews, and more, subscribe on YouTube!