A paddler's best pal? A pooch. Here's why: Complain in the rain? No way. Low center of gravity and four wheel drive? You betcha! Play pal ashore and cuddle buddy in the tent? Oh, yeah. However, paddling with a pooch requires some preparation as these three, veteran pooch paddlers explain.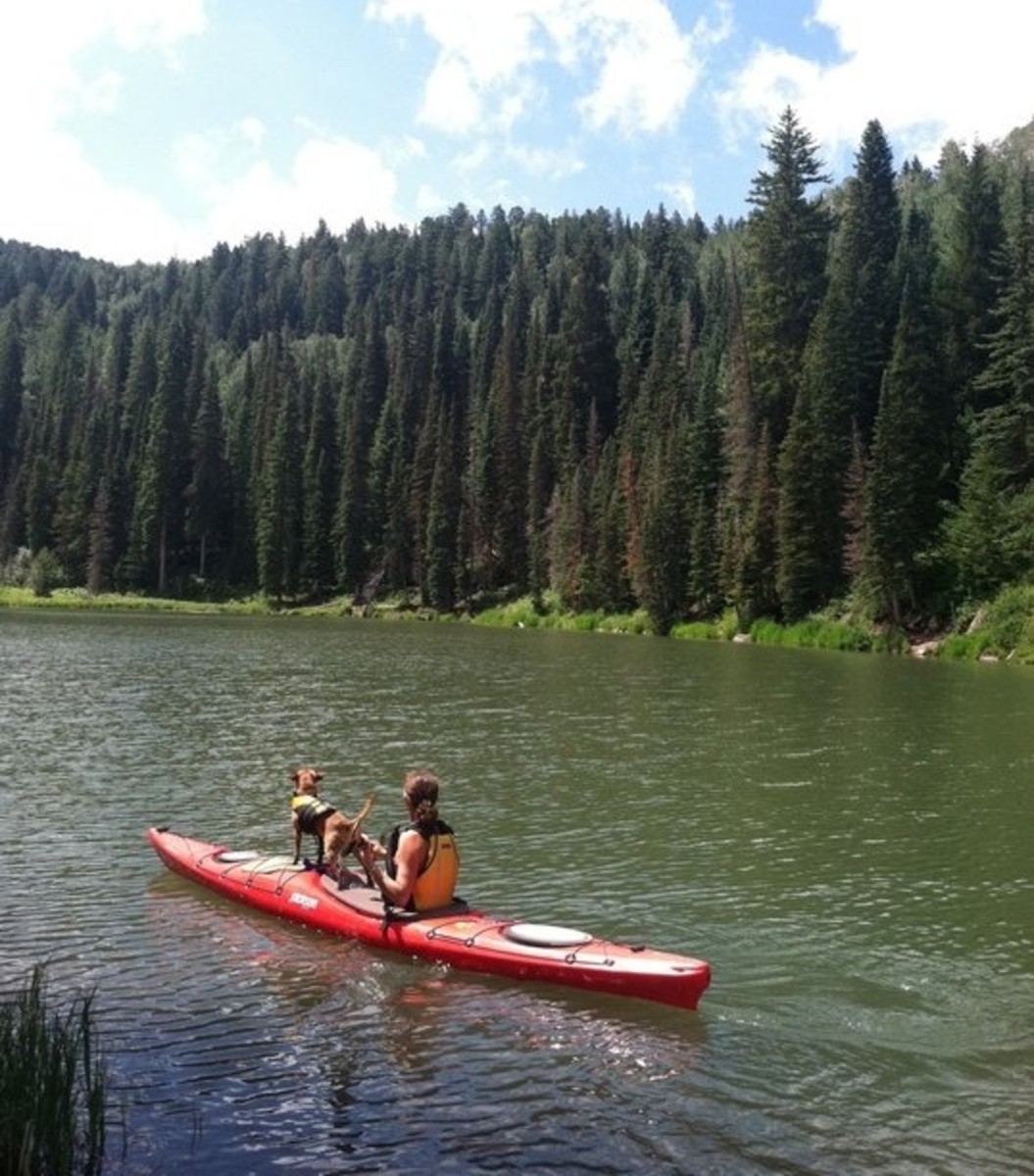 1. Training
Lack of training directly translates to safety issues for all involved, even on the flattest of water. Some dogs take naturally to the water; some don't. Some avoid it like the plague. If your dog does not have consistent, ready recall of basic commands, they aren't ready to hit the water.
Taking time to help your dog completely acclimate to the idea of being in the boat and the water opens up a lifetime of incredible memories! Patience, consistent and respectful training, and plenty of benign, non-water related exposure to your boat can often help most hydrophobic hounds enjoy boating.
2. Where to Poop?!
Finding a place for your dog to take care of business while mid-paddle can be a challenge. This is yet another situation where good training and ready recall of basic commands come into play. Training your dog to poop on command is no different than training any other "trick." And just as you would for yourself, follow Leave No Trace practices: carry and bury, or pack it out.
When burying, carry your dog's poop 200+ feet from water, trails and camp, and bury it 6 to 8 inches deep. Rather pack it? Bag it and take it. Because accidental punctures or squishes happen, a dedicated, plastic container for full/used poop bags can be handy.
–See MORE PHOTOS of Abby and Christen from our RIDES series.
3. Breeds
Size does matter! A large, excited dog can capsize a canoe. However, large dogs do have their value for protection, and a breed in the 30- to 50-pound range is ideal for a canoe. Consider temperament too. An excitable dog can get you into trouble fast. Minor situations can turn major if a pup is excited by the roar of rapids, animal encounters, or weather.
There are several great breeds such as the Labrador Retriever, Nova Scotia Duck Toller, and Husky that, when taken early into a canoe, quickly learn to relax and enjoy the ride. All breeds work as early warning systems and can pick up on smells and sounds long before we do.
4. Commands
Don't let a dog board any boat until you've given the command. I use, "Up we go," but whatever works for your pup is fine. It's the same for exiting. Spitizii has learned to look at me when approaching the shore. If I say, "Okay, my boy, time for a break," he'll scan the shore for movement and sniff the air for critters.
Once on shore, his instincts are to run into the bush and take a look around, so I usually tell him to "stay close" till I get my feet on land, as it'd be hard to help each other if I'm in the canoe. Sometimes the water gets rough and a dog can get a little anxious. I'll say, "Lay down, it's all good" with a smile.
–Watch a VIDEO of Mike Ranta and Spitzii in action.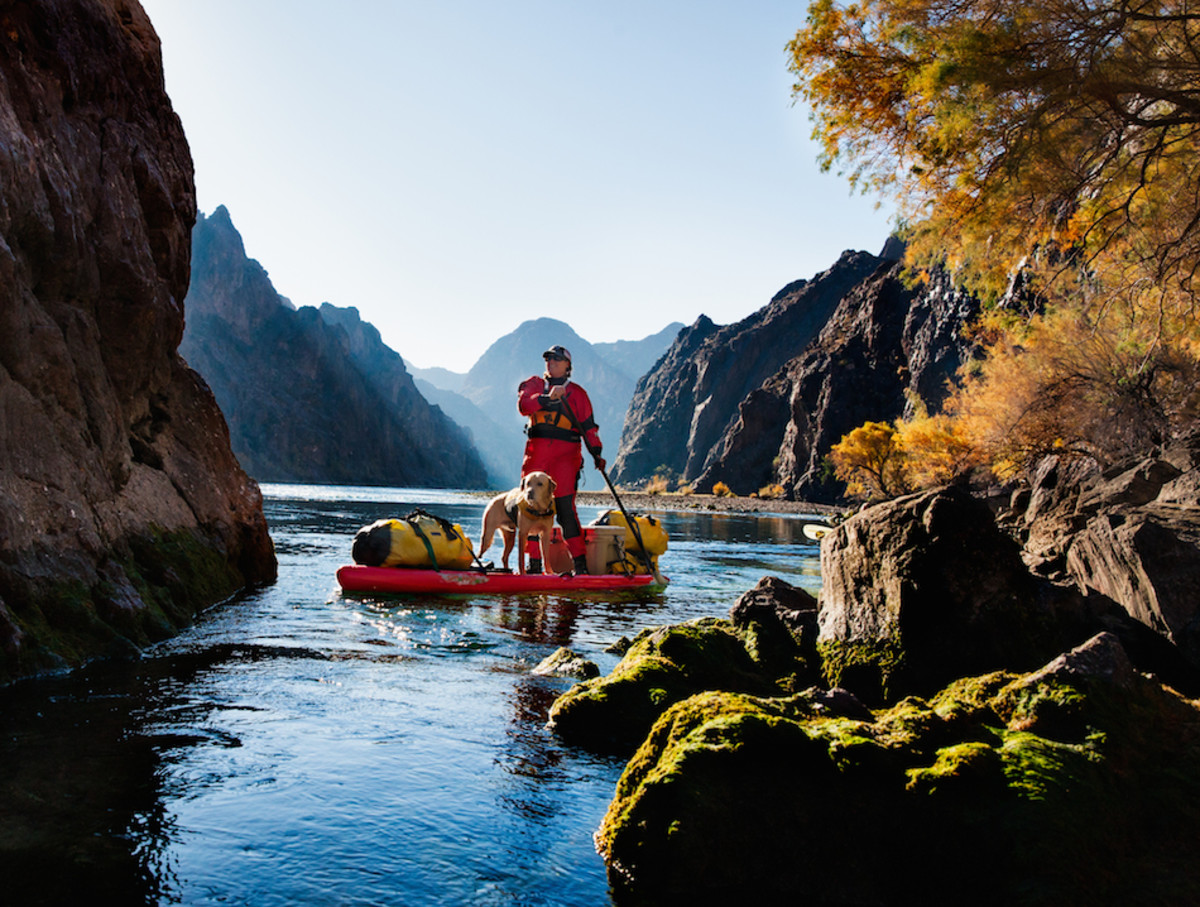 5. Essential Gear
Every single time we go paddling we bring Tucker's lifejacket. He needs his as much as we need ours. We bring a leash because he needs to be safe off the boat. For salt water, we bring fresh water and a drinking bowl. We do a lot of overnighters, so we bring his food and food bowl for that. We also bring his bed for overnight trips, which is usually closed cell foam so he's insulated and off the ground and it doesn't take on water. We don't bring toys; the river is his big toy! Labs' feet are super sensitive, so for multi-day trips, we bring something to treat paws, like Neosporin or peroxide. He gets sore feet otherwise.
— The BEST GEAR to Keep Your Dog Safe on Paddling Adventures
6. Boats
Tucker's a really big fan of all paddle sports, but we call him SUP pup because he loves standup paddleboards, and he can stand up too. The Jackson SUPerFISHal has a big, flat, padded deck that makes for great traction and is a cushy place to sleep between rapids. His paws dig into the pad so he's really stable on it and the boat's really stable too.
He also goes on sit-on-top kayaks. Those are good because they have a bigger platform for standing. He's a big guy, so a big platform is a big deal. In rapids, I squeeze my knees around his high quarters while he sits on the deck. Whatever your boat, closed cell foam helps everywhere you put it. We use VHB tape, which is Very High Bond double stick tape. Note: 3M advertises their VHB tape as a rivet and screw replacement.
The article was originally published on Canoe & Kayak
For access to exclusive gear videos, celebrity interviews, and more, subscribe on YouTube!