There are a few things in life I know I'm pretty good at, such as skiing, drinking beer, and … okay those two might be the only things I'm decent at.
But, despite my lack of any real quantifiable skill set, I am equipped with a completely irrational sense of self-confidence and the willingness to try anything twice. And that perfect storm of personality traits (as well as a more literal perfect storm of oncoming snow) led me to recently decide to try winter camping during a massive early-March snowstorm at Mammoth Mountain in California.
Sure, I hadn't been camping since I was about 10 years old, had almost none of the necessary equipment and was driving into a storm predicted to dump up to 15 inches of snow on the mountain (more on that later), but hell, who isn't up for a challenge?
Besides, I had a coworker willing to take me under his wing, teach me the ropes of camping and lend me some extra gear, how bad could it be? (Keep in mind, this is the same basic mindset I had going into climbing Yosemite's Half Dome, which could have gone more smoothly).
RELATED: What I learned from hiking Yosemite's Half Dome
The weekend ended up being one of the best ski trips of my life, while also further highlighting my crippling inability to properly plan for anything.
So, with all that in mind, here's everything you need to know about winter camping to really up your next ski trip, all without looking like a total kook (like me).
Don't be worried, it's totally worth it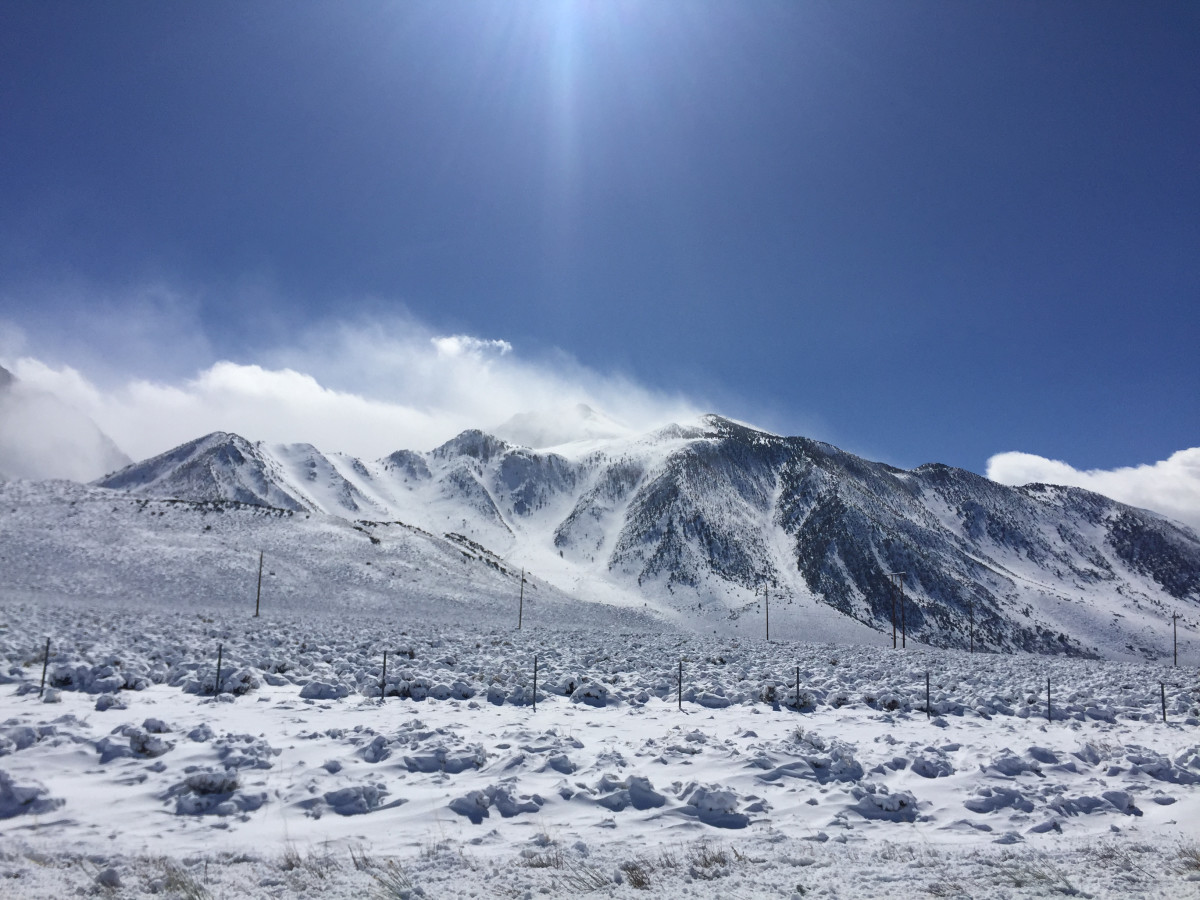 I come from the East Coast. I grew up skiing there with my family, where we would normally rent cheap motel rooms to get to mountains. Given that winter in the upper reaches of the Northeast vacillates between "bone chilling" and "cold enough to freeze mercury," I never really equated skiing with the opportunity for camping.
And while I like to joke about going into the trip confidently, I was more than a little worried.
I had no idea how inhospitable nights outside in the Eastern Sierra would be, and whether I would be waking up in the morning feeling like Jack Nicholson at the end of The Shining.
RELATED: 8 ways to upgrade your next camping trip
Ultimately, all that worry was for naught: With the help of my coworker I got through the weekend comfortably enough, and the experience of waking up in the middle of nowhere with a completely private (and free) view of the snowcapped mountains surrounding Mammoth was nothing short of life-changing.
So don't let any self-doubt stand in the way of attempting your first winter camping/ski trip hybrid. With that said:
Get the right gear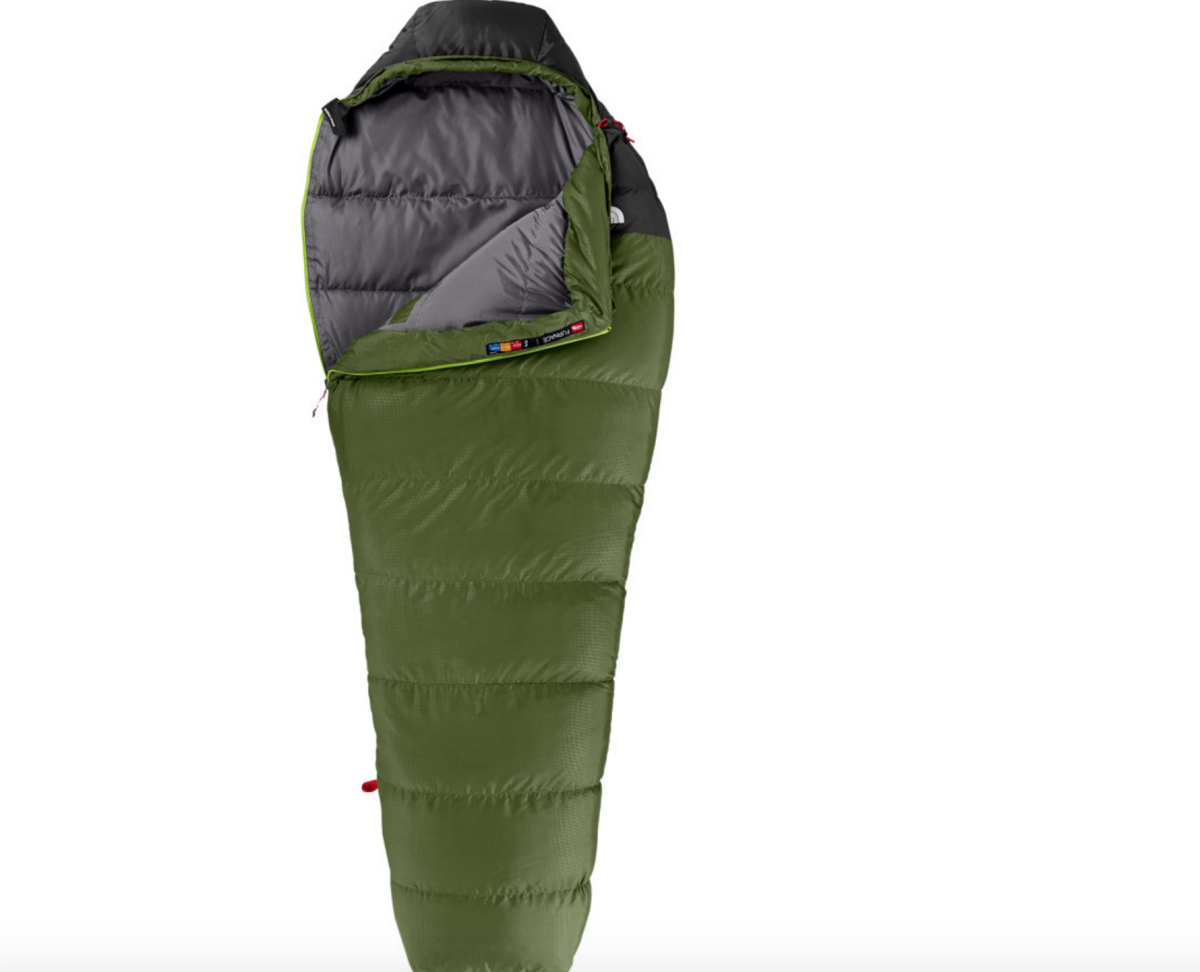 I knew my coworker would be letting me use his tent and an extra sleeping bag, but I figured nobody likes a guest who shows up to the party empty-handed, so why not try to at least bring something?
So, I grabbed an old (crappy) sleeping bag somebody had left at my apartment after a music festival and went to meet up with him. That was dumb.
My sleeping bag ended up merely taking up space and becoming waterlogged in the bed of the truck we were in. Any goodwill I may have built up by trying to show initiative was lost when we had to deal with an oversized, soaking-wet sleeping bag all weekend that served no purpose.
So don't be an idiot.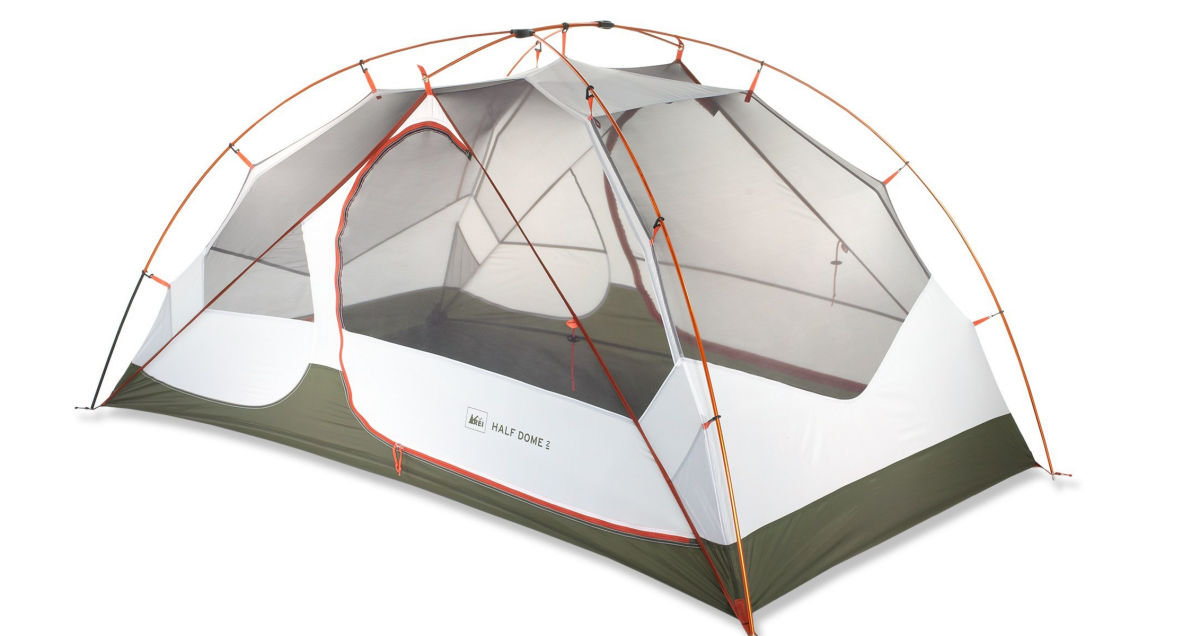 Get yourself a true sleeping bag rated for the temperature you'll be sleeping in. The temperatures at Mammoth that weekend bottomed out at around 20 degrees Fahrenheit, and I was more than cozy in a North Face Furnace 5 ($239-259) sleeping bag rated for temperatures as low as 5 degrees Fahrenheit.
While you're at it, grab a tent equipped to handle any weather you'll face, as well as a small inflatable air mat to keep you off the cold, damp ground at night. Try REI's Half Dome 2 tent ($219) and Therm-a-Rest's Base Camp ($70) air mat.
Bring extra clothes you don't mind ruining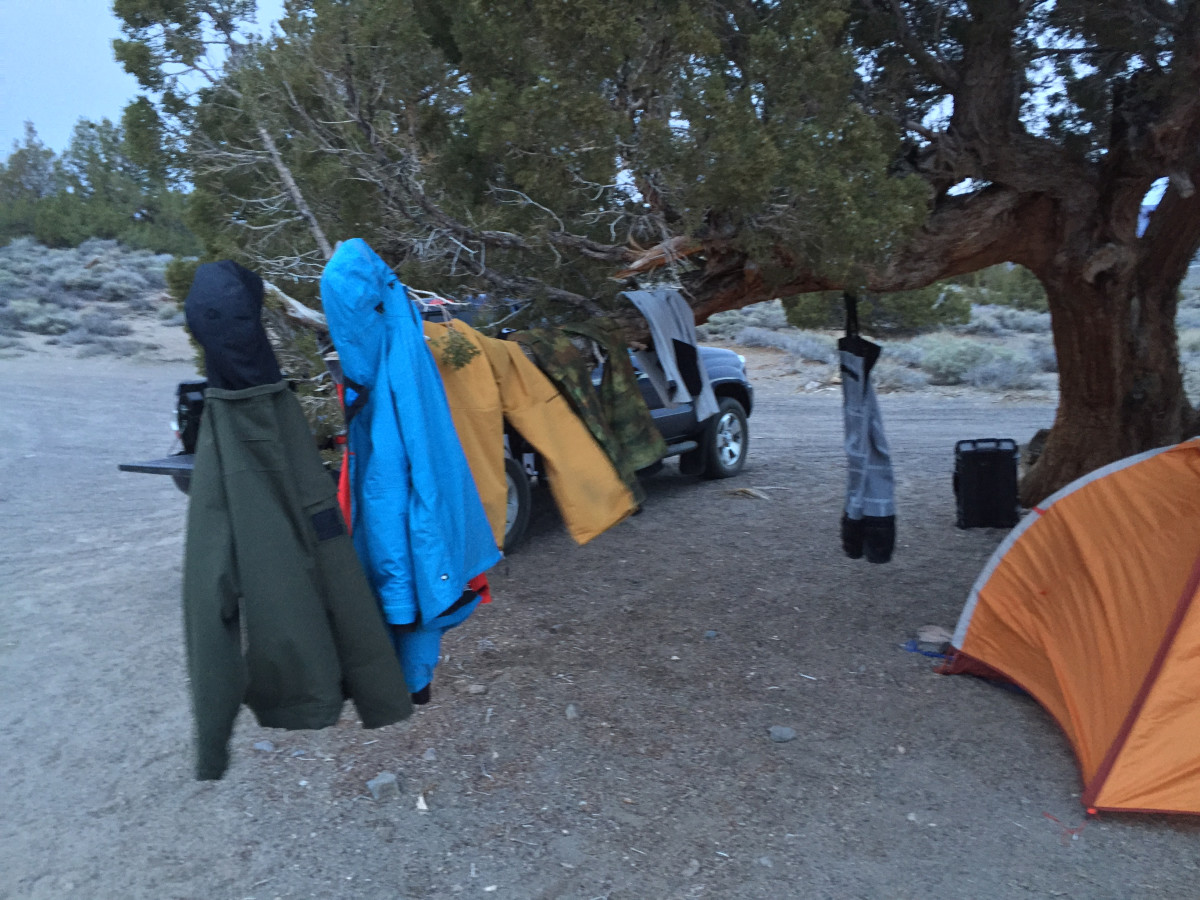 This is where I can say I screwed up more than any semi-aware adult really should.
I pack minimally for ski trips. I normally bring a couple pairs of thermals and base layers, a pair of jeans, and one or two flannel shirts in addition to my outerwear. That all works fine when you're sleeping and getting changed in the local Super 8 with a roof over your head.
It doesn't work so well when that winter storm that was supposed to drop around a foot on the mountain intensifies and pukes over 36 inches of wet snow.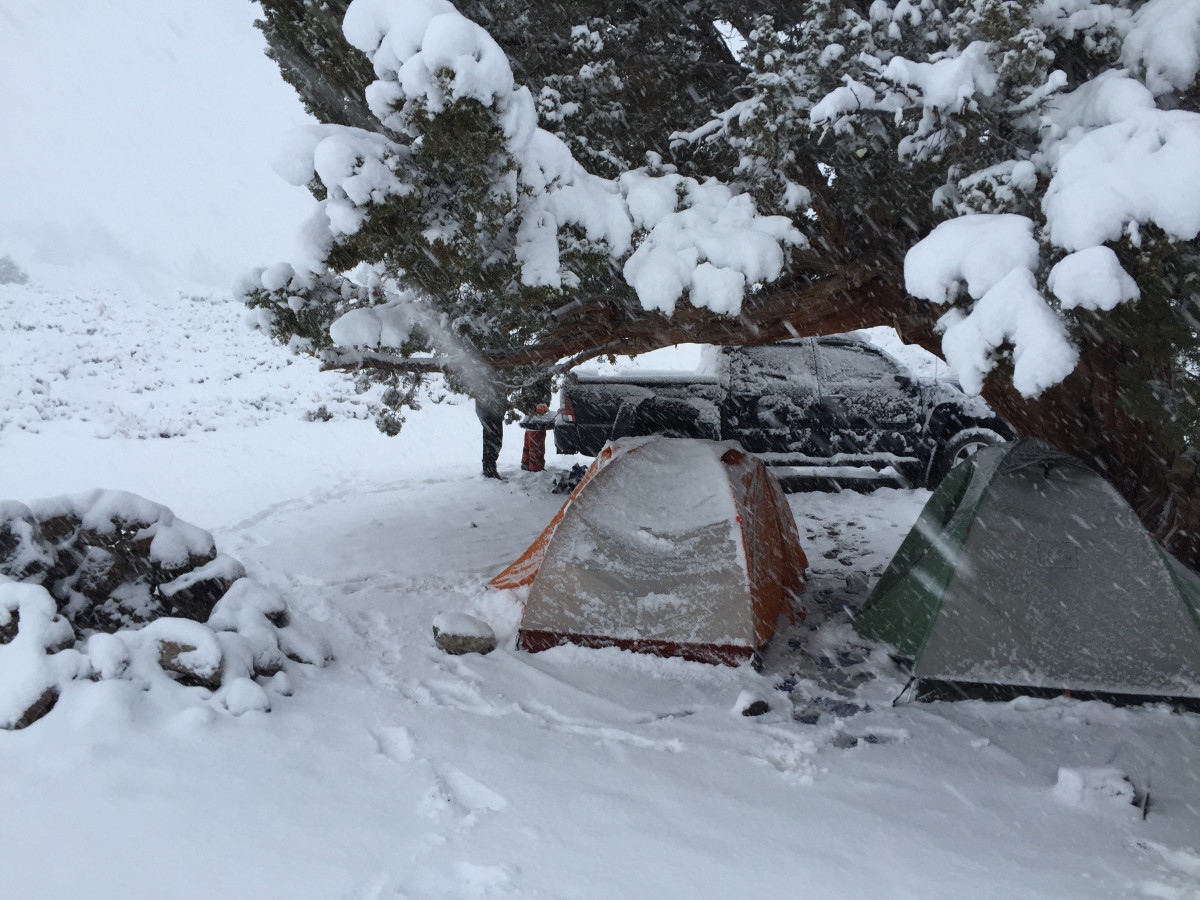 I spent the entire weekend wearing (the only pair) of wet jeans I brought because I had no other dry pants to change into, as pouring rain doused the lower reaches of the campground before transforming into fresh snow overnight.
In over 18 years of skiing I had (proudly) never worn jeans while skiing. On this trip I was forced to sport uncomfortable, soggy jeans that stuck to my body because I failed to bring even a single pair of sweatpants. Never in your life will you feel like a bigger kook than the moment you are forced to throw on your snow pants over a damp pair of blue jeans because you were too dumb to find an old pair of sweats.
So pack extra clothes, make sure they're warm, and make sure you don't mind if they get completely ruined. No matter how well you prepare for inclement weather, water will always find a way to seep into your being.
Bring drinks and a sense of humor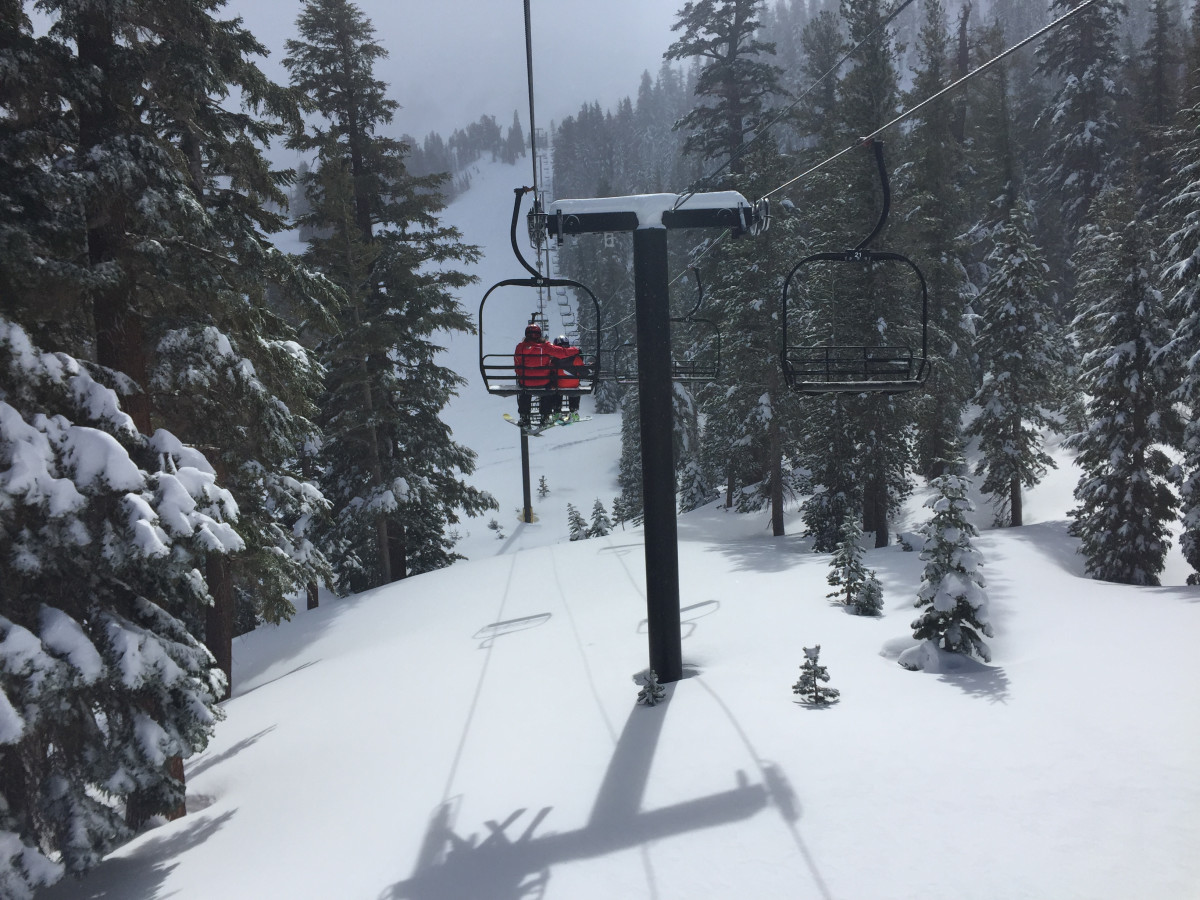 You're going to be spending the night with just one person, the one you choose to camp with, in whatever weather is thrown your way, so you'll need to be able to spark up a decent conversation to pass the time.
Bring some portable speakers, whatever your favorite adult beverage is (whiskey, for what it's worth, tends to warm you up) and a decent sense of humor. Chances are you'll have the time of your life.
More from GrindTV
SUP journey across Atlantic Ocean cut short
BMX rider recovering after being impaled in freak accident
Skateboarders shut down Dubai waterpark for insane video
For access to exclusive gear videos, celebrity interviews, and more, subscribe on YouTube!