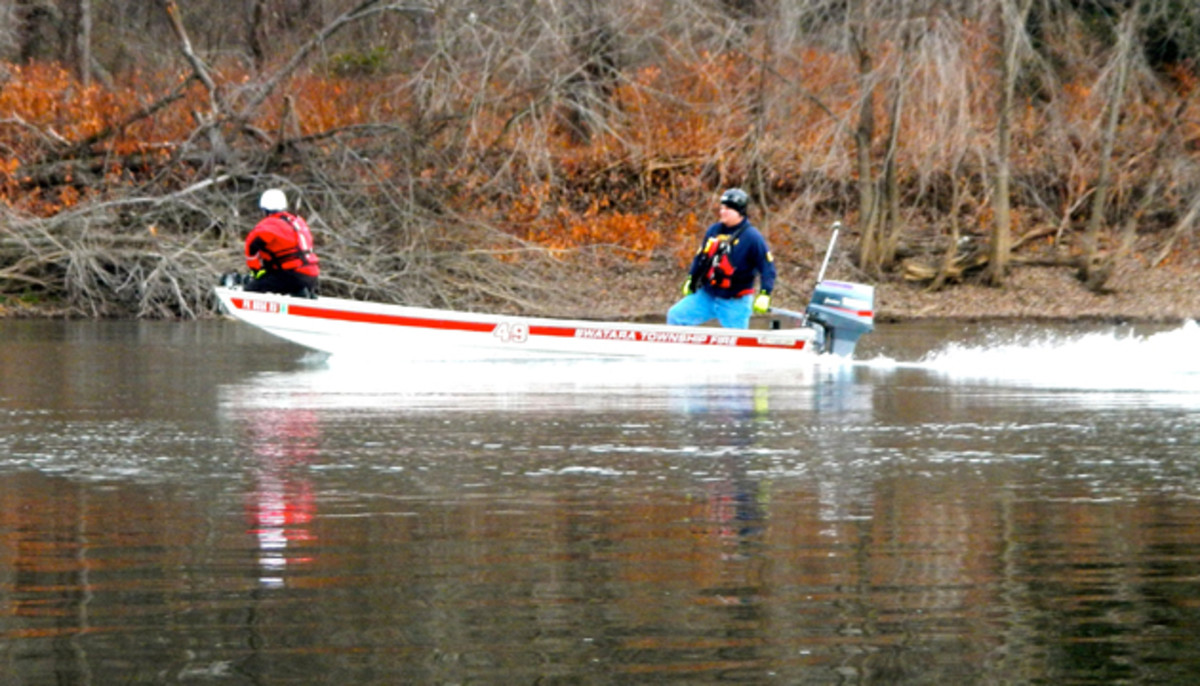 By Jeff Little
The river doesn't love you, but somebody does. The river doesn't care if you wear your life vest, but I do. The river doesn't know that when its frigid water hits your skin, you will gasp deeply, filling your lungs. There's nothing you can do at that point to prevent it. But I can tell you that if properly dressed with a dry suit and PFD, none of this needs to happen.
In February of 2001, a fishing buddy of mine failed to come home from the river. His son took his boat out in search of his father and found his jet boat anchored in the middle of the Susquehanna. Tools were strewn across the floor of the boat, the motor cover was removed and a spark plug was pulled. The life vest was neatly buckled to the backrest of his seat. I had been on the water with him four days prior, thought that he should be wearing the life vest, but never said anything. That haunts me. His corpse was found several weeks later in a log jumble at Safe Harbor Dam.
I also have a friend who lost his father and another friend who lost a son to the involuntary gasp reflex caused by cold water submersion. So yesterday when I was fishing, and saw a search party of at least two dozen walking the banks of the Susquehanna, I had an idea of what was going on well before speaking to any of them.
It jogged my memory of a Harrisburg news station report on a 17-year-old boy who left in a canoe to go duck hunting the prior day and didn't come home. Speaking to members of the search party, I learned that the boy's canoe was found on one side of an adjacent island, and his backpack on the opposite side. My fishing buddy Paul and I agreed that it didn't make sense. But even if he made it out of the water, it's likely that he was hypothermic and consequently wouldn't have been thinking straight.
The search party grew. Local swift water rescue boats motored a grid pattern on the pool, eyes fixed on the still clear green water. A state police helicopter flew a similar grid, hovering close enough overhead to send sheets of mist flying out in all directions.
By midday, Paul who had been speaking to members of the search party on the island paddled out to me. "Jeff, you see that woman with the blonde hair? That's the boy's mother," he said. Paul described his conversation with her as intense. "I can't imagine losing a child." I told him of my experience assisting in a search party for my friend back in 2001, and the feeling of both hoping and not hoping at the same time that you find the friend assumed drowned.
I explained how that search ended. "Five out of six cadaver smelling dogs in rescue boats independently identified the same spot where Skip's drowned body came to rest at the bottom of the river. They were going to put a diver on a cable to retrieve his body, but opted not to." Within ten minutes, we spotted a different rescue boat with a German Sheppard riding high on the bow.
The debate on how to prevent these incidents ends with one obvious conclusion: always wear your life vest. Beyond that, there's a lot of gray area on the best way to dress for cold water fishing or hunting. Waders are a traditional way to stay dry, but won't do you much good alone. As soon as you fall in, the water will rush down around your torso and legs. Before long the cold water will have your legs kicking slower and slower until they are of no use in a self-rescue.
The next approach is to couple the waders with a rain jacket and wading belt. This might delay your involuntary gasp and cold water shock hyperventilation about 10 seconds. A paddling spray top over the waders with another wading belt might buy you several minutes before the water seeps between the layers. I see the rationalization of stopping short of paying for an entire dry suit.
It comes down to money. It comes down to people playing odds with their own life to save $300. Just as Paul couldn't imagine losing a child, most people can't imagine that they could find themselves in the cold water, drowning a cast from shore. But it happens.
Save the $300 elsewhere. Buy fewer fishing lures this season. Ask for a dry suit for Christmas. Sell some tackle you don't use much on eBay to get some cash, But get the dry suit-one with rubber wrist gaskets, rubber or neoprene neck gaskets and a relief zipper. The relief zipper helps with cold-water safety, because without it, you are removing your life vest, peeling down waterproof and inner insulating layers in order to pee. This drops your built-up core temperature, making you more susceptible to hypothermia.
I use a Kokatat Hydrus 3L SuperNova Angler Suit. It's coupled with Kokatat Inner Core top and bottom for insulation, a pair of Smartwool Socks, a fleece neck gaiter that I made myself, a knit cap and a pair of Bass Pro Shops White River fleece fingerless gloves. A quick Google search reveals four different brands of dry suits and their advertised prices:
Kokatat Hydrus 3L SuperNova Angler Paddling Suit with Relief Zipper and Socks: $600
Bomber Gear The Bomb Dry Suit: $569.99
NRS Extreme SAR Drysuit: $715.99
Stohlquist Amp Drysuit: $829.00
If those prices are too steep, check Ebay, Craigslist or a paddling forum with a "For sale" message board. Finding a deal on one isn't that tough, especially if you are willing to buy used.
Even if you don't plan on hitting the water again until March, it's worth getting fully protected against the involuntary gasp reflex and subsequent drowning. Hypothermia can occur on a 72-degree sunny day when the water temperatures haven't caught up and are still in the 50's. Prepare for something that will likely never happen. Because if you don't it will be your search party walking the riverbank.
Dedicated to the families of Medard Kowalski, Skip Walters, Fred Stein and Gavin Hynes. Jeff Little is a Regional Pro Staff Director for Wilderness Systems Kayaks.
The article was originally published on Kayak Fish
For access to exclusive gear videos, celebrity interviews, and more, subscribe on YouTube!