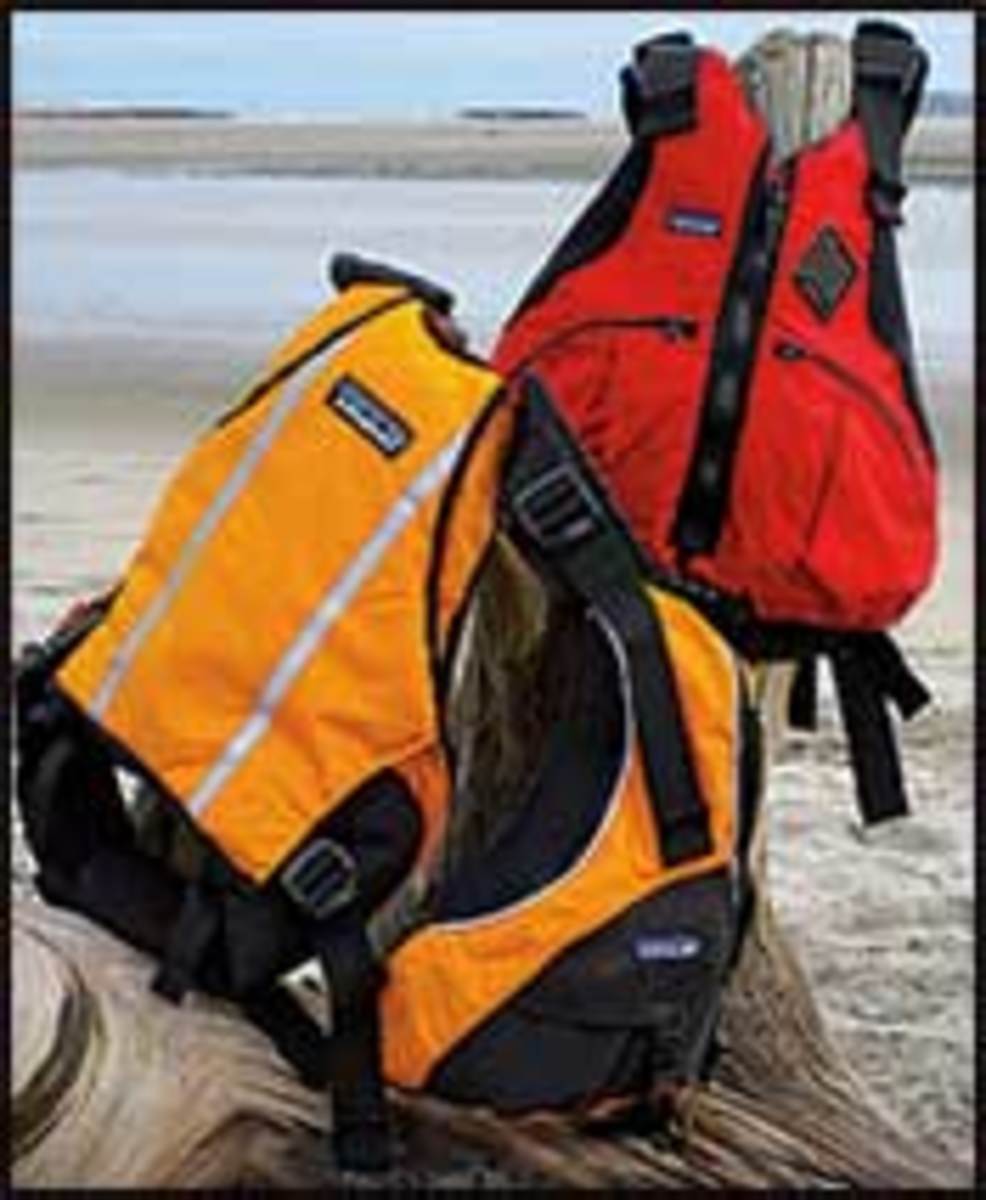 Patagonia Rio Frio and Rio Serrano PFDs

$125, http://www.patagonia.com
Many manufacturers design PFDs to pass Coast Guard standards the day they're sold with only a pound or so of surplus flotation, but that flotation begins to degrade almost immediately. Patagonia's new Rio Frio and Rio Serrano vests are beefy and a bit heavy. The added flotation extends the life of the product—durability is one of Patagonia's chief approaches to green production. The Frio and Serrano both feature Gaia foam, a super-pliable, material free of PVC and its accompanying heavy metals and phthalates, the toxic chemicals that make plastic flexible. Not bad considering these PFDs feel more like a low profile, contoured daypack than the typical bloated life vest.
Pacific Outdoor Equipment Ecothermo 6 sleeping pad
$150, http://www.pacoutdoor.com
The Ecothermo's tapered shape chisels its pack weight down to a mere 25 ounces, but at 72 inches long (or 66 inches for the women's model), it's no slouch of a pad. With 2-inch insulation, the Ecothermo inflates with less than 20 deep puffs and seals off with an efficient and quick-closing recycled aluminum valve, even when sullied with sand. The fully bonded construction holds the pad's pressure superbly, and when deflated, the Ecothermo shrinks to an 11-by-5-inch compressible cylinder.
Ecothermo's comfortable tubular construction complements the aesthetic pleasure of reclining on its the dye-free, natural bamboo fabric– it's easier to rest on a good conscience knowing that your bed for the night is carbon neutral.
Astral Norge
$100, http://www.astralbuoyancy.com

Nobody combines environmental consciousness and product expertise like Astral. After almost a year of wear, the Norge remains one of the most comfortable PFDs you can wriggle into.
Entirely PVC-free, the Norge was one of the first lifevests on the market to use Astral's proprietary Kapok fiber, and this year adds an eco-friendlier, more colorfast nylon exterior. The classic, front-entry Norge features a two-layer, spine-protecting PVC-free foam back and organic Kapok front panels so light and comfortable, you feel like more like you're under a blanket than being squeezed by a sponge. The neoprene padding at the waist belt helps relieve some of the webbing's chafe, although after a jostling paddle, it rolls up a bit in the rear.
Luxurious features like neoprene padding under the shoulder straps, wicking mesh side panels for summer floats, and fleece-lined hand warmer pockets for the rest of the year round out the vest.
Mion Fast Canyon
$130, http://www.mionfootwear.com
After its first year of challenging dominant styles with an entirely green line of sandals, Mion expands its offerings for 2007 with the Fast Canyon, a technically savvy sport sandal with an all-weather, high top liner. Perfect for expedition kayaking, the insulated, water specific Fast Canyon comes with the Mion insole, which molds to your foot within about 10 hours of wear. The low-profile lacing cord facilitates smooth, quick fit adjustment, a major improvement from last year's Current, and the new, lower profile toe bumper strikes a more comfortable line than before. With a sticky sole, the Fast Canyon makes the transition from paddling to camp to exploration, in an alternative energy-focused, carbon-neutral way.
The article was originally published on Canoe & Kayak
For access to exclusive gear videos, celebrity interviews, and more, subscribe on YouTube!